These days, people seem to have a wishlist for every celebration. From birthdays to weddings to graduation ceremonies, you name it; someone has a list of what they need to get.
Sometimes you might find some unreasonable — cough cough, expensive/extravagant — items on the list. At other times, these lists contain little or no monetary gifts. Some others strike a balance between two extremes.
But what if friends and family members could crowdfund these wishes? What if you could get exactly what you wanted as a wedding gift without your friends breaking the bank or getting you unnecessary items?
Well, Ridwan Egbeyemi, Tolu Adesina, and Gloria Agboifoh's Unboxd provides a way out.
From personal solution to MVP
The year is 2020. Egbeyemi is planning his wedding. He is about to marry the absolute love of his life, and everything is set for the ceremony proper. But there's just one problem: how to get the gifts he and his wife would need as they begin their marriage journey.
And so, the search for a platform where they can share their wishlist begins. Their number one criterion is to have friends and family contribute as little or as much as they can without breaking the bank. The first stumbling block is they can't find any platform to do what they want.
But there is still a silver lining in this cloud that Egbeyemi and his friend, Adesina, take advantage of. Egbeyemi's design knowledge and Adesina's web development and product design expertise come in handy. They build a "scrappy looking but functional MVP" in one weekend and share a wishlist with friends.
On November 1, 2020, about one month after sharing their wishlist, Egbeyemi and his wife get married. The wedding is a success, and they raise enough money for the essentials they need.
Egbeyemi and Adesina move on from their product, but friends and family keep returning.
"'What platform did you guys use?' 'My birthday is coming up, and I don't want my friends to gift me something I don't want or something I already have; can I use it?' That request continued to mount, and since we had a ton of people asking to use it, we decided that we should sit down and take this thing seriously," Egbeyemi says.
They spend six months working on the product, sharing it with a closed beta group before finally launching it to the public in September 2021.
Wishlists for every celebration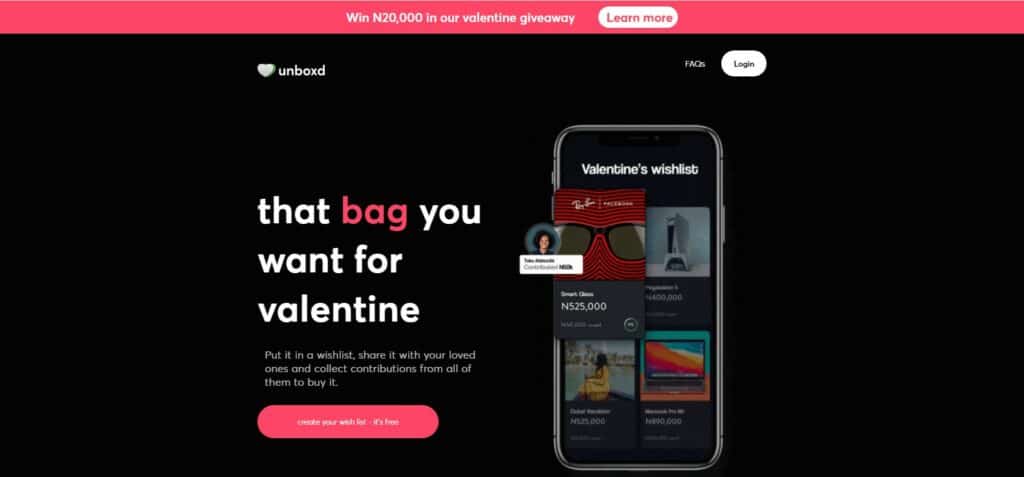 According to Adesina, Unboxd is a fintech brand, "but we are currently offering a gifting solution with a crowdfunding component. We are still handling money — inflows and outflows — but our entrance into the market is people coming to crowdfund gift items."
Unboxd offers a service that enables users to share a wishlist for birthdays, weddings, and other celebrations with friends and family. Contributors can pay any amount they can afford — whether part or full — without worrying about their account balance.
"One major thing with gifting is that people fall under the pressure of wanting to give really expensive gifts. With Unboxd, we've been able to simplify that. So you don't have to be the one to pay for that ₦400,000 TV. You can just drop your own ₦5,000 or ₦10,000."
It gives celebrants a single place to create a wishlist for their celebrations with sub wallets (or pockets) — available through a Flutterwave integration — for each list. Apart from this, there's also another interesting feature to attract users.
"We've made sure that there's no deduction from the money you're going to get. If I add an item that costs ₦400,000 to my wishlist, we've been able to get very creative with our engineering and business model such that, at the end of the day, by the time you are requesting payout, you get that exact ₦400,000 without ₦1,000 removed from your wallet for transaction fees. This can change in the future, but for now, that's how we are handling it."
Although there's a flat rate of ₦100 for each payout after your first free payout request for each wishlist, transaction costs are borne by the contributor and not the celebrant. The company also makes a 2% commission on each transaction on the platform.
The wishlist creation is also simple. All the celebrant has to do is include the name, image, and price of the gift and the item is added to the list. You can also add items from your favourite Instagram vendor. Last year, Unboxd started a test run on this feature, onboarding bCODE — Adidas's exclusive partner in Nigeria for sneakers sales — onto the platform.
For the gift-giver, apart from the ability to give what they have, they can also choose to remain anonymous.
Egbeyemi believes these features help separate them from competitors like Showlove and Suregifts.
Fighting the fear of failure
Research shows that humans are far more afraid of failure than ghosts. In 2015, Linkagoal surveyed 1,083 adults on fear. And according to the social network, 31% (338) of the respondents revealed a fear of failure over the fear of ghosts, spiders, and being home alone.
Having worked with companies like Decagon and founded Lagos-based Rewrite Agency, the trio wanted everything to be perfect.
"Our background has been in developing products for people, and we've been able to do that on different successful products that are currently in the market that people are using. We've worked with those founders and seen the different challenges they've been through, and because of that, we've been our own biggest critic.
"Before we were able to take Unboxd to the public and open it up for people, we spent months trying to avoid problems. Trying to avoid situations where we would get into the market and people would say, 'Oh, this thing is not working', or 'That thing is not working.'"
Eventually, the Unboxd team had to ask themselves the golden question, "What's the worst that can happen?"
"We had to learn to make failure acceptable," Egbeyemi shares.
Currently, from 40 users in September 2021, the platform has over 400 active users and 320 active wishlists. All with no marketing or PR and just word of mouth and recommendations.
There are also plans to raise pre-seed funding and leave the arduous life of bootstrapping behind.
"Everything we've been able to build with Unboxd has been with our own money, and we've had to hire on contract. But we want to move from that to being able to have designers, developers, devops on the ground, fully, working on the product."
The company also plans to expand and conduct tests in the US, UK, and Canada.
From what Adesina shares, there are also plans to take advantage of the owambe market and give users the ability to turn a wedding wishlist into a wedding website complete with a gift registry and pictures.
"We have a lot of weddings going on, and we want to be that brand that event planners and intending couples would want to use. We are basically trying to create a sub-branch of our system and design it specifically for weddings.
This is backed by a flexible customer-centric approach to understanding the market and building for the market.