The global pandemic brought the travel and tourism industry to a halt, but as normalcy is being restored, we're thinking about travel in marvelling ways. Humans are social animals to the core, and travelling helps hone this social instinct.
Interestingly, different companies are creating exciting solutions for the travel sector, and there seems to be a world of opportunities. Meta's (Formerly Facebook) Metaverse is perhaps the most compelling so far, and it feels futuristic. Our Senior Reporter, Oluwanifemi, had some compelling arguments regarding tourism and COVID-19 in this article.
Today on Techpoint Build Spotlight, we're catching up with Akinnuga Ayobami, COO of Tramango, one of Africa's innovators in the travel space and the official travel partner for Techpoint Build 2021.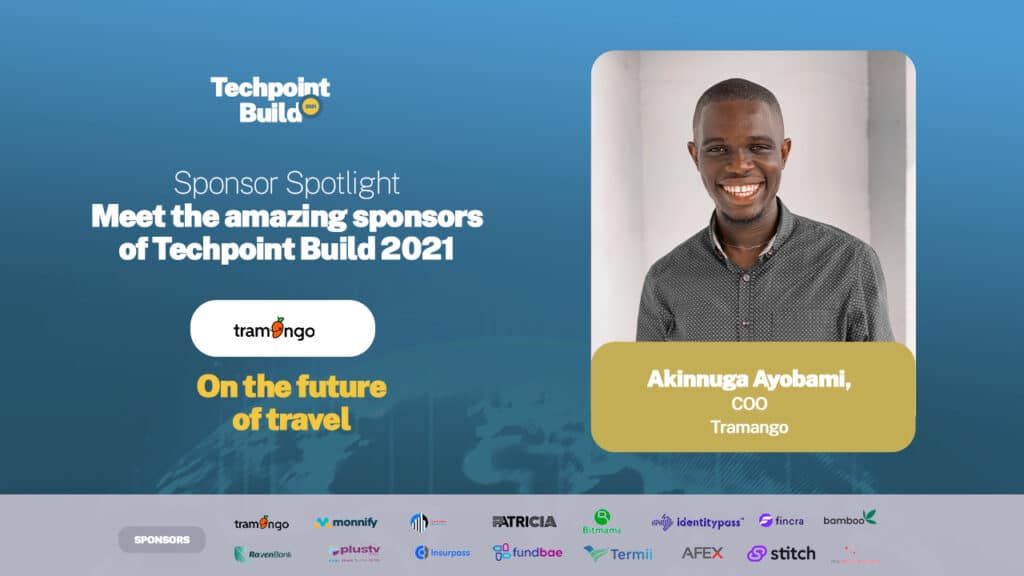 Can you give us an idea of what Tramango does?
We are a full-service travel-tech company delivering premium travel experiences in Africa. At Tramango, we help individuals and organisations have memorable experiences.
We offer a range of services that covers flight booking, stay reservations, visa assistance and documentation, concierge services and destination marketing.
With the development of the tourism industry in Africa, we firmly believe that the industry can lead to business and economic growth.
How would you explain your startup's value offering to a five-year-old?
We help people get around their favourite countries quickly and easily and give them pleasurable experiences in those countries.
What makes Tramango excited about Techpoint Build 2021?
Techpoint Build is helping African entrepreneurs showcase their ideas to the world and funding opportunities through Pitchstorm, the startup competition. We are excited to see future unicorns exhibiting at the event.  
We will also be leveraging on the platform to promote our goal of bringing African tourism experiences to people.
Above all, this event allows us to position ourselves as the frontrunner of easy travel in Africa. This platform helps us push and promote our goal of easy travel in Africa.
What pain point do you think needs to be addressed in the travel sector?
Ease of travel, most especially within Africa, as Tramango's main objective, is to make travel as easy as you can imagine. With the ridiculous airfares within the African border to stringent processes in getting visas, Africans are subjected to discriminatory policies which in turn create travel restrictions.
You can't innovate around some problems; most issues would need the call of the African Union and the interest of governments to invoke change.
What impact do you envisage following Techpoint Build conversations on the next frontier?
These conversations will raise more interest for people to explore Africa, create a forum for partnership amongst relevant stakeholders to change the African travel narrative and help governments to create favourable policies in the nearest future.
For us at Tramango, we hope to create productive partnerships and collaborations with travel brands to achieve the primary goal, which is easy travel.
Akinnuga will be dissecting the topic "Travel 3.0: Exploring new business opportunities and innovations" alongside Tayo Aina, filmmaker, entrepreneur, and travel YouTuber. In the meantime, you can visit the Tramango website.
Grab your ticket (physical or online) for Techpoint Build now.