Just one year into the market, Lumi has positioned itself as the Rewards app of choice for Nigeria's youthful population. Since it was launched in Lagos in December 2020, 60,000 millennials and Gen-Zers have used it to earn rewards and cashback when they shop for necessities, pay for utilities or share their opinions and experiences via short surveys.
Although it appears straightforward, there is more to Lumi's model than meets the eye. Users on the platform earn points that they can redeem for cash. Here are a couple of things that set Lumi apart.
Lumi's platform partners with a network of online retailers who provide goods and services that young people need on a daily basis. These goods and services include but are not limited to airtime for all networks, electricity units, cable subscriptions, mobile data, and a host of other e-commerce offerings.
Lumi leverages advanced analytics and data science to match users with the products and services that they either love already or are most likely to.
As we know, millennials and gen-zers are the most enterprising groups in Nigeria, Lumi also educates them on consumer behaviour and financial savviness through its in-app blog.
Finally, Lumi offers what gen-z and millennials crave the most, instant gratification. "Do the things you usually do on a daily basis through Lumi and gain value instantly", said CEO Wale Adeniji.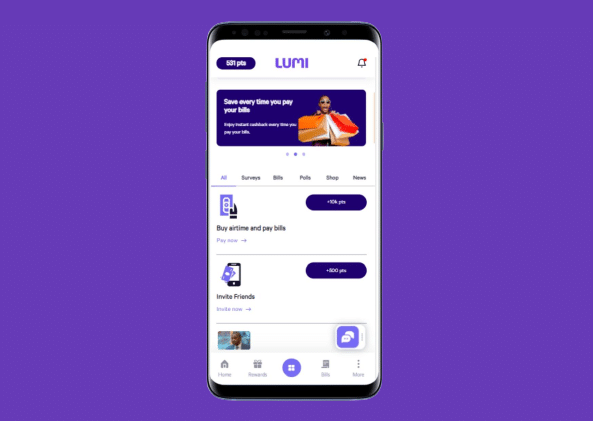 Wale has spent his career studying the science behind decision making and what makes people and processes tick. Wale is an engineer by education who built his career in advanced analytics and machine learning in Toronto, Canada.
By the time Wale graduated from his Master's program, he had already developed two products. One was an intelligent investment tracking system for individuals to track their stock market investments and the other was an apparel brand. Although Wale felt these products didn't quite have enough to be pursued full time he knew he was on to something.
Cashback - Here's What The Youth Want
Wale went on to build Lumi on the notion that Africa's millennial and Gen Z populations, now coming into their own, are the target market for most new businesses and even established companies. With Lumi, these businesses have a platform that helps connect them directly to this coveted audience. Companies partner with Lumi to serve products and services directly to this engaged audience or to glean insights from this audience via consumer research.
In a few simple words, millennials and gen-Z ers want instant value and convenience. "Some say we youth are lazy, but that couldn't be further from the truth. We've just grown up in a world where seamless experiences are becoming the norm, the expected default.
So with Lumi, we provide a robust rewards ecosystem that gives millennials and Gen Z what they want; instant gratification conveniently on a single platform", Wale said. "And then we allow businesses to benefit from the engagement of this population on Lumi".
The speed at which you earn on Lumi depends only on how much you engage. The system is such that within a week you could already have enough points to fund your airtime or mobile data needs for the week.
What's next for Lumi
Now that Lumi's community is 60,000+ members strong and getting rave reviews in the digital space, Lumi is ready to open its arms to even more users and business partners. A shiny new version of the app was released to users all over Nigeria on Dec 3rd, 2021.
"There is yet to be a single rewards platform with truly broad appeal in Nigeria," Wale said. "We're on a mission to provide significant value to millions of consumers all across Nigeria. Having the ear of the most active consumer populations in Nigeria makes us well-positioned to help businesses reach them more effectively in ways that only we can."