Damilola*, a 24-year-old female, believes sex is disgusting and painful. She has no desire for sex and finds it difficult to discuss this challenge with her parents and friends because she is wary of the possible stigmatisation.
"I was only five years old when I was sexually assaulted for the first time, and I've been a victim of sexual assaults since then. Well, I guess it's normal now, because how else would you know you're a beautiful girl if you haven't been sexually assaulted? I'm simply being sarcastic. But it hurts so much that I can't stop thinking about it," she tells Techpoint Africa.
According to the World Health Organization (WHO), sexual health is more than just the absence of sickness, malfunction, or infirmity. It is a condition of physical, emotional, mental, and social well-being associated with sexuality.
So even though Damilola shows no signs of illness or infection, she's sexually unhealthy.
Sexual assault can lead to sexual dysfunction -- a sexual health problem -- but there are tech tools to make us feel safe.
Sexual health in Africa
While growing up, unintended pregnancies were commonplace. It was surprising to see young people deviate from the abstinence training they'd received.
Then again, maybe I was wrong to assume their parents or guardians taught them about abstinence.
I'm much older now, and unplanned pregnancies are still prevalent. And this makes me wonder why parents still fail to teach their children about sex or give sexual health tips and abstinence talks.
If you're a Gen Z or Millenial, you'll be familiar with adverse reproductive health outcomes like unintended pregnancies, unsafe abortions, and high HIV infection rates.
Isaac Ogal, a Sexual Health Advocate and Volunteer with the International Youth Alliance for Family Planning (IYAFP) in Uganda, says, "traditional, cultural, and religious barriers to sexual health continue to exist in Africa.
"And due to high illiteracy rates and limited access to technology, a very small number of Africans have access to and understand sexual health information."
Perhaps, this explains why some African parents don't give their children the necessary sex education.
Besides, a study shows that access to and utilisation of youth-friendly sexual and reproductive health (SRH) services remains a significant challenge for the African youth, particularly in the sub-Saharan region.
The study also reveals that sub-Saharan African youth face numerous significant SRH challenges, including limited access to youth-friendly services (YFS) such as information on growth, unsafe abortion, gender-based violence, sexuality, and family planning.
According to WHO, achieving our sexual health and well-being depend on our "access to comprehensive, good-quality information about sex and sexuality, knowledge about the risks they may face and their vulnerability to adverse consequences of unprotected sexual activity, ability to access sexual health care, living in an environment that affirms and promotes sexual health."
In other words, sexual health issues occur when we lack access to sexual health information and education.
Sexual health issues are diverse, encompassing sexual orientation and gender identity, sexual expression, relationships, and pleasure.
They also include adolescent pregnancy, sexually transmitted infections (STIs), human immunodeficiency virus (HIV), endometriosis, and sexual dysfunction.
How is technology promoting sexual health?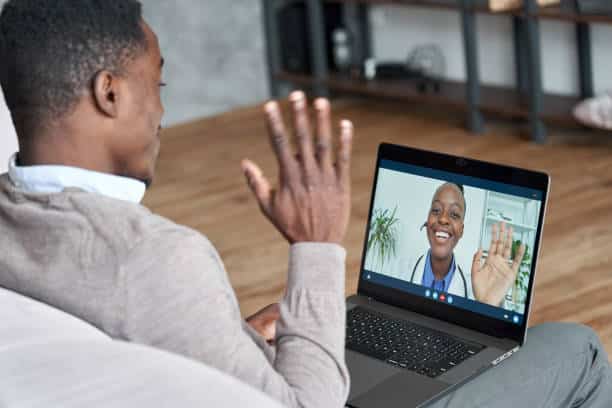 Damilola only realised her problem when she came across "Sexual Dysfunction" on the Internet in July 2021. She noticed that one of the dysfunctions addressed her desire and pain disorders. And this prompted her to seek help, even though she was devastated at first.
"I couldn't believe my condition was huge. I knew I had a problem, but I didn't realise it required me to be deliberate and attentive. I assumed it would go in marriage. What an irony! Thanks to the Internet, I began asking questions and researching sexual dysfunction," she says.
According to a study, healthcare is being increasingly delivered via digital channels such as the Internet, mobile phone messaging, social media, apps, voice, video messaging, and telemedicine.
This trend has been aided by the spread of mobile technology and rapid advances in artificial intelligence.
Interestingly, the study also shows that digital communication channels provide widespread coverage, allow messages to be targeted to specific groups or individuals, and have the potential to improve the delivery of sexual and reproductive health and rights (SRHR) information and support.
Consequently, technology can help people in Africa access sexual health information since the continent's Internet population is rapidly increasing.
Ogal believes that technology significantly bridges the sexual health information gap, as many educated youths have smartphones connected to the Internet.
"However, people with sexual health issues are afraid of accessing these services because of the stigma associated with them in a society that is already historically and culturally biased," he says.
Besides, we may face barriers to access sexual health services, such as concerns about confidentiality and privacy, high costs, insufficient transportation, and a scarcity of medical providers.
Also, living in remote or isolated areas can limit options because there may be no sexual health specialist available and no choice of a male or female doctor.
Hence, the use of telemedicine to increase access to sexual health information.
Telemedicine makes use of information and communication technology to overcome geographical barriers and increase access to healthcare services.
Technological advancements are removing the stigma associated with seeking information on sexual health and related issues.
We discuss four tech tools that can help us improve our sex lives while avoiding stigma.
1. Ask Without Shame (AWS)
Ask Without Shame was founded by Ruth Nabembezi, who grew up in a Ugandan orphanage home.
After Nabembezi's parents died of AIDS, her sister developed severe skin rashes, and fellow villagers assumed demons possessed her. Instead of taking her to a healthcare centre, they took her to a witch doctor's place, where she later died.
Following her sister's death, Nabembezi was unhappy that people in Uganda not only lacked information about sex and sexual health but were not allowed to have such discussions. And that prompted her to start Ask Without Shame (AWS) in 2015.
AWS is a non-profit organisation that uses mobile technology to deliver sexual health information from medical experts and counsellors to young people to dispel sexual myths and taboos, halt potential HIV transmissions, and prevent unwanted pregnancies in Africa.
Ask Without Shame offers emergency sex education through an Android mobile app, WhatsApp, phone calls, and SMS. It puts sex education at the fingertips of young people aged between 12 and 35 without judgment or shame.
It also allows many users to disclose information that they are too embarrassed or afraid to reveal to others. The organisation claims it wants all African youth to have access to the sexuality information they need to make informed sexual decisions.
2. Honey and Banana Connect
According to a Guttmacher Institute fact sheet, 15.7 million of Nigeria's 45 million women of reproductive age (15–49 years) want to avoid pregnancy.
In addition, 61,000 Nigerian women die each year from birth-related complications, abortions, or miscarriages. However, with better access to contraception information, most of these deaths can be avoided.
Honey and Banana Connect claims it's helping to reduce this number through its call centre -- which can be reached by dialling 55059 -- that provides access to supportive, affordable, and high-quality family planning services.
After calling 55059, you will be connected to live agents who will respond to all of your family planning, birth spacing, and contraceptive-related questions.
For the purpose of this article, I dialled the code to learn more about what they do.
A bot welcomed me before my call was transferred to one of their agents -- whom I'll call Aramide -- in under 10 seconds.
Aramide introduced herself, asked for my name, and wanted to know why I called.
I told her I'd had unprotected sex the previous night and was terrified because it was my first time.
And without asking embarrassing questions or judging me, Aramide told me to get Postpill from a pharmacy close to me and use it. I ended the call after telling her my age and where I was calling from.
To learn more about Postpill, I redialed the code. As I'd hoped, another agent answered; I'll call him Julius.
Julius told me that the Postpill is an emergency contraception (EC) that prevents pregnancy if taken within 24 hours of having sex. Asked if I could use it before sex, Julius said, "yes."
According to studies, using emergency contraception before having unprotected sex may not provide the best long-term protection because sperm can live inside the body for up to five days after ejaculation.
Because these drugs only provide the most effective protection for three to five days after sex, having unprotected sex after taking EC means the sperm may outlast the medicine's most effective window.
So, taking Postpill after sex is more effective.
Furthermore, he stated that the pill should be taken three times per month but not as regular birth control.
According to Honey and Banana Call Centre, callers are guaranteed complete confidentiality and privacy.
In Nigeria, calls are free on all mobile networks except Glo.
3. Blueheart
Blueheart is a sex therapy app that provides access to sex therapy, helping users overcome sexual dysfunction and have healthy personal relationships.
Founded in 2019 by Sachin Raoul (CEO), Blueheart uses guided audio sessions to help people regain their libido.
Renowned sex therapist, Dr Katherine Hertlein, and Dr Laura Vowels, a specialist in libido and sex drive problems within relationships, provide the information on the app.
Blueheart uses the Sensate Focus technique -- a hybrid of exposure therapy and mindfulness. These methods are known for dealing with a wide range of issues, including sexual health issues.
Available in text and audio, Blueheart encompasses thought sessions that focus on sexual fears and anxieties, body sessions that focus on developing a positive relationship with your body -- alone and with a partner -- and connection sessions that focus on communication.
4. Scarleteen
Founded in 1998 by Heather Corrina, Scarleteen answers sex-related questions in a straightforward yet friendly manner. The young-adult-friendly website discusses a wide range of topics such as anatomy, pregnancy and STI prevention, abortion, sexual orientation, and sexual pleasure.
Young adults can use the online resource to learn about their bodies and health. It's a place where they can get answers to questions they'd be too embarrassed to ask someone in person.
It also offers a one-on-one live chat with trained volunteers, extensive articles, and a forum where visitors can talk with people dealing with similar adolescent issues.
The significance of sexual health cannot be overstated, as it allows people to control their reproductive health and emotional well-being in intimate relationships.
Sexual health is an essential component of living a happy life. And prioritising it can improve a person's emotional, physical, and mental well-being, as well as their intimate relationships.
* - not real name