It's a cold night in June 2019. Like most nights, 15-year-old Chidiebere is walking the streets of Lagos. The air is stuffy as fumes of carbon monoxide emissions combine with the smell of sewage, leaving an unbearable stench.
Everyone seems to be in a rush, going someplace. Prospective buyers converge on expectant sellers. Wanderers are roaming. The others can only care less. They just want to go home and get some sleep. It's been a long day.
Home. This word echoes through Chidibiere's head. He tries to imagine an actual bed, a roof without holes, and walls bearing no cracks through which lizards visit.
Screeching tyres and the loud sound of metal crashing into metal from a nearby accident break his trance. But thoughts of a comfortable home return. Maybe one with chairs and a dining set.
But he understands the difference between needs and wants, and what matters most is a full stomach.
Home. Anything but a worn, bare mattress on the cemented floor and 4 a.m. baths taken with sand beneath his feet.
Out of the frying pan into the fire would be a fitting title if his life were a movie or a book.
After losing his father to death's cold hands, he had to watch his mother eke out a living every day as she tried to feed her children and pay an elephant-sized rent for an ant-sized space.
How is meaning defined in a state of such deep despair? Hope seems like a long-lost friend, in its place, an empty stomach and dreams of a happy life. One in which he didn't have to attend school two out of five days due to outstanding fees.
It's August 2021, and Chidiebere is in a better place. Now 17 years old and armed with mastery in three programming languages, Python and Java included, he is preparing for the forthcoming West African Examination Council (WAEC) exams, looking to get into the university, and pursuing a long-coveted career in football. Big dreams, but doable.
Things seem to be looking up. But don't fairy-god mothers appear only in Cinderella-esque tales? Well, it turns out that a certain charity organisation has taken to transforming the lives of children on the streets of Nigeria using an underlying triad mission of care, empowerment, and education.
In 2012, Abimbola Ojenike, a litigation and transactional lawyer practising in his legal firm as at the time, couldn't help but notice that a large number of children roamed the streets during school hours. He identified this as a big problem and got Kemi Oluboba, Co-founder and Ikem Isiekwena, Co-founder, aboard on a mission to solve this challenge.
"We did checks about them and realised that most of them were actually homeless. We saw this as a challenge and decided to solve a problem around education for people who have no home at all, and also to be able to empower and provide care to them, because education cannot be sustainable if people have no stable home at all," Ojenike told Techpoint Africa.
Globally, there is a staggering number of out-of-school children and adolescents of primary and lower secondary school age. The UNESCO Institute for Statistics (UIS) counts 258 million children, and as of 2020, 65,165, 951 of this figure lived in sub-Saharan Africa.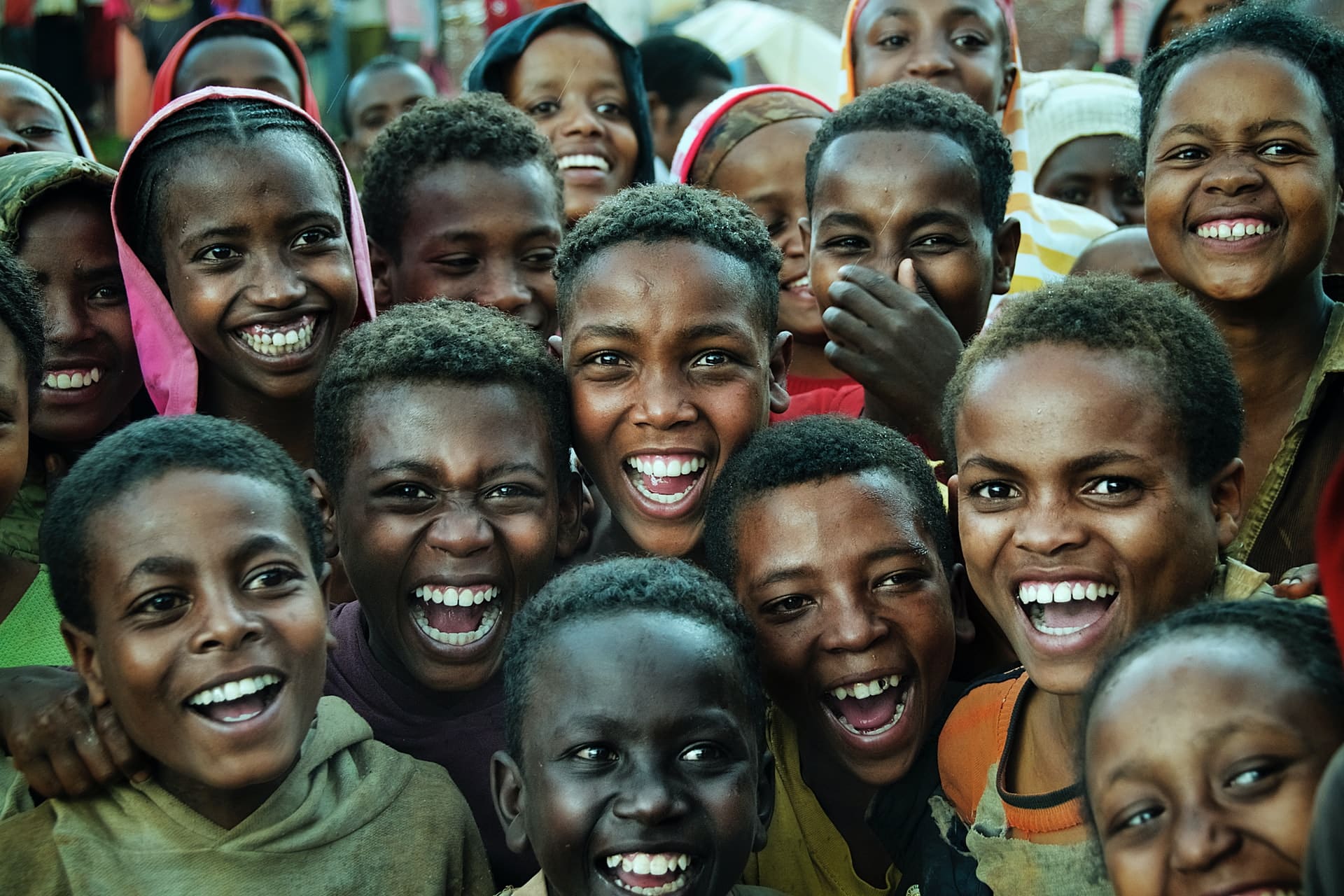 Reasons like forceful home evictions, child neglect, and chief of all, poverty account for those numbers.
Many of Africa's population live in slums, with most homes headed by unemployed single mothers. In most cases, children in these situations are abandoned and take to the streets to find food and a sense of belonging.
At the point of founding, The Destiny Trust Children Foundation kicked off operation as a centre for providing shelter and rehabilitation to homeless children while partnering with schools to help the children get access to education.
"Our programs are in three aspects. One is care: we recruit these kids into our program, take them off the streets, and keep them in our home outlets with a branch in most of the cities we're in.
"They are then placed in some of the schools we partner with. And in a playful manner, they are introduced to tech and artistic skills, which is so important, because the idea is to equip them with skills that will empower them beyond the foundation. Something people can pay them for later on."
So far, the foundation has interacted with up to 15,000 children through different programmes.
"For some of them, it's a one-off kind of interaction, like food drives. For others, it's school enrollment, people that we put in school. Because every year, we take hundreds of children to school. Like in 2020, it was about 500. This year, we're looking at a thousand already. We also have people benefitting from school projects we have done, and some from our coding tutors, as some of them go out to teach in schools."
Kids' innovation Hub and STEM bootcamps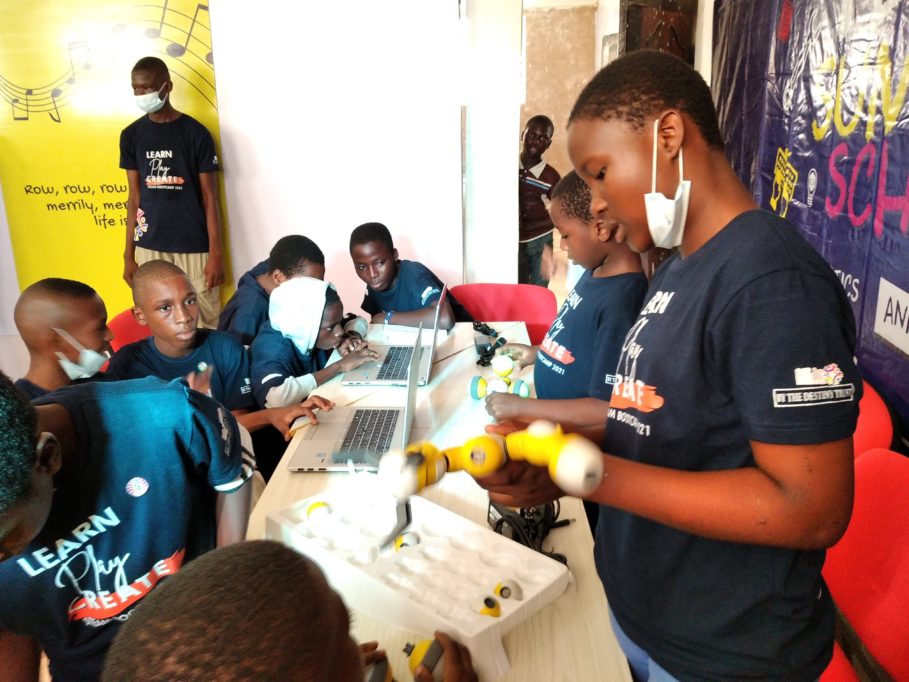 In May 2018, the foundation opened a Kids Innovation Hub to equip children with tech skills.
The process involves selecting children from charity homes, public schools, and low-income private schools; equipping them with digital skills by organising bootcamps; employing coders for teaching; occasionally inviting mentors to meet with the kids on demo days; and assess the teachers' methodologies.
Ojenike reveals that the hub also allows the children to embrace other creative skills beyond coding, emphasising that freedom of expression and exploration is encouraged.
"What we're trying to do is show them their right to access the art and technology space. We encourage them to explore different activities beyond coding. Upon close monitoring, we discover their flairs and help them focus on their interests, be it design, drawing or digital illustrations."
Since its launch, 445 children aged 6-18 have been introduced to tech. The fourth edition of the Kids' Innovation Hub STEM bootcamp was held from August 7 to August 21, 2021, in partnership with IngressiveForGood, a not-for-profit platform that trains youths in Africa with tech talents and connects them with jobs.
During the bootcamp, there was a demo day, which saw attendance from a few key players in the African tech scene to mentor and encourage the children.
Considering the weight of what it takes to run a charity organisation, the foundation has a community of tech and non-tech volunteers, including coders, carers, teachers, cooks, social media managers, and administrators.
To volunteer, interested persons can send an application to destinytrust@org, stating the role they want to function in.
Currently located in Ibadan, and Igbo-Ora, Oyo State, and Lagos, Ojenike shares that each city comes with its unique problems which fit under their care, education and empowerment solution structure.
"So, Lagos is where we started from. It's cosmopolitan, and you see all kinds of people here. The street children escaping parts of the country where insurgency is a real challenge end up in Lagos, and this is where we have a good number of homeless people. So our focus here is providing food, shelter and care, alongside education.
"And when you go on the streets, you also meet kids from the Southwest, who moved to Lagos from Ibadan, owing to promises of a better life. This is one of the reasons we opened a centre in Ibadan. In Igbo-Ora, almost anyone has a family compound to live in, so our focus there is education and empowerment."
Sustaining a charity foundation in Africa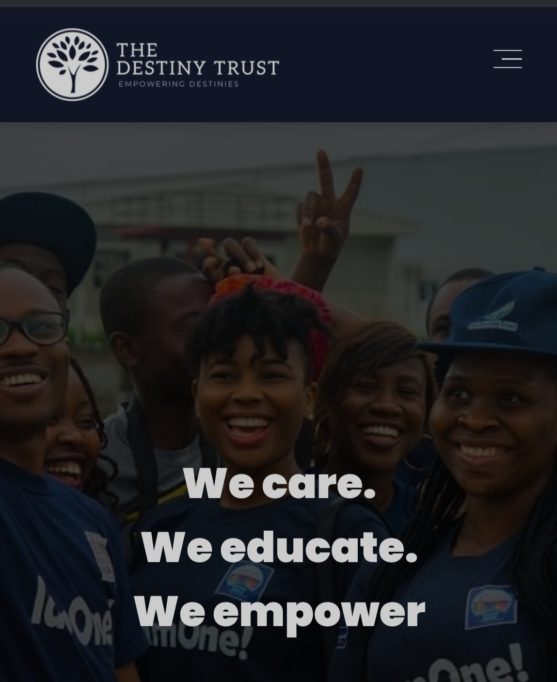 As is the case with most charity organisations, funding is quite a challenge. Destiny Trust Children Foundation gets her funding from goodwill and volunteers. Ojenike shares that contributions from volunteers and their families make up most of their source of income.
"Our volunteers' community is actually really amazing. A very significant percentage of our income comes from our own members. At the time we did our midyear impact report, volunteers and their family members contributed 70% of what was spent from January to June."
He also adds that, for external funding, the foundation isn't running on any grants at the moment. The latest was received in 2019 due to a partnership with an organisation in Luxembourg to conduct a literacy program in Africa. Most of the time, after they applied for grants, their applications were rejected.
"We've applied for grants and have been rejected a number of times. But we are not giving up. We are still trying. We know that the right opportunities will come. We've learnt from things we didn't do right from previous applications, and we are trying to get a good sense of what the grants reviewers are looking out for, also looking out for organisations where our cause will be better appreciated."
Some members of the foundation's board and management team include Professor Yemi Osinbajo, Vice-president of Nigeria; Mrs Ngozi Ken-Udochukwu, Lawyer and child development advocate; Mrs Foluke Irukera, early childhood education consultant; and Olúwatósìn Olaseinde, Co-founder and CEO of MoneyAfrica, a subscription-based financial edtech platform,
Olaseinde shares a bit of her journey with the foundation with Techpoint Africa. She heard about the foundation via Twitter and immediately applied to volunteer because the vision aligned with her passion for education, especially for underprivileged children.
"I reached out via a DM to schedule a visit to their home. There was so much warmth in the place. The children were joyful and relaxed. I could feel it. I joined immediately. Six months later, I joined the partnership team. It's a win-win for the children and the economy that we play a long term game by getting them education and developmental skills."
Going forward; plans for the future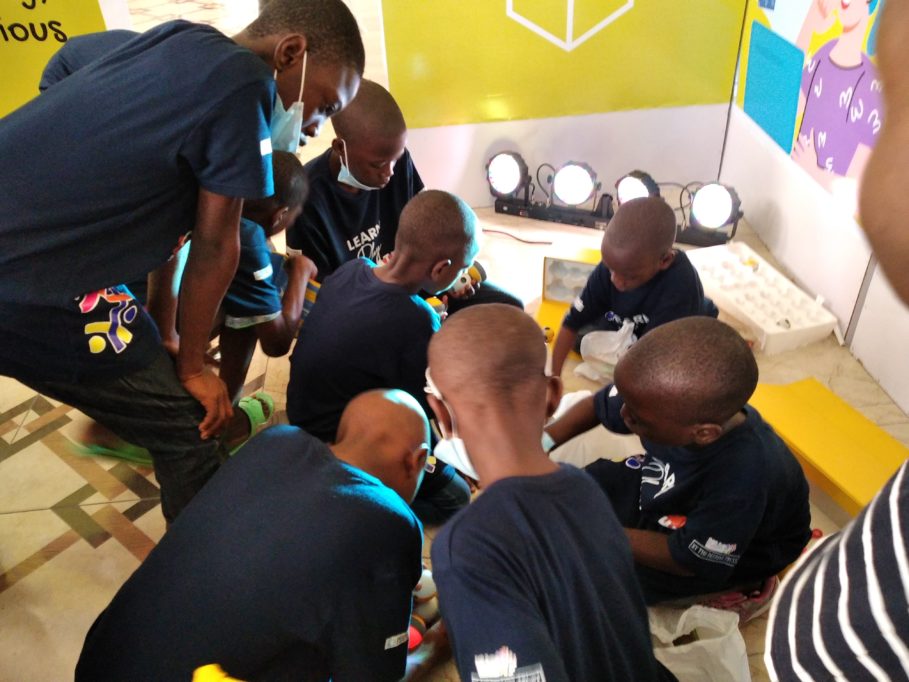 The need for creating access to education and skill acquisition for Africa's over 60 million out-of-school children and adolescents is not only vital but pressing. Abandoned and uneducated, these children are susceptible to being used as accomplices for several societal menaces due to lack of proper information and neglect.
Commenting on this, a report by the United Nations Office on Drugs and Crimes(PDF) reveals, "Throughout the world, teenaged and young adult males commit most of the crime, and Africa's youthful population (43% under the age of 15) means that a greater part of the society falls into this pool of potential offenders. Many of these young people are not enrolled in educational programmes and cannot find employment."
This follows Ojenike's train of thought, and he believes that an expansion to more cities is not only necessary but urgent.
"We want to be everywhere children need us. What we're doing now is only navigating the surface of the problem. We want to be able to replicate what we're doing in other states by setting up centres in new states for the school empowerment program. This year, we have set up two centres we are looking to strengthen and expand."
There is also a need for more teachers and computers for the Kids' Innovation Hubs in Lagos and Ibadan to foster paced and personalised learning. Ojenike also shares that the educational program is being expanded to over-aged children who have never been to school.
"For somebody who is over 14 years old and has never been to school, how do you teach coding without first ensuring basic reading and writing skills? So, the plan is to open up new centres for overaged children. We are looking at the first of October to launch this special kind of school for accelerated education."
As with Chidiebere's case, the foundation has its shares of testimonies. Some of its alumni have grown after being equipped with skills to sustain themselves and make their way in the world, securing university education.
"Some of our kids are in the university. We have some of them in UI (University of Ibadan), Benson Idahosa University, and other places. For those who have gone through the innovation hub, we have a few in Unilag (University of Lagos), who were able to continue their own development in tech."
For Olaseinde, the best moments of being a part of the foundation are seeing the children grow up to set positive examples.
"The joy of watching the children evolve. At the latest outreach, there was a girl that we re-integrated into the education system from our host community. She was at the forefront of the outreach. She has grown over the years and was a model example to the other children."
The continent is rife with challenges, but they provide room for innovation. You would agree with me that Africa is abundant with golden opportunities. And there is so much more than we can do.