This post is a version of SME Clinic newsletter, a weekly newsletter that provides tips and recommendations to help you position your small business for success. Register to attend SME Clinic 2021 here.
---
Take a moment to consider your business and customers. In your mind's eye, I'd like you to see your paying customers as the blood of your business and your product or service, its flesh and bones.
We've discussed strategic ways to attract the right customers for your business by leveraging online communities and how to convert your Instagram followers to paying customers.
As a business owner, you cannot afford to forget how dynamic the market is or how many other options to your product/service exist.
This highlights the need to attract customers and keep them, ensuring that you're the first one they think of in your industry or their locality when they need the service or product you offer. And in some cases of loyalty to satisfactory brands, customers step out of their comfort zones to patronise their preferred businesses wherever they are located.
One way businesses have successfully positioned themselves as first in customers' minds is through excellent customer service. And here are five ways to improve your customer service as a small business owner.
Understand that these are your people
A saying goes thus, "to understand is to know what to do." You can only prioritise customer service when you realise that customers are the core of your business' traction; without them, your business is like flesh and bones without blood. The value you're offering as a business can only be noticeable when people reflect it.
Make it easy for your customers
We live in a fast-paced world where many things are automated. Nobody really likes a service that requires them to do all the work. So, from order to purchase and delivery, your processes should be as seamless as possible.
Are you advertising a new offering? Leave a link to a page containing adequate information to help people place orders. If possible, create a way to pay and checkout on the same spot. This might be stressful for you, but if you do not have seamless processes, your customers might leave you for someone who does. And guess what? It will be your competition's unique selling point.
I love what this tweet says:
Don't ignore negative feedback
It's easier to respond to glowing reviews of your business, but feedback is not always positive, and that's a fact. Irrespective of what you do, you cannot avoid dissatisfied customers.
When feedback genuinely addresses a concern, it doesn't matter how it is presented. Your duty as a business owner is to sort out the problem as politely as possible. Don't evade the problem or be defensive. Interestingly, in the end analysis, your business is not about you — it's about your customers being able to trust your brand. In the digital age, unaddressed negative feedback spreads like wildfire.
While it is wise to accept and learn from all feedback, you must be careful about what does not align with the value you're offering; else, you spend time on issues that really mean nothing to your business. In such situations, respond promptly and end the conversation. 
4. Follow up is not for proselytes only
It is essential to follow your customers up after successfully solving a problem or rendering excellent service. You can reach out via a few emails — emphasis on a few — or social media DMs.
Ask for feedback if none is forthcoming. Find out how they perceived the service since/during the last order, what they felt could have been better, and what they'd like to see more of. Like every relationship, it's always beautiful when the other person takes your feelings into account.
5. Hire a customer relationship manager
It is okay if all that you have read so far seems like a lot of work. Building great products/services for your business requires your complete attention. And while this may become more difficult as your business grows, finding someone to do the heavy lifting might just be the way out. If your customers are important to you, hiring someone to communicate with them on your behalf will be a priority.
Excellent customer service helps your customers trust you. Most online transactions happen with zero physical contact, and your online customers who trust you will happily be your word-of-mouth brand ambassadors.
This list is not exhaustive, but it's a great place to start if you want to improve your customer service and, consequently, your business.
TL;DR
Understand that customer relationships are crucial to your business.
Make the process of transaction/service as seamless as possible.
Don't ignore negative feedback. It's not about you; it's about building trust in your brand.
Following up on customers is vital.
It's okay to hire someone to help you strengthen the relationship with your customers.
Join us at SME Clinic 2021 to learn more about how to market and grow your business online.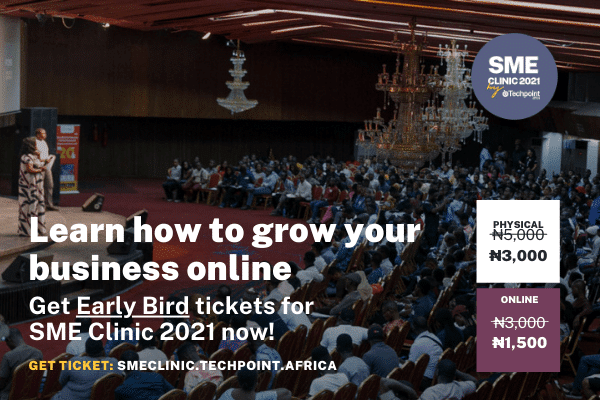 🔔 Early Bird Offer! Get your ticket for SME Clinic 2021 at discounted rates now. Learn how to launch, market, and grow your business online.
Want to learn how to market your business and make more sales online? Register for SME Clinic 2021 and gain skills to grow your business. Get your Early Bird ticket now (offer ends soon).