Emmanuel travelled to Osun State from Lagos State on a busy Friday afternoon and made a stop at Ibadan, the capital city of Oyo State, where it was raining heavily.
With the cost of transportation sometimes increasing with torrential downpours, his situation worsened because he travelled cashless. The irony is that despite the push for a cashless society by bank mobile apps, digital banks, and other industry players, Nigeria's economy remains predominantly cash-based.
In need of cash to continue his journey and with no ATM in sight, a point of sale (PoS) kiosk — from which he promptly withdrew money — caught his attention.
Recounting his experience on his WhatsApp status later in the day, he called PoS agents "Super Agents who swoop in and save the day."
If I were to hazard a guess, I'd say six out of ten everyday Nigerians have been in Emmanuel's shoes.
But conjecture aside, how did Nigeria's Emmanuels handle similar situations before 2017 when commercial banks keyed into what first entrants into the Nigerian fintech space — like Paga — were doing with agent banking?
I vividly remember being stranded after work hours while in the university. Yes, there were ATMs, but as is still common today, they were either empty or full with "Out of Service" boldly written on their screens.
PoS: A need
There is at least one kiosk on many Nigerian streets in urban and rural areas, with most of them having variations of "PoS is Available" written on them. But, whatever the terminology, the message is the same — you can withdraw and send money here.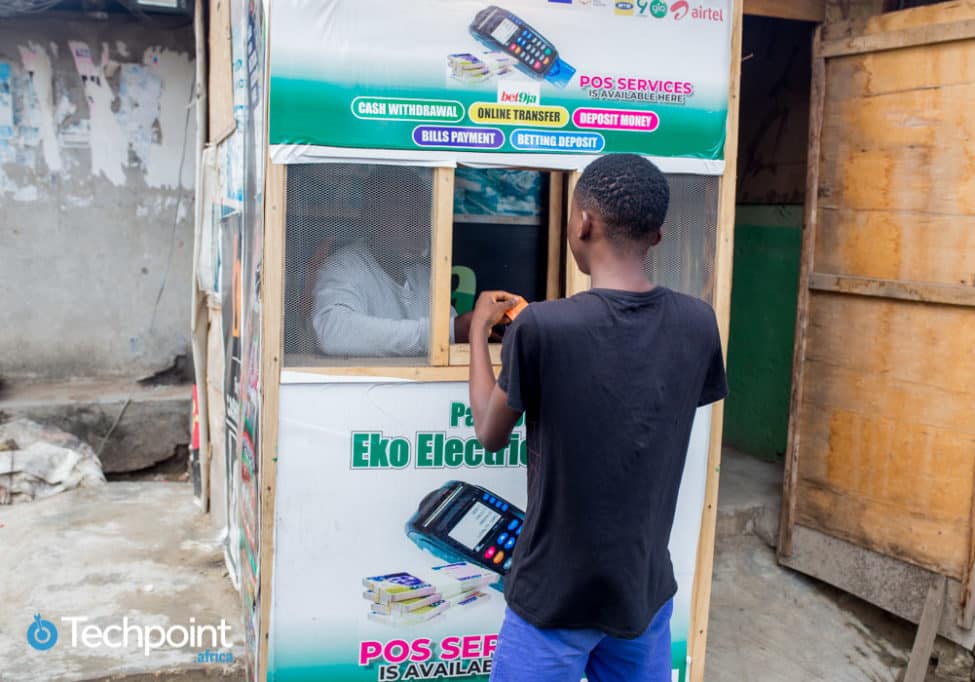 And expectedly, understanding the present-day reality demands that real-time payments and banking services be available on request, and wherever required, banks and other financial institutions have waded in.
Agent banking — owning a PoS (Point of Sale) outlet — is probably one of the most lucrative businesses in Nigeria currently. While some people focus on it as a primary source of income — having several outlets — it is an additional source of income for others.
These outlets provide banking services, including cash deposits and withdrawals, fund transfers, utility bill payments, airtime recharge, and other related services.
Apart from shops specifically set up to provide these services, other goods and service providers play the role of banking agents.
And they have become more popular with the increase in the number of fintechs — digital banks and mobile money operators — in the country.
Although the Nigeria Inter-Bank Settlement System (NIBSS) data shows that there are about 307,000 PoS machines in Nigeria as of March 2021, only 167,000 were active. While agent banking promotes financial inclusion, it might not usher the nation into a cashless economy.
Ironically, a random survey of several PoS points shows that cash withdrawals make up 90% of their daily transactions.
Impressive data to show
The Central Bank of Nigeria (CBN) introduced the PoS system and agent banking in 2013 to achieve financial inclusion and develop a cashless economy.
Apart from commercial banks with agent banking arms — like FirstMonie by First Bank Nigeria and Access CLOSA by Access Bank — fintechs like Paga, Interswitch, Quickteller, TeamApt, OPay, and Kuda Bank also play in the field.
A recent stat — exclusive to industry players — from the Shared Agent Network Expansion Facilities (SANEF), a CBN initiative to oversee agency banking in Nigeria and promote financial inclusion, reportedly depicts an impressive year for the sector. Besides, data released showed an 859% surge in the volume of PoS transactions during the lockdown between March and April 2020.
Data from Nairametrics for Statista shows that the number of PoS payments increased significantly from 34 million in 2015 to 438.6 million in 2019. On the other hand, in 2020, NIBSS recorded that Nigerian merchants and mobile money operators (MMOs) processed over 655 million PoS transactions valued at ₦4.7 trillion ($13 billion), a 50% increase from 2019.
Agency banking contributes significantly to banks' revenue growth driven by charges from electronic banking services.
What agents and users think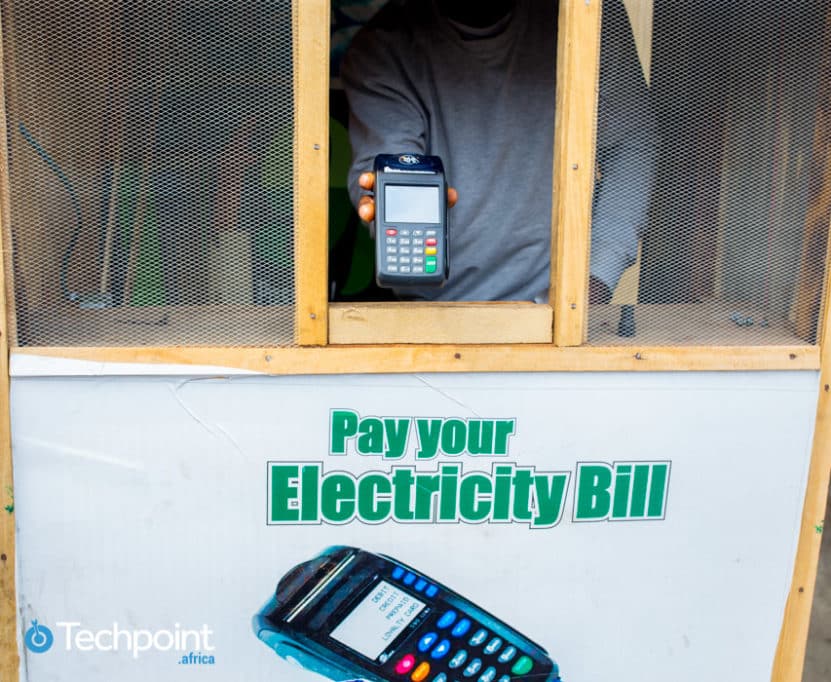 Typically, a PoS terminal helps customers pay for goods and services in person or online, with receipts printed immediately. As we've come to see, they are found in stores and used for debit card purchases.
Per users
For many Nigerians like Emmanuel, PoS merchants are lifesavers for apparent reasons.
Olive, a young Nigerian living in Benin City, who often patronises PoS agents and hasn't visited the bank in the past two to five months, says they are closer to the house than banks and can be found everywhere. Micheal, a Lagos State resident, corroborates this, stating that they are the only option available in Ikorodu, where he resides.
Of the 33 respondents who took part in a survey covering different states in Nigeria, 21 prefer to use banks.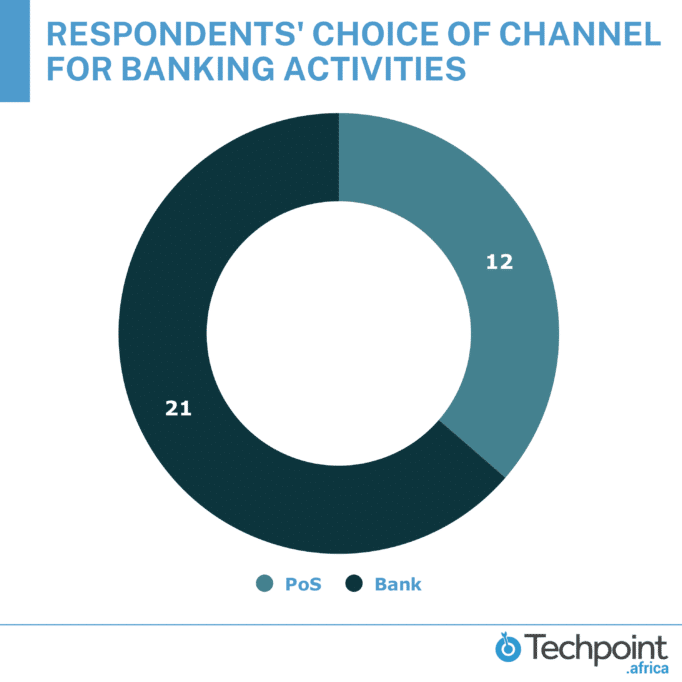 Ironically, 23 people often or always use a PoS agent, while 19 of them haven't visited their bank in the last two to five months.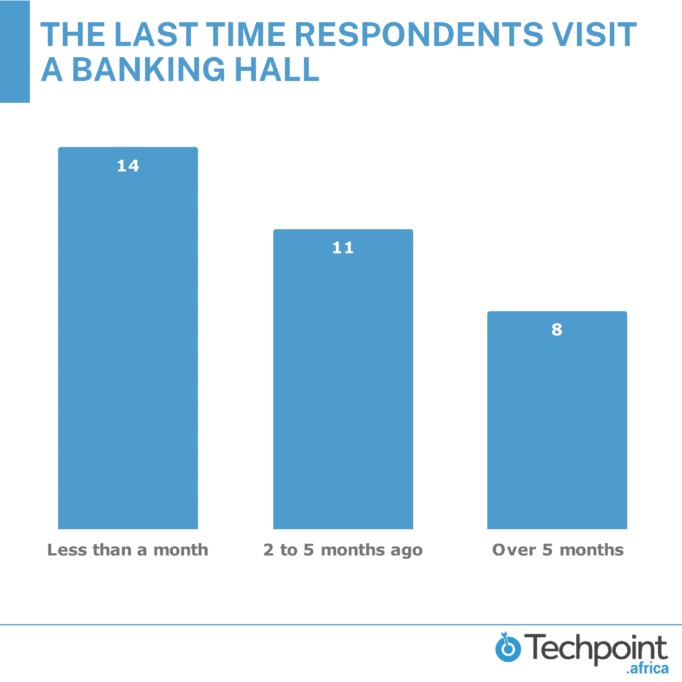 This leaves one wondering what could be influencing the choice of PoS agents when banks clearly have the higher preference. 12 respondents prioritise the convenience of agent banking over visiting their banks or ATMs, which often have long queues, 20 say that the absence of nearby banks leaves them no choice.
Understandably, banks, fintechs, and MMOs have agent banking as integral parts of their service offerings.
Per operators
Mr Olaniyi, a PoS terminal operator, residing in Ile-Ife, Osun State, explains to Techpoint Africa how he got into the business.
"I started this business in April 2018. Before then, what I did was help people to subscribe to their cable TVs, but Kudi, the company I was dealing with then, approached me and asked if I'd be interested in having a PoS machine. It was sold for ₦75,000 (~$207)*, which I couldn't afford. But I was told that I could pay in instalments, to which I agreed."
He narrates how he took a loan from a microfinance bank to add to what he had and how, within two months of running the business, he could repay the loan.
Doesn't that paint a picture of profitability? Olaniyi started the business at what turned out to be a perfect time, as he had a monopoly, being the only agent in the area. Consequently, he could charge as high as ₦200 on every ₦5,000 withdrawn.
With seven outlets to his name across the town, he admits it is a profitable business. On a good day, one of his outlets — which has three other PoS shops close by — can do up to 22 transactions, dispensing up to ₦400,000 (~$971).
How agents charge for their services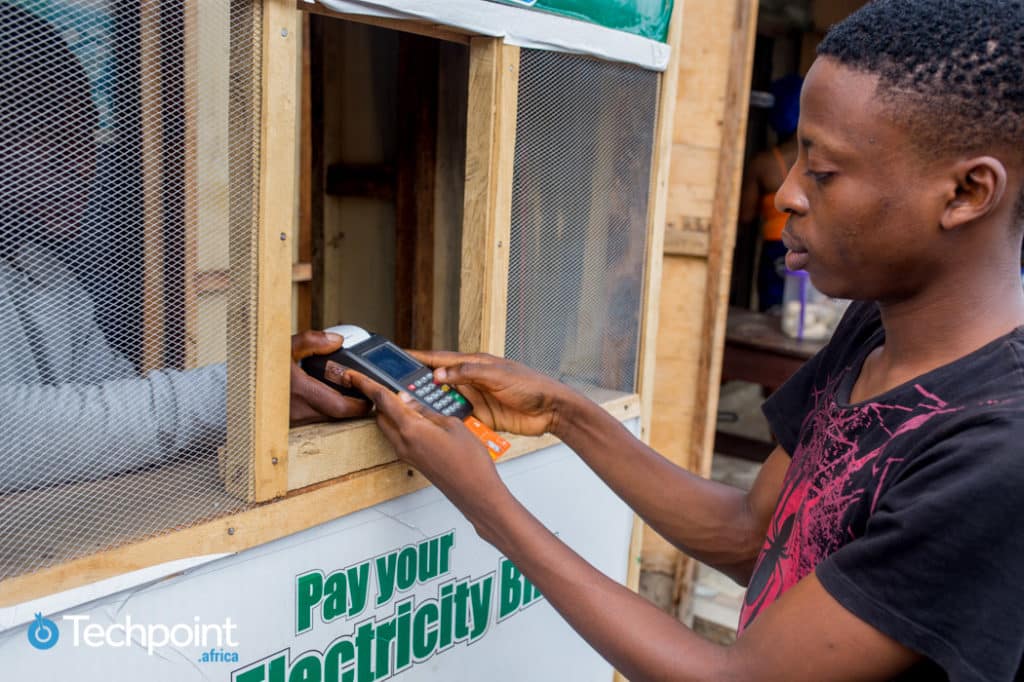 From all indications, customers do not mind paying to use the PoS service. And while this gives room for exploitative fees, a comparison of competitive markets across Lagos, Ogun, Osun, and Edo states reveals a uniform transfer fee and commission per withdrawal — ₦100 increments on every ₦5,000.
₦100 to ₦5,000 — ₦100
₦5,001 to ₦10,000 — ₦200
₦10,001 to ₦15,000 — ₦300
However, with higher amounts of money, there appears to be room for negotiation even for the inexperienced haggler; I successfully negotiated for a ₦50 deduction on a withdrawal of ₦15,000.
With more customers like me, the agents won't make as much money as they currently do, and this isn't because of my negotiation abilities. The charges system only benefits the agents when customers request small amounts of money.
Steps to running a PoS business in Nigeria
Secure a location
Positioning an outlet in a noticeable location with limited banks and a large population — students' residences, for instance — is key to the success of a PoS business. It is also important for the proprietor to make arrangements for security because of the cash handling involved.
Acquire a PoS terminal
Sometimes, agents sort out how to get equipment before searching for a location. There are currently three ways to get a PoS machine or terminal in Nigeria: MMOs, banks, and online marketplaces. It should, however, be noted that terminals purchased from online marketplaces still need the services of banks and MMOs to be operational.
Interestingly, their processes are similar.
MMOs
The processes involved with MMOs are pretty straightforward.
Apply online to get the machine at a fee: Application is made on the chosen bank's mobile app, and the customer is expected to meet specific KYC requirements — including providing their BVN, a valid means of identification, a utility bill, and a photo — to register as an agent and request for a device.
Decide the type of PoS you want: Depending on the provider's policy and functions of a machine, it can cost between ₦2,000 and ₦35,000 when gotten from a bank or MMO. But it costs more on online marketplaces.
Banks
Commercial banks exercise extra care before giving out a PoS device — at no cost — because the Central Bank of Nigeria (CBN) is particular about the conditions people must meet to become agents.
One of such requirements is that the person applying must have a current account being used to run a profitable business, and that holds a minimum of ₦50,000 ($121). If all requirements are met, the bank gives the applicant a terminal; however, the user will need a bank app to monitor transactions.
Because Olawale — an Abeokuta-based PoS agent — could not meet these requirements, he borrowed a friend's terminal in 2019 to start the business until he got his.
Ultimately, people choose where to get a terminal based on the perceived ease each option provides.
Types of PoS terminals
Customers typically use their debit cards on PoS machines for services like withdrawals, transfers, utility bill payments, etc. Before inserting a debit card into a machine and asking a customer to enter their four-digit PIN, an agent enters information about the transaction on the terminal.
If the terminal completes the transaction — using mobile data — it immediately prints a confirmation receipt; it also prints out a 'Transaction Declined' receipt when unable to complete the transaction.
A cardless transaction can also be done without debit cards via direct transfers to the designated account.
There are three types of PoS machines with varying physical features and functions.
Mini PoS device: This PoS machine looks like a calculator, with a few function buttons and a narrow display screen. It can perform basic PoS functions, but it cannot work without being connected to an Internet-enabled smartphone via Bluetooth. It does not have a printer. After inserting a debit card, transaction details are entered through a mobile PoS (mPoS) app, on which the transaction is also activated. However, the user enters their four-digit PIN on the machine.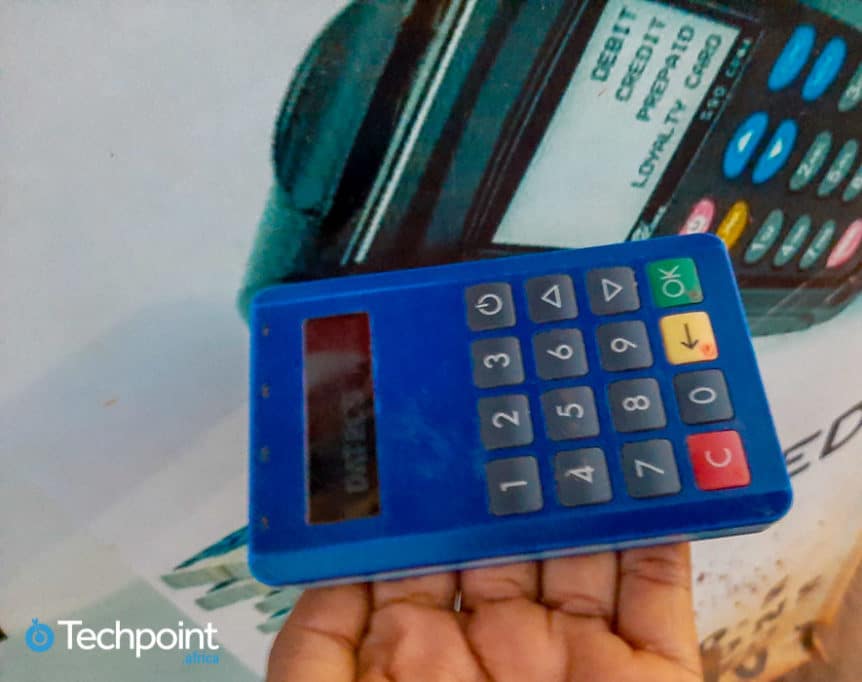 Traditional PoS machine: This is the most common type as they were the first to be introduced to the Nigerian market. More function keys and a wider square display screen allow transaction entry and activation as long as it is connected to the Internet. It automatically prints out a receipt at the end of every transaction.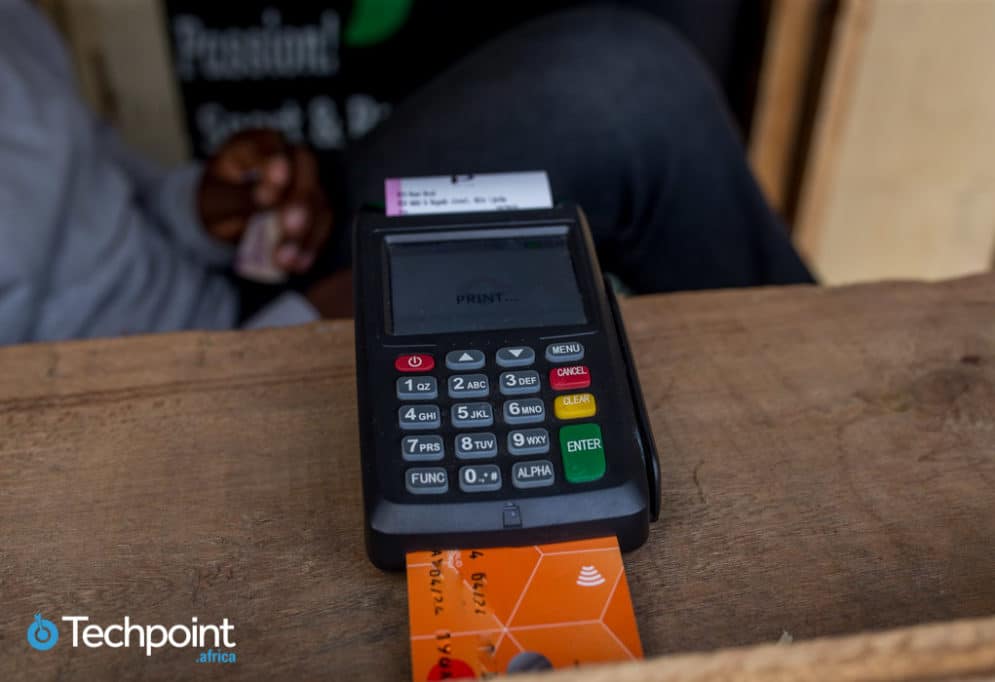 Android PoS: This type is designed to look and act like a 7-inch smartphone. The device can perform all traditional PoS machine functions, show notifications, allow app installation, and scan barcodes, among others. It processes transactions faster because it runs on a robust OS, can connect to WiFi, and has 4G network capability.
What does a PoS terminal cost
While some companies receive outright payments — which are usually higher — from people for the machines, others collect a caution fee refundable upon returning the machine.
For context, on OPay, PoS machines cost ₦2,000, ₦10,000, and ₦20,000 for mini, traditional, and Android terminals. For Kudi, on the other hand, the conventional PoS machine cost ₦20,000.
Note that all these payments are refundable.
Banks, MMOs, agents: How they make a profit
Now, here's where it gets controversial. I stumbled on a conversation about the profitability of the PoS business in Nigeria, with many contributors saying that it is a function of how soon an agent can open other outlets.
While Olaniyi and Olawale's stories support this claim, they are quick to state that running such a business model successfully requires a certain volume of transactions.
However, a large volume doesn't always convert to more profit.
Olawale explains that an agent would typically charge ₦400 to withdraw ₦20,000; but if the request came in smaller units, like ₦2,000, for instance, the charges would add up to ₦1,000 — ₦100 for each withdrawal.
Back to the commissions, from which banks, MMOs, and agents make their profits.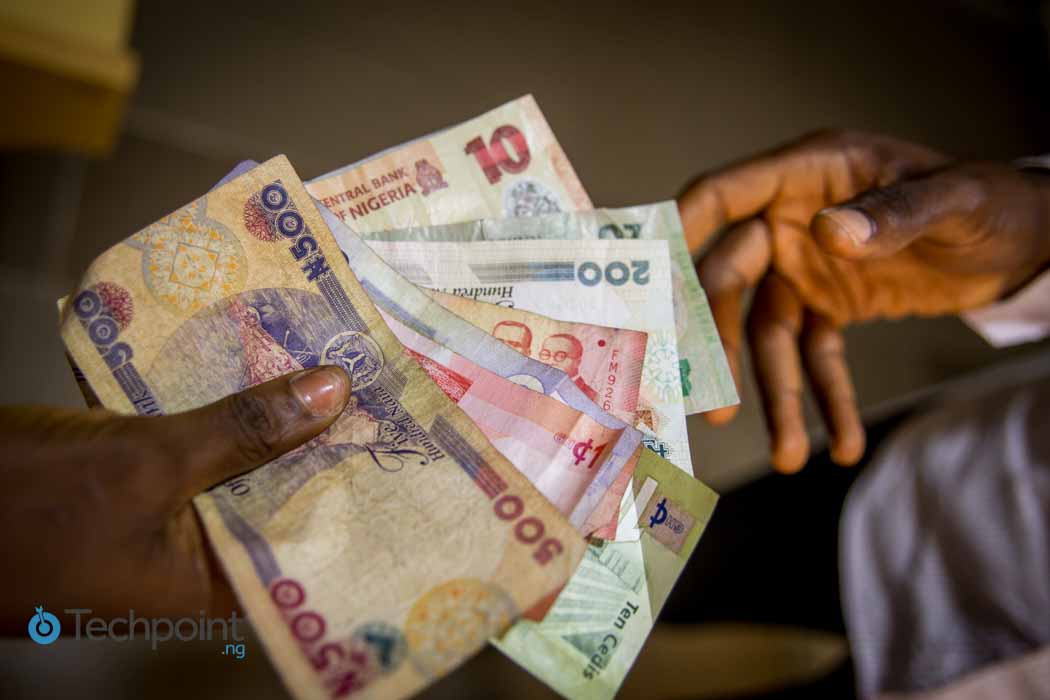 For context, Olawale explains that the bank takes 0.75% of his charges per transaction. So, on a ₦100 charge, he keeps ₦99.25 while the bank takes ₦0.75.
But it is not that straightforward. Recall CBN's directive to deduct ₦50 stamp duty on every PoS transaction and a follow-up order that agents are to bear the cost? Well, Olawale mentions that the stamp duty eats further into his profits.
In some stores, this charge is only excused for purchases below ₦10,000 made with a card.
On the other hand, Olaniyi boasts of escaping the stamp duty charge with MMOs. He shares his charges with them in a 70:30 ratio; for every ₦100, he keeps ₦70.
Comparing these two scenarios, Olaniyi would only gain more than Olawale on lower commissions. For a ₦500 commission, for instance, Olawale gains ₦446.25 while Olaniyi's gain is ₦350.
If anything, Olawale's earlier comment on how volume doesn't guarantee gains speaks more to Olaniyi's condition.
Apart from these charges, agents also spend money on Internet data and printing paper for receipts.
The Nigeria effect
On the associated risks, Olaniyi says using a bank PoS can be restrictive because they monitor how many transactions are generated from your account daily—adding that doing below capacity could result in sanctions or retrieval of the PoS machine.
On the other hand, Olawale expresses his reservations about MMOs giving out PoS machines to anybody who can afford them without the due diligence noticed with banks.
They both have common concerns, with unstable Internet connections and network issues -- either from NIBSS or banks -- disrupting withdrawals and transfers, resulting in many disgruntled customers.
While they have to incur costs of security and other risks due to location, these agents recommend that banks consider the charges on the withdrawal of large amounts because they complement their services.
While their decision to stick with either banks or MMOs is made considering the less predatory alternative in mind, their opinions might not be representative of the thousands of agents across the country. But whatever the position of other agents, maintaining a reasonable profit margin despite these charges is key to succeeding in the agent banking business.
* - Dollar equivalent of the year under consideration