You don't need to be a medical expert to know the value of blood to humans. At a basic level, most people understand that the absence of blood in a human is fatal, yet blood donation rates in most African countries are low.
According to the World Health Organisation (WHO), about 112.5 million blood donations are collected worldwide. Still, more than half of this number is gathered in high-income countries -- home to only 19% of the world's population.
Worryingly, the United Nations estimates that more than 536,000 women die during childbirth, with 99% of them living in developing countries. Postpartum haemorrhage is the leading cause of deaths, responsible for 40% of maternal deaths in some parts of sub-Saharan Africa.
Blood donation and supply remain major challenges in Africa as health officials battle logistical problems and cultural barriers. Consequently, family and friends donate most of the blood.
This is not sustainable as family and friends of accident victims, for example, may not be readily available to donate blood. Worse still, they may not be matching blood donors.
Solving Africa's blood donation problem requires more than calling for voluntary donors. In most places, officials have to contend with superstitions or cultural limitations that make people unwilling to donate.
Also, the infrastructure needed to transport the blood is often absent in most parts of the continent. With Africa's infrastructure challenges, it is difficult to say how many lives have been lost because they lacked access to blood.
WHO advises that most of the blood donated come from voluntary donors, but that is not the case in all countries, especially in developing ones.
In Nigeria, the National Coordinator of the National Blood Transfusion Services (NBTS), Dr Omale Amedu, revealed that only 5% of the blood collected in the country were from voluntary donors, with the remaining 95% commercially provided.
Most African countries can't meet their annual blood requirements and increase millions of women, children, and accident victims' risk of mortality (ROM). In 2016, WHO estimated that Africa only covered 50% of its blood requirements.
Nigeria's Ministry of Health, for example, reports that the country needs 2 million units of blood annually but only collects 60,000 units. Cameroon, on the other hand, needs about 400,000 units of blood but collects only 90,000 units. The trend of supply failing to meet demand is common across Africa.
The startups below are using technology to solve the problems blood banks and hospitals face and close the gap between supply and demand.
Lifebank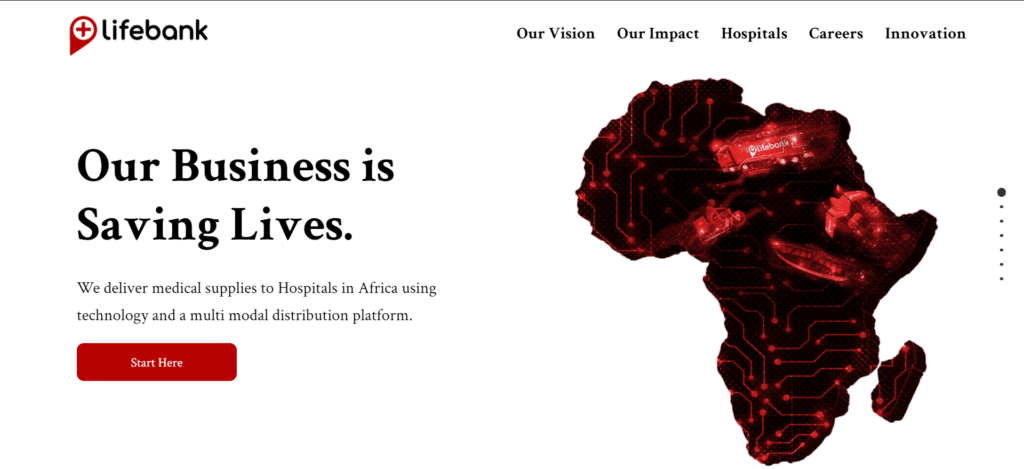 Temie Giwa-Tubosun founded Lifebank in 2016. After suffering complications during pregnancy and needing a blood transfusion in the United States, she began to think of the millions of women back in Nigeria who could have lost their lives if they had been in her shoes.
In a 2019 interview with CNN, the entrepreneur said, "I realised after I had my son that the highest cause of maternal mortality is postpartum haemorrhage. The most important thing you can do when a mum is haemorrhaging is replacing the blood she has lost, even if you can't stop the bleeding."
This epiphany was all she needed to start Lifebank to connect blood banks with hospitals and their patients. Since its inception, the startup has reportedly served over 500 hospitals while maintaining a presence in Nigeria and Kenya.
It has also expanded its operations from moving only blood to other medical supplies like oxygen and blood products.
The startup has gained global recognition, with Facebook Founder, Mark Zuckerberg, commenting on the startup.
"This is a thing [Lifebank] that needs to exist. If she can actually pull it off, she'll show a model that will impact not just Lagos, not just Nigeria, but countries all around the world."
Infiuss
While Cameroonian entrepreneur, Melissa Jane Bime, was in nursing school, a young girl at the hospital where she worked who had come down with malaria could not get a blood transfusion. She died as a result. Plasmodium falciparum is the most common malaria parasite in Africa accounting for 99.7% of estimated malaria cases in 2018. It multiplies very quickly, causing serious blood loss.
Bime would later ascertain that a hospital 20 minutes away had the right blood all along. That was all the motivation she needed.
In 2016, Bime started Infiuss, a blood bank management system that connects hospitals with blood banks with hospitals without a blood bank. The startup is the recipient of the 2018 Cartier Women's Initiative Award and was the grand prize winner of the 2018 Anzisha Prize.
Damu-Sasa

After Nairobi's Westgate terror attack in 2013, the government appealed for blood donations to save survivors. And thousands of Kenyans turned up, but there was a problem. Although many people around the country were willing to donate, logistical challenges meant that only those in Nairobi could.
This led Francis Kilemi and Aaron Ogunde to create a solution that leverages technology to solve the problems of sourcing and donating blood.
With help from Kenya's Information and Communication Technology Authority, the startup piloted the project in Kenyatta Hospital in 2017. Since then, their reach has spread to over 100 hospitals across Kenya.
Damu-Sasa is a Kenyan healthtech startup that works across the blood ecosystem. It connects hospitals with blood banks or donors and assists in screening, tracking, storage, distribution, preparation of blood products, and inventory management.
Redbank
Founded in 2014 by Francis Adereti, Toluwanimi Adeyanju, and Tunde Ojediran, Redbank functions quite similarly to Lifebank.
However, in addition to a mobile app, blood requests can be made via SMS and voice calls. The startup matches received requests with the appropriate blood banks. And according to the company, people can expect responses within 30 seconds of making their requests.
Unlike other startups in the space, Redbank does not handle deliveries. It only provides information on which blood banks have the blood that is needed.
The startup has increased its reach by striking partnerships with the Nigerian Red Cross Society and the Blood Bank Society of Nigeria.
Haima Health Initiative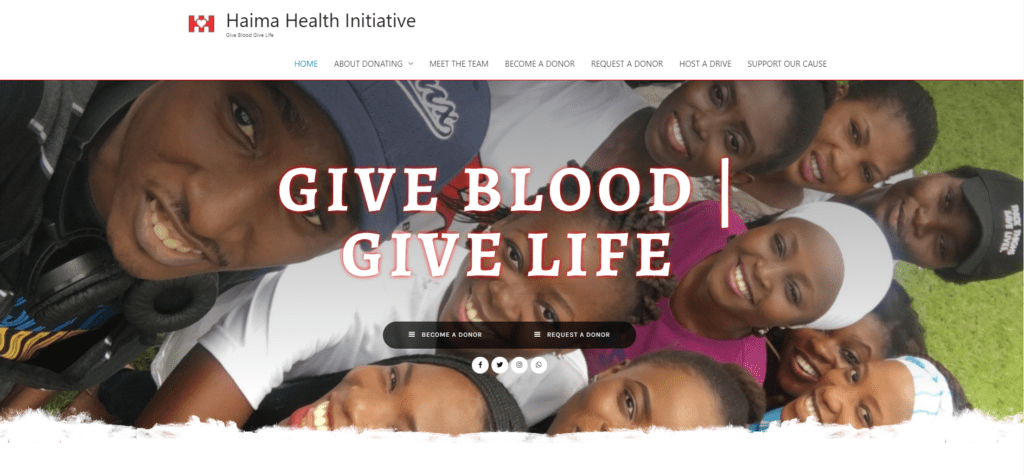 Bukola Bolarinwa is a lawyer and a recipient of the Queen's Young Leader Award. As a child, her parents often told her there were things she could not do. But it was not until she was older she learnt why — she had sickle cell disease.
While in law school, she became friends with Nkechi Azinge, who would go on to found the Sickle Cell Aid Foundation (SCAF). During this time, Bolarinwa volunteered at hospitals and discovered that sickle cell patients frequently needed blood transfusions.
However, the hospitals often lacked sufficient blood. This led her to start Haima Health Initiative, which has evolved into an online voluntary blood donor register. It organises blood drives and educates people on the benefits of blood donation.
While these startups are doing their part in ensuring that blood and blood products are available to those who need them, the success of their efforts depends on regular voluntary donors. According to WHO, 90% of people eligible to donate blood aren't doing so.
Research shows that one donated unit of blood can save up to three lives. We can't all build startups that save lives, but we can donate blood regularly and save lives in our little way.
Happy World Blood Donor Day.