On April 30, 2021, the UK Nigeria Tech Hub hosted Jessica Hope, Founder of Wimbart at the Building from Ground up series in partnership with Techpoint Africa.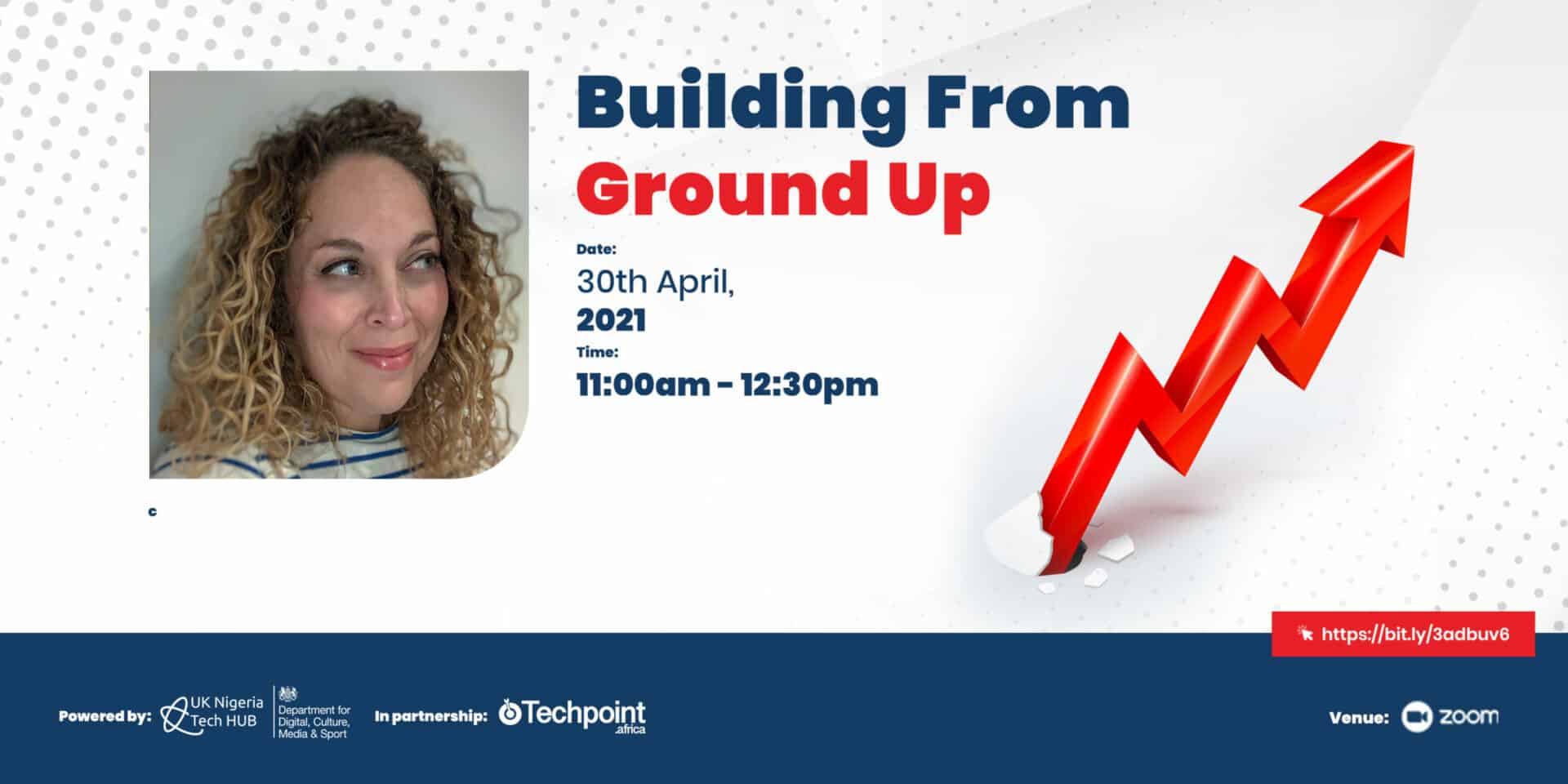 Starting from an exciting background leading communications at iROKO's Manchester office, Jessica has built the leading tech-focused PR agency in Africa.
For a company today working with the most sophisticated and well-funded companies in the African startup scene, Jessica's memory of the journey is beyond anyone's expectation.
"Wimbart is like a mistake of a company in a good way. It started from my kitchen, pregnant, thinking I'd probably work with iROKO and maybe a couple other clients," Jessica recalls.
So how did Wimbart go from a company with no strategic positioning at its early stage to a PR juggernaut with eleven team members working for over sixty companies across Africa?
To understand this, we might set our focus on the power of opportunities and sometimes, they present themselves through friends and mentors. "I was fortunate to have amazing friends and amazing mentors. They unlocked opportunities that made it easy for me to have my first client and to build on that," she says.
With a handful of clients on her list, Jessica fought to transform the opportunities to real business value for months and as the only employee of her own company, there were only so many responsibilities she could handle.
"I would eventually hire someone and then practically go from being a corporate freelancer to a business," she recalls, describing the transition.
The important element of this transition was team building. Sometimes, a new environment to interact in can be like a refresh button, and for Wimbart, this was the exact thing needed.
Majority of the time entrepreneurs have a problem with talent fit but we can learn from Jessica's approach to finding the right talent.
"Again, I looked into my network. My first hire had worked with me previously at iROKO. She left to work in another PR company, but we stayed friends and reconnected. For a very long time, it was just the both of us working from hotel receptions where we got free Internet."
It is instructive that Wimbart's other hires joined through the same network, proving how vital an entrepreneur's contacts and friends can be. With team stability, every other thing followed.
About growing their client list, Jessica says, "We never proactively pursued new businesses. Instead, they come to us."
"We do a good job, and the client introduces us to other people," she affirms.
According to Jessica, this is the one currency that allowed Wimbart to grow its services to many parts of Africa because it focused on a culture that let it serve these growing clients.
Despite the impressive feat, Jessica doesn't fully agree that Wimbart has scaled. In this context, scaling meant little capital injection, having people on the ground, paying for offices, and hiring more talent. And although Wimbart has had its fair struggles with scaling as a PR company, it remains comfortable where it is.
"One reason Wimbart struggled to scale is because we were focused on finding the right talent. But even today, I wouldn't take on any work without enough people to do the work really well. So scaling is tough," she explains.
By tough, Jessica means deciding between the need for building a profitable company that grows organically versus the venture capital growth model with no real justification or value. With Wimbart serving its clients remotely and profitably, the decision is an easy one to make.
"It's a case of 'never say never,' but I've always not wanted to scale too quickly and lose a lot of our charm and personal touches and Wimbart has always been so busy that I've never had the kind of bandwidth for investment, debts, term sheets, and all of those things," says Jessica.
Unfortunately, a lot of entrepreneurs are stuck in this phase, and this goes to show the hard decisions entrepreneurs make daily.
But seeing that scaling is a common theme with most African startups, Jessica advises entrepreneurs to watch out for nuances that impact their overall business relations. Expanding into a new market, the dynamics changes a little.
As deduced from Jessica's closing remarks, PR is a rough turf but holds better promises for actors like Wimbart. By her submission, more businesses will continue to rise in the African tech space, and PR will essentially be a vehicle for growth hacking and positioning.