Quick question. Would you be willing to pay for your pizza order with Bitcoin?
This might sound like a question about a futuristic real-life use of cryptocurrency in Africa but it's not far fetched even now in the present.
As a matter of fact, the first real crypto transaction dates back to 2010 and it was for the purchase of two boxes of pizza. The Hungarian developer who ordered the pizzas paid 10,000 Bitcoins for them. Outrageous right?
We'll do the math for you. Those pizzas would have cost him over $547 million in 2021. Let's not even try to convert it to our local currency.
While we might not be using cryptocurrencies to buy everyday items just yet, Africans are some of the most active crypto users in the world. And it is important to start having conversations about the implications of crypto on our lives and economy now and in the future.
At the maiden edition of the Digital Currency Summit tagged "Building the money of the future",  coming up on March 25, 2021, we'll be having discussions around the current state and future of digital currencies in Africa. Here are 8 things you should expect from the summit.
1. Keynote speeches from cryptocurrency experts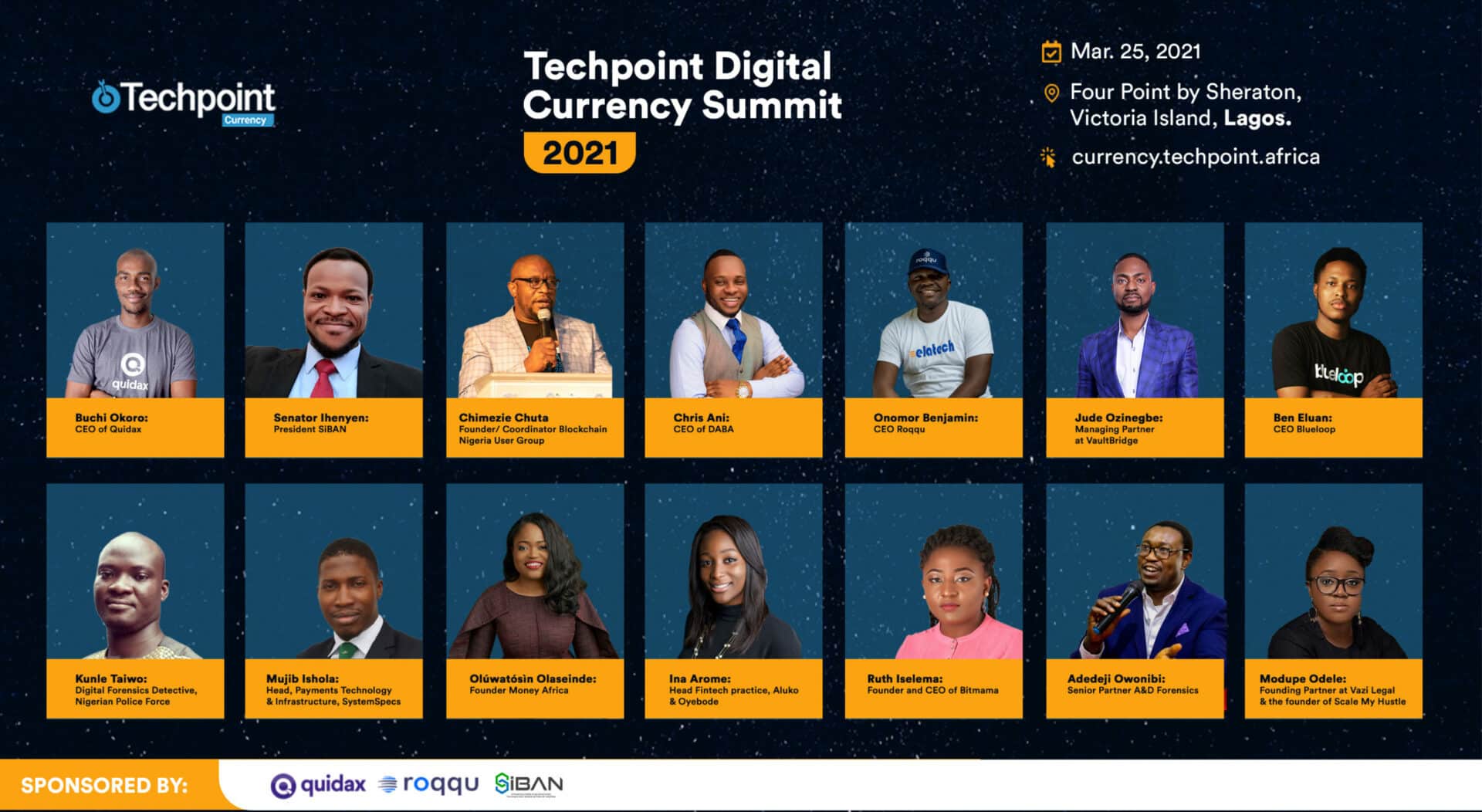 Prepare to be inspired and learn more about cryptocurrency in Africa from brilliant keynote speakers with a vast knowledge of the space.
See the complete list of confirmed speakers here.
2. Learn more about the implications of the crypto ban in Nigeria
For the Digital Currency Summit, we've invited people who have been engaging with the Securities and Exchange Commission (SEC) and the Central Bank of Nigeria (CBN), to help you make sense of the cryptocurrency ban in Nigeria.
3. What you need to know before investing in digital currencies
Expect to learn about crypto investment and how to manage the risks involved.
4. Other types of digital currencies
Other cryptocurrencies like Stable Coins and Altcoin exist outside Bitcoin and are quite popular in the crypto market. At the Digital Currency Summit, you'll learn more about them, their pros and cons, their origin and the tech behind them.
5. Expect to learn about cryptocurrency fraud
You'll learn all you need to know about scams and fraud in cryptocurrency, how to avoid them and how to seek redress in the cases where you fall victim. This session will be handled by a Nigerian Police detective and forensic experts in the blockchain ecosystem.
6. Opportunity to ask questions and learn from speakers
What's a conference without a question and answer session? Come prepared with your questions for the speakers and panellists.
7. Networking with other participants
Prepare to meet crypto enthusiasts, entrepreneurs, investors and stakeholders in the African tech and crypto ecosystems at the Digital Currency Summit. We're confident that you'll make priceless professional connections.
8. Meet crypto startups exhibiting
Expect to meet and connect with some of the most innovative cryptocurrency startups in Africa that will be exhibiting at the event, for potential partnerships and collaborations.
Be a part of the conversations that will change the future of money in Africa, attend the Digital Currency Summit.
Who can attend: Crypto users/enthusiasts, blockchain developers, designers, founders of crypto startups and their teams, crypto education hubs, students, policy experts, fintech/banking executives, top eCommerce players, investors, and so on.
When and where will it take place? The Digital Currency Summit will be held on March 25, 2021, at Four Points by Sheraton, Victoria Island, Lagos.
If you haven't registered, GET YOUR TICKET TO ATTEND HERE
Tickets
Online Badge: ₦ 1,500
VIP: ₦ 20,000 (includes lunch with speakers, reserved seats, and access to the VIP room)
PS: We want to deliver the best value in a safe networking environment, so the number of seats available is limited. Please register now to secure your space.