In 15 days, we will host digital currency enthusiasts and some of the brightest minds in the crypto space for Techpoint Digital Currency Summit 2021, themed: Building the money of the future.
Techpoint Digital Currency Summit will be a hybrid physical and virtual event that will take place on March 25, 2021. We will be hosting a series of keynotes, panel sessions, and fireside chats on key topics that will drive the conversations forward.
With recent events like the CBN's crypto ban, the conversation on Digital Currency deserves the spotlight, now more than ever. With the massive attention around the globe, the sector needs more understanding in order to thrive.
From crypto startup founders to seasoned crypto experts and criminal investigators, here's a list of our speakers for the event.
Modupe Odele - Founding Partner at Vazi Legal and the founder of Scale My Hustle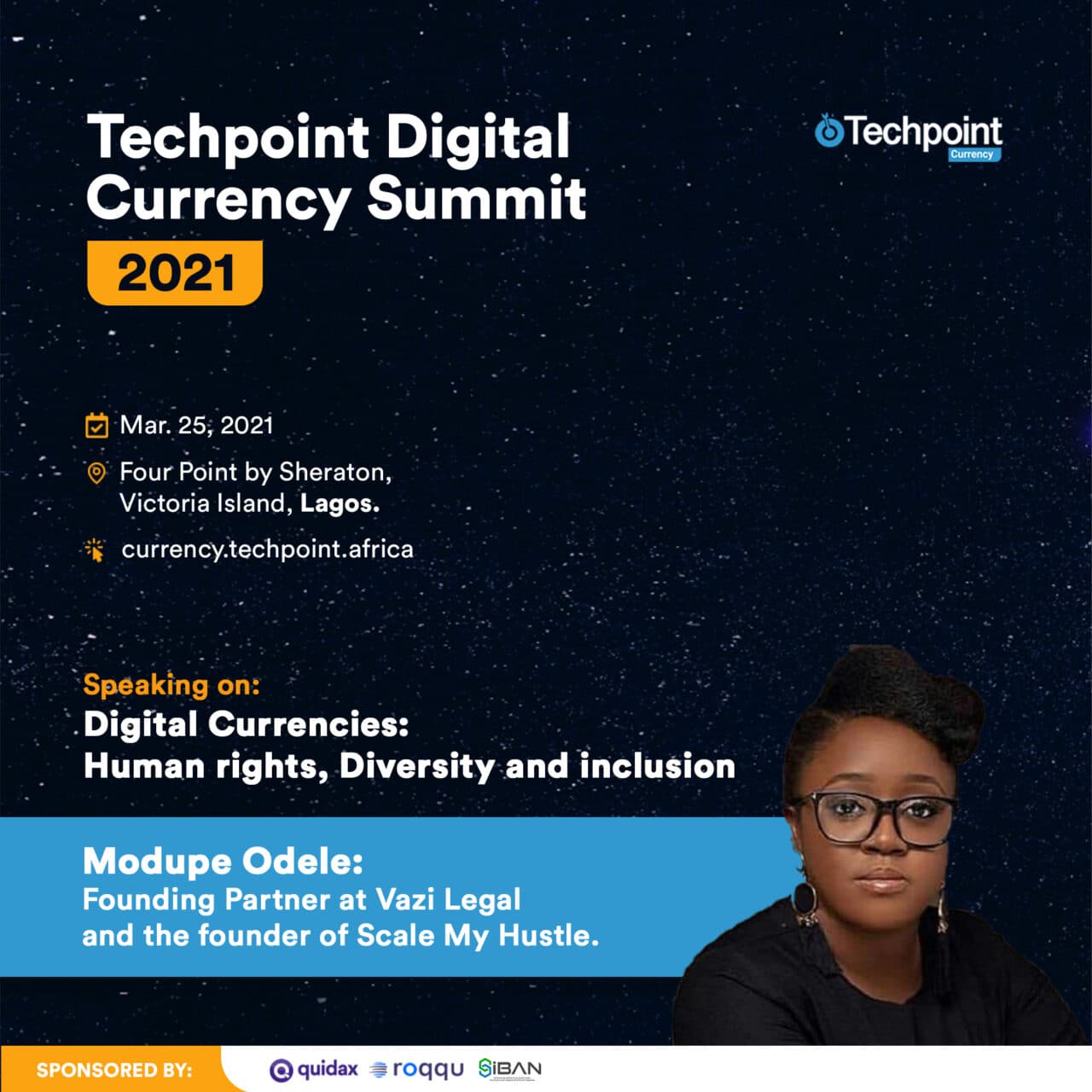 Speaking on: Digital Currencies: Human rights, diversity, and inclusion
Modupe Odele is a founding partner Vazi Legal is an innovation-focused law firm with multi-jurisdictional qualified attorneys. The company advises startups, venture capital funds, family offices, and foundations dedicated to solving some of the most pressing challenges in our world today.
She's also the founder of Scale My Hustle is a social enterprise focused on helping entrepreneurs build better-structured businesses by providing educational content and an online community for current and aspiring entrepreneurs.
Her professional background spans international law, business, and human rights, impact investing, inclusive finance, blockchain & digital currencies.
Odele will be speaking on Digital Currency as it affects human rights, diversity, and inclusion in Nigeria and, by extension, Africa.
Buchi Okoro - CEO of Quidax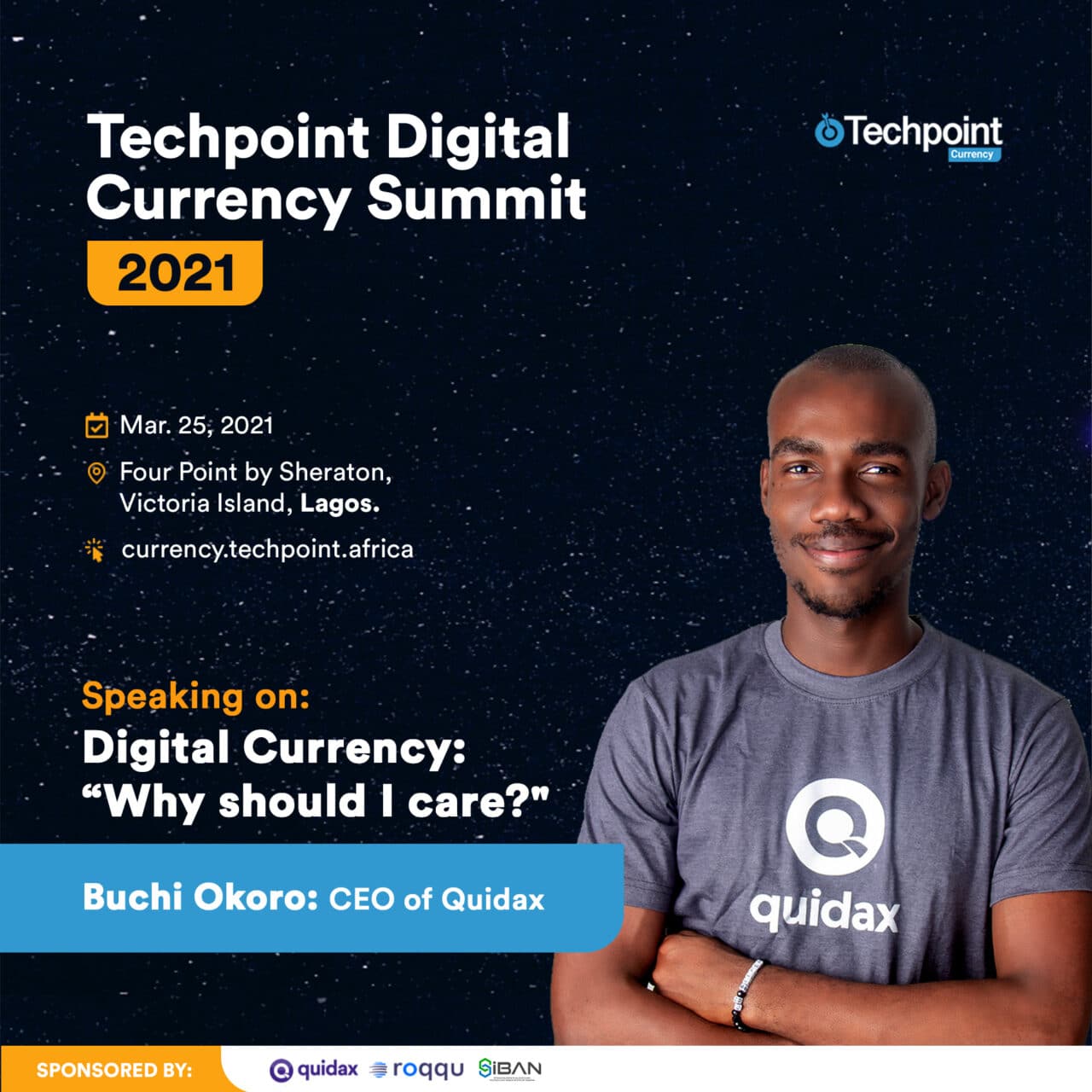 Speaking on: "Digital Currency: Why should I care?"
Buchi Okoro is the founder and CEO of Quidax, one of the most popular cryptocurrency exchanges in Nigeria. Before founding Quidax, Okoro was an Investment and Evaluation Analyst at M.I Okoro and Associates, a reputable investment company in Nigeria.
.He's also worked in real estate, fashion, and logistics. For Buchi, starting Quidax was in response to a negative experience when he first attempted to buy Bitcoin.
As CEO of Quidax, Buchi is driven by an innate passion to make it easy for individuals and businesses in Africa to buy/sell cryptocurrency using their local currency. He's currently spearheading an initiative to make the platform available in the indigenous languages
At the Digital Currency Summit, Okoro will be handling the keynote on "Digital Currency: Why should I care?" where he will explore the foundation of digital currencies, what everyone should know and why everyone should care about it.
Senator Ihenyen - President SiBAN
Speaking on Crypto Regulation: If, why, and how
Senator Ihenyen is the President of Stakeholders in Blockchain Technology Association of Nigeria (SiBAN). A former Vice President on Blockchain Policy & Regulations. Senator is also currently the General Secretary of the Blockchain Industry Coordinating Committee of Nigeria (BICCoN).
A lawyer, Senator is Lead Partner at Infusion Lawyers where he heads the Blockchain Practice and the Intellectual Property & Technology Practice. He advises both local and global companies in emerging technologies, including blockchain.
He is the current 1st Vice Chairman, Intellectual Property Committee of the NBA Section on Business Law (SBL) and member of the Information Technology Committee.
Senator is an exclusive contributor to the Comparative Legal Guide to Data Protection 2019, as well as the International Guide to Blockchain 2020 (Nigeria chapters).
At the digital currency event, he will be speaking at the panel session titled: "Crypto Regulation: If, why, and how". Major talking points will be the CBN's and the SEC's current stance on virtual assets and the way forward.
Ina Arome Head Fintech practice, Aluko & Oyebode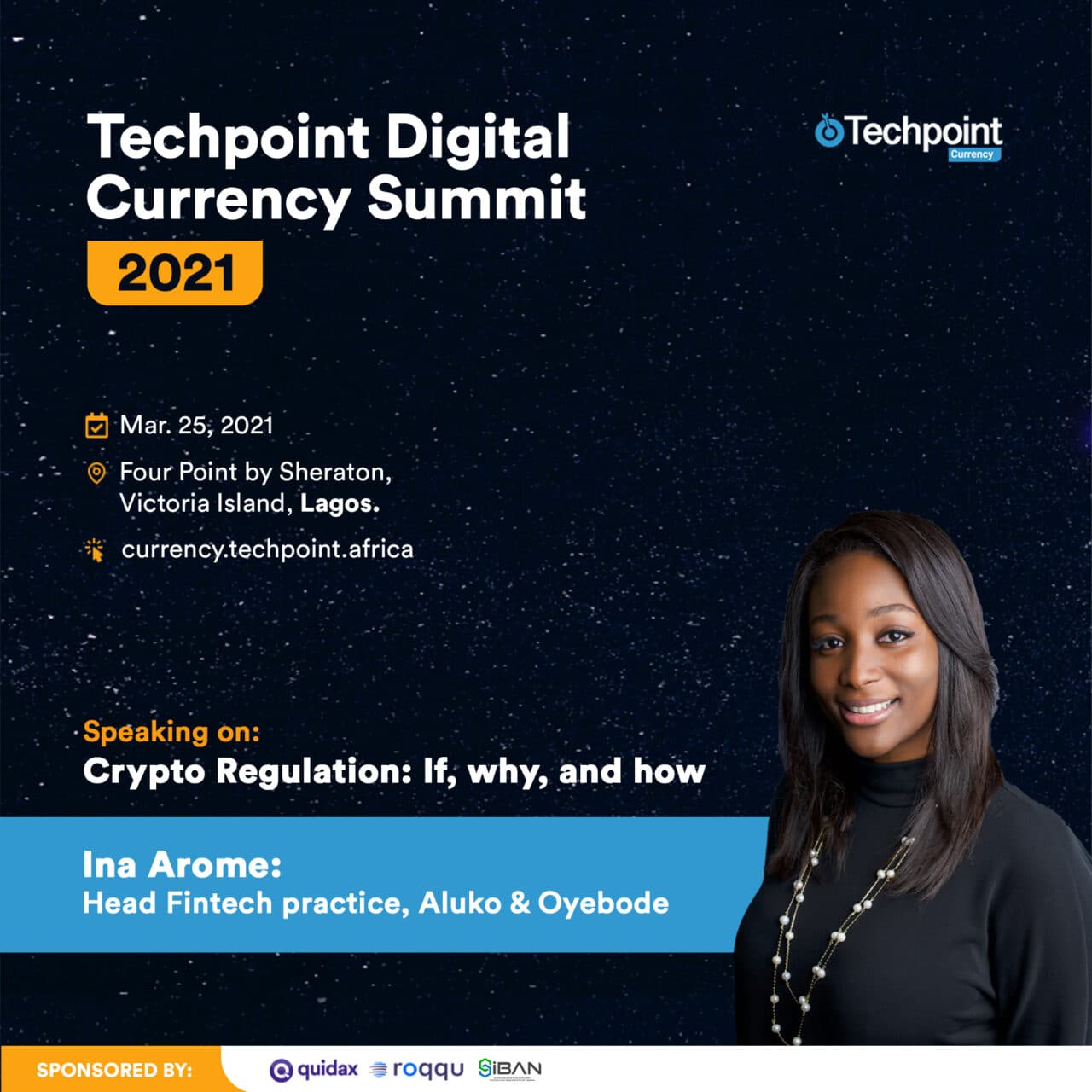 Speaking on: Crypto Regulation: If, why, and how
Ina Arome is a Senior Associate in Aluko & Oyebode, one of the largest integrated law firms in Nigeria.
She leads Aluko & Oyebode's Fintech Practice and is a core member of the Technology, Media, and Telecommunication Practice.
Her practice focuses on all areas of corporate and commercial law. She has significant experience advising companies (ranging from early-stage companies to established multinational corporations) in financial services, telecommunications, media, and technology sectors on their various cutting-edge technology offerings and services.
She obtained an LL.B in 2010 and an LL.M in International and Commercial law in 2012, both from the University of Buckingham. She was called to the Nigerian Bar in 2012.
Ina will be speaking on the panel session titled: "Crypto Regulation: If, why, and how". Major talking points will be the CBN's and the SEC's current stance on virtual assets and the way forward.
Chimezie Chuta - Founder/ Coordinator Blockchain Nigeria User Group
Speaking on Crypto Regulation: If, why, and how
Chimezie Chuta is an Advisory Board Member at Kinesis Money, Caymans, and formally Regional Director for Africa at Paxful Inc. He's also the Founder/ Coordinator Blockchain Nigeria User Group, protem Chairman Organization of Blockchain Technology User (OBTU), Africa Lead, Technology & Innovation at Block space Africa Technologies and CEO of both Techbuild Innovation Partners and Lagos Drupal Varsity.
He has authored books like; Seizing Opportunities in Blockchain and Digital, Currency Revolution: A Handbook for Enthusiasts, DeFi Handbook, and The Building Blocks of Blockchain StartUP Entrepreneurs.
Chuta has been integral to various governments initiatives in the blockchain space and is a member of the Fintech Roadmap Committee of The Nigeria Capital Market, set up by
SEC Nigeria, Blockchain, Virtual Financial Assets Regulations Working Group also set up by SEC Nigeria, and NITDA National Blockchain Strategy Team.
At the digital currency event, he will be speaking at the panel session titled: "Crypto Regulation: If, why, and how". Major talking points will be the CBN's and the SEC's current stance on virtual assets and the way forward.
Chris Ani - CEO of DABA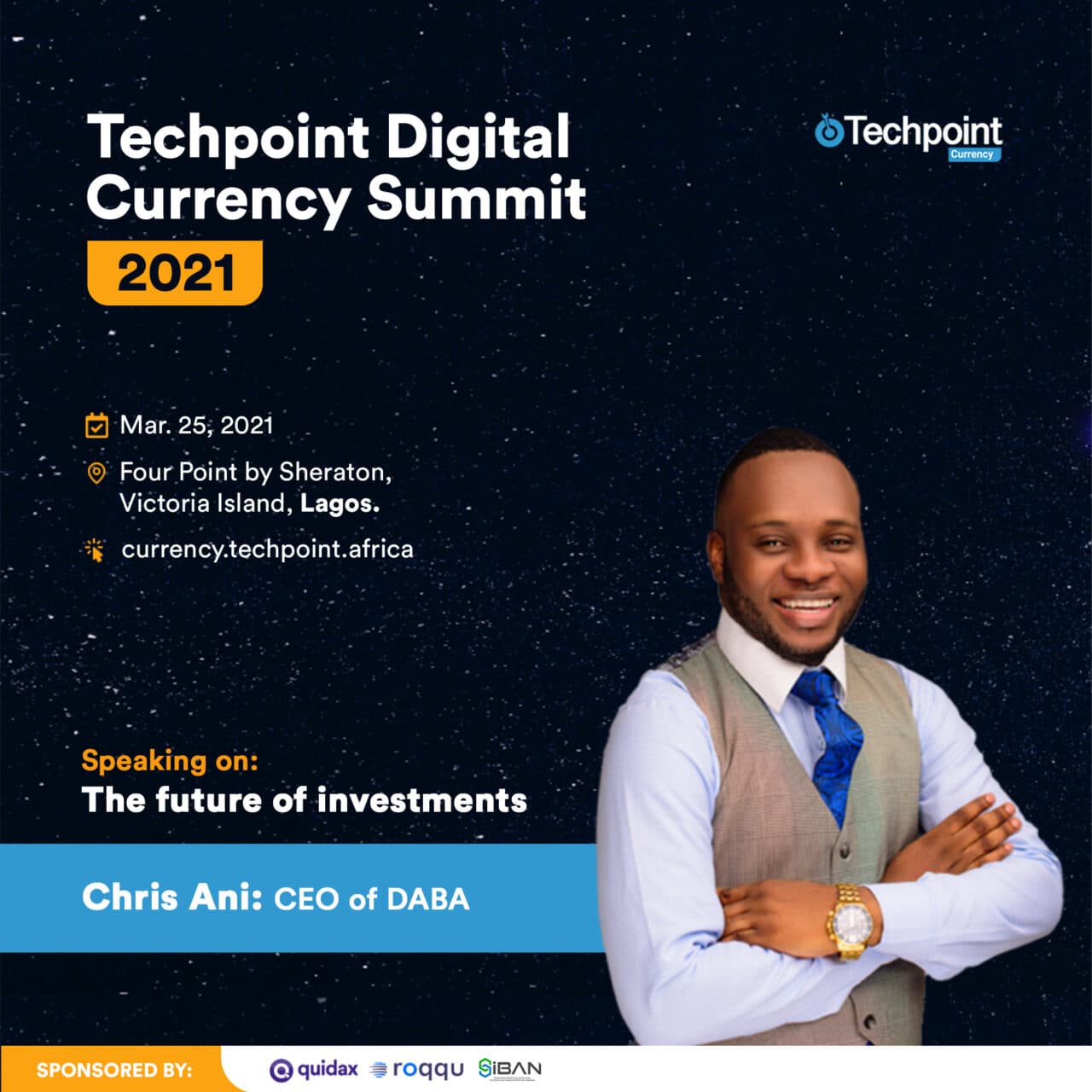 Speaking on: Nigeria's crypto economy and the future of investments
Chris Ani is a seasoned entrepreneur, startup advisor and prominent crypto trader and investor. He is the CEO of Digital Abundance Ltd, a company that provides education and financial tools for wealth creation.
Founded the first Bitcoin and Crypto-trading education Platform in Nigeria, CryptoHub.
He has authored books like "Start Your Own Business", Crypto101, the life of a Nigerian bitcoin trader, and CryptoMoneyBundle- a compilation of videos and ebooks that helps you learn and profit from crypto even as a beginner.
We'll be chatting with Chris as he takes us around the Nigerian crypto economy and how digital currencies will shape the investment of the future. Are you looking to buy your first Bitcoin? Chris will be exploring the various considerations you need to take before diving in.
Olúwatósìn Olaseinde; Founder Money Africa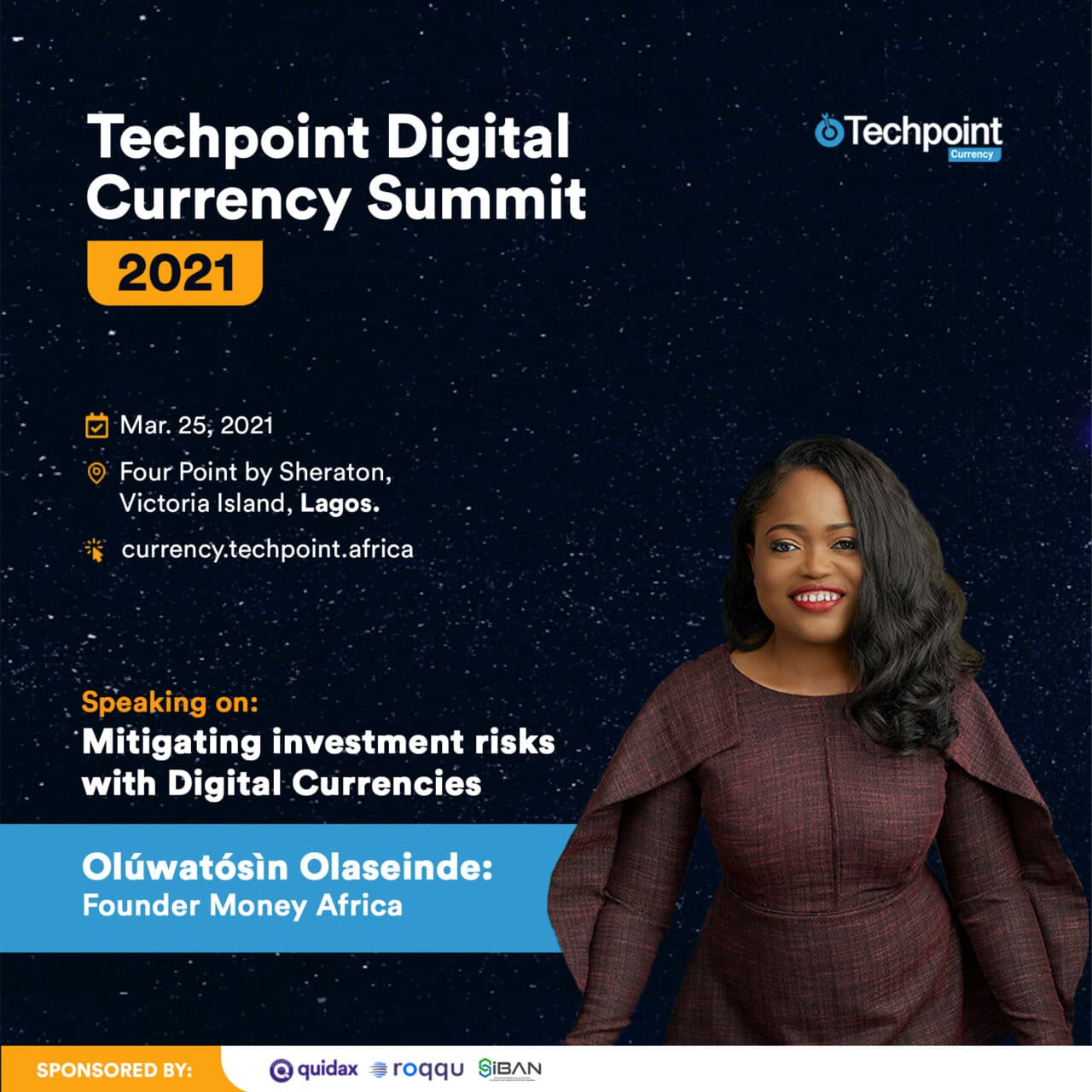 Speaking on: Mitigating investment risks with Digital Currencies
Oluwatosin Olaseinde is a professional accountant with over 12 years of experience spanning accounting, audit, investment, financial management, and taxation. She was an ex-commercial finance manager at British American Tobacco, worked at CNBC Africa and Bloomberg TV Africa.
She was selected as Linked In Top Voices in Finance and Economy 2020, was one of the top 8 traders by CNBC Africa in 2012, Featured on BBC UK, Aljazeera, Guardian, TedX, and several others.
She's currently the founder of Money Africa, one of Nigeria's leading financial literacy platform focused on teaching individuals how to manage their money and build wealth sustainably
Olaseinde will be discussing personal finance and mitigating investment risks with Digital currencies and other asset classes.
Onomor Eseoghene Benjamin - CEO Roqqu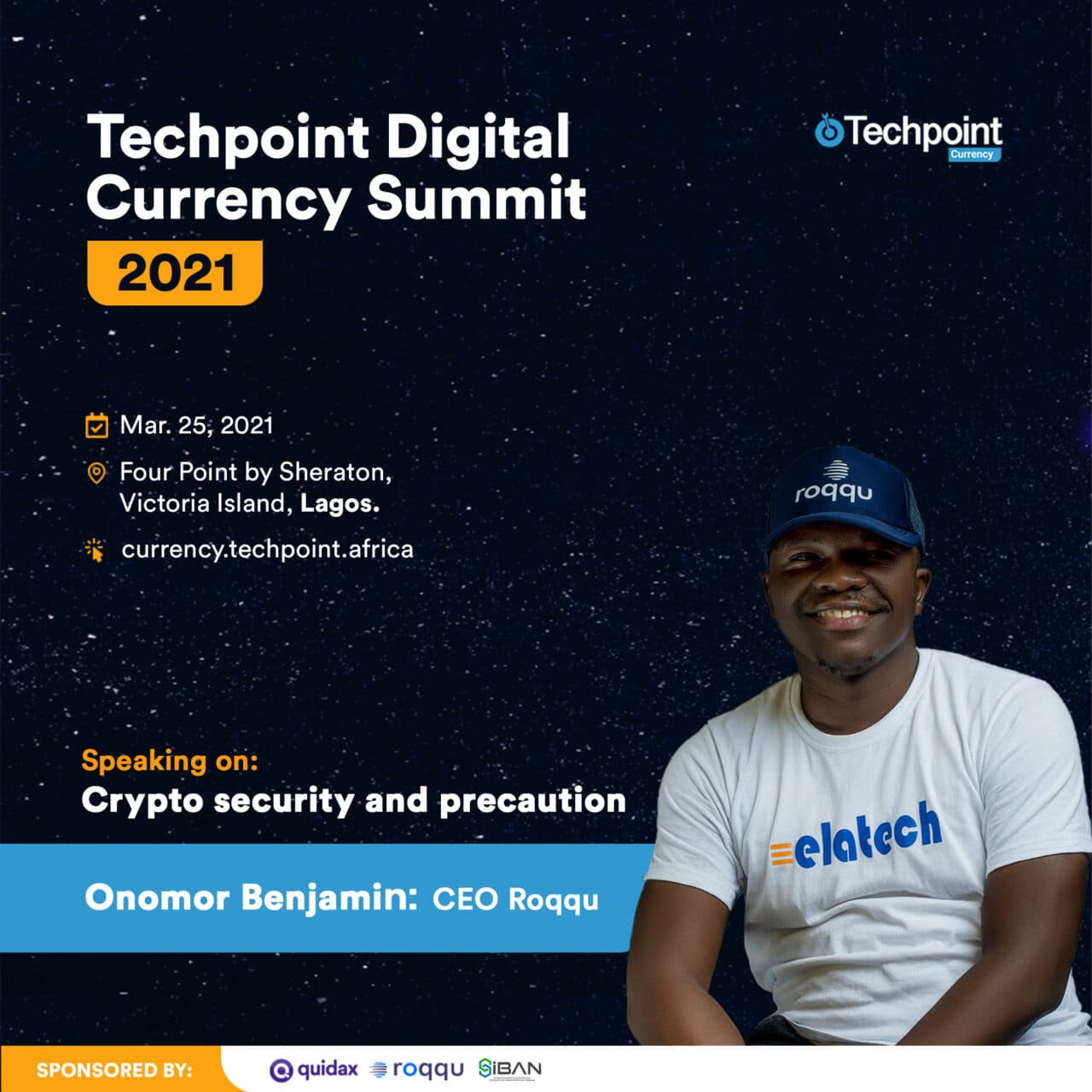 Speaking on Crypto security and precaution
Benjamin Eseoghene Onomor: A Software developer and a Graduate of Electrical Electronics Engineering from the University of Port Harcourt.
Benjamin basically came into the crypto space through Steemit, the decentralised social blogging platform where people write blog pieces and get rewarded.
He and his team now called the Alpha Team, built an exchange to help people easily convert their steem tokens to Naira quickly and instantly.
Benjamin is currently the CEO of ROQQU, one of the biggest players on the crypto radar in Nigeria with over 500k+ users and 100k+ app downloads.
Ben Eluan - CEO Blueloop
Speaking on:- Digital currency as a disruptor
of international payments
Ben Eluan is the founder of Blueloop, the parent company of Flux, a platform that combines the best of cryptocurrency and fiat payments to build a payment infrastructure for African merchants and Internet businesses.
He's also founded Joppa.ng, an eCommerce solution that spread like wildfire in Obafemi Awolowo University (OAU), Ile-Ife.
Eluan and other disruptive minds we'll be delving into Africa's tough international payments terrain, and the endless possibilities that lie with digital currencies.
Jude Ozinegbe - Managing Partner at VaultBridge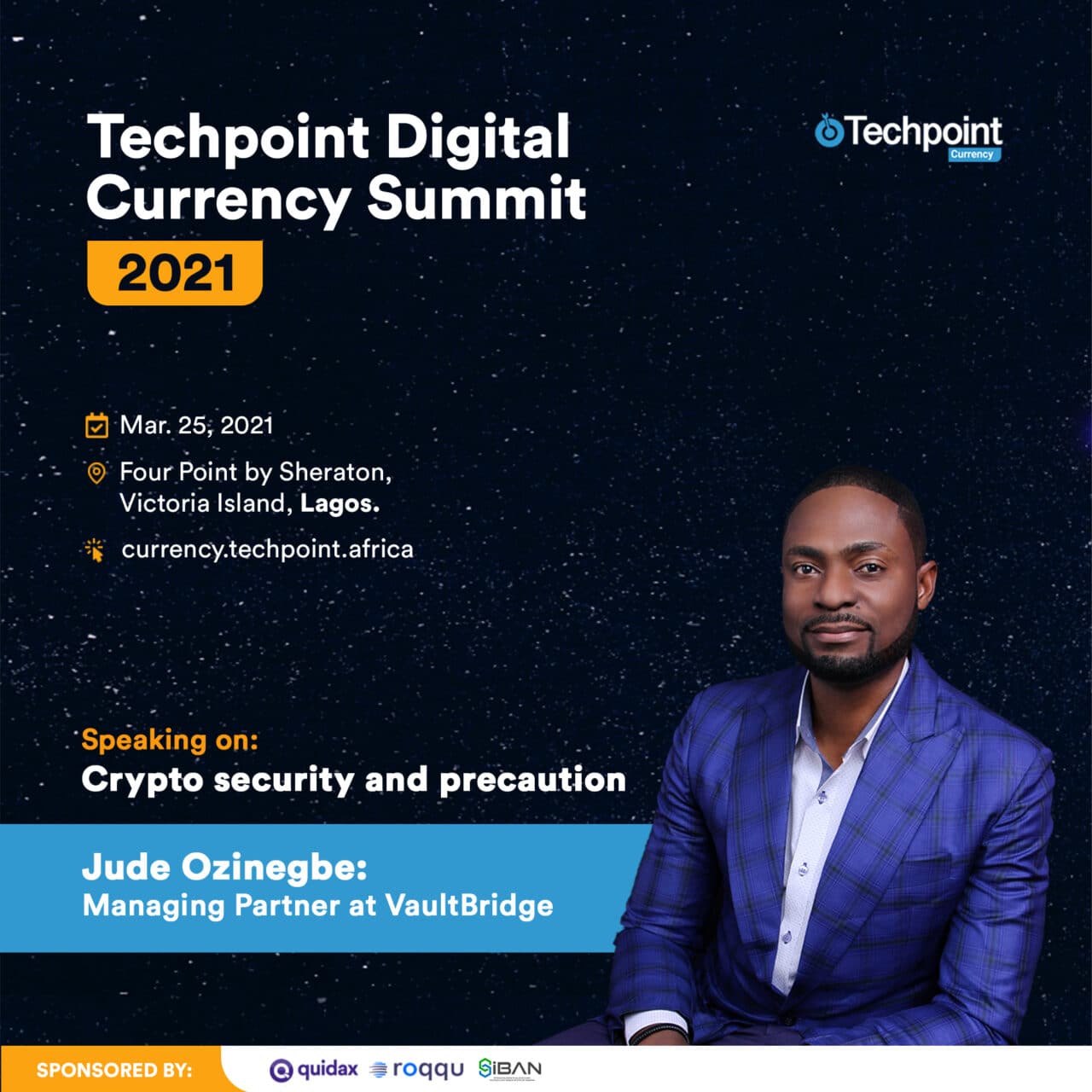 Speaking on: Crypto security and precaution
Jude Ozinegbe is an ICT Consultant, a Cisco, ITIL, Microsoft, and Fortinet Expert. He's an author, a trainer, and a multi-vertical Entrepreneur.
He serves as the Managing Partner at VaultBridge - A Blockchain and Cybersecurity Advocacy firm and Zinochrome - A Digital Transformation Company. He is also the Nigerian Ambassador of The University of Nicosia, Cyprus on her Digital Currency and Blockchain Programs.
Jude is a pioneer member of several prominent crypto bodies and has worked closely with the Securities and Exchange Commission (SEC) to curb nefarious crypto activities within the Nigerian Blockchain ecosystem.
He will be speaking on the panel session on Crypto Security: How to avoid scams, fraudsters, and Ponzi schemes in the teeming crypto space.
Ruth Iselema - Founder and CEO of Bitmama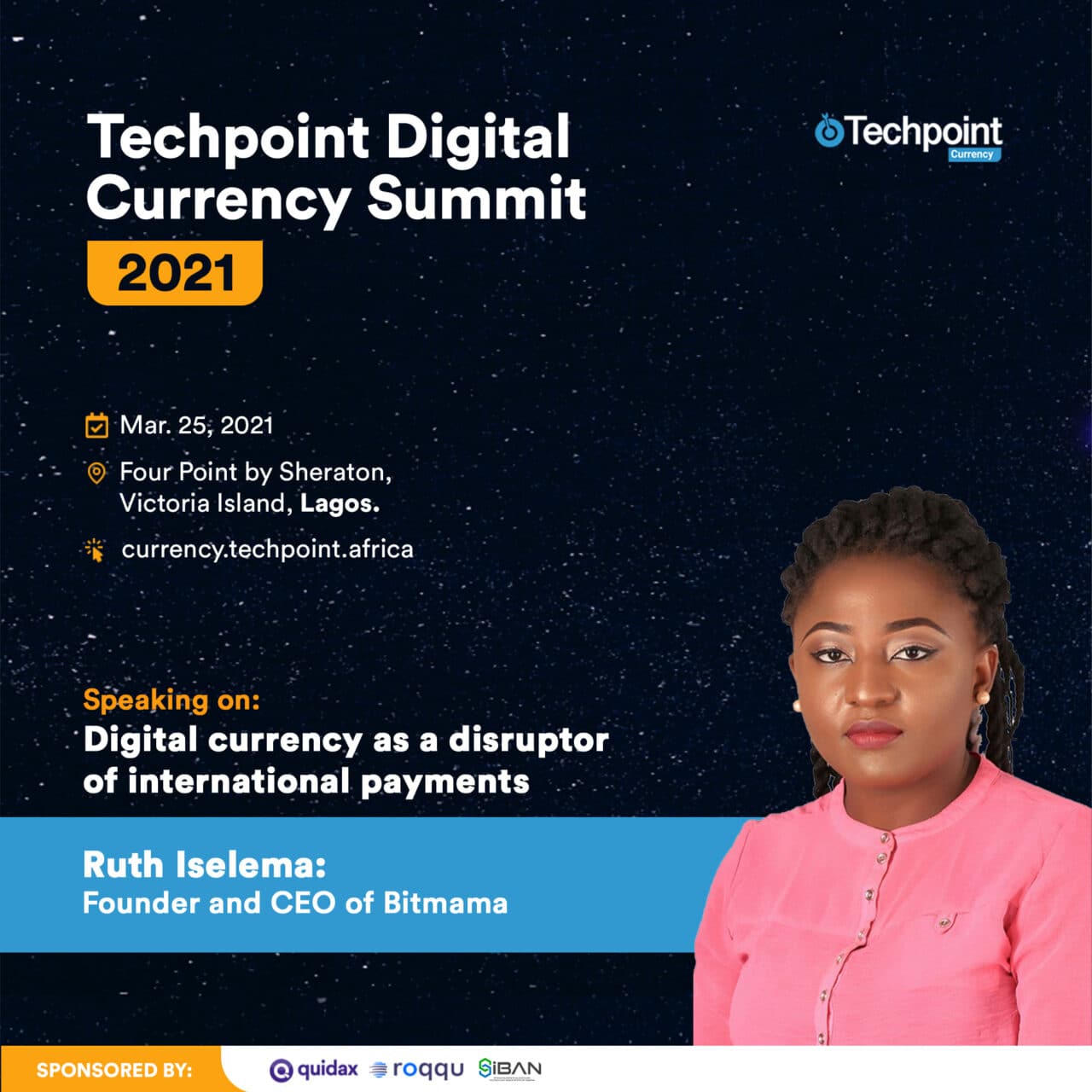 Speaking on: Digital currency as a disruptor of international payments
Ruth Iselema is the Founder and CEO of Bitmama. Ruth started her journey into cryptocurrency in 2013 lost interest and started again in 2016. She is a graduate of Central University, Accra, Ghana where she studied Pharmacy.
She began by exchanging crypto on and off social media platforms like WhatsApp and Telegram to reach more people who wanted to exchange the currencies.
Selling through social media was not scalable and inclusive. Ruth felt the need for a platform where anyone could access cryptocurrency to meet their needs, which led her to found Bitmama.
In 2018, Bitmama was part of the inaugural Greenhouse Lab female accelerator by Venture Garden Group. After which the company has joined other accelerators and programs like Seedstars and Startup Germany.
She's currently building Bitmama alongside a passionate team of people excited to do great things in the crypto space. Bitmama is a crypto trading platform for peer-to-peer (P2P) and over-the-counter (OTC) trades.
Bitmama has quickly expanded into other use cases, for example, the adoption of blockchain and cryptocurrency via its Apis.
Ruth and other disruptive minds we'll be delving into Africa's tough international payments terrain, and the endless possibilities that lie with digital currencies.
Kunle Taiwo - Digital Forensics Detective, Nigerian Police Force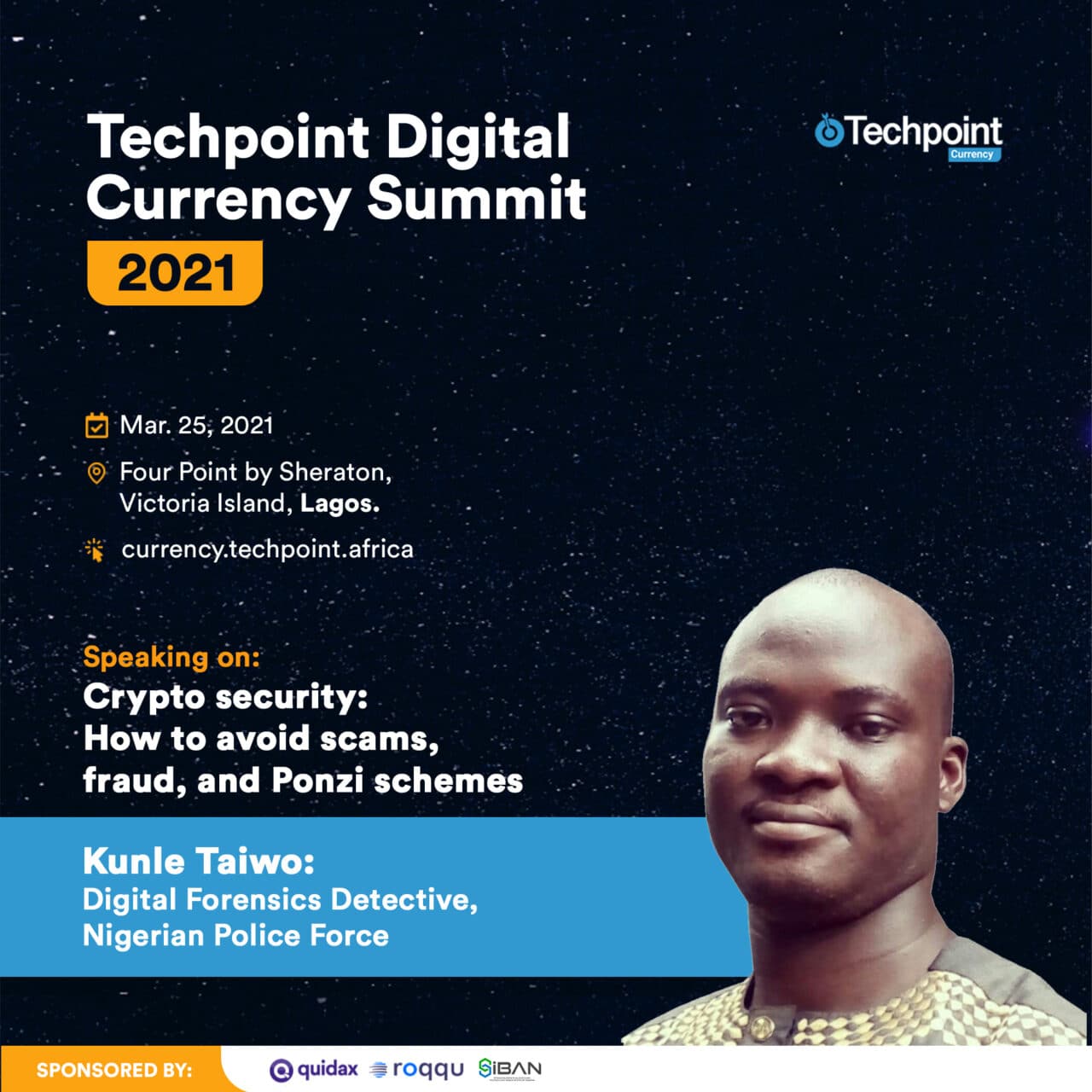 Kunle Taiwo is a Digital Forensic Examiner with the Nigerian Police Force. He investigates cases involving cybercrime-related offences. He's a Certified Cryptocurrency Investigator (CCI) and fights against scams, fraud, and Cybernet attacks in the Nigerian blockchain/ cryptocurrency space.
Taiwo has also been a member of the governance and execution team for the Bantu Blockchain Foundation Blockchain Project Manager for Campus Blockchain Development Programme (CBDP)
Taiwo will spearhead the keynote on crypto security and precautions. How do you avoid security threats? What do you do when you've fallen into a fraudulent scheme? Taiwo will be bringing his wealth of experience to drive this conversation.
Mujib Ishola - Head, Payments Technology & Infrastructure, SystemSpecs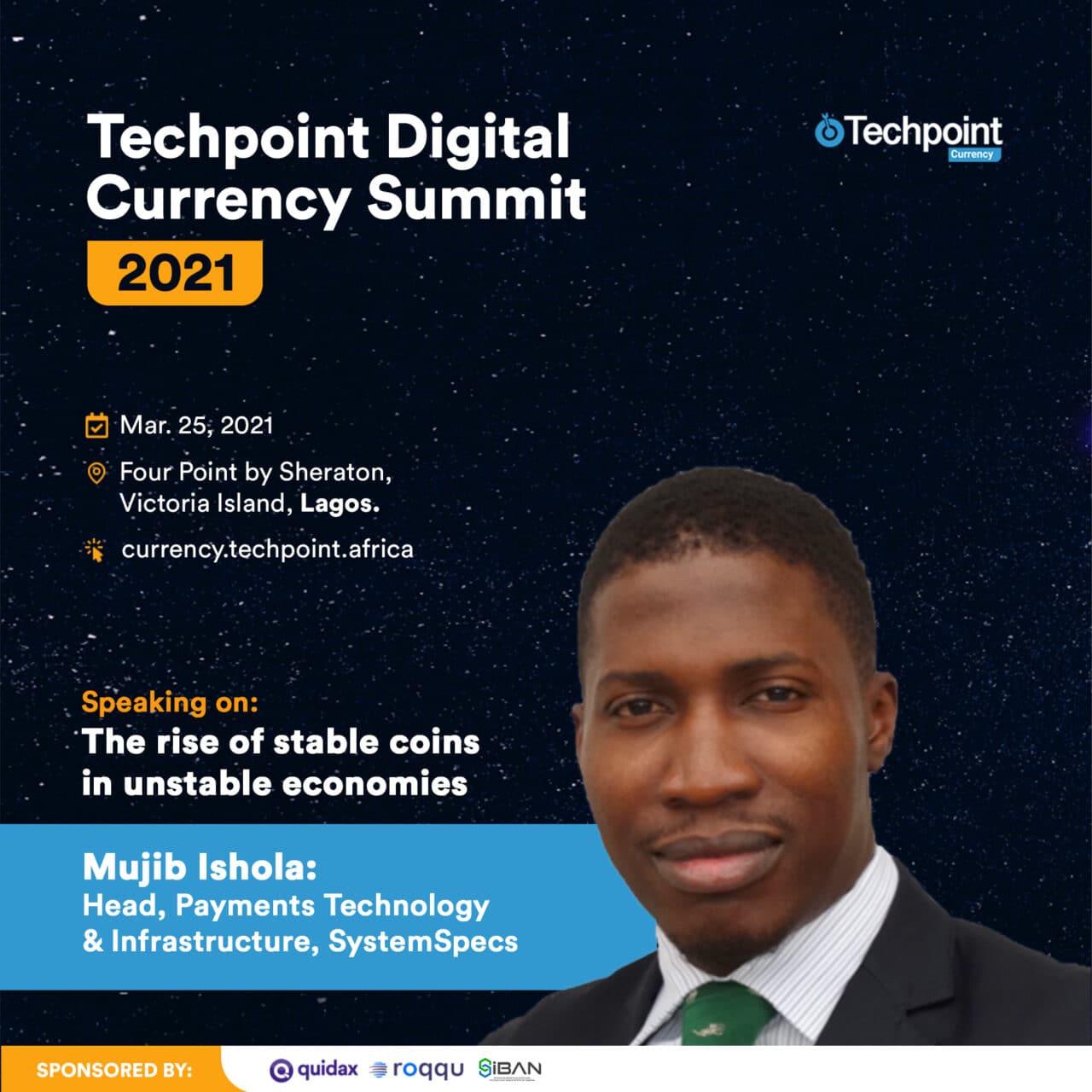 Speaking on: The rise of stable coins in unstable economies
Mujib is a thoroughbred technologist and an unrelenting pursuer of innovation. He joined SystemSpecs in 2011 and his work has led to major developments in the advancement of Remita, the fintech giant's flagship product.
Mujib has had working experiences with various organisations in the United Kingdom and Nigeria providing software development solutions in eCommerce, gaming, power, and payments. Among many others, he was the lead developer at Javelin Group, the United Kingdom's leading specialist consultancy firm whose clients include many of the UK's top 20 retailers like Wal-Mart, Tesco, and Sony.
Mujib's role also helped develop interests in crypto where he has started uncovering the finer technical details of blockchain technology. Mujib actually engages in crypto mining and has educated enthusiasts at conferences like Code Lagos.
Mujib will be delving into the technology behind stable coins and what it means for the future of money.
Adedeji Owonibi - Senior Partner A&D Forensics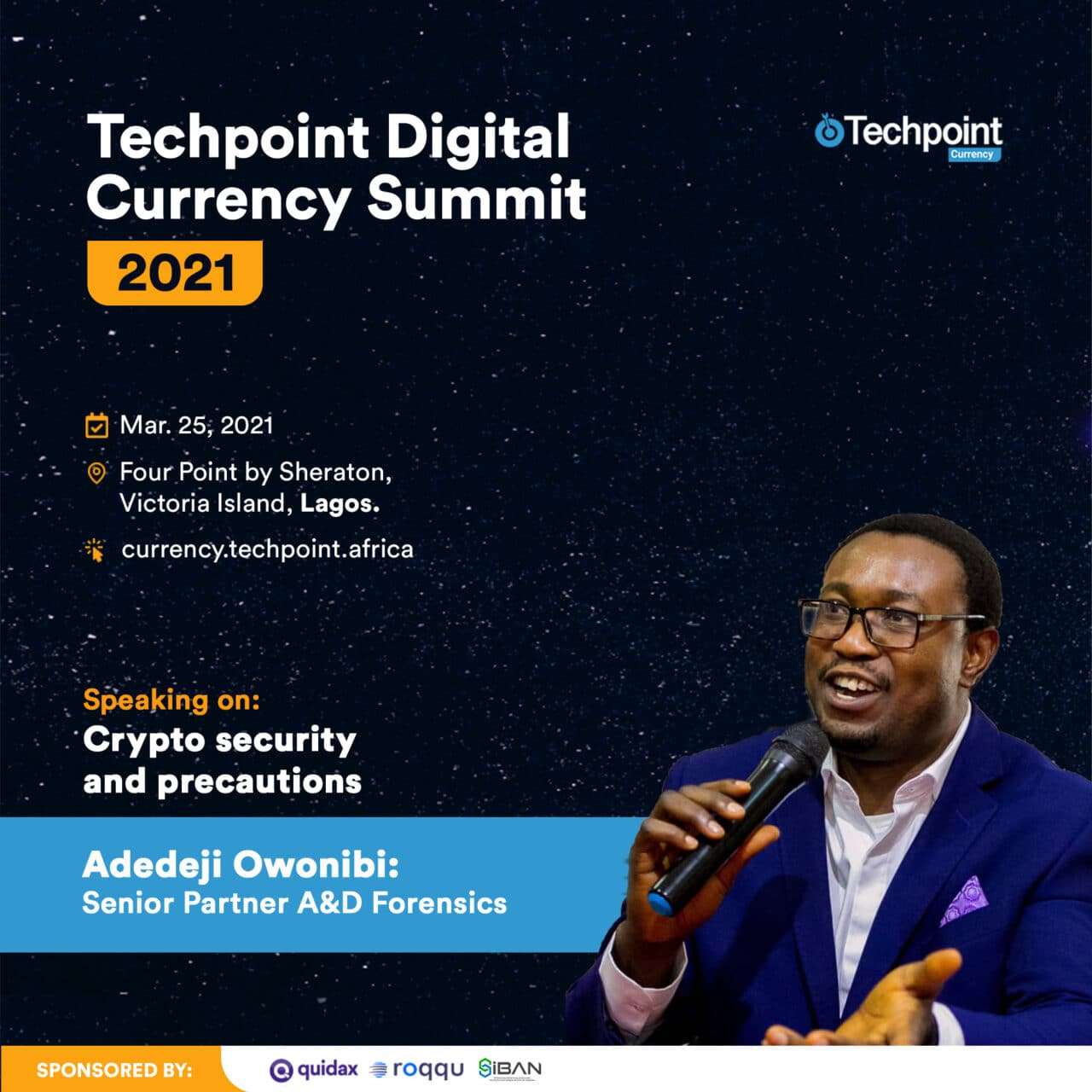 Speaking on: Crypto security and precautions
Adedeji is a Forensic Investigation Practitioner and Certified Blockchain/Cryptocurrency Forensic Investigator with more than Fifteen years of experience across a few banks within the Nigeria Financial Sector and educator in Corporate workplace settings, Deji is involved in forensics analysis of Financial Infractions, Cryptocurrency crimes, and designing plans that work for Government, Regulators, Law enforcement and Tax Authorities.
He was appointed by SEC Nigeria as Member Virtual Asset and Fintech Regulatory framework drafting.
A Technical Member – Nigeria National Blockchain Strategy under NITDA. He is a member of Global Digital Finance's KYC/AML working group in France and a member of the Industry-led Thinktank that worked on came out with FATF cryptocurrency Travel rule InterMessaging Standard for Virtual Assets (IVMS101) to help combat money laundering and terrorism financing using cryptocurrencies around the globe.
His law enforcement training efforts on new money and cybercrime have seen him train many law enforcement agents ranging from, Nigeria Police, Nigeria Army CyberWarfare command, Zambia Financial Intelligence Unit/Police, Central Bank of Nigeria, and more.
He is Chainalysis Sole Africa Investigative Partner helping law enforcement investigate criminal organizations using cryptocurrency to conceal illicit activities across Africa, he is also the Africa Partner for Blockchain Intelligence Group based out of Canada.
Adedeji is currently the Senior Partners in charge of Financial Forensics and Virtual assets Regulatory Compliance Advisory at A&D Forensic. He holds a BSc in Fraud Detection, MSc in Forensics Audit & Accounting (UK), and MSc in Fintech, Blockchain & Cryptocurrencies (France), he is also a Certified Fraud Examiner.
He will be speaking on the panel session on Crypto Security: How to avoid scams, fraudsters, and Ponzi schemes in the teeming crypto space.