In 22 days, we will host Africa, and the world at large, at our flagship conference, Techpoint Build 2020.
Techpoint Build 2020, which will take place virtually for the first time, is poised to be an interesting event. A series of keynotes, panels, and topics critical to the future of startups and technology for Africa are already lined up for the conference.
As part of the event's pan-African essence, speakers have been selected from regions with significant amounts of startup and technology activity: Nigeria, Kenya, Ghana and South Africa.
In no particular order, our speakers are as follows
Yele Bademosi – Nigeria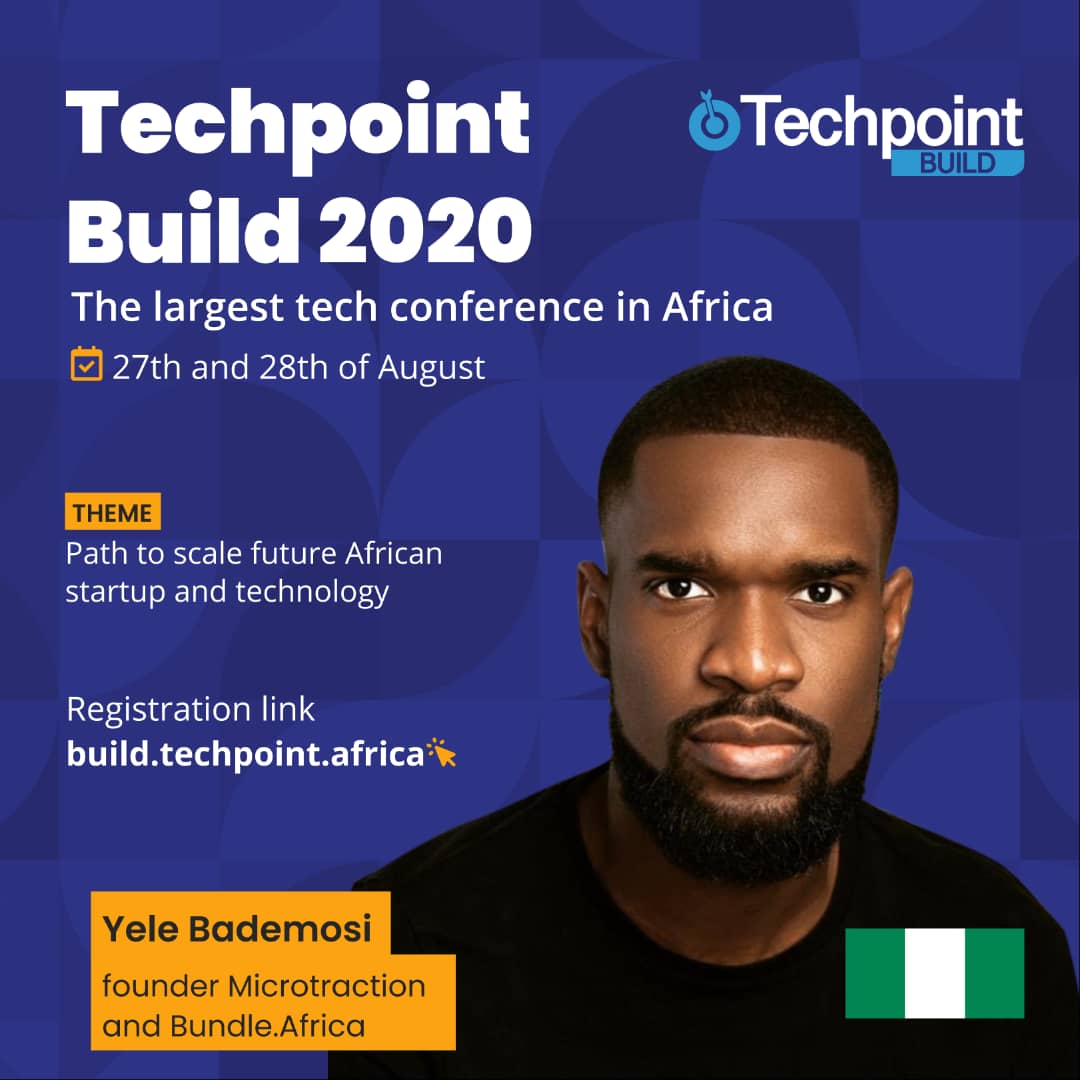 Speaking on: "Secured digital currency for Africa's future" 
Yele Bademosi, CEO and Founding Partner at Bundle Africa, a social payment app with a goal to drive the mass adoption of digital assets in Africa by layering the trading of cash and crypto together.
Before founding Bundle Yele was a director at global cryptocurrency platform, Binance Labs. He is also the founder of Microtraction, an investment vehicle that has funded several high-profile startups in Nigeria.
Yele will be taking part in the Secured digital currency for Africa's future panel session to increase awareness of digital currency and the need to build products that make cryptocurrency useful and inclusive.
Marius Reitz – South Africa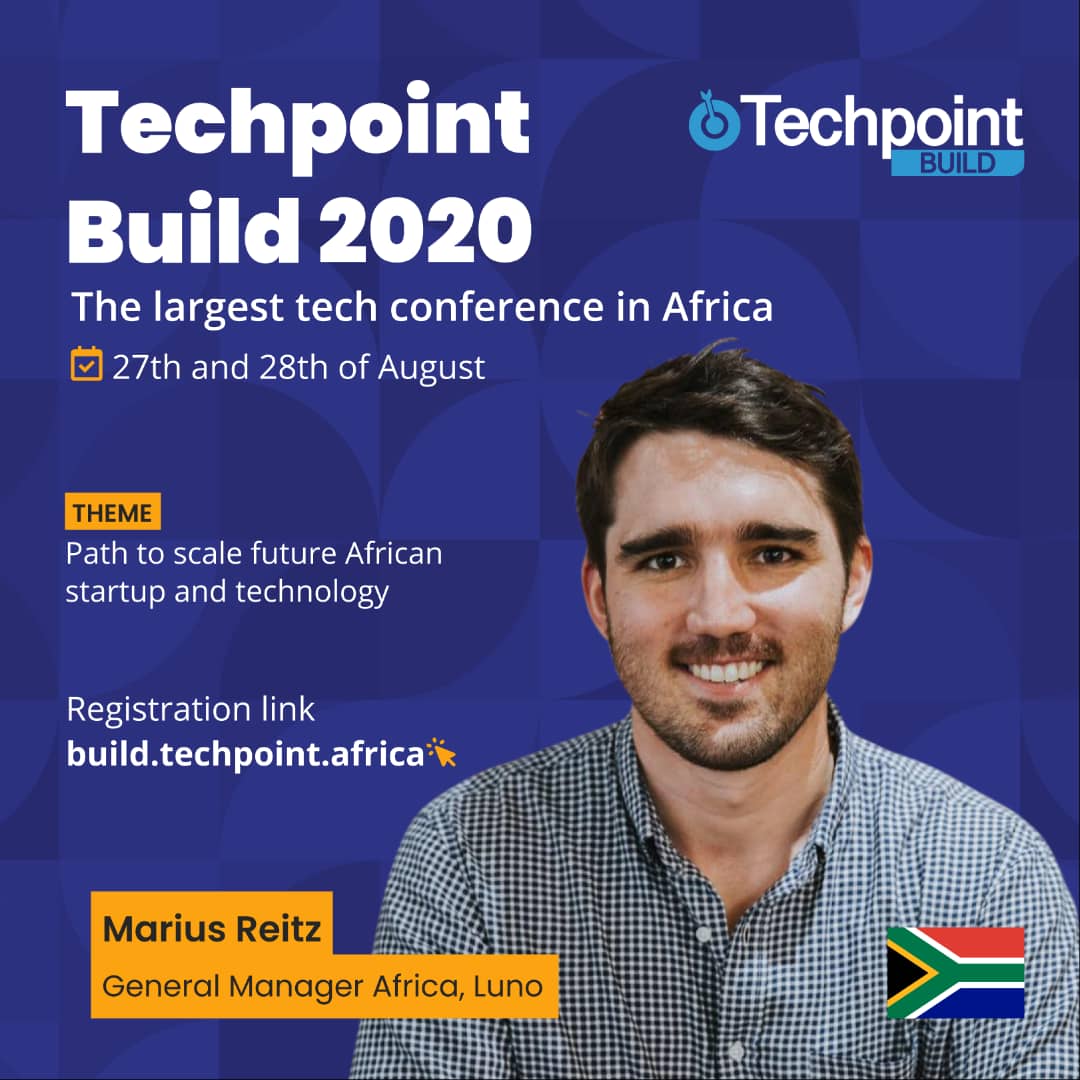 Speaking on: "Secured digital currency for Africa's future" 
Marius has grown through the ranks at Luno, the crypto company, from financial analyst to current general manager Africa operations. In this time, he has deepened his knowledge of crypto and written numerous publications on trends and advocacy of cryptocurrency adoption for the continent.
Marius will also be a part of the Secured digital currency for Africa's future panel to increase awareness of digital currency and the need to build products that make crypto useful and inclusive.
Fejiro Hanu Agbodje

Speaking on: "Secured digital currency for Africa's future" 
Hanu is the Founder/CEO of Patricia Technologies Limited, a technology-driven alternative payments company, founded in 2017, where users can transact with new digital currencies like Bitcoin, Perfect Money, and other digital assets.
With its HQ in Lagos, Nigeria. Fejiro Hanu Agbodje is set to usher Africa into the digital age with technology, innovation, and Sheer will using Patricia as the vessel.
He is a graduate of Mathematics and Statistics and a user-experience expert with a deep understanding of user-centered designs (USD) and strong skills for conducting user research and surveys, and translating them into sitemaps, user flows, customer journey maps, wireframes, mockups, and prototypes.
Fejiro Hanu Agbodje recently launched Africa's first Luxury Bitcoin Debit Card, which gives both old and new users on the system an instant ability to withdraw cash directly from their Bitcoin or Naira wallets, make POS and web transactions, as well withdraw cash, do transfers on any ATM machine just like the regular bank's ATM card.
He's a big dreamer, goal-getter, hard worker, and probably one of the most optimistic people you would ever meet. With his favorite quote of "Do the most", this lover of music is set to build a legacy by getting millennials off the street and impacting lives with his products and services.
Hanu will be completing the panelist for the Secured digital currency for Africa's future session.
Oluwatobi Otokiti – Nigeria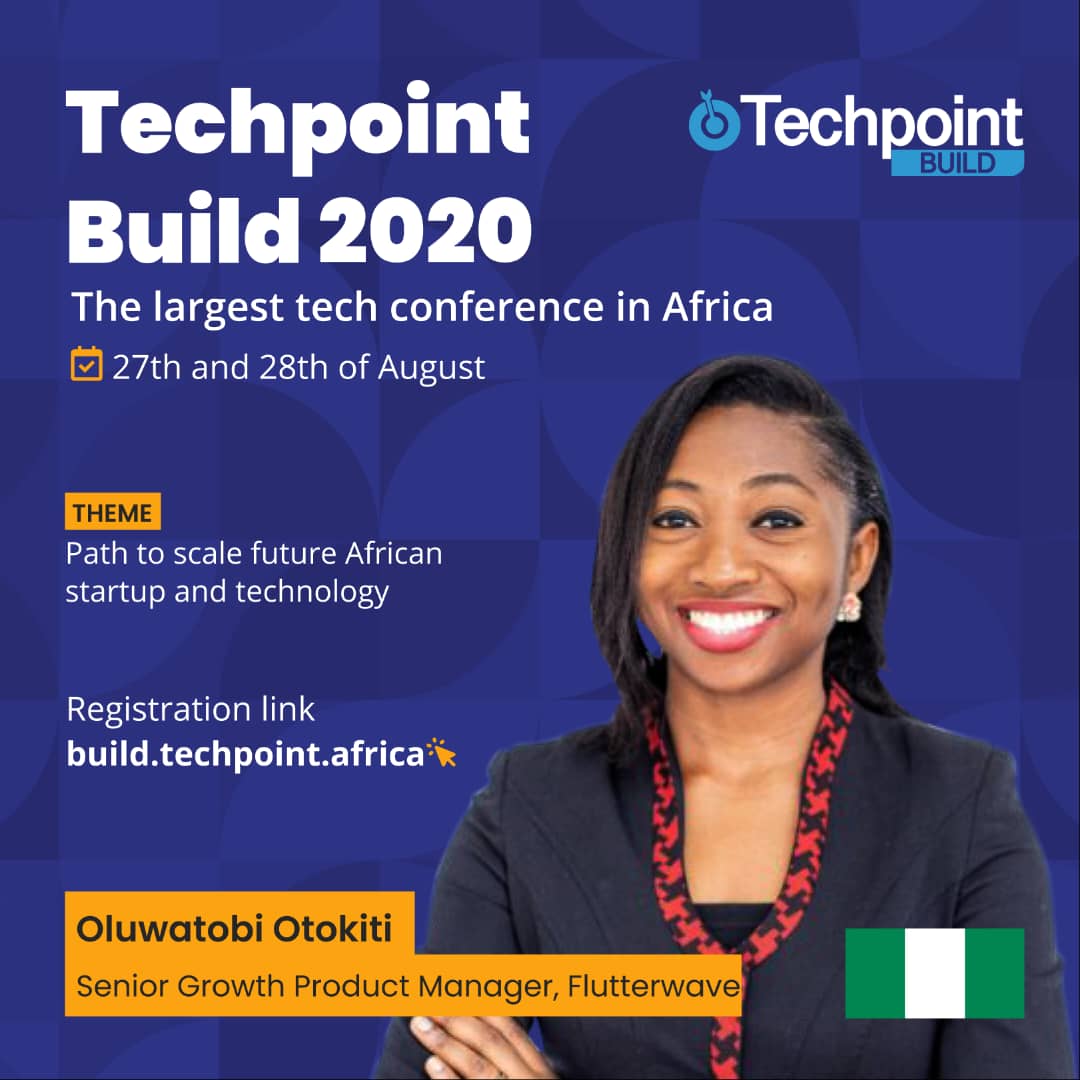 Speaking on: "Building products with African design" 
Oluwatobi Otokiti is driven by a desire to help product management professionals to build the next generation of groundbreaking products from Africa.
She is a Senior Growth Product Manager at Flutterwave with over seven years' experience building products across multiple industries including financial technology, education technology, logistics, and event management. She helps businesses discover and manage the development and delivery of a valuable, usable, and feasible product.
Before Flutterwave, she managed edtech and internal applications that made Andela operate efficiently and scale quickly. At Interswitch Group she created payment products that enabled users to perform seamless financial transactions.
She is the founder of ProductDive, a product management school that has helped over 1,500 product management professionals by providing the right skill sets through practical workshops and career support.
She is a thought leader in the product management industry with a focus on shaping the tech industry, which is essential for an innovative and thriving African digital economy. Tobi is a certified product manager, and she holds a bachelor and a master's degree in computer science.
She is an athlete and speaks French and Chinese.
Oluwatobi will be one of the panellists for the session on Building products with African design which is expected to expose Africans product designers and builders to the opportunities, systems, and complexities of building products that are of high value in terms of reach and impact to Africa, and setting a structure for the next generation of products for Africans.
Joel Benson – Nigeria
Speaking on: "Using technology to tell stories" 
Joel 'Kachi Benson is passionate about stories and has been making documentary stories for more than a decade. In February 2018 when he produced "In Bakassi" -- a virtual experience of life in one of the largest IDP camps in Northeast Nigeria -- February 2018, he was introduced to the world of virtual reality and became the first Nigerian filmmaker to use VR technology for storytelling.
In April 2019, Joel produced Daughters of Chibok, his second VR film, that takes viewers into the heart of one of the mysteries of Nigeria's war against insurgency.
In September 2019, Daughters of Chibok made history when it won the Venice Lion at the Venice Film Festival, making 'Kachi Benson the first African to win the prestigious prize in the virtual reality category. Daughters of Chibok has gone on to screen at over 60 film festivals across the globe, winning awards and special mentions, including being listed on the Forbes List of Top 50 VR Experiences of 2019.
Joel received formal and informal film training from the Central Film School,
London; Legacy Media Institute, Virginia, USA; National Film and Television School, Beaconsfield, UK; and Stillmotion in Portland, USA. He is a firm believer in the use of film as a tool for social impact and through his Free Spirit Academy and other fora, he teaches and mentors young filmmakers on how to use storytelling as a catalyst for positive change.
In December 2019, Joel was named among the New African Magazine's 2019 Top 100 Most Influential Africans. He lives and works in Nigeria where he manages JB Multimedia Studios and VR360 Stories.
At Techpoint Build 2020, Joel will be holding a single panel interview on Using technology to tell stories as part of activities for DAY 2 of the technology conference.
Nekesa Were – Kenya
Speaking on: "The future of technology and the role of Africa"
In the last 10 years, Nekesa has worked at the heart of Kenya's and Africa's the technology and innovation sector. In 2010, she founded Inspire Harvest and has since then been board and/or advisory member of different organisations, including Missing Child Kenya, Creative Garage, and AfriLabs where she also served as an interim executive director for five months.
Nekesa was also managing director of iHub Nairobi for eight years in which time the business and social incubation hub supported over 700 startups with business support services and graduated over 150 from its accelerator programmes.
At Techpoint Build 2020, Nekesa will be taking a keynote on The future of technology and the role of Africa.
Wiza Jalakasi – Kenya
Speaking on: "Building products with African design"
Wiza Jalakasi is an international business development expert specialising in the setup and operations of high-performance technology startups across Africa.
With a breadth of experience spanning 11 years and 16 African countries, he has founded and helped build tech startups across verticals in the B2B and B2C space. He holds an honours degree in information systems technology from the United States International University-Africa and is currently the head of global business development and strategy at Hover Developer Services, Inc.
He also serves an investment scout for Ventures Platform and Microtraction, two early-stage funds.
Wiza will be joining Oluwatobi Otokiti at the Building products with African design panel session.
Adegoke Olubisi – Nigeria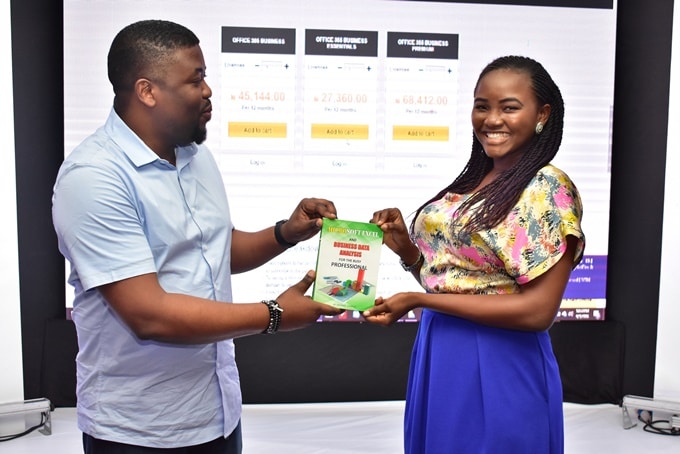 Speaking on: "Raising capital during COVID-19"
Adegoke is the Co-founder and Chief Executive Officer of Helium Health, the largest electronic medical records (EMR) provider in West Africa backed by Y Combinator and Tencent. He is at the forefront of technological disruptions across the African continent as he founded one of the largest social platforms and productivity suites in Africa with over 30 million users.
He also serves as managing partner of Magic Fund, an early-stage venture capital firm based in San Francisco that has backed over 50 startups, particularly in the healthcare space such as Akido Labs, Apero Health, Medumo, and others.
He has received engineering and management degrees from Johns Hopkins University, Morgan State University, and King's College. He began his career in technology building systems at Goldman Sachs, eBay, and PayPal.
He is a 2019 Forbes 30 Under 30 and Future Awards Africa honoree, and a recipient of several notable awards across the globe from Chevron, Northrop Grumman, Lockheed Martin, the State of Maryland and more.
Adegoke will be on the Raising capital during COVID-19 panel session to address issues of fundraising during the pandemic.
Andrew Watkins-Ball – South Africa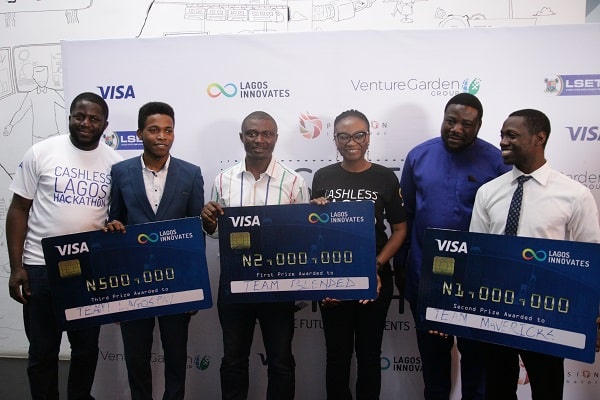 Speaking on: "Raising capital during COVID-19"
Andrew Watkins-Ball is the Group Founder and Platform CEO, JUMO, a full financial technology stack for building and running financial services.
Andrew's driving passion, which ultimately led to him founding JUMO, is to find capital and put it to work to create products, jobs, and opportunities. Andrew has successfully built and sold various businesses including Gateway Telecommunications, a satellite service provider purchased by Vodafone. He's held multiple senior roles in investment banking in London and New York.
In the past decade, he has focused on the technology and financial services sector. Like Adegoke, Andrew will feature on the Raising capital during COVID-19 panel session.
Elizabeth Mastors – Kenya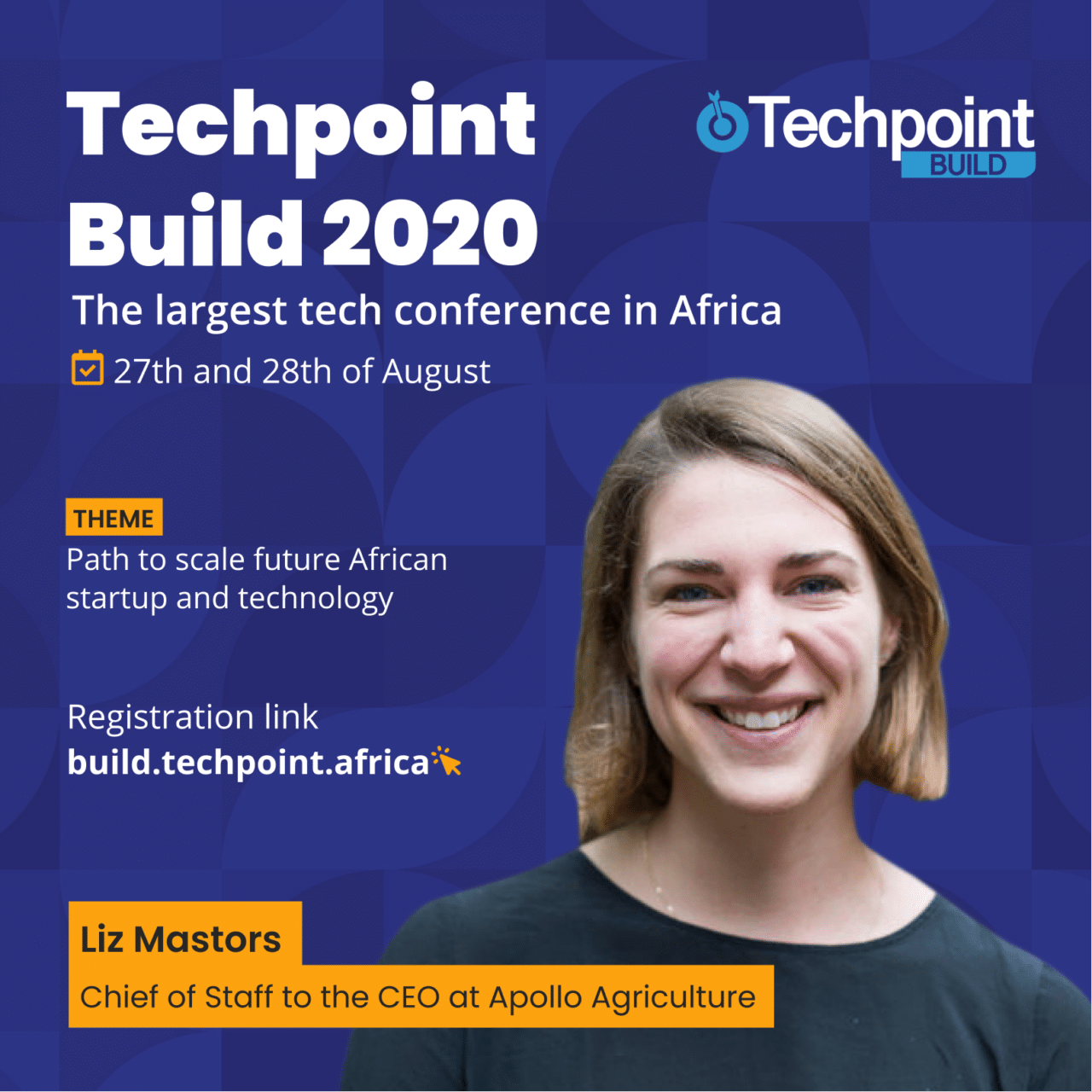 Speaking on: "Raising capital during COVID-19"
Liz Mastors serves as chief of staff to the CEO at Apollo Agriculture, a product and financing platform for smallholder farmers. Liz joined Apollo in 2017 as director of partnerships to lead fundraising and investor relations.
Liz has many years of experience in program design, partnership development, and fundraising strategy in the public and private sectors.
Before working with Apollo, Liz worked at the impact investing firm Root Capital and Prosperity Catalyst, where she helped launch an artisan enterprise in Iraq.
Liz will be adding her voice to the Raising capital during COVID-19 panel discussion at Techpoint Build 2020.
Amadou Daffe – Ethiopia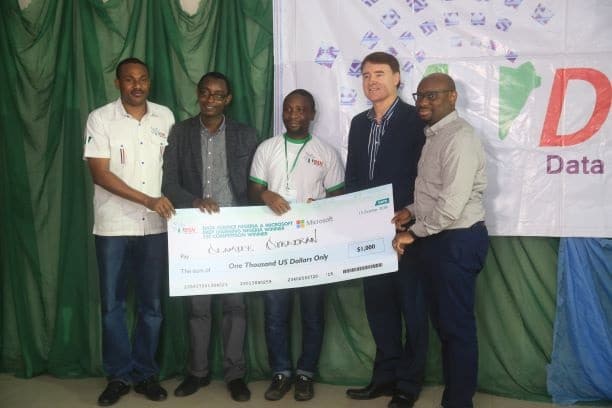 Speaking on: "A path to scale"
Amadou Daffe is the CEO and Co-founder of Gebeya. He has two passions in life: Africa and software engineering. He holds a BSc in computer science and an MSc in management information system from the USA. Over the last five years, he has travelled across Africa searching for top software engineers and in the process, Amadou acquired a lot of knowledge of Africa's IT landscape and its opportunities.
It was on his quest that he saw the potential for software to improve African economies and solve socio-economic issues in developing countries.
This motivated him to co-found Gebeya, a pan–African company, to nurture a self-sustainable ecosystem that trains, hires and incubates the best African IT talent.
Amadou will be speaking on the panel A path to scale outlining paths African startups need to follow to scale their businesses, especially in the aftermath of the COVID-19 pandemic.
Ernest Obi – Nigeria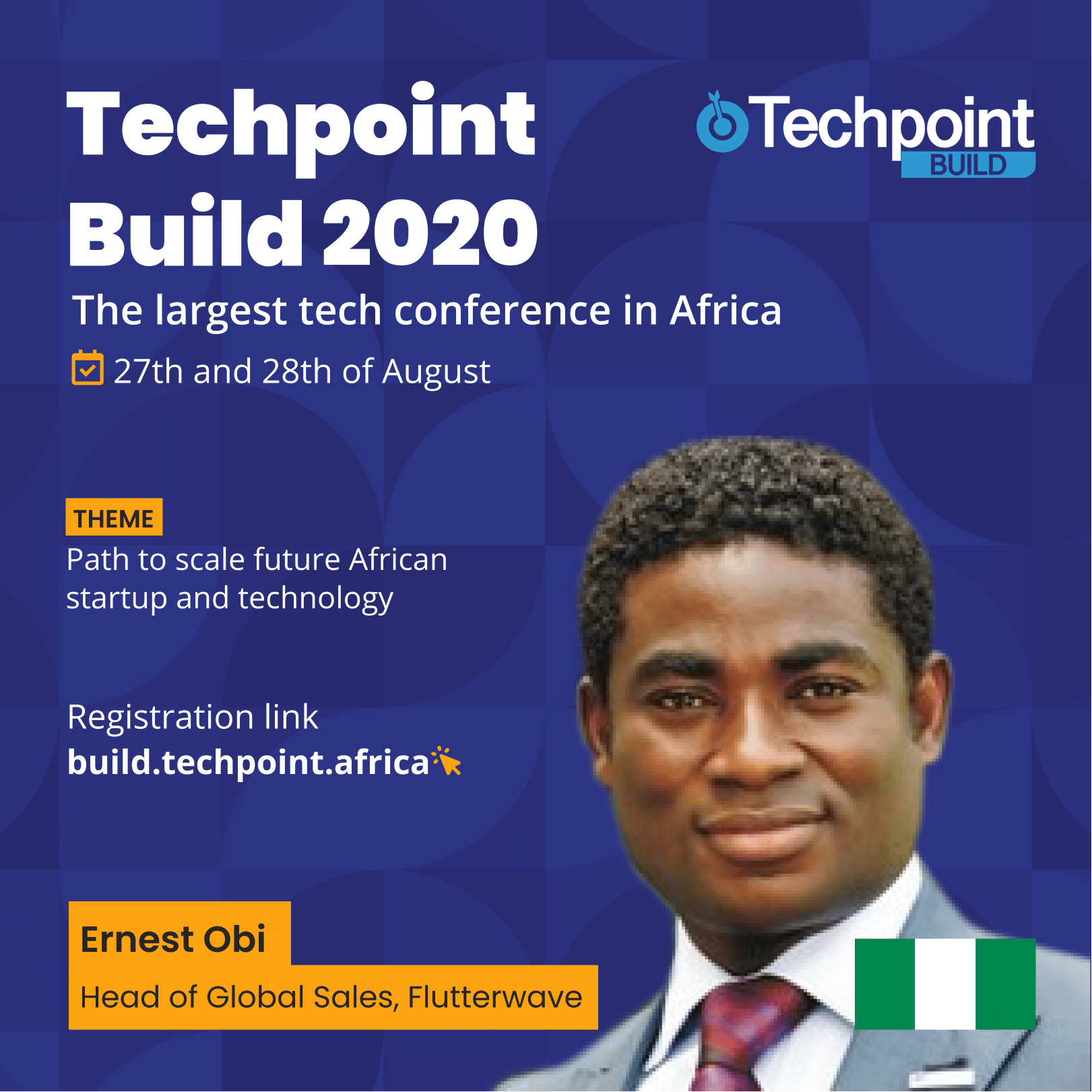 Speaking on: "A path to scale"
Ernest is the Head of Global Sales at Flutterwave. He has 16 years' experience of progressive banking exposure across e-business, human capital management, and private banking where he spent five years at the senior management level.
He is a 2008 Msc Business Management graduate from the University of Central Lancashire, UK. Ernest will be joining Amadou on the panel to discuss A path to scale.
Titi Akinsanmi – Nigeria
Speaking on: "How policy can influence future technology in Africa"
Titi Akinsanmi is a digital policy expert who currently serves as policy and government relations lead for West and francophone Africa at Google.
With 19 years' experience, she has directly engaged with global policy development processes, built capacity and strategy, and is enabling the implementation of strategies relating to Internet governance and the digital economy.
From making a case for the role and inclusion of youth globally who are primarily at the forefront of the digital ecosystem to helping governments shape the policy and regulatory environment as it relates to the role of intermediaries, content creation and sharing, as well as data privacy and cybersecurity, Titi's work requires intense interdisciplinarity.
Titi has initiated, managed, and led delivery on many projects and initiatives: ICT and development, ICT and education, the information society, Internet governance, and telecom value-added products and services within Nigeria, South Africa, and across over 30 other nations globally.
A published academic, Titi holds a BA in English from OAU, Ile-Ife; a Masters in Public Policy from University of Witwatersrand in South Africa; and an LLM from Osgoode Law School (specialising in Privacy and Cybersecurity). She was a Fellow at the Berkman Klein Centre for Internet and Society at Harvard from 2018 - 2020, sits on the boards of digital economy, arts and youth development related institutions and serves on the World Economic Forum's Global Future Council on the Digital economy.
Being the pan-African conference that Techpoint Build 2020 is, Titi Akinsanmi's session -- How policy can influence future technology in Africa -- would be a keynote addressing how important policy is to future African technology and what needs to be done to keep up with the rest of the world.
Tayo Oviosu – Nigeria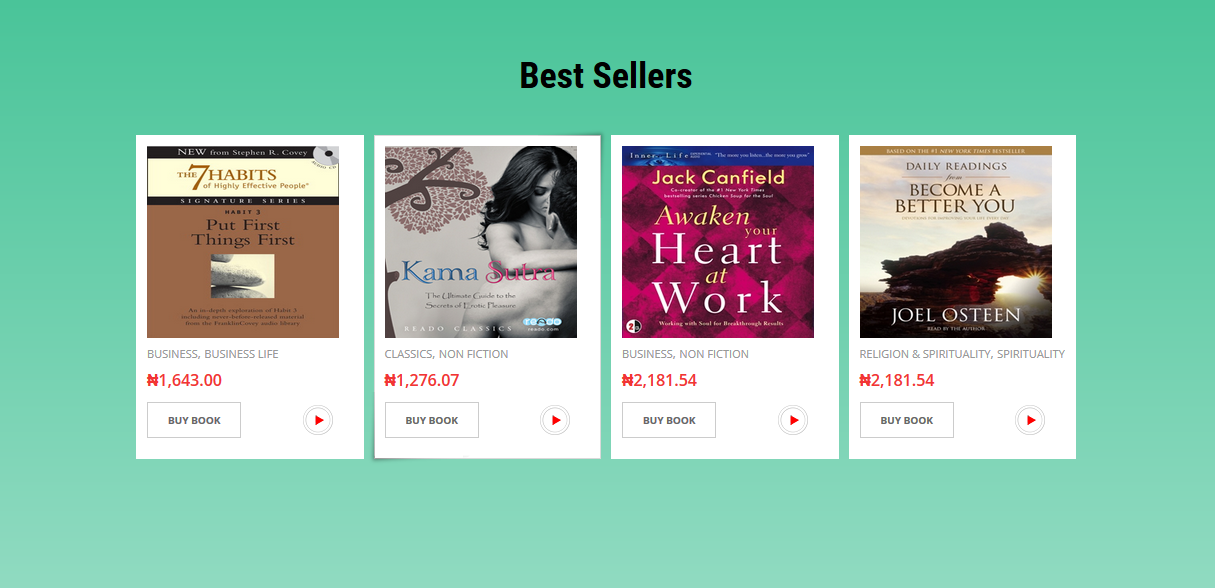 Speaking on: "A path to scale"
Tayo is the Founder and Group CEO of Paga. Paga is a mobile payment company, building an ecosystem to enable people to digitally send and receive money as well as creating simple financial access for everyone.
Before Paga, Tayo was Vice-President at Travant Capital Partners, a private equity fund in West Africa. Before joining Travant, Tayo was Manager, Corporate Development at Cisco Systems in San Jose California. Tayo's work at Paga has been recognised globally; in 2014, CNBC selected Tayo as the Entrepreneur of the Year West Africa, and in 2015 the African Leadership Network selected Paga as the outstanding growing company of the year in Africa. Tayo is an Endeavor Entrepreneur and a member of the Young Presidents' Organization.
Tayo has a passion to help entrepreneurs bring ideas to life and build scalable businesses. He is an active angel investor and a co-founder of Kairos Angels, an angel investment club.
Tayo earned his Bachelor of Science degree in Electrical Engineering, cum laude, from the University of Southern California and also has a Master's in Business Administration from the Stanford Graduate School of Business.
Tayo will be having the first of three keynotes at Techpoint Build 2020 themed A path to scale.
Eric Annan – Ghana
Speaking on: "Secured digital currency for Africa's future"
Eric trained as an investment banker, with four years of corporate engagement, and pioneered two microfinance banks in Ghana. However, over the last three years, he has been passionately involved with a series of blockchain activities and training.
He has invested and used various trading platforms to trade and also trains well over 10,000 people across Africa.
He founded KuBitX, a crypto exchange, to create an ecosystem that will connect the global marketplace and closed economies to the blockchain using token as a base value for all kinds of value transfer.
Eric will be joining Yele Bademosi and Marius Reitz at the Secured digital currency for future Africa panel to increase awareness around digital currency and the need to build products that make crypto useful and inclusive.
Seni Sulyman – Nigeria
Speaking on: "A path to growth"
Seni Sulyman was the immediate past vice president of Global Operations at Andela, a venture-backed company that builds high-performing engineering teams with Africa's most talented software engineers.
Seni was responsible for Andela's delivery operations function and oversees Andela's Africa operations across Nigeria, Kenya, Uganda, Ghana, Rwanda, and Egypt. Seni was previously Country Director of Andela Nigeria. Under his leadership, Andela achieved several milestones including building and scaling a high performing cross-functional team, growing the organisation by over 400% in two years, receiving the US Secretary of State Award for Corporate Excellence, and creating an excellent culture that projected Andela Nigeria to the best place to work in Nigeria and Africa.
Before Andela, Seni built and operated a new business jet airline serving Lagos, Abuja, and Port Harcourt at Bristow Group, with an industry-leading 98% on-time-departure record. His career before Andela spanned roles at Bain & Company in Chicago, where he helped a CPG company identify half a billion dollars in cost savings; at HP in Silicon Valley, where he developed a strategy to grow the revenues of the multi-billion dollar technology services division; at Cardinal Stone in Lagos, where he identified efficiencies in the operations of an oil and gas marine logistics company; and at Konga in Lagos, where he worked on several strategic projects during Konga's early growth.
Seni is passionate about building an ecosystem of exemplary African businesses and leaders. He has an MBA from Harvard Business School and a Bachelor's degree in Electrical Engineering from Northwestern University.
Seni will be involved in the only one-on-one session (with another seasoned entrepreneur) at Techpoint Build 2020 tagged A path to growth, to discuss how African startups can be better positioned to scale, especially in light of the COVID-19 pandemic.
Eloho Omame – Nigeria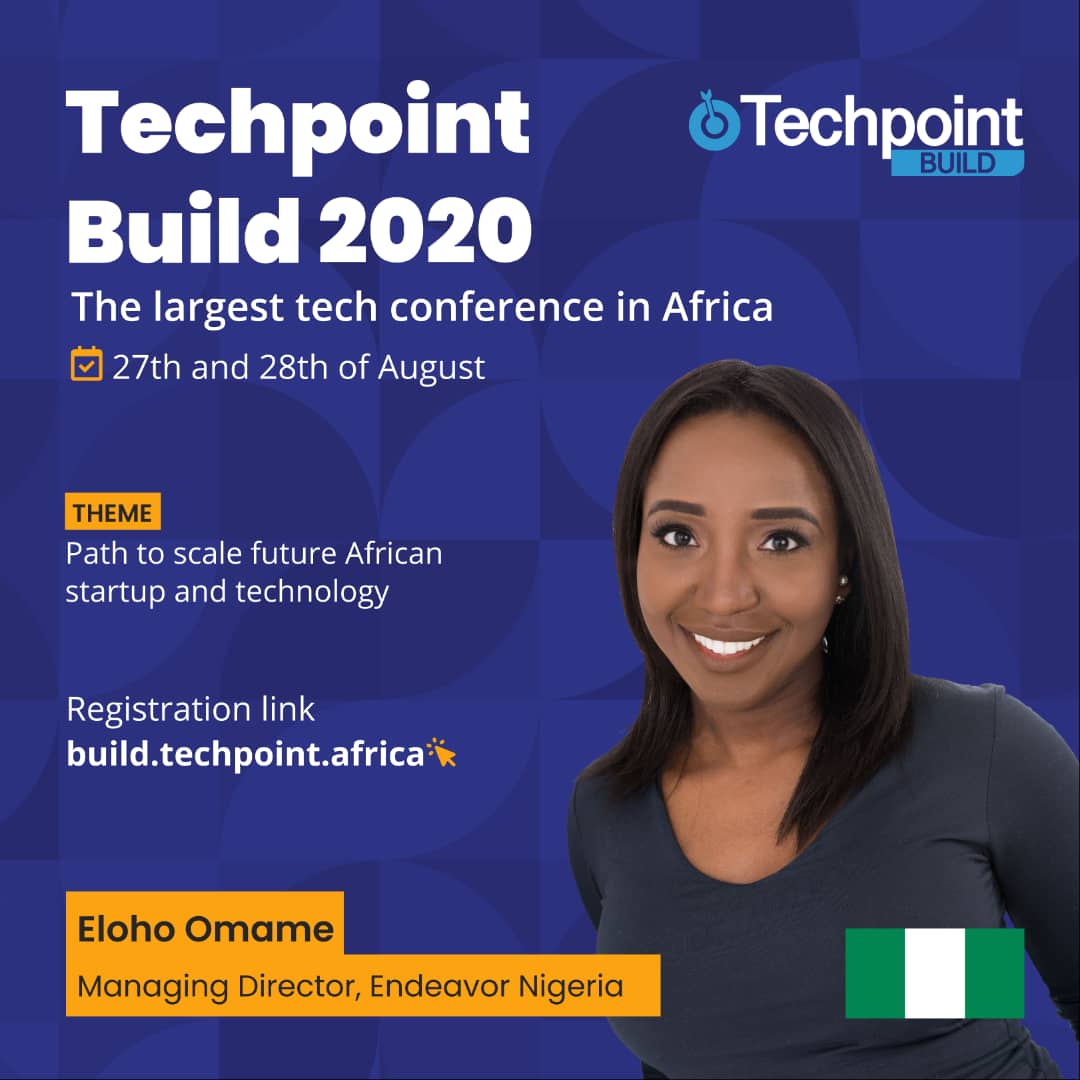 Speaking on: "A path to growth"
Eloho (Omame) Gihan-Mbelu is the founding Managing Director & CEO of Endeavor Nigeria.
Over a career spanning more than 15 years, she has worked with entrepreneurs, companies, and teams across multiple industries, at a range of life-cycle stages.
Before Endeavor, as Managing Partner of Amari, an early-stage investment and consulting firm she founded, Eloho conceptualised, designed, and launched 'Lagos Innovates', a portfolio of startup support programs sponsored and operated by the Lagos State Employment Trust Fund.
She is a former Vice President at General Atlantic, a global growth equity firm, where she focused on sub-Saharan Africa; former Head of Corporate Development at First Bank of Nigeria; and a former investment banker at Renaissance Capital and Credit Suisse, where she focused on M&A and financial advisor transactions.
Eloho holds an MBA from the London Business School and an undergraduate degree in economics from the London School of Economics and Political Science.
Eloho will be sparring with Seni at the one-on-one session, A path to growth.
Kayode Nubi – Nigeria
Speaking on: "Working on global products"
Nubi is an experienced professional with a demonstrated history of working in the Internet industry. He is currently an operations program manager at Stripe having had a spell as a digital strategist and technology consultant at Mediacom and Accenture, respectively. Nubi is an entrepreneur at heart. He co-founded Nigeria's first online takeaway site, EasyAppetite.com (acquired by Max.ng) and Travelbay.com (2015/16).
He continues to spend time supporting startups at Stripe and also as an Antler advisor, Board Member of Utiva, convener of the Umbala Project, and through HoaQ, an early-stage investment vehicle.
After earning a Bachelors Degree in Electrical and Electronics Engineering in Turkey, he moved to Ireland for a Master's Degree in Digital Innovation Management from University College Dublin, where he now lives with his wife, Nana and daughter, Kike and serves as a teacher and music minister at the King's Arena Church.
Nubi will be speaking during a session: Working on global product to expose Africans to the possibility of building (and overseeing) products with a worldwide reach, from Africa or as engineers in global companies.
Victor Chima – Nigeria
Speaking on: "Working on global products"
Victor's specialities are in the areas of entrepreneurship, engineering/tech leadership, all things data, analytics, machine learning, distributed systems and algorithms.
Currently based in Sweden, Victor is an engineering manager at Spotify with over 3 years experience.
At Techpoint Build, he will be speaking alongside Kayode Nubi on the Working on global product session.
Dolapo Omidire – Nigeria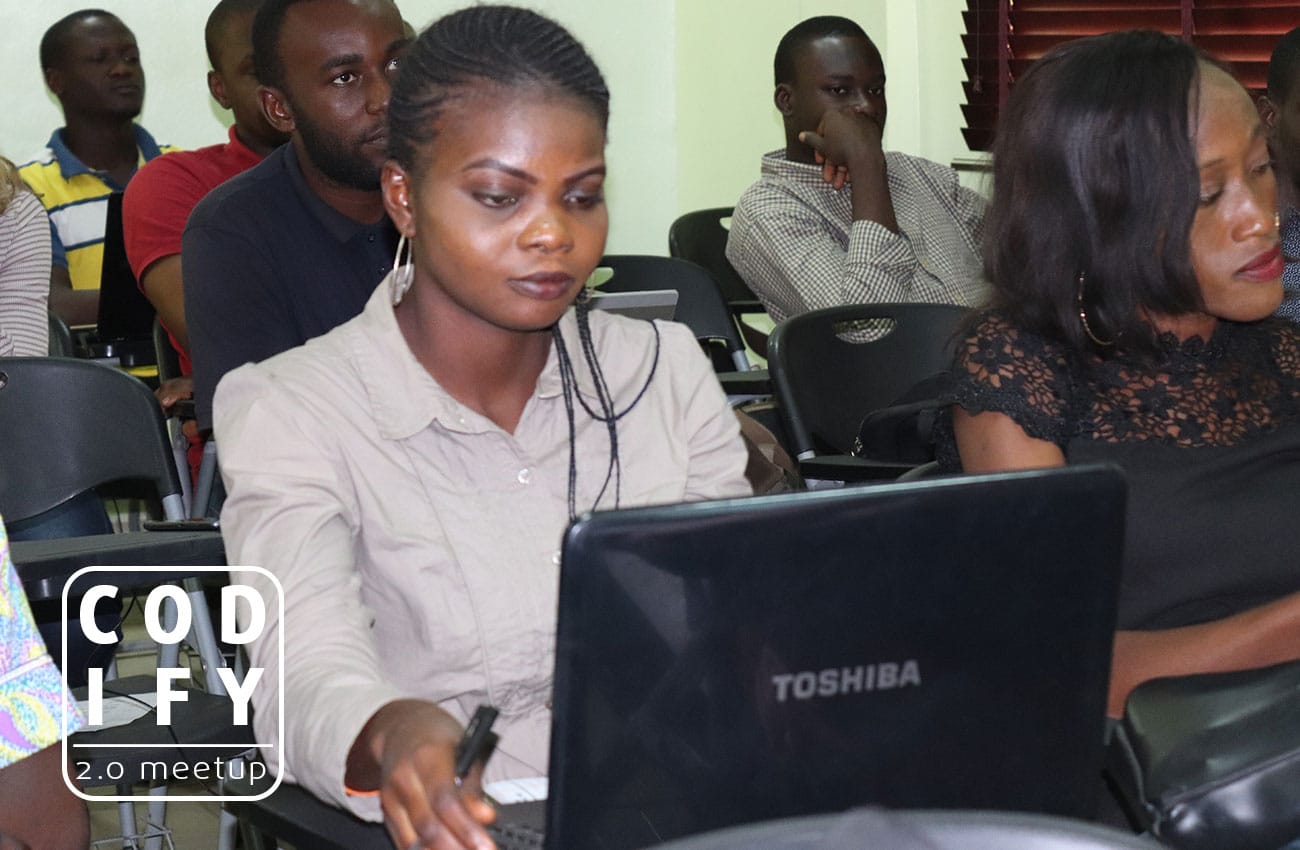 Speaking on: "Winning Techpoint Pitch Storm: The journey so far"
Dolapo Omidire is the founder and team lead at Estate Intel. He spent over 2 years at Broll in Nigeria as the Lead Research Analyst working on market and feasibility studies for international and local institutional real estate investors.
Dolapo also spent over a year at AXA Mansard Investments as an Alternative Investment Analyst. Dolapo is a member of the Royal Institution of Chartered Surveyors (UK) with a speciality in Commercial Property Research and also holds a BSc in Investment and Finance in Property from the University of Reading, UK.
As the immediate past winner of Pitch Storm at 2019 Techpoint Build, Dolapo will be sharing the journey and experience learnt so far.
How to attend
Techpoint Build 2020 will be held on 27th and 28th this month August. The sessions will be split across both days which already promises a lot of excitement.
Attendance is free. Simply visit build.techpoint.africa to register.