In 2018, Harrison Obiefule decided to switch careers from broadcasting to digital marketing, following his friend's advice. That move turned out to be one of his best decisions. Less than two years in, Harrison has scaled up considerably in the industry and has begun to make a name for himself.
He talks about his career transition, life as a digital communications strategist, working from home during a pandemic, and more on this week's How I Work.
Current role: Digital Communications Strategist
Location: Lagos, Nigeria.
Current computer: MacBook
Current mobile device: iPhone
Describe what working in this pandemic is like, in one word: Different
---
Tell us briefly how you started out your career and how you got where you are today.
I actually started out in broadcasting at UNILAG FM and then Y!Naija's Rubbin' Minds on Channels TV. While in broadcasting, I'd help out in creating social content for the show's handles. Over time I became a natural at using apps like Twitter, etc.
Broadcasting wasn't profitable so a friend asked that I try digital marketing. I switched careers in 2018 to digital marketing. I worked in real estate, then at an influencer marketing agency in 2019. In early 2020, I was at a 360 agency (they do both offline and digital advertising) before my current agency, which is a digital marketing agency.
I've had to learn on the job as quickly as I can. I've had to take courses, read books, study industry professionals, and join professional groups. These steps have been super helpful.

What does being a digital communications strategist entail?
A lot. Lol. Primarily, my job is to create solutions to our clients' problems on digital platforms. That could go from creating a content strategy for the social media handles that we manage to creating an influencer marketing strategy for a campaign. It could go from creating a strategy to pitch for new businesses to refining internal processes and ensuring that they work.
I wear plenty of hats. I drive content strategy on some accounts, while I develop content for others. For some, I lead digital strategy for everything from campaigns to activations to pitches etc. I also act as a community manager and meet with clients regularly to pitch my ideas and so many more I can't remember.
Is this your first time fully working from home?
Yes, it is. Pre-COVID, there was no reason to. Right?
Walk us through a typical workday since you started working from home
I wake up and open my laptop immediately; it never leaves my side. I check Slack, WhatsApp, and emails for messages and reply if there are any. Then I list everything I'm supposed to do that day. I start to work, beginning with pending work from the previous day or new urgent ones in between checking social media for news.
Breakfast comes late, and then I try to have my siesta to replenish lost strength. I wake up, go back to my laptop, and then it's work, work, and work.

What apps, gadgets, or tools have you been relying on to work from home, and how do you use them?
WhatsApp has been a game-changer. It has moved from an app for casual conversations to one where groups can be formed by employees and companies to facilitate productivity. Who would have thought?
Others include Slack, Google Meet and Zoom. Slack for internal communications between colleagues. Google Meet and zoom for meetings with clients, attending webinars and online training, and also internal meetings.
Having to work from home, how do you allocate time for work and other things?
Not really. Just as the spirit leads. It's mostly work, then I can take a few breaks to sort out some other things. But my laptop is my ultimate bae. It gets the most attention.
Do you live/work alone? If you don't, what's your living condition like and how do you avoid/cope with distractions?
My living condition is very ideal. It's a quiet environment with power supply. A flat in an estate, so there are very few distractions once I lock my door.
How do you recharge or take a break?
Sleep, have friends over, stroll to the mall near me, go on Twitter to banter.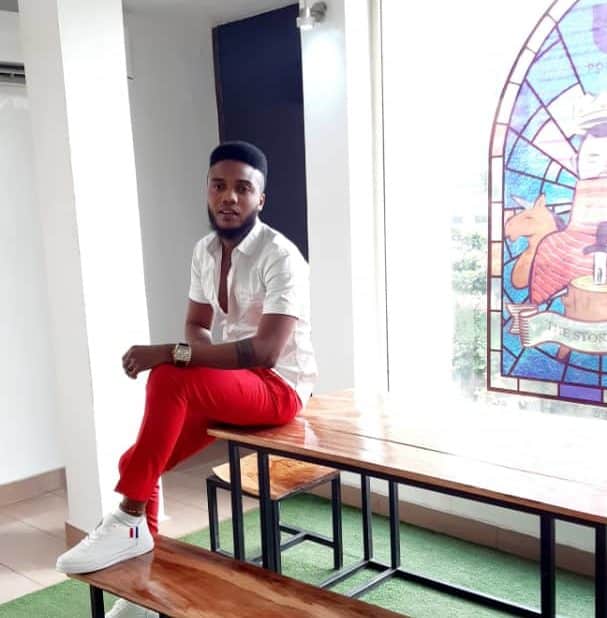 What's your biggest challenge with working from home and how are you trying to solve it?
That would be the cost of data and the epileptic power supply. I'm thinking of getting a solar system and my agency has promised to help us with data.
Others include the constant hunger and need to munch something because the fridge is staring at you, 24/7. Lol. Also, sometimes it's difficult reaching your colleagues or getting an idea executed properly. All these would eventually be sorted out. It's the early stages of remote work, so they're expected.
What are you currently reading, watching, or listening to? What do you recommend?
Reading: The Villager: How Africans Consume Brands by Feyi Olubodun
Watching: Recorded videos from Cannes Live 2020
Listening: Son of a Pitch podcast.
What piece of advice would you give someone trying to adapt to working from home?
Get enough rest. Sometimes, just log off. Your company will not close if you do.
Who would you like to see answer these questions?
That will be Fred Akinmuyisitan, Head, Marketing Strategy and Planning, Heineken.