If you've been online a lot lately -- which you probably have, thanks to the coronavirus-imposed lockdown -- there's a good chance you've seen the name 'FatherDMW' or, maybe just simply, 'Father.'
A few weeks ago, the Instagram comedy skit creator, whose real name is Mohammed, entered the spotlight after screen recorded videos from his Instagram Live session with 19-year-old London-based Ugandan model, Eva Apio went viral on social media.
It started pretty much like any ordinary Instagram Live session, with Eva hosting random guests on her 'live talent show' -- one of which was FatherDMW.
But unlike others, the two seemed to have perfect chemistry. With FatherDMW's hilarious antics and Eva's priceless reactions, the live sessions took on a life of its own.
Memes and recaps of funny moments from their live session began to pop up on Twitter and Instagram, many getting liked and retweeted hundreds of thousands of times, sending their names to the top of Twitter trending list. 
Seeing how successful the first one went, they decided to turn it into a recurring event, alternating who hosts these Live shows each night. And as they continued, thousands of people -- up to 49k at some point -- tuned in, including Nigerian celebrities like  Don Jazzy, Ebuka, Adekunle Gold, and many others. 
The effect on their personal profiles has also been undeniable -- with FatherDMW now boasting over 300k Instagram followers and almost 50k followers on Twitter in only a matter of days.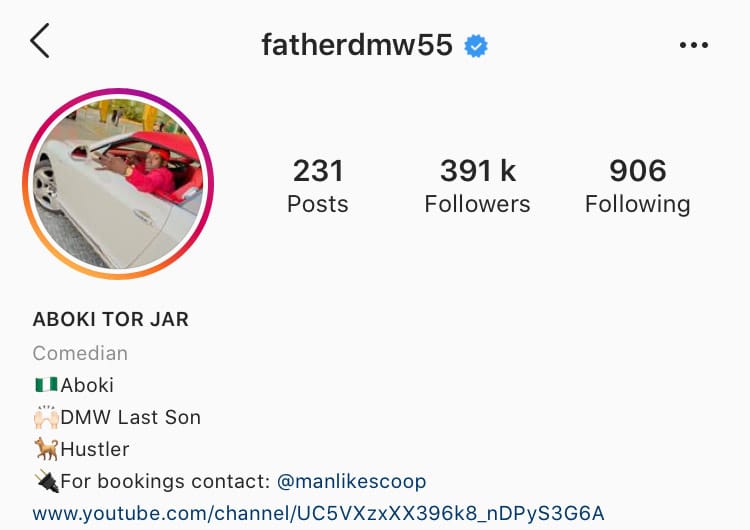 Fans on social media describe the live sessions, now tagged 'Eva and The Aboki,' as their 'favourite new reality show.' And much like a reality show star, FatherDMW is taking advantage of his new found fame and is already taking steps to monetise his live sessions.

Social media in the age of coronavirus 
As is obvious with the myriad of comedy skit creators on Instagram, humor sells on Instagram. However, FatherDMW's sudden rise to limelight can also be attributed to the fact that millions of people are at home bored and are turning to social media for entertainment.

---
Suggested Read: African meme accounts are becoming big on Instagram, but this comes at a price
---
Since the government-imposed stay-at-home rule in most countries started due to the coronavirus pandemic, social media usage has gone up a significant notch --  increasing by 61% over normal usage rates, according to new data from insights and consulting firm Kantar.

"WhatsApp, Facebook and Instagram have all experienced a 40%+ increase in usage from under-35-year-olds with significant changes to our social media habit, Kantar states in its report."
Susan Ajiboye, a writer and photographer, says although she's been an active social media user, there has been a significant increase in her usage. 
"It's different now because it's all I do," Susan told Techpoint over a WhatsApp chat. "There's nothing to distract me or entertain me in the outside world; all I have is my phone and these apps."
This spike in social media usage is also obvious in the amount of mobile data many users say they are consuming within short periods, which has also caused calls for service providers to reduce the cost of internet data.
How much data have you used up since the #lockdown started? pic.twitter.com/Se6ZR37Fo6

— Techpoint Africa (@Techpointdotng) April 8, 2020
"I have used 30GB of data within the space of two weeks," says Akanbi Olubanke, a KYC Officer in an outsourcing firm. "My social media usage has increased by at least 200 percent."
With television also becoming even less entertaining, as programmes, events and shows get suspended, people are almost left without a choice than to consume more content on social media. 
"Those things we look forward to on television are no more there," says Tobi Bowo, a content curator for Krakstv, a viral content media company with over 1 million Instagram followers.
"Right now, television is basically for news," he adds. "Everybody is going on social media for their entertainment."
Entertainment brands on social media say they are already seeing the impact on their numbers. 
"Our page is doing like three times better. We're getting more profile visits and engagements," Tobi says of Kraktv's Instagram page.

Instagram Live is the new live television
Instagram Live usage has also doubled in the past few weeks, according to Facebook.

"We've seen an explosion of lives on Instagram, some pretty amazing rap battles this week," said Adam Mosseri, Head of Instagram, in a video on the platform on Friday. 
FatherDMW is not the only one tapping into this trend.
Much like their international counterparts, several Nigerian celebrities and social media content creators, also stuck at home, are taking advantage of it to keep their fans engaged and also stay relevant. 
From top Nigerian music producers going head-to-head on Instagram Live in a 'Battle of Hits,' to DJs hosting virtual night clubs, and Television presenters creating Instagram Live-native interviews and game shows. 
"Everybody is going live now. If you wait till about eight o'clock in the evening and then check your Instagram page, you will see like four lives going on," Tobi said. 
In March, Hero Daniels, a comedian and TV host with 49k Instagram followers started a daily live show on the app tagged 'Isolation Games with Hero' where guests which include celebrities and regular users play different games for a cash prize. 
He says he started the live show, which rakes in thousands of views each night, simply to engage people during the lockdown. And 'engage' he did, as his page reach rose by over 6,000 and interactions of up to 30,500 in a week. 
There is currently no direct means of monetising Instagram Live but, like FatherDMW, some creators with large numbers of views have begun to explore advert placement and sponsorship. 
Also, in a tweet on Wednesday, Adam Mosseri revealed that Instagram was working on ways to "support creators and artists using Live."
https://twitter.com/mosseri/status/1247929294598234115?s=21
Video is becoming more popular 
This spike in Live usage highlights a broader trend which is the rise in creation and consumption of video content by Nigerians on Instagram. 
More social media users are joining video platforms TikTok and Triller, both apps for creating and sharing short videos, and also taking part in video-centric challenges like the #DontRushChallenge where participants transform from a relatively basic look to a more styled, glammed up or dapper look, among others.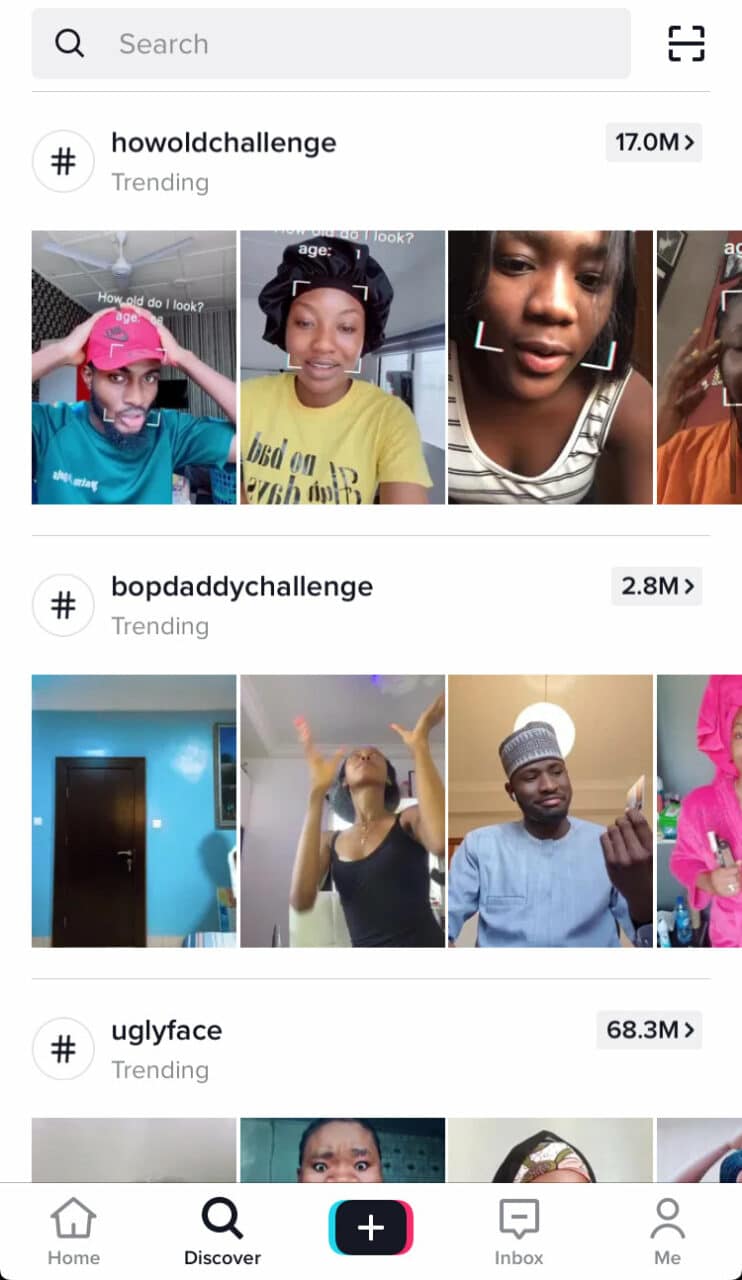 "I've had the TikTok app for close to two months," Olubanke told Techpoint. "I didn't even know how to use it, but since the lockdown, I've become a pro at making TikTok videos."
---
Suggested Read: How TikTok is slowly snatching young Nigerians from Instagram
---
Popular creators on the platform have also begun to see the effect of the lockdown as their followers and engagement numbers have increased significantly.
"There have been changes," says Mike Solomon, a creator with 148k followers on TikTok. "I post something now and before 30 minutes I have about 2,000 likes and over a hundred comments; so, lots of people are active at that time for it to skyrocket that fast."
And it turns out, everyone is trying to cash in on this trend. Although most trends on the platform are set by regular, often younger, users who seem to have a better grasp of what works on the platform, popular entertainers like musicians and actors are catching on. 
"Even celebrities are now trying to use this opportunity to create and build their pages on their other platforms," Tobi says.  "For example, you'll see Don Jazzy doing TikTok videos, Toke Makinwa, Mercy Eke, Tacha. Everybody is going towards that direction because that's the way you can keep people entertained."
More than ever, social media trends are changing, and at such an unprecedented rate that it is almost impossible to guess what will go mainstream next. 
Whether the trend continues or not, Tobi believes that FatherDMW is the biggest gainer from the lockdown situation in the Nigerian social media circle right now. 
"I'm very sure that at the end of all this, once people start having shows, FatherDMW will be like one of the guys that'll be everywhere," Tobi predicts. "He'll be the one that they'll be calling to every show."