IBADAN, NIGERIA — If the situation in cities such as New York, London, Rome, and several others is anything to go by, countries across the world are increasingly embracing city shutdowns and lockdowns to flatten the curve of the coronavirus disease and to ensure that hospitals are not overwhelmed.
In Nigeria, calls for shutdown are growing. Schools have been shut and bans have been placed on large gatherings leading to several churches switching to online services — but measures are to varying degrees across the nation.
In Nigeria's tech ecosystem, local innovators are being encouraged to put forward solutions that could aid the country's response to the disease. Tech firms, including Flutterwave, told Techpoint Africa that they are putting efforts in place to ensure that their operations are not affected and their workers can seamlessly work remotely.
"Last week, we ran a company-wide global remote day pilot before the significant evolution of the virus, and put measures in place from our learnings from the drill to ensure that we are adequately prepared and ready to adapt as the situation evolves," said Yewande Akomolafe-Kalu, Marketing Storyteller for Flutterwave.
Knowing that not all employees live in areas where there is an uninterrupted power supply, Yewande explained that Flutterwave is providing additional resources to help alleviate this and the options also include hubs and coworking spaces.
"We are also working in partnership with hubs and coworking spaces to provide our employees hot desks so they don't have to commute to find a location to work [from] if the need arises," she told Techpoint Africa.
Coworking spaces are also closing
Lagos
On March 20, Techpoint Africa reported Co-creation Hub's decision to suspend activities in its coworking spaces and hubs until further notice. Two days later, Passion Incubator-owned LeadSpace also announced that its hubs will be closed for coworking as a result of the coronavirus.
"We understand this will create some challenges for you. However, the safety and health of everyone is our singular most important priority at this time," LeadSpace said in a newsletter.
Several other hubs in Nigeria's tech capital city of Lagos have also shut down operations and are encouraging their hub community members to consider working remotely.
But outside Lagos, several coworking spaces remain open to users and their managers told Techpoint Africa they are closely monitoring the trend and are abiding by the directives of the government.
Abuja
Nigeria's coronavirus response is being coordinated by the National Coronavirus Emergency Operation Centre that is within the headquarters of the Nigeria Centre for Disease Control (NCDC) located in Abuja's Jabi metropolis. Just a few blocks from the NCDC headquarters is Work and Connect's coworking space.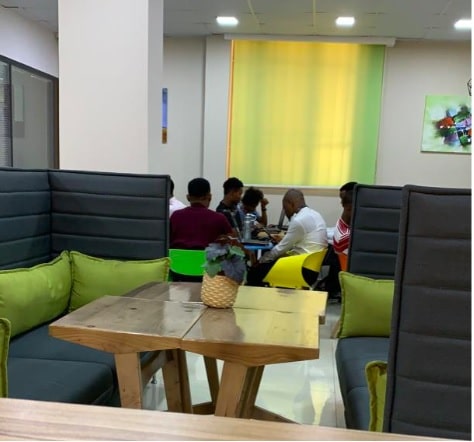 Even though the facility remains operational, efforts to maintain good hygiene have been ramped up, with mandatory temperature checks and hand sanitisation mandatory before entering the facility. The space is also partially partitioned into sections, thus allowing users to be able to limit unintended interactions and consequently achieve some form of social distancing.
Users that spoke to Techpoint Africa expressed satisfaction with the space's level of preparedness and were confident that they would continue to have access to the space despite the threats posed by the COVID-19 pandemic.
Ibadan
About 560 kilometres from Abuja, members of the Wennovation Hub community in Ibadan are also using the coworking space that is located at the Mokola area of the city, just a floor above the phone after-sale service centre of Transsion-owned Carlcare.
Even though hygiene has also significantly improved at the facility, with regular cleaning and availability of alcohol-based hand sanitisers, the hub's community members are anxiously anticipating further directives from the leadership of Wennovation Hub regarding a possible closure.
Adewumi Babafemi, Wennovation Hub's Campus Coordinator for Ibadan, told Techpoint Africa that the Lagos arm has already suspended hub activities while for Ibadan, services are still being offered.
"We are observing the situation until the end of March to see if things can get better. We can only put up some precautionary measures but once we look at how the situation is and it is not getting any better, we might shut down."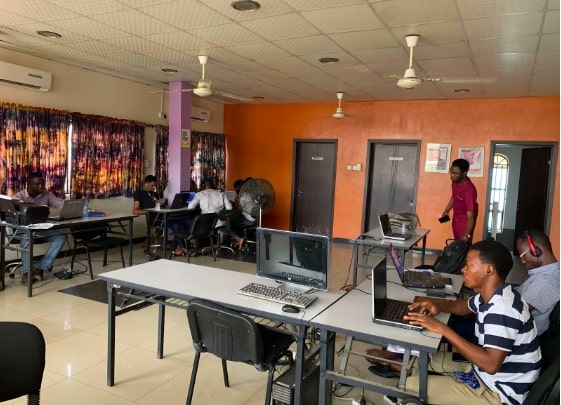 He noted that the hub is not overcrowded which, he believes, helps keep the hub safe for users.
"There is a directive that any gathering of more than 50 people should be suspended. But the maximum number of people we have in the hub now is about 25. We are not having meet ups at the moment and it is easier for us to manage what we have," Babafemi told Techpoint Africa.
But risks still remain. He admits that the space's users still have to interact with other hub users in addition to other daily activities including commuting via public means of transportation.
"At the moment, we are following World Health Organisation's precautionary standards," Babafemi added. "If things are getting better, hub activities will continue. But if not, we may have to reduce hub activities because of safety."
The Ibadan campus is taking notes from the Lagos office where members of staff are already working from home. Although the management believes it will be seamless, not all of the space's users are enthusiastic about working from home. Joshua Osunbor, co-founder of Ozidi, is one of the hub's users who dreads working from home.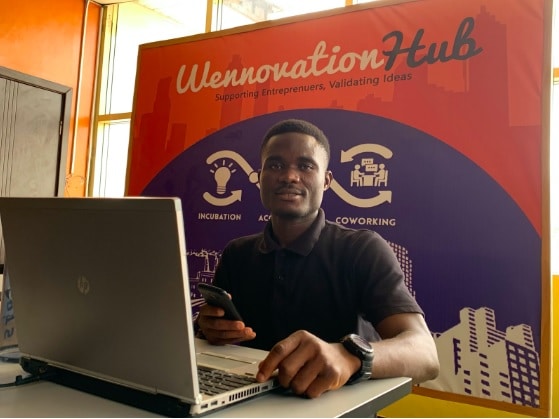 Rude reawakening for startups
On the workbench adjacent to the one on which Babafemi sat as he spoke with Techpoint Africa, Joshua was listening in on the conversation; it made sense considering his gleanings could provide insights on the next line of action for him and his one-year-old startup that was launched to serve as a fund manager for small scale farmers — helping them achieve financial freedom by enabling them to save and earn responsibly via the startup's layaway platform.
"In reality, cash is difficult to hold, even for those of us who are well educated. During planting season, farmers are rich and nine months later, they are broke. We are trying to change the entire narrative that farmers are poor. When farmers have money during the harvest season, they can save a bit of it and it will not be bad if they are putting in $1 daily. They can save up to $200 which will go a long way in helping them to buy seeds and fertilisers," Joshua explained.
The startup launched in March 2019 and Joshua, who had to resign from his job in Lagos to move to Ibadan, said he made the move because "there are no rural farmers in Lagos."
He joined Wennovation Hub's incubation programme from August to September 2019, but he started working from the coworking space in January 2020 after previously working from home. According to him, the experience has been different. At the space, he enjoys constant power supply and access to the Internet for him to do more.
"Now we are building a new product that could help our operations. If the access to power and the Internet are not there, it will really be difficult because as a startup that is so lean, you don't have all the money in the world to spend on fuel. I also get to meet guys building other products, and I exchange ideas with them," he told Techpoint Africa.
But if the coworking space is eventually closed due to the coronavirus disease, Joshua said he will start working from his house located in the Ojoo area of Ibadan.
"I will have to get a good amount of data that can carry me for as long as I can manage it and I will work whenever the light (electricity) comes," he said.
He revealed that the power situation at Ojoo is "terrible" with the area only getting just a few hours of power supply at midnight, which gets cut off before sunrise. During the day, they only get about two hours of power supply.
Moreover, Joshua's laptop can only stay on for less than two hours when fully charged;  the implication of this is that he will commit additional resources towards alternative power supply, specifically the conventional electricity generator.
Threat to the coworking model?
The issues Joshua would have to deal with while working from home are not peculiar to him alone nor to Nigerian startup founders — they are justifications for the coworking model. Furthermore, in 2015, the Harvard Business Review reported that people who use coworking spaces see their work as meaningful, they have more job control, and feel like part of a community.
"Our research suggests that the combination of a well-designed work environment and a well-curated work experience are part of the reasons people who cowork demonstrate higher levels of thriving than their office-based counterparts," the review stated.
But as the COVID-19 pandemic is spreading and governments are increasingly enforcing social distancing, the gains of coworking appear to be threatened.
Babafemi estimates that coworking contributes up to 45% of Wennovation Hub's revenue. This could be even higher for other hubs and spaces that heavily rely on revenue accruing from their space users.
Although he affirms that in Africa, coworking alone is not sustainable and is worsened by suspending hub activities, Babafemi also argues that the concept of coworking remains valid as it is not the long-term arrangement for all startups.
"Coronavirus disease is affecting the global economy, and all sectors, not just coworking. We know that the crisis is not going to last forever. Working remotely is just for a little while and we are prioritising the safety of everyone including the innovators".
He believes that current development should prepare stakeholders in the tech ecosystem for the future of work during which people will start working remotely. In Nigeria, the key requirements are data and power. While access to Internet data is improving, he said power remains a big drawback. In the short term, he said the solution to the power crisis could be to procure computer systems that can serve for longer hours.
Major concern for coworking spaces
Beyond the risk of losing revenue to COVID-19-necessitated lockdowns, one of the possible outcomes of the present outbreak is startups getting used to working from home and losing interest in coworking.
Babafemi admits that this could happen and is a possible threat to the coworking model. But he also adds that the structure of the startup landscape ensures that there will always be startups that will need the services of coworking spaces.
"We believe that we will still have innovators at their idea stage that will see the use of coworking space as the space to work from. For people that are growing, they might see that they can stand on their own or work remotely" .
He affirms that the coworking space itself is not meant for startups for a long time as they are required to grow and graduate.
"Maybe what will happen with this COVID-19 situation is we will see some startups that will graduate faster than expected. But we believe that when things get better for startups within the idea stage, they will still see coworking spaces as where they need to start from to minimise cost and take the advantages that coworking is presenting to them," Babafemi concludes.
---
Hi, I am Paul Adepoju, and I'd like you to be meticulous and intentional about protecting yourself and your loved ones from the coronavirus disease pandemic. Ensure personal hygiene and practice social distancing. Work from home and live a healthy lifestyle.
Also, don't trust the stuffs that are forwarded to you via WhatsApp😇