Over the past few years, Africa has been playing catch-up in eCommerce for many reasons, including poverty, terrible infrastructure, and illiteracy, among others. Even though most of these problems still persist, smartphones have given millions of Africans access to the Internet and mobile payments.
Online shopping in sub-Saharan Africa is very much in its nascent stage but it is showing signs of immense growth.
In 2017, research firm, Statista, estimated that the eCommerce sector in Africa generated $16.5 billion in revenue. In 2020, however, revenue forecasts for the sector are being put at $27.65 billion and $46.94 billion by 2024.
In order to identify what Africans buy online, GeoPoll, a research and survey firm, carried out some research in 2019. Targeting the most active eCommerce demographic -- youths from age 18 to 35 -- the research had respondents in six African countries: Ghana, Côte d'Ivoire, Nigeria, Kenya, Tanzania, and Uganda.
Each country, except Côte d'Ivoire, had a total of 400 respondents with the West-African country having 250. Also, gender was evenly distributed.
Of the six countries studied, Nigeria reported the most active online shoppers with 58 per cent saying they made an online purchase in the past month. In stark contrast, 57 per cent of Ugandan respondents indicated that they had never made an online purchase.
Clothing or electronics, which reigns supreme?
According to Statista, the largest segment of Africa's eCommerce is fashion with a projected market volume of $8.345 billion in 2020.
In this category, the apparel market accounts for up to 73 per cent of the entire fashion segment with a market volume of $6.134 billion.
The electronics and media segment comes in second place as Statista projects its revenue at $7.5 billion, with consumer electronics bringing in the lion's share of $6.127 billion.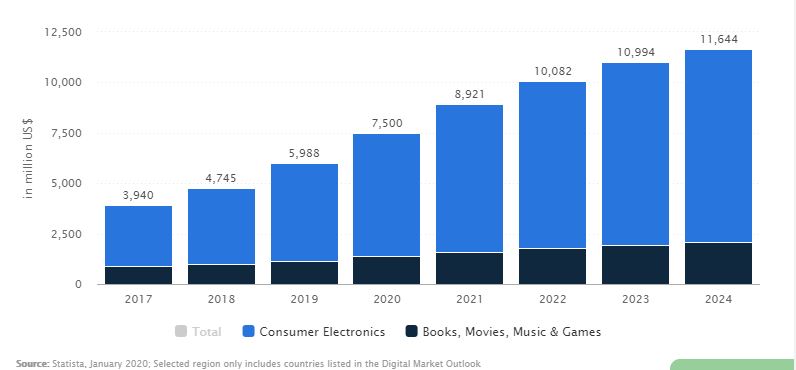 Similarly, GeoPoll's research shows that the most purchased items by the respondents were electronics and clothing, however, this differed from country to country.
Kenyans purchased more electronics than any country, followed by Ivorians and Ghanaians. On the other hand, Nigerian respondents had the most diverse set of purchases across each category ranging from groceries and alcoholic beverages to books and home decor, and from the report, they purchased more home decor, hygiene, alcoholic and non-alcoholic beverages, groceries, and automotive products than any other country.
Also, the report shows that Nigerians purchase electronics more than any other item with clothing, a close second.
This diversification in product purchases among Nigerians and the frequency with which they use eCommerce shows a stronger online shopping culture when compared to other African countries but it is really not the case.
---
Suggested Read: Why groceries could be the magnetic pull needed by the Nigerian e-commerce market
---
The viability of the country's eCommerce space has been questioned so many times. However, recent indications showing that the growth of fast-moving consumer goods (FMCG) in the space might put those questions to bed.
Jumia remains the go-to online store
When asked what platforms they shopped online with, Jumia was the overwhelming favourite. Also, the report shows that these African consumers prefer the use of large online retailers and social media sites to smaller independent online retailers.
The eCommerce giant was the most used shopping platform in all the countries except in Tanzania where Ghana-based eCommerce platform, KiKUU, dominates.
One thing of note is the uprising of social commerce heralded by Facebook and Instagram on the continent. And as Facebook continues to release more shopping-friendly features in its products -- Facebook, Instagram, and WhatsApp, it is very possible that Africans will favour them over formal eCommerce players.
---
Suggested Read: Instagram's new checkout feature could give Nigerian eCommerce players a run for their money
---
In retrospect, electronics and clothing items are still Africa's most purchased products online but with the diversification countries like Nigeria is showing, only time and further research will tell how the landscape of sub-Saharan Africa's e-commerce will change in the coming years.