Businesses do not exist in vacuums and before taking a leap into the world of entrepreneurship, there is a need for a socially, ethically, and politically stable environment. However, in Nigeria, it is quite the opposite and political instability seems to be a long-standing problem.
Over the years, assessments have highlighted the impacts of various regional conflicts on the business climate in the country and a report from Washington-based non-profit organisations, ONE Campaign and Center for Global Development, show that Nigeria's tech sector is even more affected by this set of problems.
From the survey carried out by the two organisations, Nigerian tech businesses are constrained by a number of factors. The major ones include a reliable source of electricity, access to finance, corruption, and political instability. Though minor, labour regulations, taxes, courts, and tax administration are the other constraints cited.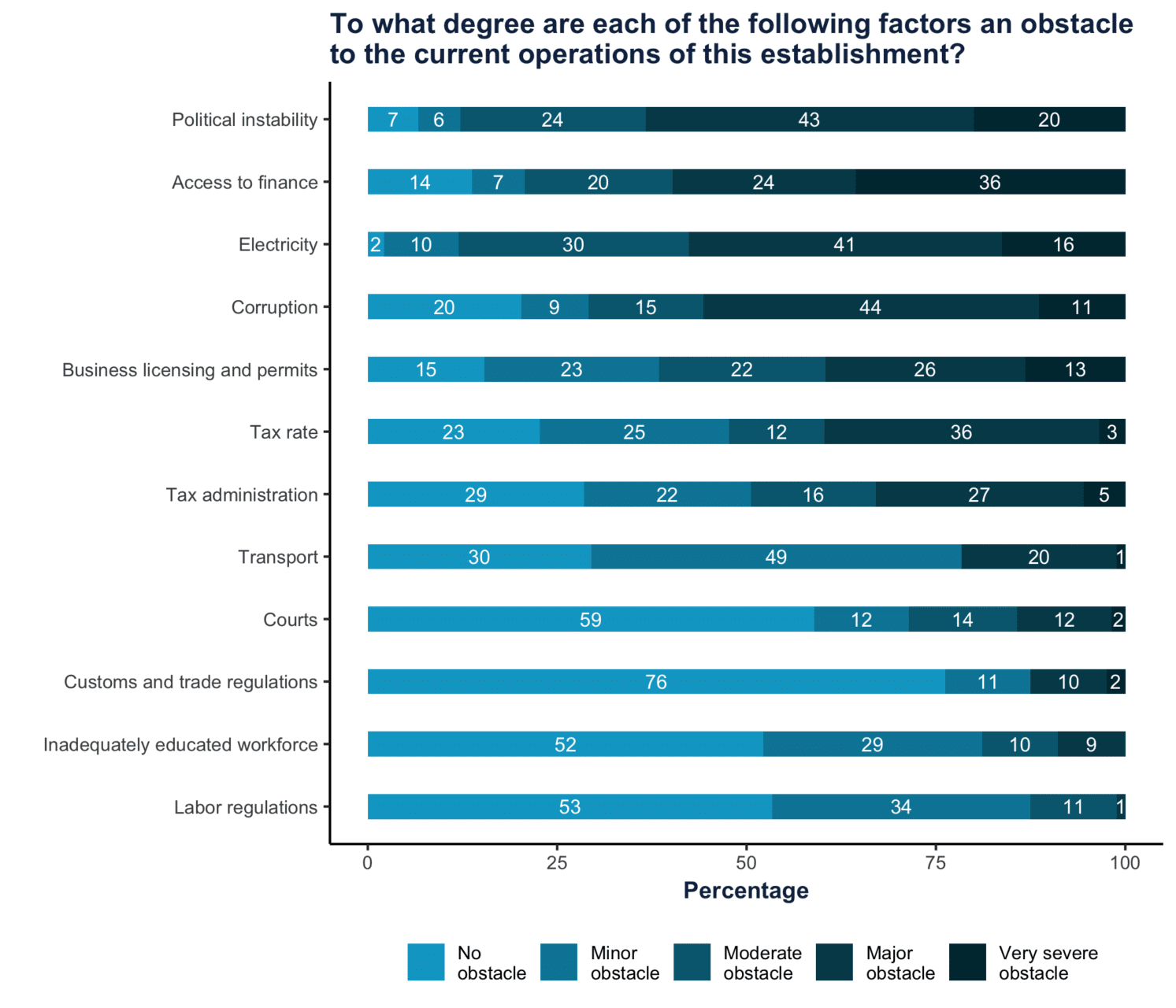 About 63 per cent of tech businesses surveyed consider political instability a major or severe obstacle to their businesses while 24 per cent recognise it as a moderate obstacle. The remaining 13 per cent see it as either minor or non-existent. When compared to non-tech firms in the country, however, the results are strikingly different.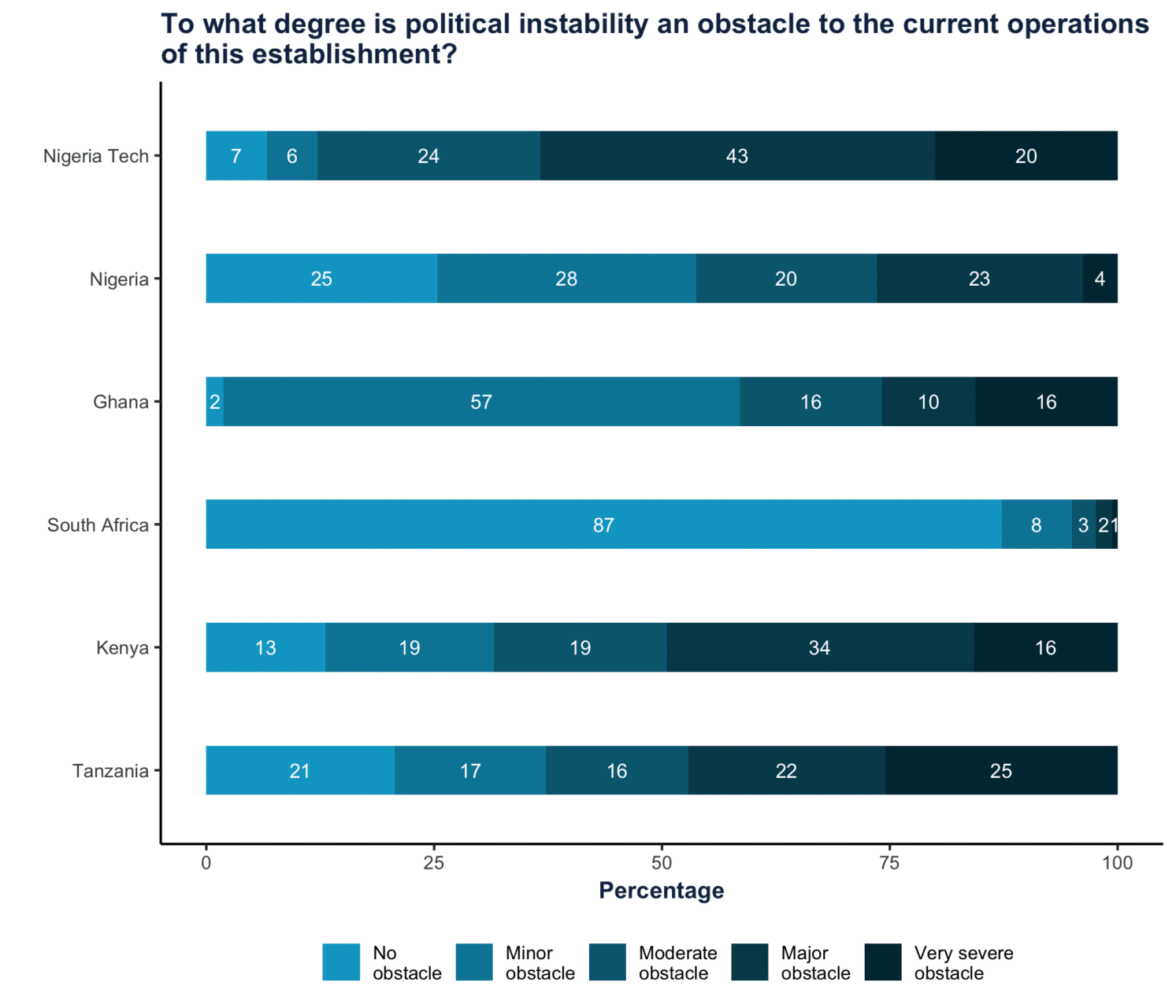 Twenty-seven per cent of non-tech firms see political instability as a major or severe obstacle, 20 per cent see it as a moderate obstacle, while 53 per cent hardly consider instability an obstacle.
Security challenges arising from political instability, most notably, police harassment, have been a major talking point over the past few years.
This survey suggests that though the Nigerian non-tech space experience police harassment, tech entrepreneurs and employees have been on the receiving end of most of it.
In Lagos, Nigeria's most populous city, acts of police harassment have been predominantly carried out by the Special Anti-Robbery Squad (SARS) of the Nigeria Police Force (NPF). Based on reports, the major recipients are young people who carry gadgets and laptops. Because tech entrepreneurs and employees frequently work with laptops and move around with them, it is not difficult to understand why tech firms outrank their non-tech counterparts in susceptibility to police harassment.
---
Suggested Read: How the SARS menace is affecting workers in the Nigerian tech community
---
Apart from police harassment, tech firms have also expressed concerns about violent attacks, theft, burglary, and kidnapping, according to the survey.
Political stability is closely related to a country's business environment
Also, it can be quite difficult for the government to implement business policies that favour entrepreneurs and what happens is a frequent change in laws and policies that makes it challenging for businesses to thrive.
According to the World Bank, Nigeria has improved in its Doing Business 2020 rankings, moving 15 places up from 146 in 2019 to 131. The organisation uses indicators such as paying taxes, trading across borders, starting a business, and protecting minority investors.
With these criteria, the ease of doing business might have improved on paper but there still seem to be unfriendly business policies that make running a business in the country difficult.
For instance, speaking about the recent okada ban that took effect on February 1, the state government said one of the reasons for the ban was because motorcycles were often used for kidnappings, one of the security challenges stemming from political instability. In just one swift regulation change, motorcycle-hailing startups have a new struggle on their hands.
If the federal and state governments continue to introduce policies that affect both tech and non-tech companies negatively, one could begin to question the country's position in such rankings.
Similarly and unsurprisingly, Nigeria ranks among the worst in political stability rankings. Of the 195 surveyed in the 2018 TheGlobalEconomy.com rankings, Nigeria is ranked 187 -- 2 places lower than 2017.
Only three other African countries rank lower: Somalia, Central African Republic, and Libya. And as a penalty for unsatisfactory security standards and failure to share information on terrorist suspects, the US government recently suspended immigrant visas and halted immigration from Nigeria.
This travel ban could impact tech relations between the two countries. The restrictions come at a time when the Nigerian tech ecosystem has become one of the continent's most dominant. Also, most of the funding Nigerian tech startups receive comes from US investors and an increasing number of these VC-backed startups also have operations in the US.
Despite the investments flooding the country, security challenges such as violence and insecurity problems that arise as a result of political instability, will most likely continue to be the bane of tech and non-tech entrepreneurs if efforts aren't made to curb them.