If there is anything nightmarish about entering a banking hall during peak hours, it will definitely be the sight of unending queues behind the teller counter. Prior to 2005 when banks started adopting Automated Teller Machines (ATMs) in Nigeria, banking was a torrid experience for customers.
Aside from some expected teething issues at the initial stage, ATMs have eased the crowding problem in banks to a large extent. And it soon got better as the number of ATMs across Nigeria grew into their thousands.
In 2011, financial institutions began to use cash deposit ATMs to further enhance customers' experience and at the same time ease the pressure inside banking halls. And as expected with technological innovations, banking services became simplified with reduced human interference, while simultaneously promoting self-service.
Despite the prospects it appeared to hold, in 2020 it seems not much progress has been made in this respect although more banks have sprung up.
Nigeria's current standing
According to a prediction by London-based RBR, virtually half of the world's ATMs will offer automated deposit terminals (ADTs) by 2024. It noted that while the ATM market will increase by 14%, ADTs will take 52% of the total.
Furthermore, it revealed that the number of ADTs is predicted to increase in 47 of the 52 countries surveyed. To this end, the US is expected to be at the top with about 40,000, while developing economies like Brazil and India are predicted to have 34,000 new deployments each. And just like Nigeria, these countries have the drive for financial inclusion going on in their banking industries.
---
Suggested read: Cardless payments: A role in Financial Inclusion
---
Meanwhile, ATMs that allow cash deposits were introduced in Brazil in 2014, much later than in Nigeria. Similarly, India only introduced ADTs in 2012.
For Nigeria, it appears to be a slow process despite the early takeoff, but there is a chance mainstream acceptance would happen as the decade rolls out. In a few years, there is likely to be an increase in the availability and use of cash recycle and deposit machines.
When Techpoint carried out a survey in some parts of Lagos state to find out how many banks have this service on their ATMs, the result suggested a very low adoption. Across a stretch of kilometres that accommodate at least fifteen financial institutions, only one has an ADT.
We also discovered that this single outlet actually enjoys fair usage. Compared to the withdrawal ports that experience more visits, an average of six people visited the deposit point within thirty minutes.
Issues with automated deposit machines in Nigeria
Mr Victor, one time ATM custodian and now head of security at a bank in Lagos, explains what banks can do to encourage the use of ADTs especially as the machines become more useful during peak periods, mornings and evenings when banking halls are closed.
With no word on the financial implication of installing an ADT compared to the normal cash-dispensing ATMs, Victor says banks need to have a well-secured ATM gallery manned by security personnel. He notes that this will give potential users a sense of safety.
He then adds that customers need to be educated on the proper use of the machines and  also that their scepticism about using these specialised devices is majorly because of the possibility of machine error and when it's not that, they worry about the safety of their money.
"If my money gets stuck, who do I hold responsible?" Victor says this is an understandable cause for concern.
Perhaps, this explains why many banks only have it in a few of their branches, while some do not have it at all.
How to use a cash deposit machine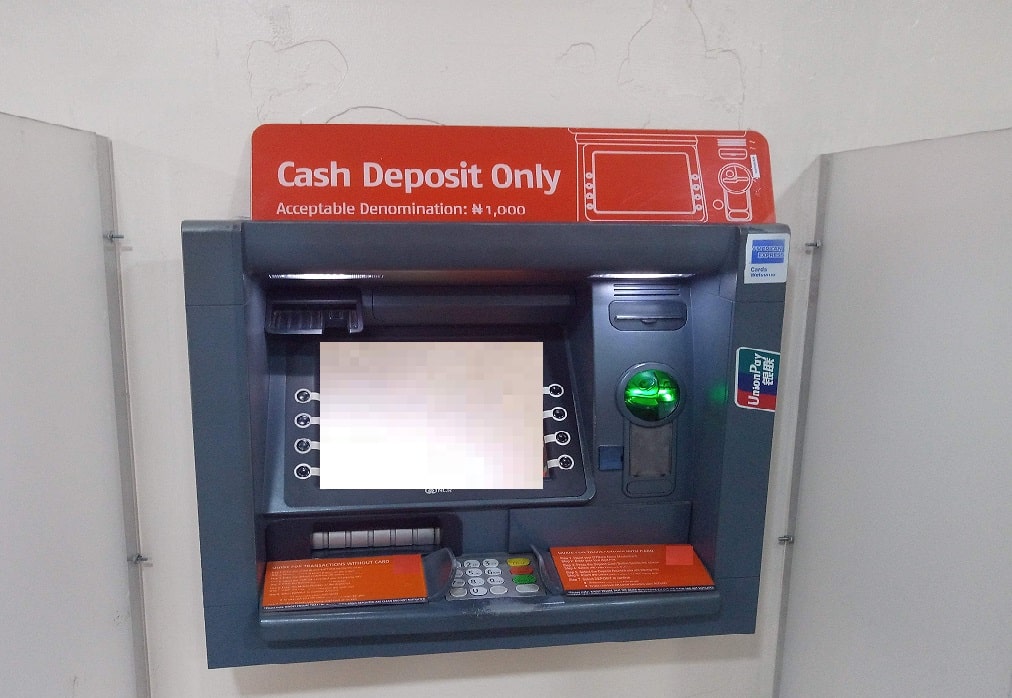 Presently, you can only make a cash deposit to account numbers of the bank whose machine you are using. After confirming that a bank has this machine, you have to know whether it is strictly for cash deposit or it both dispenses and accepts cash -- recycler machine.
We took note of how a transaction is done on a deposit machine at the bank visited and here is how to go about it.
Press any button to 'wake' the system.
Enter a default code to see the next prompt
Input recipient's account number
Enter your phone number
Carefully place notes in the deposit port
Confirm the recipient's account details and press 'proceed'
It should be noted that these machines are selective of money denominations and the number of notes allowed in them at a time. When the cash inlet opens up, the user is expected to straighten out and properly arrange the notes before slotting them in.  It is advised that the depositor waits to get a "Transaction completed" prompt before exiting the hall to avoid a loss in the event that cash is rejected.
It is also worth noting that ADTs have their shortcomings in the form of software or hardware error which may result in trapped cash and uncompleted transactions. However, this cannot be separated from avoidable human errors such as the use of fake notes, dirty money, mutilated notes, and putting more than the specified quantity of notes in the port.
For now, if more people become confident about using these devices, banks would be encouraged to have more of them deployed. With that, Nigerians would not be left behind in one of the moves which will further promote financial inclusion in the country.