Google's Map feature launches to make the commute more relatable for Nigerians.
During the 3rd edition of its Google for Nigeria event, Google announced it was bringing an informal route feature to its Google Maps product.
---
Suggested Read: Google officially announces 'Nigerian English Voice' and other new products
---
At press time, the informal route feature is already live in Lagos on the latest version of Google Maps for Android.
It can be accessed by tapping  a bus icon labelled 'traffic' and located underneath the map page.
The feature allows users view estimated fares, quick shortcuts and routes, information on current traffic, and weather conditions.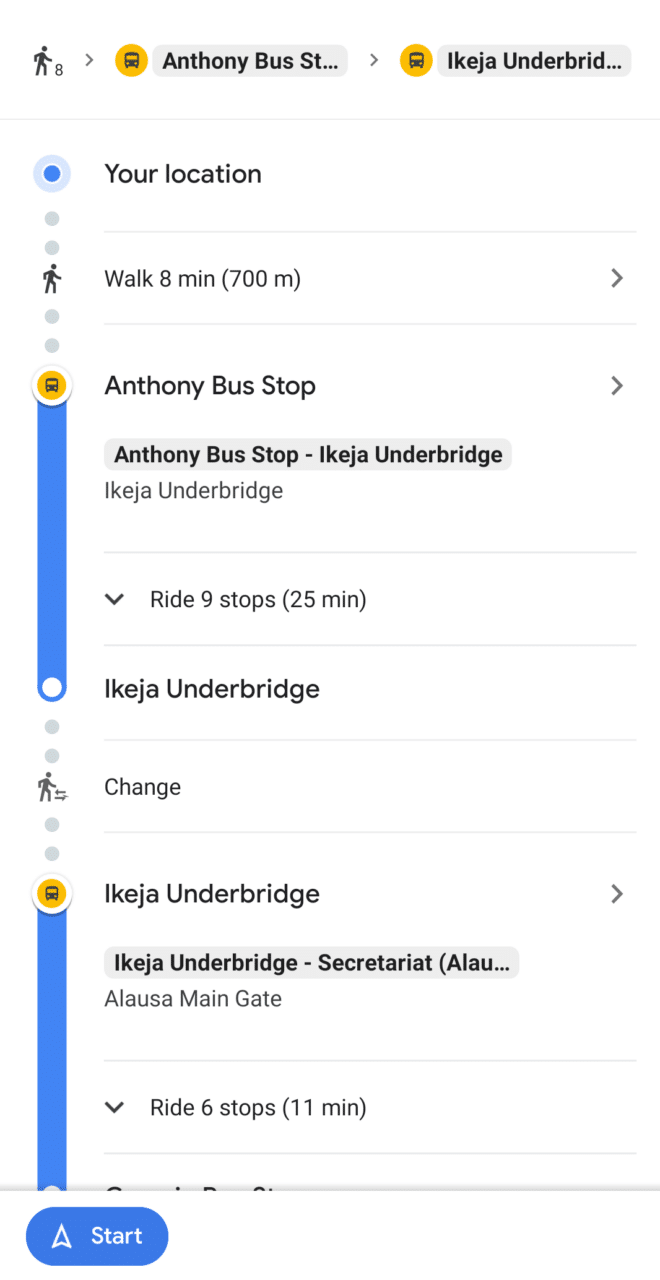 There is also 360-degree pictures of landmarks, bus stops and popular places along the route.
Users can interact with these pictures, pinch, zoom in and rotate them for optimal viewing.
This improvement is coming on the heels of years-long complaints from users about how hard it is to follow bus directions and other informal routes on Google Maps, especially in Lagos State.
Like its recent Nigerian voice feature, this new one allows users interact with Google Maps in a more relatable fashion.
Google says the informal routes feature was built with data and feedback from local Google guides, and Road Preppers Technologies as a key data partner.
Road Preppers is a Lagos-based startup that uses AI and machine learning to provide commuters with public transportation directions and other information.
---
Suggested Read: The Nigerian startup helping Google bring 'informal transit' directions to Maps
---
Speaking at a launch event today, a Senior Product Manager at Google in charge of Google Maps, Jeff Albertson said the partnership grew out of the work Road Preppers was already doing in making navigating Lagos easier.
The feature is still only available on Android.
According to Albertson, even though it is expected, there is no definite timeline for other platforms.
"Most of our users are on Android, even though we don't have a timeline yet, it will eventually come to other platforms that users interact with Google Maps on," he said.
Google says in time, the feature will come to Ibadan, Abuja, and even cities across Africa.
Launching in Lagos will allow the product design collect data, feedback, details and according to Albertson, eventually iterate and get better while also expanding to other cities.