Yesterday, Y Combinator (YC), released a detailed list of the top 102 most valuable companies that have graduated from the accelerator.
Each company is valued at $150m at least, with all companies having a combined valuation of $155b while creating more than 50,000 jobs, according to YC.
The US-based accelerator, up since 2014, invested $120,000 twice every year in startups that participated in its programme. However, that changed in 2018 as YC now invests $150,000. The founders of these startups then move to Silicon Valley where they work with YC for three months and participate in the Demo Day to access support, mentoring, and more funding. All these, in exchange for 7% equity.
Since launching in 2005, YC has made over 2,000 investments and, for the first time last year, published a list of its most valuable companies. While most of the companies from the 2018 list made this year's list, this is the first time an African startup has made the cut.
Flutterwave, a Nigerian fintech startup founded by Olugbenga Agboola and Iyinoluwa Aboyeji, ranked 97 among the 102 startups on the list. The startup has raised a total of $20.1m to date, with the latest known round made in October 2018.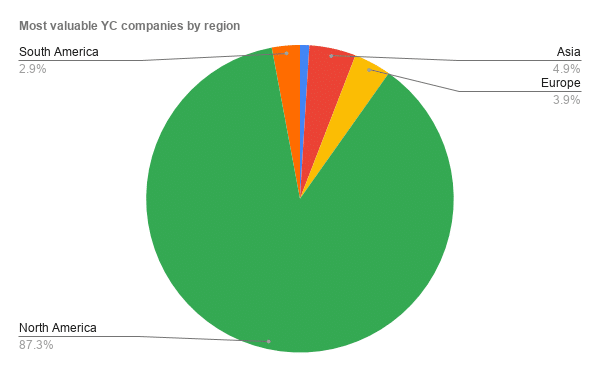 The startup is Africa's only representative, making 1% of the list. South America, Europe, and Asia make up 2.9%, 3.9%, and 4.9% respectively. As expected, North America has the most valuable YC companies accounting for 87.3%.
Since PetaSales, a defunct Nigerian online advertising startup, joined YC in 2009, 34 other African startups have been accepted into the accelerator throughout the decade. While only a handful have gone to raise significant follow-up rounds like Kobo360 and Paystack, this feat achieved by Flutterwave will be the first of many from Africa.