Yesterday, a Twitter user shared details of a directive from the Advertising Standards Panel (ASP), a statutory committee of the Advertising Practitioners Council of Nigeria (APCON).
The directive states that all Nigerian brands are now required to "fulfil all necessary obligations" by the Council before placing their adverts on the digital space which includes social media and websites.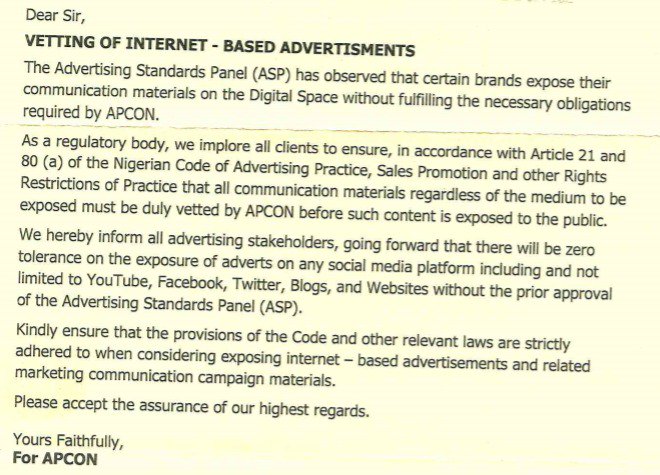 APCON is the governing body that monitors and ensures ethical advertising practice in Nigeria. According to Ijedi Iyoha, the Acting Registrar of the council, "Article 21 and 80 (a) of the Nigerian Code of Advertising Practice, Sales Promotion and Other Rights Restrictions of Practice" quoted in the directive means that APCON's mandate covers all areas of advertising, including those deployed online.
"We have a mandate to regulate advertising in all its aspects and ramifications, including online.  And now that we have started with social media, it is not anything new, it's just that we didn't emphasise it right from time," she told Techpoint during a phone interview.
Going forward, before any Nigerian brand can put up ads online, it needs to first get approval from APCON. And each ad clearance will cost ₦25,000 (~$69) for each ad concept, much like for offline ad clearance.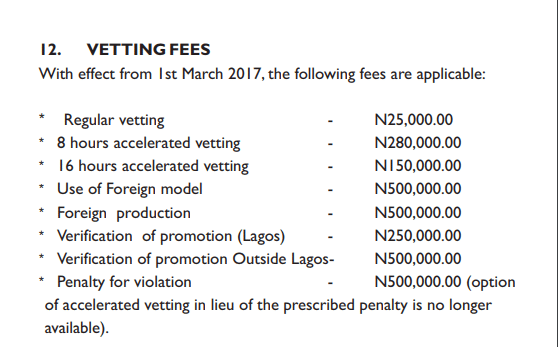 "If you have one ad for instance, and you're going to expose it in more than one language, you're going to pay for the number of languages you're translating it into. Also, if you have one ad and you're going to change the model, even if you're advertising water and you're using different models, you're going to pay for each of those models."
Speaking on how APCON plans to monitor and vet the thousands of online adverts that are deployed by brands in Nigeria, Ijedi Iyoha said, "that's our own internal mechanism, I don't have to tell you how we're going to do it."
Since passing the directive, according to the APCON executive, only registered advertising practitioners with the Council are allowed to place ads online.
"We've written to a couple of brand managers, advertising firms, manufacturers, and practitioners in the industry so they are already aware of it. It's their job to educate their clients and bill the fee into whatever they're charging them."
However, from indications, APCON might be looking into including small business owners who advertise online.
Failure to adhere to APCON's directive will attract six months imprisonment or a ₦500,000 (~$1378) fine from the Council.