The owner of a Samsung smartphone in Nigeria claimed her phone exploded on Sunday night, 28th July 2019.
"The attached phone explosion happened in my house, I am still in shock at the damage that phone has caused, even after investing in a good brand, this happened!" she wrote in a Twitter thread that detailed her experience.
The woman proceeded to tag both Samsung's global and US Twitter accounts, and also popular Nigerian accounts on Twitter.
The pictures attached depict a badly burnt Samsung smartphone that appears to be the Samsung Galaxy S7 Edge.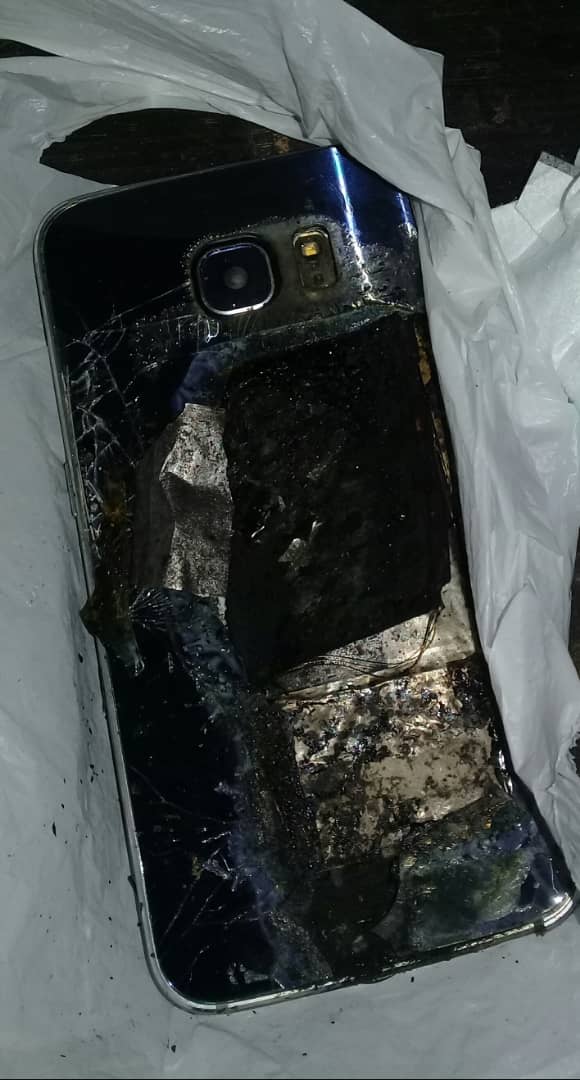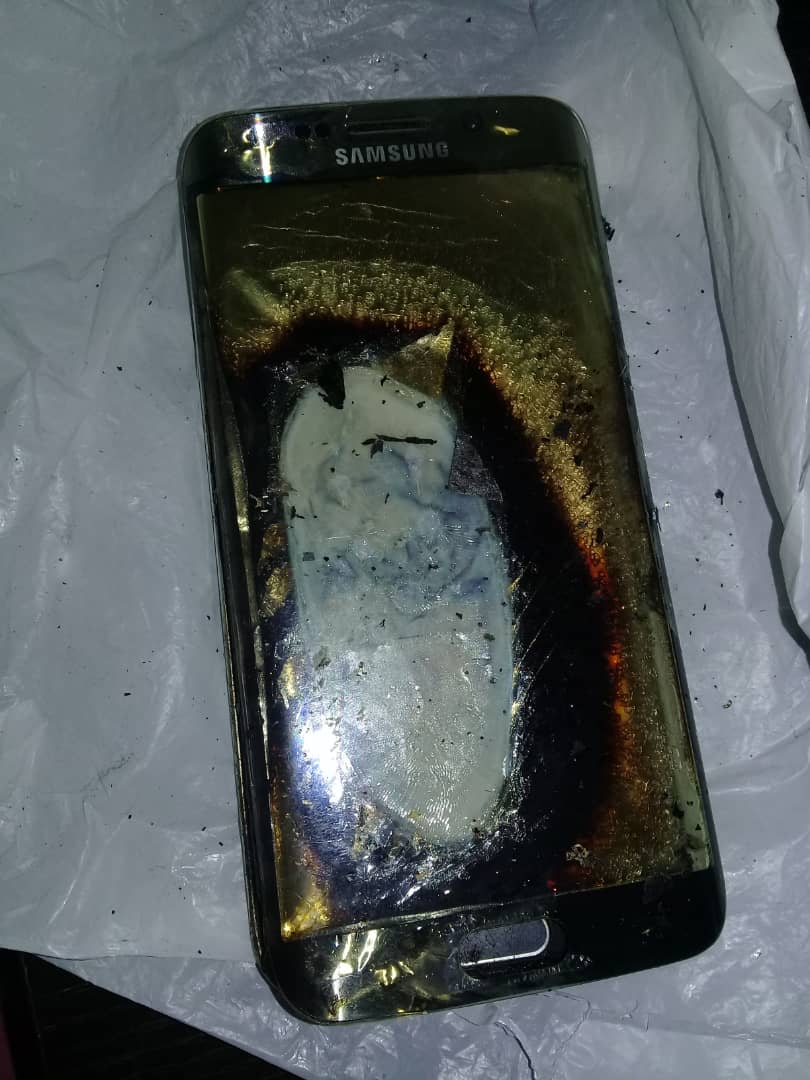 The Galaxy S7 Edge is a 5.5-inch flagship smartphone launched in March 2016 with a 3,600mAh big battery. The phone had positive and rave reviews.
Narrating further, the aggrieved customer said;
"I woke up, I felt the urge to drink water and plugged my phone, and went to take water. I was settling back in when the phone exploded on the table. My diary, the rug, my wrapper, I'm just glad the children are fine," she said in response to a user asking for clarification.
Replacing a phone's battery with another and charging with an incompatible charger can cause a smartphone to explode and all these are characteristics of refurbished and/or pre-owned smartphones. However, the woman claimed the phone was bought brand new.
Techpoint was unable to reach her for confirmation and further comments.
Yet another
In the same fashion, another Samsung S7 Edge Duos belonging to a Dele Soares had exploded in Lagos earlier in the year.
Soares said it happened on a Saturday evening in February. He had gone to see a football match and was talking to a friend afterwards when he felt heat radiating from the phone.
"At first I thought the battery had overworked and was just overheating like it sometimes does, then I heard something like a popping sound and saw a spark that burned the phone from the screen to the back. I think the battery exploded and I had to throw it inside water in panic," he told Techpoint in a phone interview.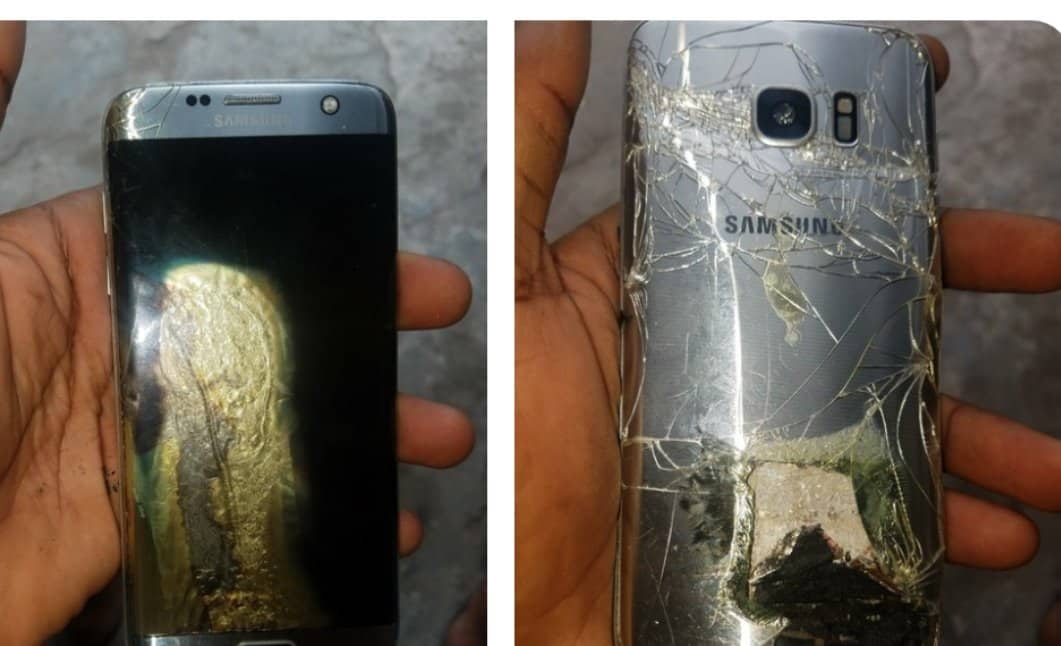 Soares said he then reached out to Samsung on Twitter and the phone was picked up from his workplace the next day.
Three weeks later, the phone was returned with a laboratory report that said the explosion was due to mismanagement on his part.
According to a report that Soares shared with Techpoint Africa, Samsung claimed there was a "forced battery depletion due to dent, damage". In conclusion, "the battery is damaged due to the force applied to the lower right side of the battery," the report originating from Samsung read verbatim.
This report is similar to the verdict given when a South Korean user of the Samsung's recently launched Galaxy S10 5G claimed his phone had exploded.
"I refused to take the phone back. I told them they could not endanger people's lives and property and blame it on them. I lost all my data in the process. They should try building phones that won't blow up," Soares said.
Soares claimed he asked Samsung to make a public apology on Twitter and via email, and that the company refused insisting the damage was his fault. He said he was then offered a Samsung voucher of ₦20,000 ($55.21), and "not even a replacement".
According to him, a Samsung representative recently called and insisted he come pick up the burnt S7 Edge Duos.
A history of explosions
In 2016, Samsung issued a global recall of its flagship Galaxy Note 7 smartphones following a series of battery-induced explosions.
---
Suggested Read; Samsung is officially recalling the Galaxy Note 7 in Nigeria
---
This was barely 1 month after the phone was announced.
Some users were reportedly physically injured in these explosions including one on an airplane that caused the Federal Aviation Administration (FAA) to ban Samsung Note 7s on all US flights.
At the time, a report by the company had reportedly discovered badly fitted lithium ion batteries caused the explosions. The Samsung Galaxy Note 7 was eventually discontinued and Samsung said it had put checks in place to ensure its batteries were properly tested.
After this battery fiasco, there were more. Before the aforementioned Galaxy S10 5G in Korea, a Galaxy Note 9 had reportedly exploded in New York in what seemed like an isolated incident.
What is happening now?
The 2 aforementioned cases of the Galaxy S7 Edge are in Nigeria, but a Google search shows there was a recent explosion of the same device in Morocco. And this reportedly happened in September 2018, 4 months before the first one in Nigerian.
Why is a 3-year-old Samsung phone suddenly exploding? 
Techpoint reached out to a representative of Samsung's West Africa office and after promising feedback, none was given. Techpoint has not been able to reach them as of press time.