A few weeks ago, a Nigerian Twitter user took to the social media platform to plead with people to patronise his CD (compact disc) store located in Lagos. Attached to the tweet is a picture of him in the store filled with hundreds of CDs and DVDs.
https://twitter.com/Ironized_/status/1130832845847638016
The young man known as Olawale told Techpoint that when he started running his business in 2008, DVDs were on high demand. However, he began to notice a drop in sales between 2016 and 2017.
Mobile entertainment has replaced CDs and DVDs
By 2008, CDs and DVDs had replaced the cassette tapes and VHS as the most popular entertainment content formats. While VHS rental shops popularly known as video clubs in Nigeria, were replaced by shops like Olawale's where you could buy a DVD for as low as ₦100 ($0.28).
At the time, most Nollywood movies produced were released on DVD and sold cheaply across the country. While their foreign counterparts were pirated and sold mostly as multiple movie collections in one DVD.
Despite this seeming dependence on DVDs at the time, many Nigerians were also getting their entertainment from satellite TV, especially with the emergence of cheaper alternatives to DStv like HiTV, StarTime and Gotv which low-income households could afford.
That said, many people still could not afford DVD players and satellite TV and access to TV-based entertainment was plagued with the country's epileptic power supply.
During this period, Internet penetration in Nigeria was gradually increasing. According to Statista, only 9.3% of the Nigerian population had access to the Internet in 2009. However, this number rose to 27.86% in 2017 and 47.1% in 2018.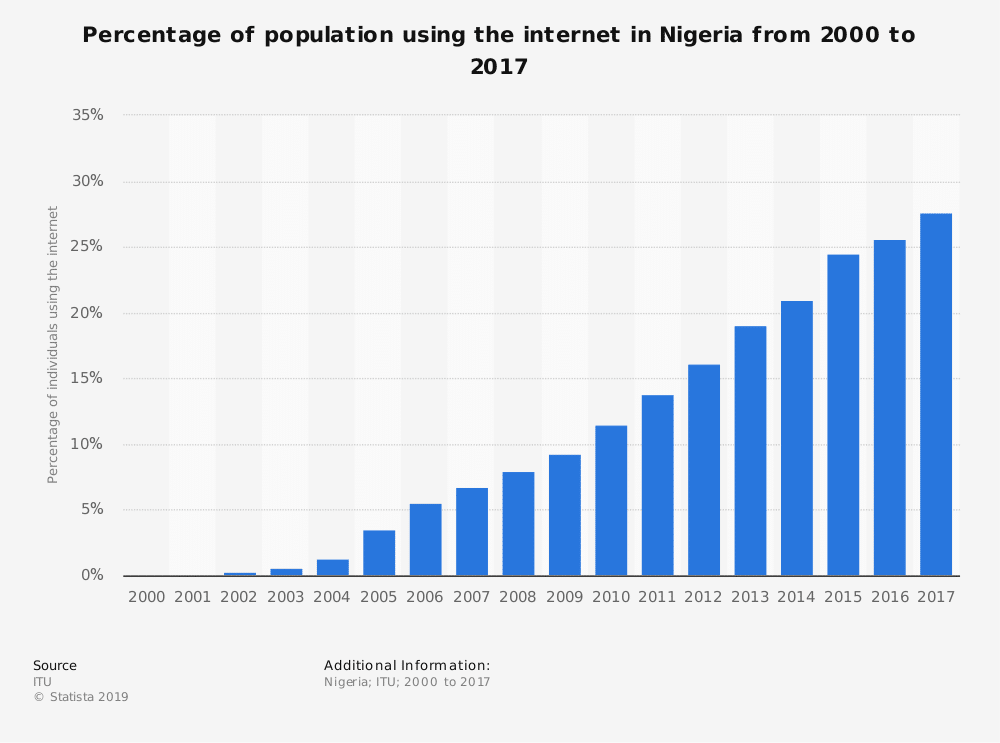 And majority of this access comes from mobile as a result of the drop in the prices of smartphones and Internet data.
These days, many Nigerian filmmakers release their movies on YouTube and other movie streaming platforms while musicians now release their songs on the likes of Spotify, Boomplay and Soundcloud, all easily accessible on mobile.
---
Suggested Read: Boomplay's dominance and the music streaming market in Africa
---
We also now have more Nigerians paying to use video on demand platforms like irokotv, SceneOne and Netflix on their mobile phones.
These easily accessible and mobile-friendly entertainment channels are threatening to put people like Olawale out of business.
And with an increasing smartphone penetration in Nigeria, businesses like that may someday cease to exist like in the case of video clubs.
Since the smartphone has become an all encompassing internet connection and entertainment device for the average Nigerian, it is apparent that the DVD (or Blu-ray) player now collecting dust on our TV consoles are still there for aesthetics.
How Nigerians are consuming mobile entertainment
In addition to movies and music, access to the Internet gives users the opportunity to explore other forms of entertainment including social media. Asides being a platform for social networking, social media enables users to create and share content.
These days, a substantial percentage of the content created and consumed on the Internet is video especially through video streaming platforms and social media.
According to Cisco's Visual Networking Index: Forecast and Trends, 2017-2022 White Paper, Internet video traffic made up 69% of the global consumer Internet traffic in 2017 and this number is expected to rise to 80% in 2019.
Even though accessing online videos by Nigerians is still limited by cost of data and spotty internet connectivity, many Nigerians consume large volumes of video content in small doses especially on Instagram, Facebook, Twitter and WhatsApp (status).
---
Suggested Read: Online video content is not king in Nigeria, yet
---
Ironically, these same Nigerians who wouldn't mind watching all the short comedy videos on their Instagram and Facebook timelines or WhatsApp Status will still tag a 5-minute long Youtube video 'too long' and would rather skim through so as to "conserve" their data.
This goes to show that locally relevant online video content will always rake millions of views among Nigerians as long as it doesn't appear to be long enough to finish their data.