Nigeria's foremost ICT market — Computer Village, Ikeja — used to be under the leadership of the Computer and Allied Product Dealers Association of Nigeria (CAPDAN), headed by Ahmed Ojikutu.
However, with rumours of an impending installation of an Iyaloja and Balaloja (traditional market leaders) in the famous market, it appeared there was going to be a shake up in that managerial structure as we well know it.
Techpoint visited the Computer Village in Ikeja, Lagos last week Friday and discovered that the installation of both Iyaloja and Balaloja in the market had been completed the day before (which was Thursday).
Prior to the visit, Techpoint had come across reports of a protest against the move.
The major concern of the protesters was the lack of connection between technology, which the hub is known for, and the planned installation of traditional market leaders. But it turns out this story had a huge twist to it.
Meet the elegant "Iyaloja"
Techpoint would finally get audience with the newly appointed Iyaloja of Computer Village, Ikeja. The elegant figure, who immediately introduced herself as Abisola Azeez Raolat, doesn't fit the stereotype of a traditional market leader.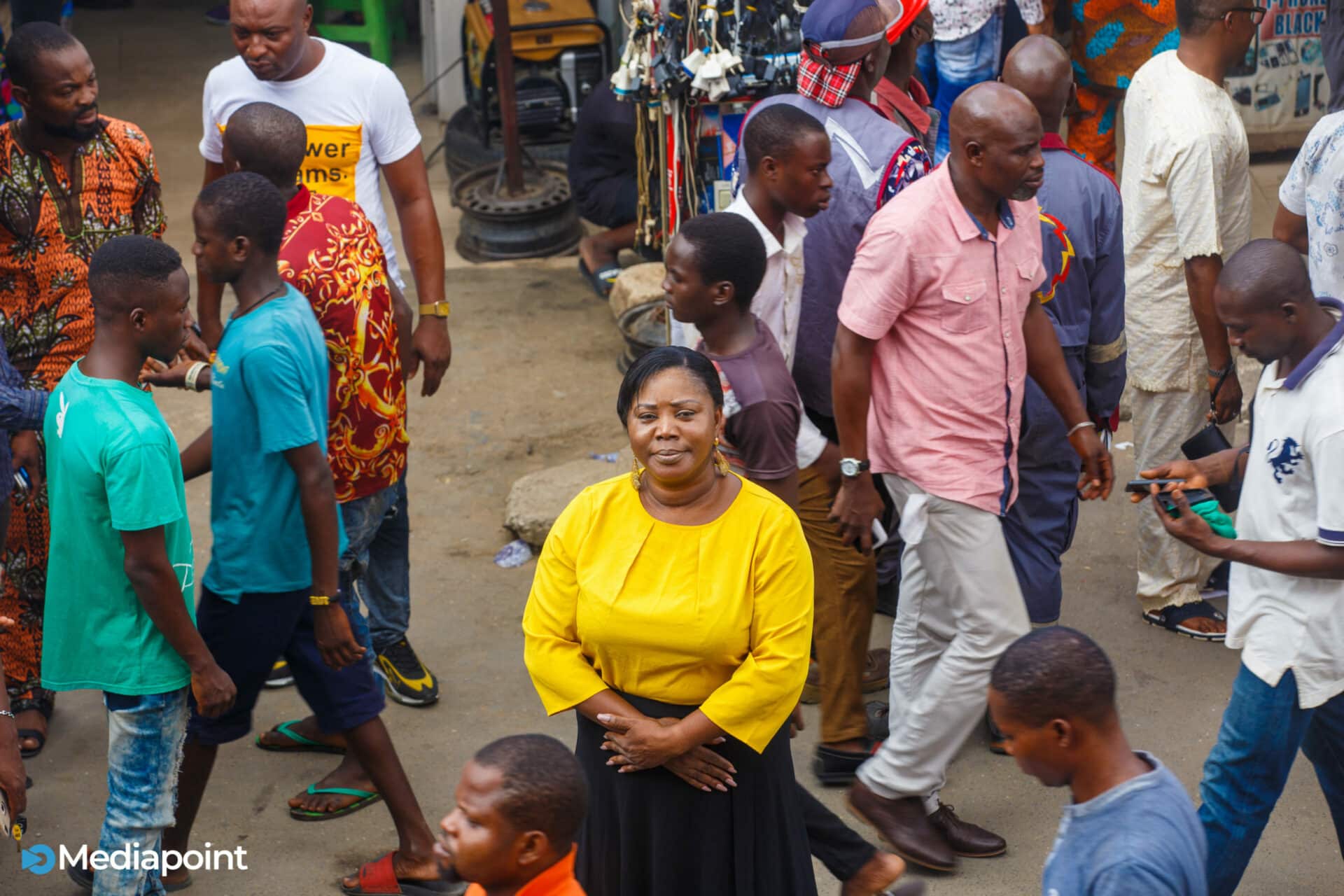 Abisola is a degree holder, having studied Lingustics and graduated from the University of Benin in 1990. This explains her ability to communicate very proficiently. But her journey to become leader of the market is what is remarkable.
Abisola used to have an office in the highbrow area of Victoria Island, Lagos where she was in the business of buying laptops overseas and selling locally.
She relocated to Ikeja as far back as 25 years ago, five years before Computer Village, Ikeja was formally set up in 1999.
So it didn't come as a surprise when she mentioned that she was a foundation member of CAPDAN and also doubled as its secretary till the reformist leadership era.
"I am the secretary of the group that registered CAPDAN," Abisola explains, "I was the major person whom God used to install the president of the association. Evidence of this can be found in the video of his electioneering campaign as I was in the forefront of it," Abiola continues.
Even though the committee has an executive board, Abisola boasts of being the major negotiator with blue chip companies and banks on behalf of CAPDAN.
"As part of the executive board of CAPDAN, and apart from being the secretary of the group that registered the association, I am the one who goes out on behalf of the association to talk to the likes of Microsoft and other blue chip companies. I'm the one they send. So I have been in the system for long doing all of these, adding value to the business and community at large," she adds.
Because of this, she says she is fully aware of what the needs of the business community in Computer Village are.
Tackling the challenges
"The challenges of the people here are many, but I can tell you that lack of funding for these shop owners sits somewhere at the top. I however equally know how to harness facilities that enhance the growth of businesses in Computer Village," says Abisola.
She narrates how in the early days, banks used to be a stumbling block to most shop owners in the market. Apparently, banks would stock laptops and make their customers pay in instalments.
"I was one of the people who wrote to the government to stop banks from selling laptops as they aren't specifically in the business of buying and selling."
Just as effective as that measure was, Abisola believes that with government influence, they can cut away a lot of anti-competitive practices that are harmful to most shop owners in the market.
But most importantly, she feels that brands that are willing to give loan facilities to shop owners can do so now that a position such as the Iyaloja (or Babaloja) could come in handy as their guarantor.
Other equally pressing tasks
Having spoken about the things she could do as the Iyaloja of Ikeja Computer Village, Abisola did not fail to express her concern about security in the market.
"I can tell you authoritatively that majority of the people on the streets (of Computer Village) are doing nothing. It is impossible not to get accosted by at least 5 boys asking if you want to buy or sell laptop should you find yourself walking the streets of Ikeja. Those are miscreants. The ones that really have things to sell are in front of their shops.
She says they are however planning to completely restore sanity to the streets of Computer Village, Ikeja.
"We cannot leave a large market like this just like that, without adequate security. If we remove those, you will see that there will be sanity on the streets with free flowing traffic. Very soon you would see that, on the streets of Ikeja, there will be no waiting, no stopping and no soliciting. Just keep moving," boasts Abisola.
On the timing of her appointment, Abisola explains that there was nothing sudden about it. According to her, more than five meetings, spanning several months had been held with stakeholders.
"I have always been a leader. I've been called 'Iyaloja' by everyone in the market for over ten years, as a nickname and as a result of my contribution in the market. But in my humble opinion, I think it's just the right time for God to crown the name with a position," she concludes.
Leading side by side with Abisola is Adeniyi Olasoji, who is not only the newly appointed Babaloja but a shop owner in the Computer Village, Ikeja as well.
Read Also
Ifeanyi Ndiomewese
Ifeanyi is a desk reporter-turned administrator. Outside of work, I love to read and travel.
On January 22, 2022, be part of the largest gathering of innovators, startup founders, thinkers, programmers, policymakers, and investors in West Africa. Register free.