For a while now the case between ex-Jovago boss, Marek Zmyslowski and his 'Nigerian' business partner(s) has been an online sensation.
So far, both sides have come up with seemingly believable evidence to back their side of the story. However, without being privy to the contract existing between Marek and his Nigerian business partner, it's almost impossible to play judge on the matter. Nonetheless, there is a need to set some records straight.
While a certain tech entrepreneur who goes by the name Edmund Olotu has been the face of the Nigerian investor(s), it remains unclear how he is connected to the case.
Asides from a tweet on February 16th, 2019 suggesting he was among a small firm of angel investors who contributed to the HotelOga investment, there is really no clear indicator of how he is connected to the contract.
He didn't take money from a PEP. He took money from a real jolly good fellow and a small firm of angel investors including myself. Interpol is a legitimate body that can be used to restrict your movement & extradite you to a country if you have fled pending a criminal court case

— Edmund Olotu of the small Bag (@pyjama_ceo) February 16, 2019
The CAC document Techpoint got a hold of lists only Marek Zmyslowski and Maneesh Garg (the supposed "godfather") as the shareholders of the company.
As previously gathered evidence suggests, the dispute between Marek and Maneesh could be anything but a criminal case. If it was, it could easily have been determined in a court of law at least.
Edmund in his rebuttal post on Medium drew attention to two court cases. As he puts it, one with suit number FHC/L/CS/1627/2017 was merely a civil suit initiated by Marek on 26th of October 2017 relating to the unlawful freezing of his bank account, while another criminal case (with suit number FHC L/384C/17) filed on 19th of October 2017 against Marek was still ongoing.
In a bid to uncover the facts, Techpoint has since obtained relevant court documents, including originating summons and judgments, directly from the Federal High Court, Ikoyi.
While the court case with suit number FHC/L/CS/1627/2017 was indeed to ascertain the legality of Marek's account freeze by law enforcement agency, it is instructive that the case is between Marek (as Plaintiff) the Nigeria Police Force, commissioner of Police Lagos State, Deputy Commissioner of Police and Zenith Bank (as 1st to 4th defendants respectively).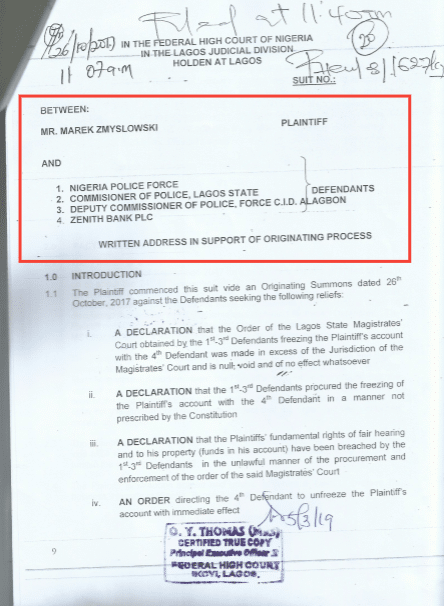 The final ruling pronounced by Justice M.S Hassan on the 23rd of April, 2018 was in favour of Marek, with the judgment citing how the 1st - 3rd defendants procured and enforced the order of the Lagos State Magistrate Court in an unlawful manner.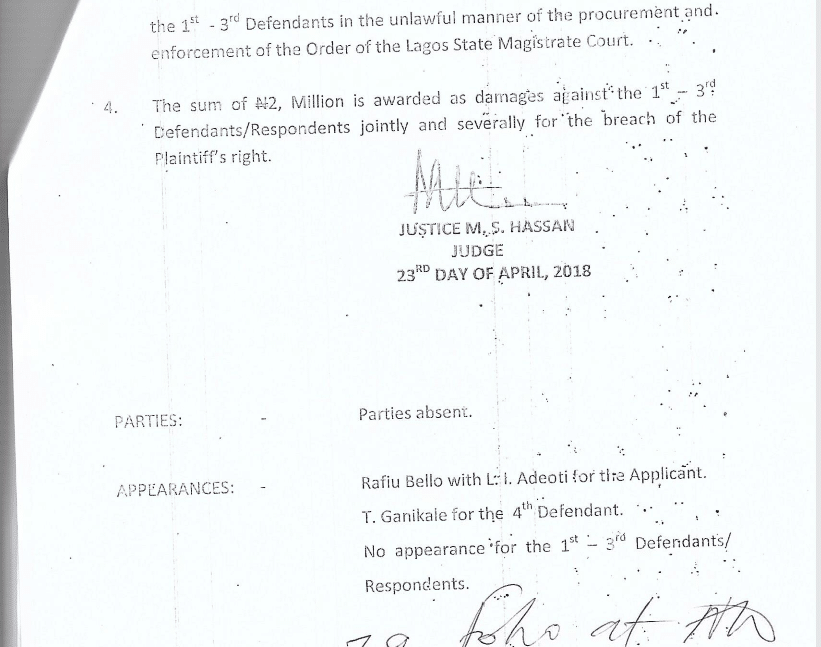 Interestingly, the supposedly ongoing criminal case with suit number FHC L/384C/17, as indicated by Edmund in his post, was filed by the Inspector General of Police (complainant) against Marek (defendant).
The case has since been struck out by the same chief justice "for lack of diligent prosecution." Apparently, the complainant never showed up for the proceedings.
This may explain why Marek has been very vocal about the Nigerian Police being corrupt.
All indications point in the direction of a failure to enforce due diligence on the part of the investor. And even if that was a negligible mistake, there were few others that proved more costly.
For instance, let us consider the application of section 300 of the Company and Allied Matter Acts (CAMA) that protects minority interest (since Marek is clearly the majority shareholder) in shareholders' conflict.
If you read Edmund's rebuttal post, you may recall that at the Nigerian shareholders' meeting there were documented talks of a consolidation of both HotelOga entity (Polish and Nigeria) into a single firm. As minority shareholders who were already suspecting foul play on the part of Marek, Maneesh and his cohort could simply have gotten an order of restraint from a Nigerian court and then register it in Poland.
That singular move would have prevented Marek from divesting his shares in the Polish entity or selling the Polish company outright pending the hearing and determination of the court case in Nigeria.
That this (amongst others) wasn't done makes us question the motives of both sides. Perhaps both parties know more than they have led the general public to believe.
At this point, it is important for everyone to do away with emotions and see things as they really are. From all indications, this appears to be a purely private commercial dispute between business partners. And as a legal practitioner advised, it could easily be settled out of court and without getting the Nigerian tech community involved.
That said, this whole issue brings to limelight burning questions around corporate governance laws and structure in Nigeria. The questions are how conversant are Nigerian businesses (especially startups and SMEs) with these laws and do they give enough protection?
Maybe there's a lesson to learn from this.