There have been public spats from opposing sides since Marek Zmyslowski's controversial post about his detainment by Interpol, following accusations of financial fraud by his Nigerian investors, became public. This is understandable as one thing the post did was trigger emotions in every direction.
A quick recap of the back story
Marek Zmyslowski, a polish entrepreneur moved to Nigeria in 2013 and immediately was appointed as the founding global CEO of online hotel booking platform, Jovago.com by the global parent company Rocket Internet.
After a period of two years, he left Jovago to found his personal company, HotelOga, a hospitality and destination management software, with help from investors in Poland, India and of course, Nigeria.
Events, however, took a twist around 2017, prompting Marek to publish a Medium post on the 8th of January, 2018 drawing attention to why he had to get a second passport and leave Nigeria, after an alleged takeover of his company and attempts at blackmailing him.
Fast forward to February 14th, 2019, Marek followed his previous Medium post with another, detailing how his name came to appear on Interpol's Red Notice at the request of an unnamed Nigerian businessman with godfatherly characteristics.
Accusations from the other side
Thus far, the only narrative justifying Marek's agonising treatment by the unnamed godfather (and his supporters) were claims that he deceived his Nigerian investors into putting money into HotelOga's Nigeria entity (registered on November 5th, 2015 as Hospitality Technology Solutions Limited) which unknown to the investors had a Polish entity (supposedly registered on November 4th, 2014 as Hotel Online Sp. z.o.o) that drained the life off the Nigerian company, before eventually selling off both entities without the consent of his investors.
This was the first major blow to Marek given that his stories on Medium didn't portray personal troubles traceable to severed business ties with his Nigerian investor(s). Instead, they expanded the narrative of corruption, bribery and toxic godfatherism in the Nigerian economic climate.
The next blow would come from Håvar Bauck, co-founder of Savanna Sunrise Ltd, HotelOga's biggest competitor with operations in East Africa, whom HotelOga proposed a merger with in January 2017.
Håvar, in the report which appeared first on Techmoran and then BenjaminDada.com, claimed that part of the due diligence on HotelOga revealed that the company didn't only have a dual structure, but also had no viable business model and was in massive debt.
Savanna Sunrise Ltd is said to have then held back on the proposed merger and upon further investigation discovered that the technology and Intellectual Property which HotelOga used belong to the Polish entity (which Marek himself was a shareholder and co-founder, alongside four other co-founders) while the Nigerian entity was responsible for investment, business and branding.
The reports also said that Marek had stated in an email dated April 5th, 2017 that he would take Hospitality Technology Solutions Limited (HTS) into a different arrangement with a third-party buyer Savanna Sunrise Ltd later discovered was NightsBridge -- a South African-based online accommodation aggregator.
But that later on, Savanna Sunrise Ltd entered into a smaller merger arrangement with Hotel Online (the Polish entity) -- a deal the Nigerian investors didn't get any part of and became aggrieved.
Cross-checking the facts
Following days of careful observation of the other side's stories and consulting with the aggrieved Nigerian investors and especially Marek, Techpoint can now corroborate some facts in the story (illustrated) above and likewise debunk some claims.
The facts
Registration date of HTS is November 5th, 2015 with the Nigerian corporate affairs commission (CAC).
There were indeed two separate entities with roles as described above.
HotelOga proposed merger with Savanna Sunrise Ltd in January 2017.
HotelOga was simultaneously in talks with NightsBridge for potential acquisition.
A sale did not happen with NightsBridge
Savanna Sunrise Ltd indeed entered into a smaller merger arrangement with Hotel Online (the Polish entity).
The Nigerian investors may have reasons to be aggrieved.
Misconceptions
Hotel Online (the Polish entity) wasn't registered a year before, on November 4th 2014. It was actually registered with the Polish National Court Register on November 5th 2015, same day as its Nigerian counterpart, HTS.
You might want to ask what significance the date adds to the investigation. The truth is, in business registration, a date is very important.
Techpoint's painstaking journey to establishing some of the facts started with the inconsistencies in the business registration date of Hotel Online and what was published in the news.
As an answer to one of many questions Techpoint bombarded Marek with, he admitted to starting the company with four investors; himself, his Polish co-founder Maciej Leszek Prostak, Polish firm SpeedUP Venture Capital Group and a Nigerian-based Indian entrepreneur that goes by the name Maneesh Garg.
Although Techpoint had been on an endless, co-operative, back and forth interaction with Marek, the real pointer to our investigation began when he affirmed to us that there were indeed separate entities representing Hotel Oga as a company, but that both sides (HTS and Hotel Online) had full awareness of the other entity.
"It was agreed, because the Polish VC (SpeedUP Venture Capital Group) could only invest in the Polish entity and the Nigerian investors wanted to invest in Naira partially. So it was only possible to invest in Nigeria. Besides, we needed the two entities, they couldn't exist without each other," Marek explains.
If the Polish entity really existed in 2014, that implies that Marek was lying to Techpoint about the interoperability of the entire HotelOga entity.
But according to Marek, the entities truly couldn't exist without each other. And as consolidated entities, they were even planning towards a Series A raise, which would then allow them to set up a big entity in Dubai and Mauritius.
This prompted Techpoint to start digging in an attempt to match the registration data of Hotel Online to information in the other reports.
What we found was that both the Nigerian and Polish entities were actually registered on the same day -- November 5th, 2015 -- the Nigerian one having been submitted for processing on the 30th of October, 2015.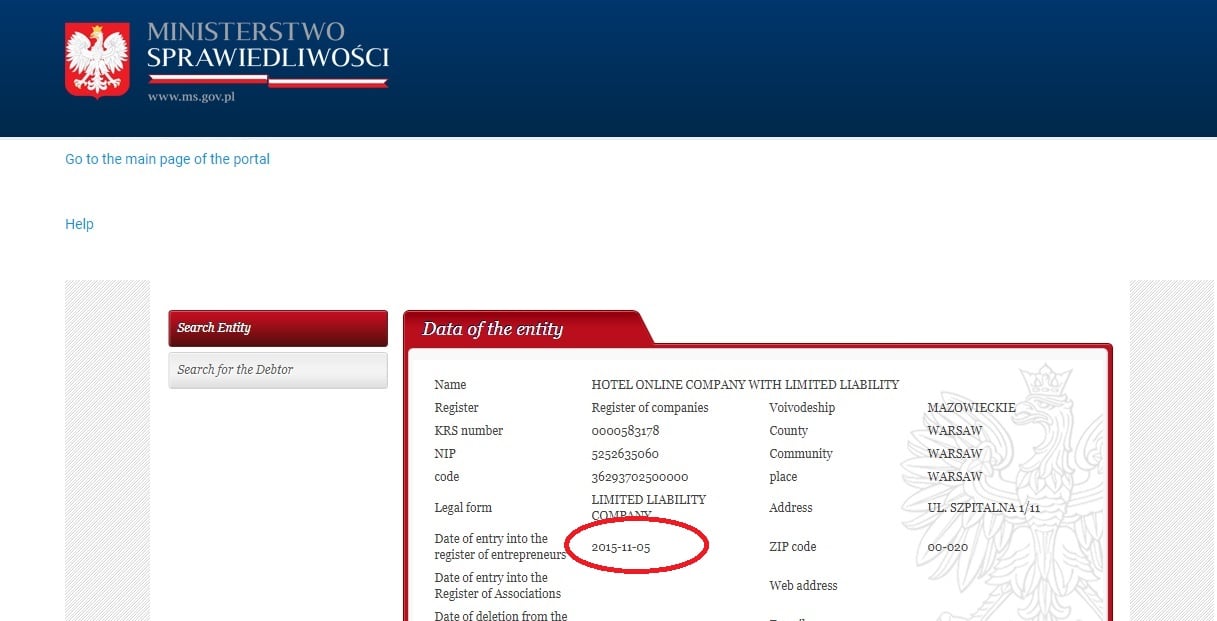 It is worthy of note at this point that Techpoint reached out to two people, who on public platforms started the counter argument to Marek's Medium post (published on Valentine's day) for evidence to back their argument with. Up until press time, they have done very little to provide us with meaningful leads.
From here, the explanations are a bit murky. The good thing though is: it leads to more interesting discoveries.
Investors conflict
Earlier on, I highlighted that Marek confirmed to Techpoint that he started HotelOga with investors namely; himself, Maciej Leszek Prostak, SpeedUP Venture Capital Group and, Maneesh Garg, both for the two entities of HotelOga.
It turns out the list is longer and complicatedly so. While establishing the veracity of Marek's godfather witch hunting and blackmail allegations, one of the many documents Techpoint asked Marek to produce was scanned copies of CAC registration document to find out who the Nigerian investors are.
Clearly inked on the surface of the white background are two names -- Marek Zmyslowski and Maneesh Garg -- with holding stakes in HTS (Marek has the highest by a landslide).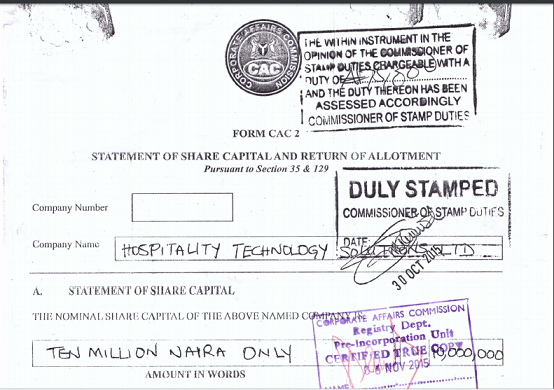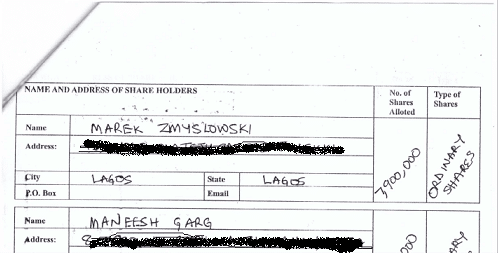 On the Polish National Court Register (the Polish equivalent of CAC), there are two separate business registration documents. One before a certain merger with Savanna Sunrise Ltd and the other after the merger.
The original co-founders of Hotel Online (before any merger) were
Marek Zmyslowski -- Chairman and CEO
Maciej Leszek Prostak -- Board Member and COO
Szymon Piotr Pepliński -- CTO
Damian Dąbrowski Mariusz -- Board Member.
But we can confirm that only Marek and Maciej invested money alongside SpeedUP Venture Capital Group and Maneesh.
This clearly shows that Marek is actively vested in both Hotel Online and HTS. So where are the threats of a take over of the business by an alleged godfather who is also a business partner coming from?
Marek did admit that Maneesh Garg (the Nigerian-based Indian entrepreneur) was the only investor with any issues related to how the company was doing.
"He wasn't happy with the way I was reporting company progress. It was related more to the reporting type and formats, not numbers themselves. I pushed back," Marek told Techpoint.
One truth that continues to hide itself was the fact that HotelOga was struggling with its business.
"Our business model was innovative but risky. We decided to give our software for free and charge a 2% commission on bookings. The room to make enough money was slim except we found a way to increase our hotel bookings, so we needed enough investment. But our investors knew about this from the beginning," Marek summarises the situation with the HotelOga.
While this affects the entire HotelOga entity, going by the fact that HTS was primarily the business arm, should it suffer a loss or cease operations, the risk (or liability) on HTS would be higher.
"I couldn't stand how things were going, so I had to look for ways for us to be cash flow positive," claims Marek.
As the CEO of an indebted company, it was well within Marek's right to look out for ways to fix the mess HTS was in and what he proposed was a merger/acquisition with companies that compliment HotelOga.
The top two candidates were Savanna Sunrise Ltd, co-founded by Håvar Bauck and Endre Opdal, and NightsBridge, which Marek admits to having conversations with at the same time as Savanna Sunrise.
The conversation with Endre Opdal, Savanna Sunrise Ltd co-founder opened on 24th of January via LinkedIn.
The parties (comprising of team from HotelOga and Savanna Sunrise Ltd) first met in Warsaw, Poland on the 17th February 2017. From there they entered a due diligence phase, which required both sides to submit business registration details and company financials.
This move would however cost Marek as Savanna Sunrise Ltd, at the due diligence stage, found out that HotelOga had a technology arm belonging to the Polish entity (Hotel Online) and a struggling business arm belonging to HTS, the Nigerian entity.
As other reports corroborate, Savanna Sunrise Ltd had a good business but not the technology to drive the business at a massive scale. Besides, incurring the liabilities of a struggling company when Savanna Sunrise Ltd was doing well on the business side didn't seem like a smart business decision by every stretch. It didn't turn out surprising when Savanna Sunrise Ltd returned to discussions, but this time wanting only the technology, belonging to Hotel Online, the Polish entity.
"They didn't care about Nigeria or the business that concerns it. It got me angry," claims Marek.
What next? Marek claims he decided to give off his shares in the Polish entity to his Polish co-founders and moved on with the Nigerian entity.
A quick reminder here is that the outrage by the aggrieved Nigerian investor (could it be Maneesh?) hinged on claims that he had no knowledge of the existence of a Polish HotelOga entity (aka Hotel Online).
There are several scenarios that could help us to decide if the Nigerian investor had prior knowledge of HotelOga or not and if Marek's claims are true.
Marek had the majority stake in both HotelOga entities -- HTS and Hotel Online -- so why would he want to give his shares in Hotel Online to his co-founders when he seemed to have nothing to lose?
His refusal to merge only the technology operation of HotelOga (Hotel Online) with Savanna Sunrise Ltd could mean:
He still had a sense of loyalty to his Nigerian investors (not quite probable) or,
He knew the merger may not be viable seeing that, as he himself confirmed, both entities (the technology arm and the business) cannot work without the other or,
He was confident of the acquisition talks with NightsBridge, believing that the Nigerian investor interest would be secured through money from the acquisition or,
This was probably a premeditated move between Marek and his Polish co-founders, especially if money was involved in the merger with Savanna Sunrise Ltd.
Finally, there's no ruling away the possibility that the Nigerian investors were aware of the situation with HTS finances and were willing participants in the sales/merger so as to secure their investment.
"I reached out to NightsBridge to offer acquisition of both the Hotel Online and HTS, it didn't happen because they already had both the tech and business, I paid the deposit back, that's it," Marek summarises, "We later approached NightsBridge with a new offer to sell only HTS but some clauses in the term sheet didn't allow that materialise."
Apparently, the 7-page term sheet of NightsBridge shows that it was aware HotelOga had other shareholders whom Marek was representing and insisted that all stakeholders of HotelOga must be represented in the deal for it to be effective.
NightsBridge's deadline for the deal was set at 10h00 AM 8th of April, 2017.
Even though this is very indicting, if anyone from the side of the Nigerian investors had issued comments, this admissible truth would have been easy to digest.
What happened next?
Savanna Sunrise Ltd eventually merged with Hotel Online at a time believed to around May, 2017.
Marek had left the entire HotelOga entity before the merger was concluded. Techpoint did notice something odd on the new shareholder document (you can access the full page here) submitted to the Polish National Court Register after the merger.
Savanna Sunrise Ltd now has complete ownership of the company. Pointing to the possibility that Savanna Sunrise acquired Hotel Online and in the process took up the name.
The board, which previously was occupied by three out of the four Polish co-founders of HotelOga, now had only one remaining co-founder on the seat.
Marek Zmyslowski and Maciej Leszek Prostak, who happened to be the only co-founders who invested in Hotel Online no longer have equity in the company.
Dabrowski Damian Mariusz remains the only co-founder on the board. And with no controlling stake, it's hard to tell what his role in the board is.
Two other persons -- Gola Bartlomiej Wlodzimierz and Tomasz Czaplinski -- on the board represent SpeedUP, the VC firm that originally invested in the Polish entity of HotelOga.
Of course, leaving HotelOga meant that Marek ceased to be a shareholder. What is not clear is if he only transferred his stake to his Polish co-founders, as claimed, or he actually got monetary compensation for it.
Marek claims the Nigerian entity is still intact and that he serviced most of its debts with his private money. But the Nigerian investor(s) had no stake in Hotel Online so they got no compensation. Seeing that deal with NightsBridge to sell HTS didn't go through, it is possible that they became desperate in an attempt to recoup their investment.
But is this something that should anger the Nigerian investor(s) to the point of alleged extortion and bullying? Perhaps they thought Marek sold the technology solution to NightsBridge.
Marek himself reiterated to Techpoint that he couldn't possibly have sold to NightsBridge without consent or involvement of the Nigerian investors, especially because there was a Letter of Intent (LOI) stipulating all what was required from all the investors.
Given how this event has transpired, it's hard to classify this as a criminal case, as it looks more like a case of outwitting. And if so, does it justify using Interpol against Marek?
At this point, it is imperative to understand where the grievance of the Nigerian investors is coming from. Worthy of note is that Marek was fully co-operative with Techpoint, providing answers and needed documents (including others we couldn't share given they are not necessary at this stage of the investigation).
This is a developing story. We hope to hear more from the Nigerian investors this time.