Figures from the Nigerian Communications Commission (NCC) reveal that there was a sharp decline in the contribution of the telecommunications industry to the country's Gross Domestic Product (GDP).
In Q2 2018, the industry contributed 10.43%, which is the highest contribution of all time. However, in Q3 it witnessed a downward trend, contributing only 8.39% -- dropping by 19.55%.
The only event that could be linked to the decline is the sanction by the Central Bank of Nigeria (CBN) on MTN Nigeria for illegal repatriation of funds which happened within the third quarter. The earlier demand of $8.1 billion has since been reduced to $53 million according to a news report.
Since the tussle between CBN and MTN Nigeria lingered into Q4 2018, it can be assumed that the industry's contribution to the national GDP may not record an increase in the quarter.
Interestingly, there was also a drop in the industry's contribution to the GDP in Q3 2017 as well. The industry had recorded 9.5% in Q2 but it dropped by 22% in Q3 to 7.41%.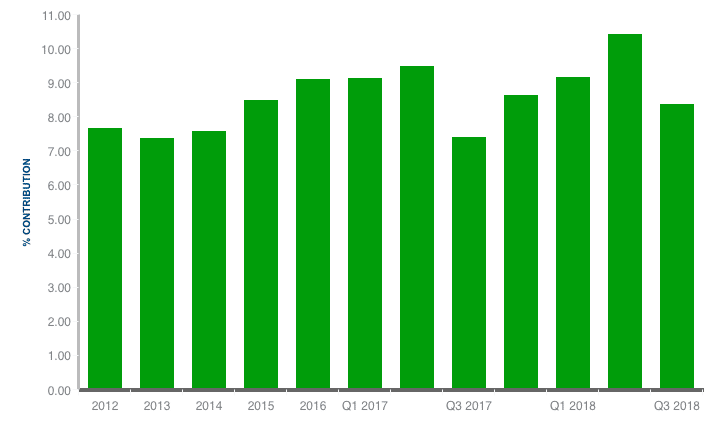 Do note that in July 2017, Adu Dhabi's Etisalat pulled out of its Nigerian arm -- now 9mobile -- due to a $1.2 billion loan default. Worthy of note is that the trouble is not yet over for 9mobile as Teleology, the preferred bidder for the company, has also pulled out of the local joint venture, Teleology Nigeria Limited.
It appears major events in the industry are having repercussions on the quarterly contribution to the GDP.
The regulatory authority in Q4 2018 claimed that Nigeria has attained 31% broadband penetration. This claim is questionable but if going by NCC's claim, Nigeria is expected to record an increase in GDP as it's been proven that every 10% increase in broadband penetration in developing countries also lead to an increase of 1.35% in GDP.
As it is, there's the need for NCC and other government agencies to apply caution in dealing with telecom industry considering the possible effect of their actions on the nation's GDP.
Photo Credit: tricky (rick harrison) via Compfight  cc