Asides Lagos, very few states can be fingered out as having prosperous non-oil state economies in Nigeria. Because of the commercial activities in Ibadan, Oyo state just happens to be one of such states.
Since time immemorial, trade and commerce have been the central pivot of Ibadan. Till date, a sizeable number of market men and women carry out trading activities in the city of Ibadan. From the cassava farmer, the palm oil seller and down to food restaurant on the streets of Ibadan, trading activities within the region remain largely informal.
But, like the informal sector which is experiencing a boom, the growing demand for everyday products is unlocking untapped opportunities in the eCommerce space in Ibadan. Or so it seems for an emerging player in Ibadan that goes by the name Foodlocker.
Infrastructure challenges of eCommerce
Headlining the eCommerce narrative in Nigeria are stories of leading companies facing struggles of online payment infrastructure, poor road networks that complicate the logistics of delivery and a slow pace of customer base growth.
Crucially, the returns, mainly with regard to sales and customer retention, have not been at par with money that has been invested altogether in major companies.
But just along Oke Bola, a bustling commercial area in Ibadan, you'd find at least one Ibadan trader who typically is not selling their goods online.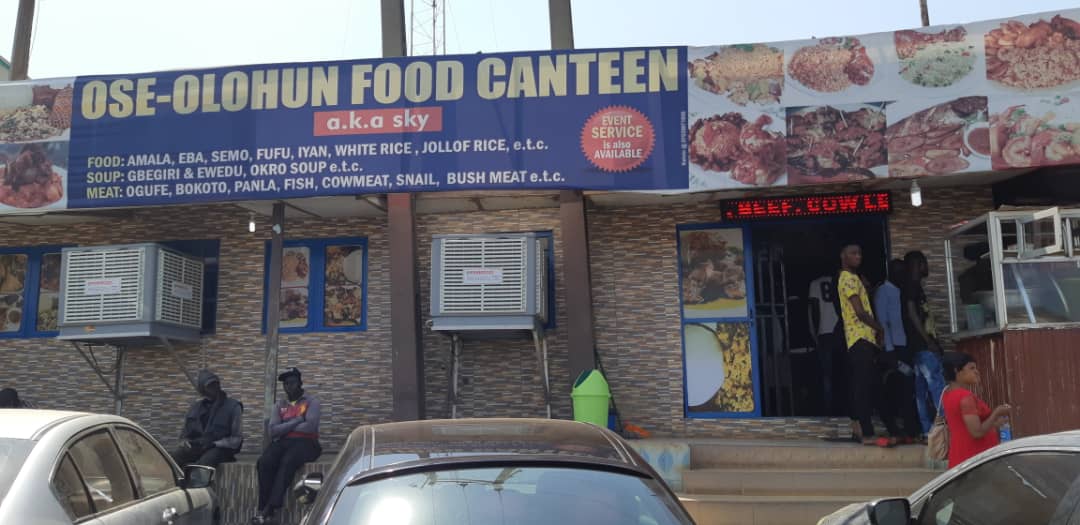 Across the several other markets clusters swirling around Ibadan, the same is also true. Yet, just by selling everyday fast-moving consumable products, these traders have stored up wealth beyond what the average Nigerian eCommerce player can possibly imagine.
Levelling the playing field
Femi Aiki, CEO and co-founder of Foodlocker, is not oblivious of this informal activity. Alongside his co-founder, Jennifer Okoduwa, they are aspiring to dominate this space, starting from their base in Ibadan.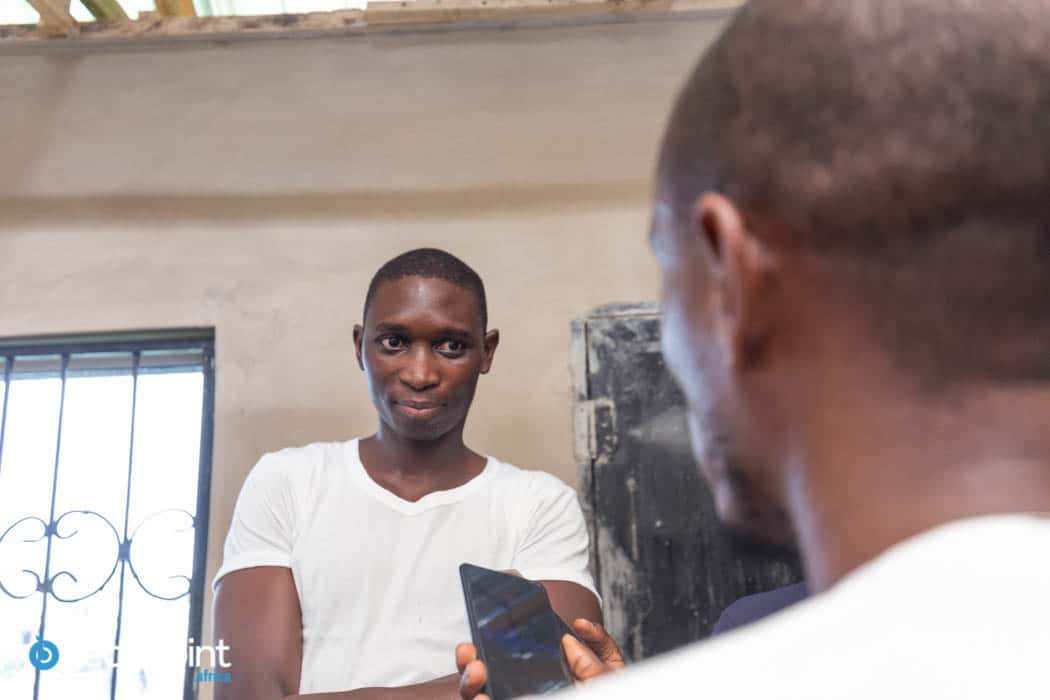 Foodlocker is a foodstuff and grocery eCommerce startup. But more symbolic of its business model is the stylish juxtaposing of both the traditional and contemporary commerce.
It is not expected that eCommerce would be a walk in the park for Foodlocker. In Ibadan least of all places. Currently, eCommerce contributes only 4% of Foodlocker's revenue and that number is getting leaner because of other aspects of the business that have grown.
"If I started with eCommerce, I would have been getting only 4% of my current revenue," he boasts.
Under eleven months of operation, Foodlocker has invested in a physical facility in Ibadan that doubles as a retail outlet/eCommerce fulfilment centre and a mini warehouse. The play is simply at consolidating the retail (including the eCommerce platform) and wholesale activities in one single vertical operation.
At the store, the goods are displayed on shelves and in carton boxes, awaiting orders (online).
Other times, clients walk in and buy their required quantity.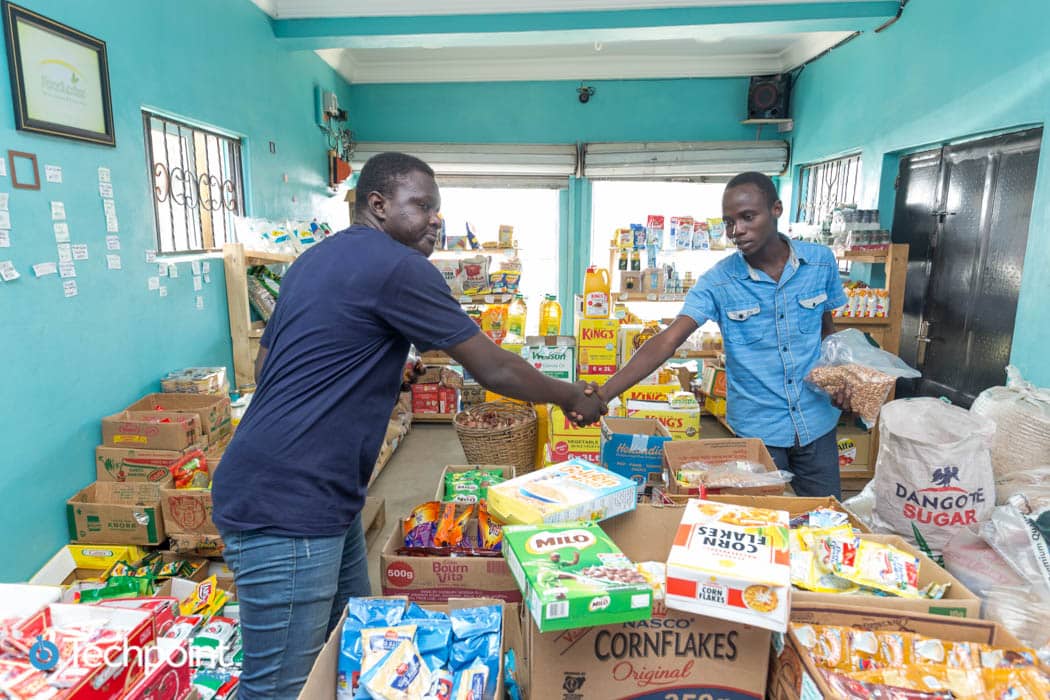 While this sort of interplay is ingenious at best, or maybe overreaching at worst, true value of effectiveness is something that hinges on sustainability.
About that, Foodlocker's rank of local agro-farmers -- that essentially handle its supplies -- in Ibadan and neighbouring states is presently around 30 and swelling.
But seeing that the core business of Foodlocker is fresh product (fruits, vegetables, grains, meats etc), its supply is no valuable beyond the little needs that it can fulfil.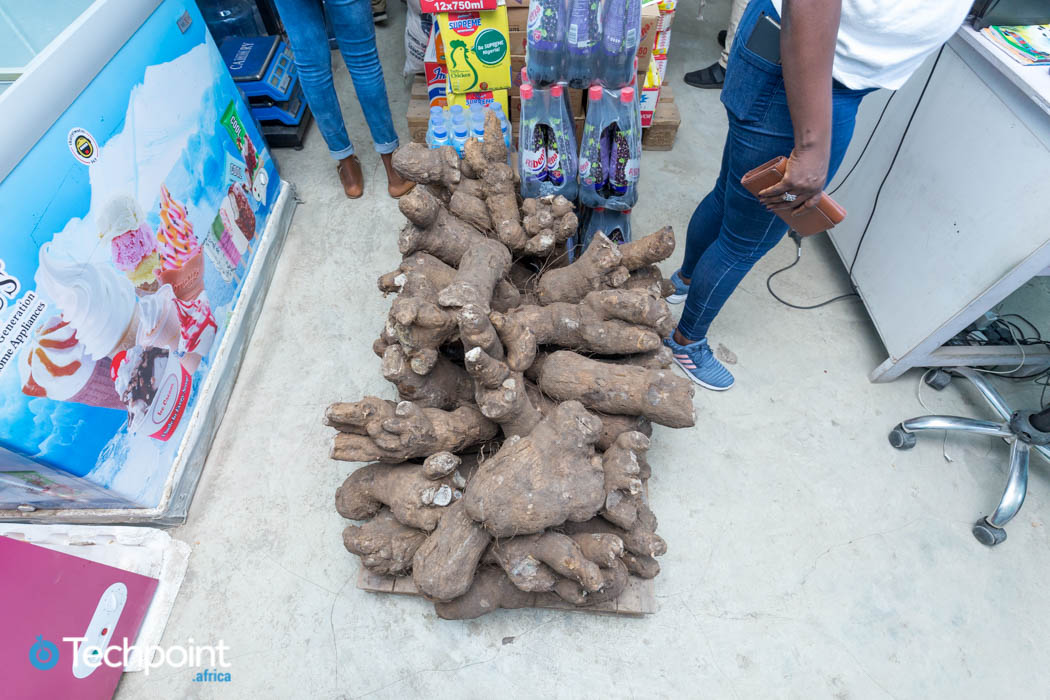 However, in terms of sustainability, the real deal for Foodlocker is non-fresh products.
"The plan is to stimulate demand with our non-fresh products. Once we see that this has moved up to a certain point then we hit it with fresh," says Femi.
This explains the carton boxes littered everywhere inside Foodlocker's warehouse. Inside those boxes are fast moving consumer goods procured through direct relationship with manufacturers.
It is this activity that is an enabler for the offline wholesale and retail aspect of the Foodlocker operation. And also needless to say, stimulating eCommerce through what it calls "shop till you drop" -- where emphasis is on selling at ridiculously cheap prices due to distributorship right to the products; a model Foodlocker adopts.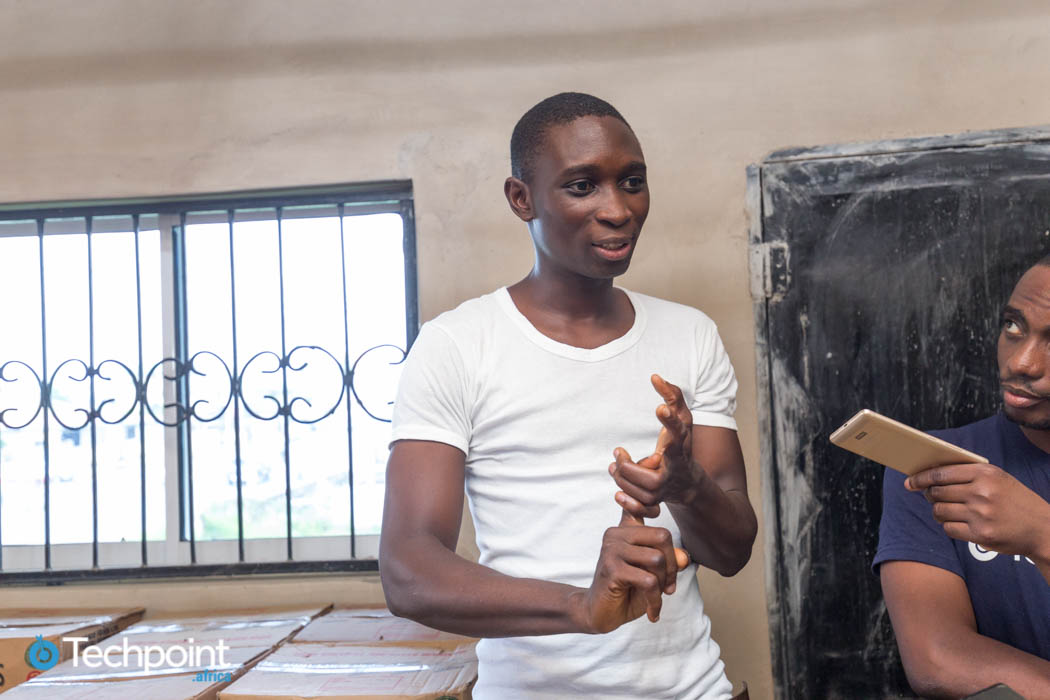 "There's nowhere in Ibadan where these goods are as affordable as they are here. What that does is that, at peak periods here in the store, people then opt for convenience. Which is when eCommerce gets its shine."
Revenue and logistics
Typical eCommerce in Nigeria is the one where players largely shy away from inventory, in favour of the marketplace model.
Particularly for new startups, implementing the inventory-based model seems not at all a good option to go with because the cost involved in setting warehouse and completing supply chain process are dead high.
But it's easier once those challenges are sorted out. By running inventory model, eCommerce players can guarantee a few things; better customer experience, trust, better quality control and speedier delivery.
In the case of Foodlocker, the clients/customers handle their delivery. Hence allowing it reduce operational cost while focusing on other parts of the business.
Revenue wise, Foodlocker claims to average ₦10 million ($27, 474) monthly.
"From scratch we built our eCommerce, wholesale, retail and B2B channels into the IT system and financial structure, factoring what is and what not from day one."
A journey to discovery
Coming from an agrarian background, as well as growing up in Ibadan, Femi understood what it meant to be close to the place where value is being generated.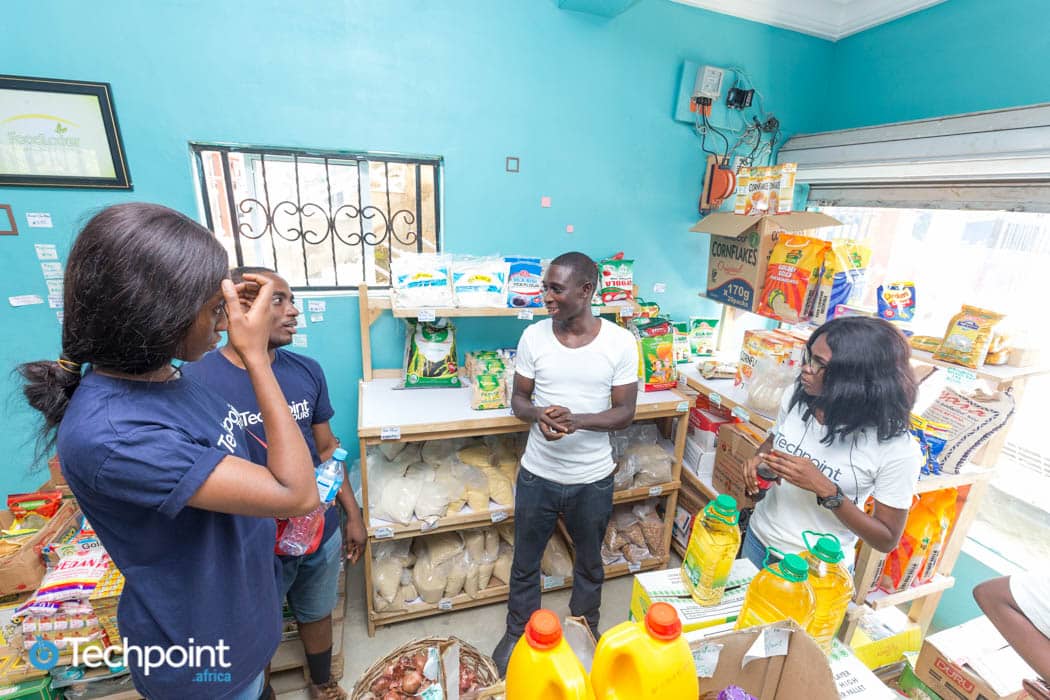 But the ideas that really modelled Foodlocker into what it is today came from living in four continents, where he practically saw his model work outside the country.
After completing his bachelors in Obafemi Awolowo University, Ile-Ife with a first class, Femi studied Petroleum Engineering at Imperial College, London and learnt from CEOs of Italy's Aerospace, Defence and Security Conglomerate through a full Corporate Scholarship at Finmeccanica SpA (now Leondardo SpA).
He then worked a little bit in Saudi Arabia where he was part of a group that built a driverless metro system in the world's largest women-only university, the Princess Nora Bint Abdul Rahman University in Riyadh.
In 2013, he came back to Nigeria and built his first startup that failed. Because his major lesson from that experience was product-market-fit, he decided to pursue his MBA to understand that part of business.
Another scholarship took him all the way to ESADE Business School in Barcelona, Spain, this time majoring in finance and entrepreneurship on an MBA programme. During that programme, he was privileged to intern with Amazon in the UK and Infosys in Bangalore, India.
He got his biggest eye-opener while working as a Pathways Operations Manager with the world's leading eCommerce company, Amazon.
"In one single shift, we used to ship out twice of what Konga used to ship out in a month," he recalls.
He returned to Ibadan in 2017 and started Foodlocker.
"I can't tell you that I want to build another Amazon. But I can tell you I will build a company which in the worst case is going to be successful as a small business, making millions of dollars in a year."
What the future holds
It's not surprising what Femi has done with Foodlocker in just about a year, but it is commendable nonetheless.
To crown it, investors are showing interest. Femi says Foodlocker is nearing a fundraising round that would enable it expand infrastructure and in setting up production line in areas that can capture some value.
"Our focus is still fresh product, so we will be stimulating demand for fresh and build out a processing facility along that line."
But there are still growing concerns about the business though. There's the aspect of how demand and supply should behave under normal markets.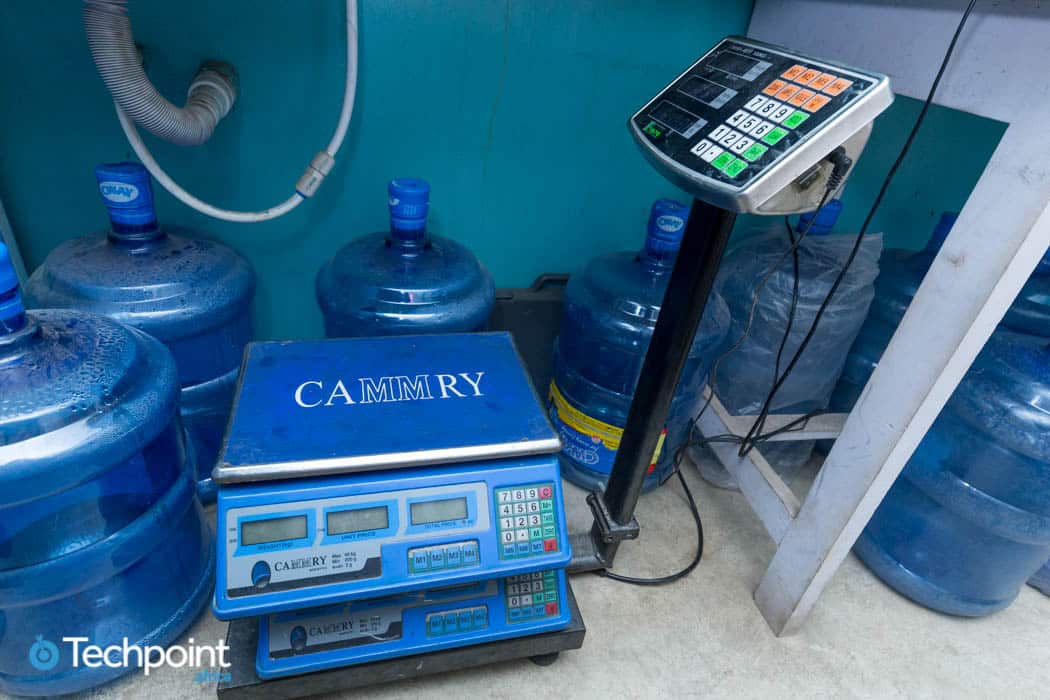 Seeing that Foodlocker's supply chain currently is currently small, avenues to leave money on the table is invariably created. Peradventure it solves this problem another arising would be controlling inventory.
Who knows? The problem might not be as challenging as it seems. From next year, Foodlocker will be debuting in other states in Nigeria, starting from Lagos. This will be carried out under the franchising model.
---
During Techpoint Build 2019, on the Pitch Storm stage, Foodlocker will be competing against 11 other startups for $10,000 in equity-free prize money.