GenesysIGNITE is an annual convergence of tech enthusiasts, entrepreneurs, industry leaders, innovators, engineers, and designers by the Genesys Tech Hub to explore technology for development. It convenes in Enugu but has a global outlook.
The first edition of GenesysIGNITE held last year and was great, but this year's was even better with more highlights, speakers, events and agenda.
---
Suggested Read: Everything that happened at the Genesys IGNITE South-East Startup Convergence 2017
---
Event proper started by 10 AM with registration of participants, and introductions of events and guests.
Former Aviation Minister and Anambra State gubernatorial aspirant Osita Chidoka was the first official speaker of the day and his talk centred on exactitude and the importance of measuring and monitoring impact.
Osita said the average Nigerian is averse to exactitude and this culture of inaccuracy is a big problem for the country.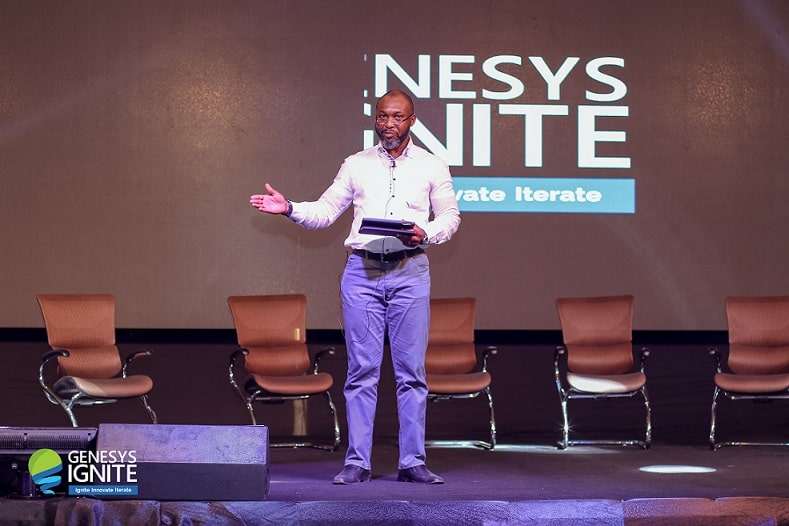 "Nigeria has serious challenges that have to be solved by its youth population. We cannot develop the African economy with foreign interests. The only way we can develop the continent is solutions, knowledge and innovations from within."
"The average Nigerian is averse to exactitude and this culture of inaccuracy is a big problem." - @osita_chidoka#GenesysIGNITE #IGNITE18

— Techpoint Africa (@Techpointdotng) November 16, 2018
"In 2030 there will be 17 cities in Africa with over 5 million people in them and this increase in population will bring problems. And in solving these problems lie the opportunities for young Africans," he said.
In conclusion he said Africa has 400 companies that make $1 billion revenue and that this is the biggest indicator of potentials and opportunities.
Up next was Mac Atasie, CEO of Nextzon Business Services. Mac gave a talk centred on the knowledge economy and its relevance to technology and the African economy.
In his words;
"Data is the new oil enabling personalisation of services and products."
"From banking, transportation and businesses, every aspect of our lives is changing. So products should be built around this dynamism," he said.
Mac said coworking spaces, hubs, finance and power are some of the factors hindering startups and youths from accessing the opportunities in data and technology.
An insightful panel was up next anchored by tech journalist and guru, Chukwuemeka Fred Agbata.
Tagged, "The Role of Human Capital Development in Driving Innovation", it had Frank Nweke Jr., Dr. Ifeanyi Okoye, Emeka Okoye, Kunle Dina, and Prof. Kalu Mosto Onuoha as panellists.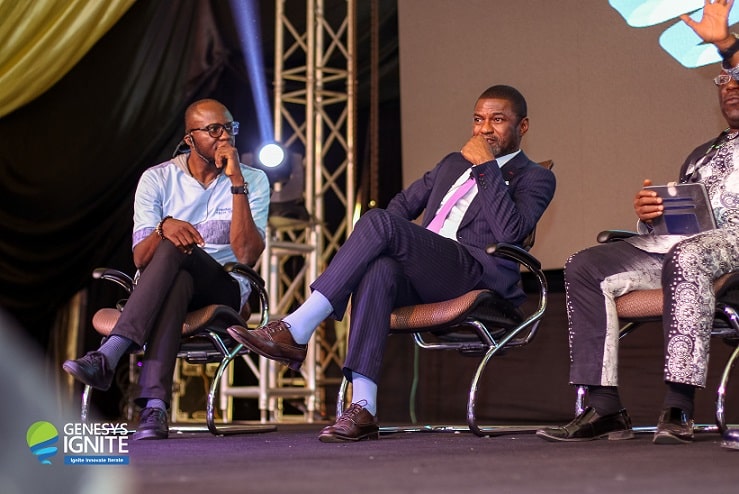 It was a heated discussion where each member of the panel added different insightful perspectives.
Dr. Okoye on the issue of unemployability. "There are people, but the educational method and structures are a problem."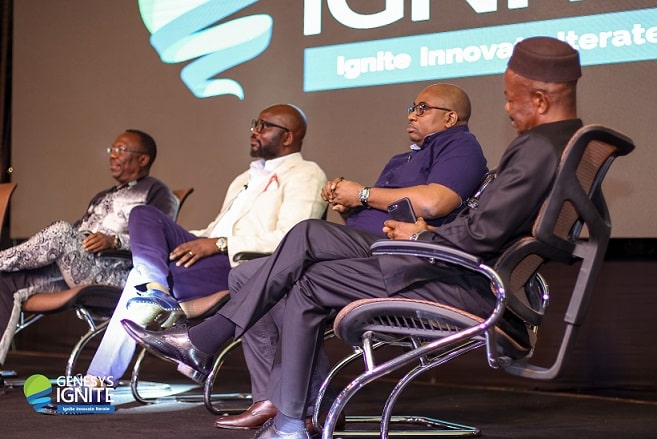 In conclusion, Prof. Kalu said the 4 ways to drive innovation in Nigeria will be through the nurturing of talent, managing creativity in youths, building relationships and encourage the innovation culture in itself.
This year, rapper and music mogul Jude Abaga, popularly known as MI pleasantly shocked the audience with a presentation on collaboration as a tool for economic development.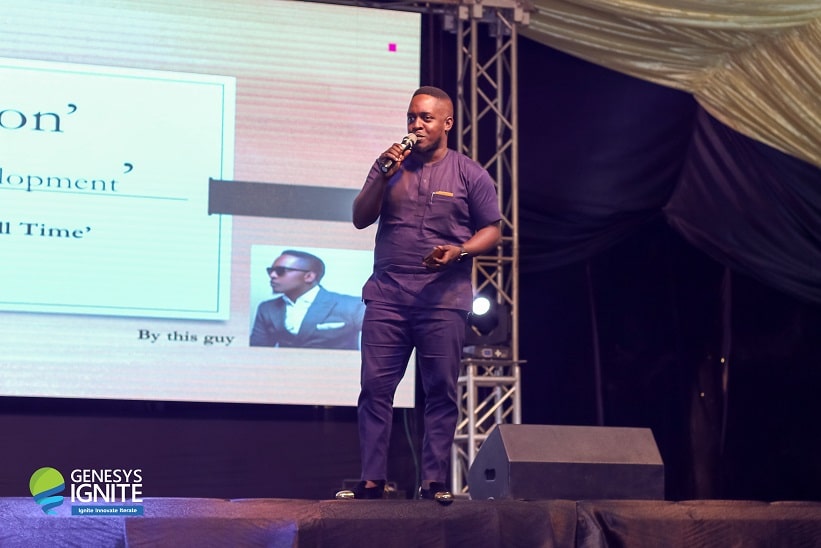 The rapper used his 2010 hit song "One Naira" featuring Waje as a perfect example of the power of collaboration.
He then proposed a formula: "Collaboration + "use as a tool" = economic development" to buttress his points.
MI rounded off  with a powerful rendition of the "One Naira" song that saw the crowd energetically sing along word for word.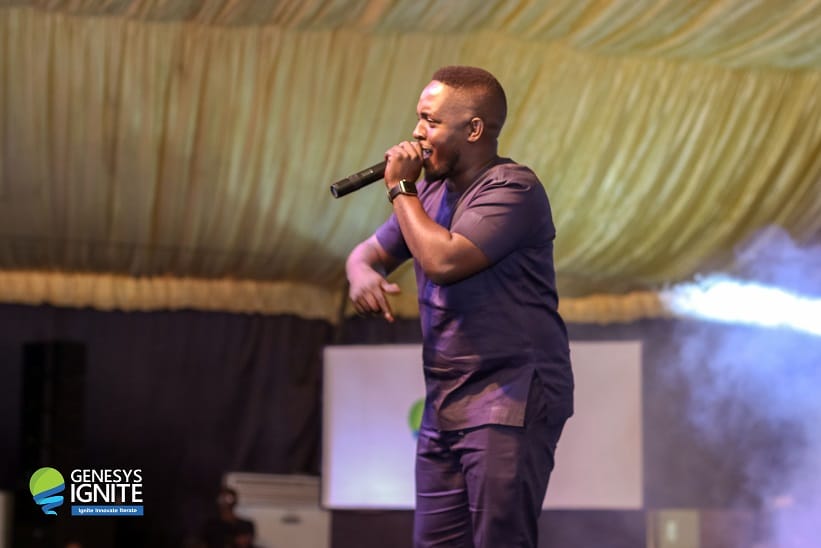 The event also doubles as the 10th year anniversary of Tenecé Professional Services. Tenecé is the parent company and financier of the Genesys Tech Hub and GenesysIGNITE.
Tenecé CEO, Kingsley Eze spoke on how far the company had come over the years, and admonished young people on the benefits of delayed gratification.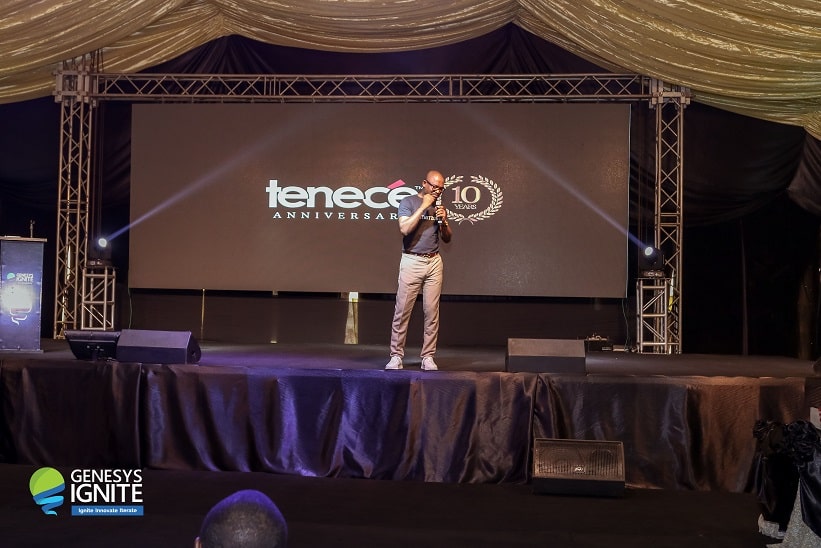 "Do not eat your seed today, plan and work towards the future you want. You can predict the future by making plans and following through with them."
After Kingsley's speech, prizes were presented to winners of the just concluded Young Innovation Challenge (YIC) and Hacktober; two hackathons for secondary school students and university undergraduates respectively.
Gift presentation to winners of the Youth Innovation Challenge (YIC) and Hacktober.

Both problem-solving hackathons targeted at primary and tertiary institutions respectively. #GenesysIGNITE #IGNITE18 pic.twitter.com/ks8Lzd4H09

— Techpoint Africa (@Techpointdotng) November 16, 2018
Prizes ranged from laptops, desktop computers for school laboratories to cash prizes for teams from the winning teams from universities.
The startup challenge was the final and one of the most anticipated events of the day.
Over 500 startups had pitched over the last month, 12 were shortlisted and 2 winners would emerge. The winners would each get $15,000 as seed fund for their businesses.
LawyerApp and GreenAge Technologies have emerged winners.

Both winning $15,000 each in the challenge. 🎊 pic.twitter.com/6KDgsqhC7R

— Techpoint Africa (@Techpointdotng) November 16, 2018
LawyerApp; an online community for legal practices and GreenAge Technologies, a solar inverter company, both emerged overall winners and walked away with the cash prize.