Every year since 2012, INFORM, a global open-source risk assessment for humanitarian crises and disasters, has been keeping an eye on global risk data of countries.
It creates a risk profile for every country, showing the level of the individual components of risk as well as the likelihood of needed international assistance in the foreseeable future. It then uses a scale of 0 - 10, with 10 as the highest level of risk, to determine the status of each country. Technically, disasters that strike in regions with a higher rating are quite fatal.
The index for Nigeria on the INFORM 2018 risk data is 6.3. In Africa, only Niger, Chad, Central Africa Republic and Congo DR -- with a risk index of 7.2, 7.8, 7.6 and 7.1 respectively -- have a higher disaster risk index.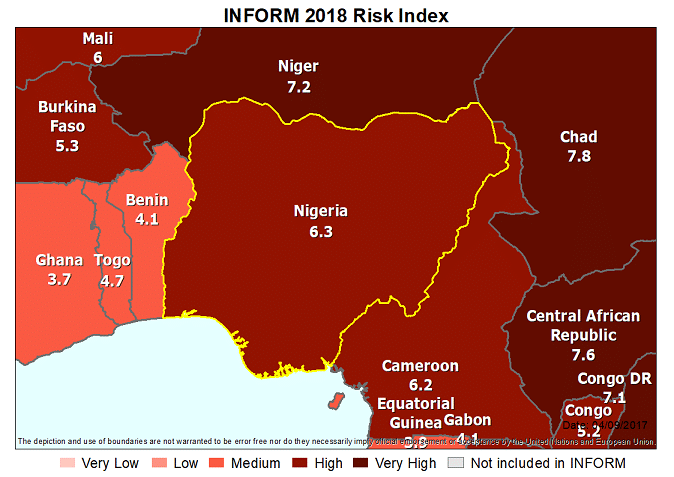 Hypothetical as it may seem though, in recent times, Nigeria has witnessed frequent and very disturbing emergency crises. And while flood incidents have been the major headline, many lives and properties have been lost to different other kinds of disaster.
A case for effective disaster management
Disasters in Nigeria are sub-categorised under fires, health, manmade and natural disasters.
As many of these outbreaks that have occurred in times past, the government faced heavy criticism. The reason is that, in the face of the disaster, they keep promising the capacity to deal with it. The destruction left after these attacks, however, belie their optimistic posturing.
And where billions of naira in funds are released, as relief for affected communities and victims, in the wake of a disaster, a huge part finds its way into officials' pocket.
However, there is a paradigm shift in crisis management from mere response -- or reactionary measures -- to prevention, and Nigeria through the National Emergency Management Agency (NEMA) ironically is in on this.
Ibrahim Farinloye, NEMA's public information officer in its South-West zonal offices, tells of the agency's stride in mitigating disaster across the country. Surprisingly, it is buried in layers upon layers of technological innovations (some not covered in this article, for security reasons) with simple and complex applications.
A world of alert and tracking systems
In the maritime and aviation sector, a standard safety practice for ships and aircraft is the installation of basic maritime and aviation beacons. This is necessary to trigger alarms in distressed periods.
Once activated, the beacon is able to send a signal through satellite, revealing full information and location of the distressed vessel, as well as provide control with radio frequencies to contact such vessel.
"This technology is called COSPAS-SARSAT (Search and Rescue Satellite-aided Tracking)," says Ibrahim.
But have you pictured a world where humans and automobiles are literally a walking alert system?
There is a land use case for COSPAS-SARSAT that allows individuals to own the equipment, but as of now sensitisation has focused only on public transportation owners who are advised to install the system on their vehicles.
Like in the maritime and aviation sector, the land use case aims to reduce the time required to alert NEMA, which then alerts rescue authorities whenever a distress situation occurs.
A rapid detection and location of an accident scene, for instance, could stem potential casualties and save lives.
Also, when confronted with physical dangers like robbery or kidnapping, real-time information about the vehicle could be sent to the nearest security operatives to conduct search and rescue operations.
COSPAS-SARSAT system, since its inception in 1982, has reportedly saved over 20,000 lives worldwide.
The system consists of emergency radio beacons, equipment on satellites in low-earth polar ground receiving stations also called Local User Terminals (LUTs), Mission Control Centres (MCCs), and Rescue Coordination Centres (RCCs).
"Only three COSPAS-SARSAT technology exist in the whole of Africa and one of them is located in the NEMA headquarters in Abuja," Ibrahim confirms, "Nigeria covers the whole of West Africa and part of East Africa."
Achieving effective disasters management in the foreseeable future
Disasters are unexpected events that result in human casualties and loss of properties. The damage caused is mostly immeasurable and varies with the geographical location, climate and type of earth surface.
Sadly, Ibrahim emphasises that flood-related disaster is perceived as natural, as there is little to no human intervention to prevent it from happening.
However, he notes how technology is helping to predict and monitor the situation and then alert people where there is an impending strike. In Taraba State, monitoring and alert systems have been installed to monitor rainfall and lake flows from Nigeria and neighbouring countries.
In August 21st 1986, there was a limnic eruption at Lake Nyos situated in Northwest Cameroon. The eruption triggered the release of hundreds of thousands of tons of carbon dioxide at 60 miles an hour, suffocating people up to 15 miles away. The death toll was reportedly around 1,746 people, Nigerians inclusive.
This event also necessitated the alert systems installed at Taraba State so as to prevent casualties in the face of a similar strike. The alert system triggers an alarm that notifies people from Taraba, Benue up to River State.
But despite the prevention over cure factor, Ibrahim identifies negligence on the part of people as a serious challenge in dealing with disasters and emergency.
"Before the last incident of flood hit the North, we'd been monitoring it from Mali. When it got within 25 kilometres of the Nigerian border around March, we started raising alarm," he explains.
That incident still claimed several lives, and that itself might suggest that people didn't take to the warning.
And as for the land use COSPAS-SARSAT equipment, he emphasises that the agency can't enforce it on transport companies. Even though use of the COSPAS-SARSAT system is free to the beacon operators, the accompanying gadgets typically cost around $1000 to install for commercial use. So could cost possibly be a bane to mass adoption? Ibrahim doesn't think so.
"When it comes to the area of saving lives, there is nothing that is expensive," he concludes.