A Tech Startup in Lekki has already taken over the news in just 90 days of operations. Enov8 Solutions Limited is an Information Technology Company with focus on all sectors.
The company calls itself an "Alltech" company that aims to provide topnotch innovative solutions to identified gaps across various sectors. This desire , they said brought about their formidable team at a time when technology is breaking conventions – transforming industries, and taking Africa to the next Level. It seems the next level for them has started with a pre-seed funding.
Earlier this month, Enov8 secured $250,000 pre-seed funding from SPHINX Capital. With this injection into their business, they are looking to pick up the pace and deliver on their promises quicker than expected.
In his words, Mr. Tosin Osunkoya, the executive chairman/co-founder of Enov8 Solutions, says:
At Enov8 our strategic intent is to dynamically leverage technology in developing and delivering novel solutions across various sectors primarily in Nigeria but ultimately in Africa
Enov8's business can be broken into five units. At the core, Enov8 is a Software Development Company with a mission to Design, Develop & Deliver high-impact, unconventional solutions.
In addition to being a software development company, Enov8's other arms of business are Systems Integration, IT Project Management, Digital Marketing and a Tech Hub.
In only 3 months of operations, ENOV8 Solutions has developed a few products which are soon to hit the market, the first of which will be SeekFunds. SeekFunds is a crowdfunding platform to fund/raise money towards Business/Projects, Charities/NGOs, Medical Assistance, Educational Assistance and Politics.
There is also a Real Estate solution currently in development that the company will be announcing soon. Also, at the early stage of development are three Fintech products and one Consumer Service product. Under its Digital Marketing Unit, Enov8 launched 'All Round Digital Marketing' (ARDM) to provide services to SMEs and Corporations.
ENOV8 Solutions has a vision to be the leading innovative tech-solution provider to an ever-changing customer needs across Africa and has spent the last 90 days registering with OEMs to be a reseller of different solutions from providers like, Amazon Web Services (AWS), Wix, Google and Cisco. Enov8 has also been registering itself to be vendors in major companies and government agencies to provide System Integration, Project Management and Digital Marketing Services.
In addition to partnering with other Tech companies to increase its offerings, Enov8 has shown support for initiatives by sponsoring and Partnering with programs like 'Women in Tech Week Lagos' by Women in Tech Africa (WiTA)and causes like 'The Jewel Project Africa', a foundation that helps young African girls to become the best version of themselves.
With the Tech Hub, they recently partnered with Noella Foundation to help mentor and incubate the winner of the first Seyi Tinubu Empowerment Program (STEP). The winner of the initiative, Staffbus.ng now has its team working at Enov8, enjoying their infrastructure and mentoring as they continue to grow their amazing business.
To expand on their CSR, Enov8 launched its own initiative called 'The Bulb'. The Bulb is an annual project to help take a Tech idea or a Proof of Concept into reality. Applications will be accepted via their website starting on September 19, 2018 and the finale will be held at the Enov8 Office in Lekki on October 10, 2018.
So, entrepreneurs in tech with an idea or a proof of concept are being encouraged to apply here. 10 finalists will be pitching their idea/solution/product to the executives of Enov8 and some other invited industry guests and 3 winners will be selected.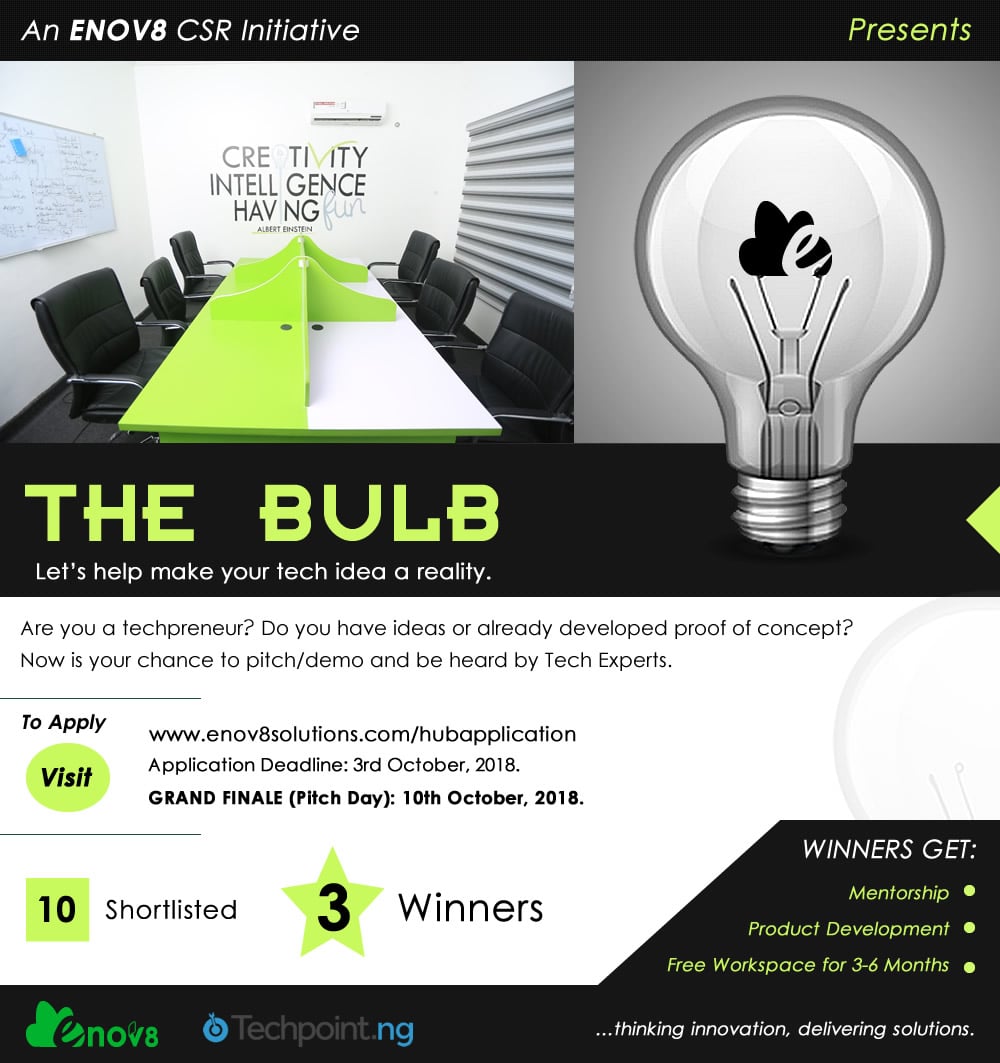 It is exciting times at Enov8 with all that they've achieved in a short period of time, all that they have going on and all that's ahead of them. It's certainly a brand to watch in the Tech industry in Africa.