In your wildest dreams, have you ever imagined downloading HD movies in seconds? Well, theoretically it is possible with 5G. If you can imagine an internet connectivity speed nearly -- or more than -- 100 times the speed of 4G, you have 5G.
Worldwide rollout is expected in 2020, but before then there has been a couple of tests and even deployments here and there.
In May, Qatar's Ooredoo Telecoms became the first company in the world to announce a commercial rollout.
In the morning of August 28th 2018, Vodafone announced commercial availability to its customers in Qatar.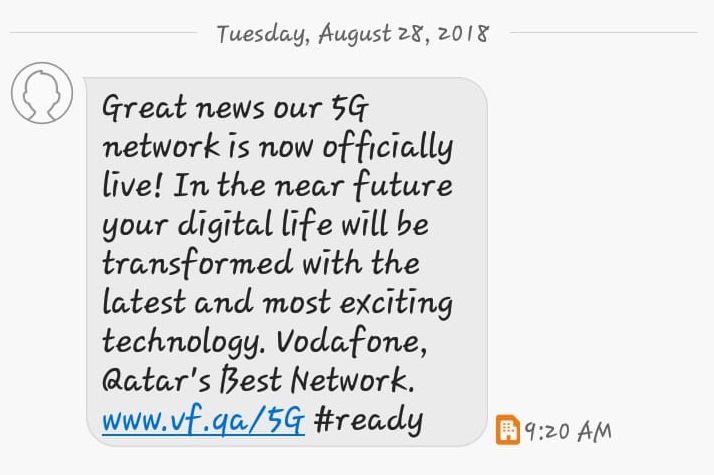 Since then, hundreds of tests and announcements have followed. Expectedly, Africa is not left out of this buzz.
Vodafone South Africa recently announced "Africa's first commercial 5G internet service" in Lesotho.
At a recent event, MTN Nigeria's Chief Financial Officer,  Adekunle Awobodu said MTN was looking to conduct a 5G network test in Nigeria.
---
Suggested Read: What we learnt at MTN Nigeria's new ₦200 billion loan facility signing
---
This Nigerian announcement was coming barely 1 month after the telco tried to extricate itself from a supposed 5G commitment. The South African arm of the company had done the same test earlier in the year in partnership with Ericsson.
Globally, the rush is not unusual. The world over, telecommunication companies are always aggressively trying to out-innovate competition or appear to be doing so, and the noise around 5G is consistent with this behavior.
As progressive and innovative as the buzz is on the African front, its obvious infeasibility reeks of PR and a telco contention that characterises Africa's telecommunication landscape.
Even if the world is jumping on the bandwagon, there is still a general dearth of effective 4G in most parts of Africa that questions the legitimacy of this leap.
Infrastructure exists, but complications too
Structurally, initial rollout of 5G will work effectively on existing infrastructure that supports 4G LTE.
"In Africa, infrastructure already exists to launch 5G. But the problem is that the existing ones are not sufficient. Surprisingly, in most parts of Africa 3G has not been properly implemented and suddenly we are talking 5G? It's the height of wrongness," an industry expert in Nigeria commented.
According to Statista, from 2009 to 2017, internet penetration in Africa grew from a 4.7% low to 21.7%.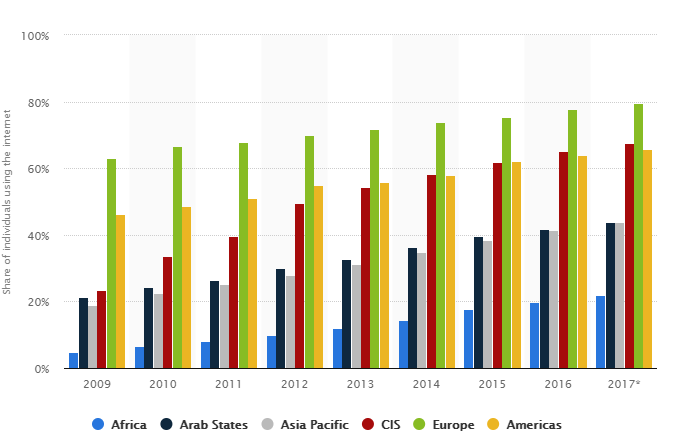 But regardless of these seeming improvements, these numbers are still dismal by global standards. The quality is even worse from a practical user and experiential perspective; internet in most parts of Africa is terrible at the moment.
"I can see the possibility and understand testing it in South Africa as they have one of the best internet in Africa, but Lesotho and Nigeria? I am not so sure," an industry player said.
"Instead of flexing 5G muscles, these telcos should first concentrate on making sure 3G is sufficiently available in most parts of Africa," he continued.
Gadgets
The Motorola Moto Z3 was announced on the 16th of August and is upgradeable to 5G. Apart from this, there are nearly no compatible devices for the new technology.
Equipment manufacturer, Qualcomm is working on Snapdragon 5G Modules that will ease the manufacturing of 5G-ready devices. And Intel will start shipping 5G-ready laptops from next year. Generally, compatible devices -- phones, modems and laptops -- are not expected till later next year.
According to GSMA's annual report; The Mobile Economy: West Africa 2018, in 2017, mobile penetration in Africa soared to 44% of the continent's population and is expected to reach 52% by 2025. Africa is a mobile first -- and maybe only -- continent and has been for a long while.
If and when 5G-ready phones hit the market, they will probably cost too much, at least at first.
The Jumia Nigeria Mobile Report 2018 says phones are getting cheaper in the African markets and these 5G phones will be in the $1,000 range, making them largely unavailable to the masses.
Low latency and incredible speed, self-driving cars and IoT make 5G the future of internet connectivity. But before then, telcos in Africa need to focus on building out basic internet for now.