For the 4th year in a row, Jumia Nigeria has released its Mobile Report. The report is an analytic breakdown of mobile in Nigeria for the year ended in relation to Africa and the world.
The report is not holistic as it only examines these figures from the e-commerce giant's perspective.
But considering that Jumia is one of the biggest mobile merchants in Nigeria, the numbers can be considered a worthy sample size.
Here are 5 collective summations from the report
Smartphones are getting cheaper
In 2014, phones sold on Jumia were priced  an average of $216 and by 2017 this price had gone down to $100.
In Africa, the price dipped from $165 to $96 in the same period.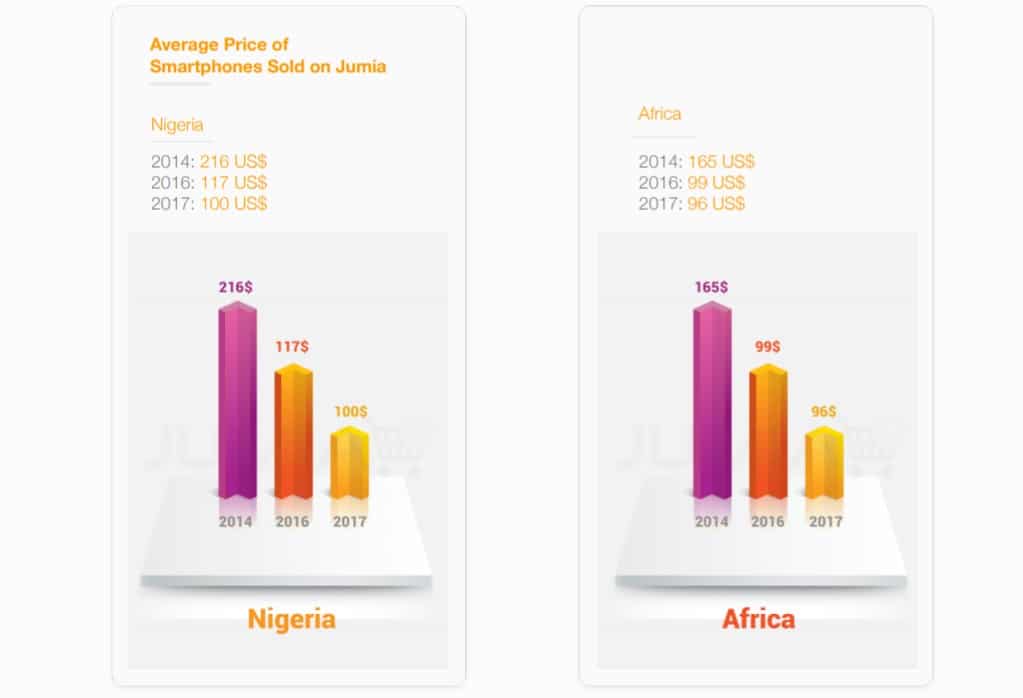 This price drop coincided with when Transsion Holdings and it's -- Tecno, Infinix and itel -- brand of smartphones started gaining a foothold on the African market. Known for their lower prices, it is no surprise that two of the Transsion brands on the list of Jumia's top mobile brands.
Nigeria is fast becoming mobile first
Mobile penetration increased from 53% in 2016 to 84% in 2018.
The decrease in price point of smartphones is the likely primary catalyst for this growth. Jumia CEO also cites increase in disposable income as a possible reason for this growth in ownership of smartphones.

Also, 79% accessed the Jumia Nigeria website from mobile, 18% from desktop and 3% from tablet. Apart from buttressing the point that Nigeria is going mobile, this stat shows tablets sales and usage are at a low and Jumia confirmed it.
There's a possible explanation for this downward slide for tablets. Smartphones now have bigger screens and pack the regular features of tablets too.
Mobile subscriptions dipped
There were 162 million mobile subscriptions in 2017. From the general subscriptions, 21 million are smartphones, of this smartphone owners, only 17 million are on social media with their phones.
The total number of mobile subscriptions is still a drop from the previous year. Among other things, this decline can be blamed on the rise of OTTs like WhatsApp calls that have ensured people do not need mobile subscriptions as much. Poor economic climes too had a role to play, but most importantly the dip in mobile subscriptions was primarily caused by regulations.
The Nigerian Communication Commission (NCC) had initially warned telcos to disconnect unregistered subscribers on their networks without success. The MTN Nigeria's fine was more than enough incentive for compliance of other telcos. This in turn triggered a mass disconnection of SIM cards, mostly unregistered subscribers.
Men bought more phones than women
In 2017, 63% phones were delivered to men as against 37% for women.

These were purely orders, it doesn't necessarily mean men use more phones than women as the orders could be for wives and daughters too.
Pay on deliver still reigns supreme
Cash on delivery ranked as the preferred method of payment on Jumia.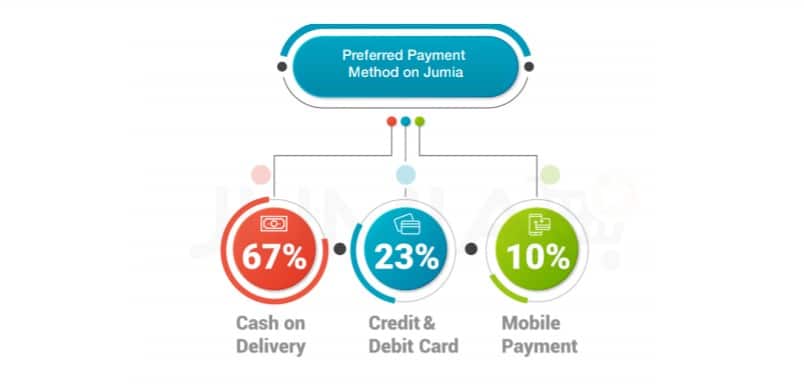 And considering the recent unrest in the e-commerce space, this figure is not unique to Jumia.
This is probably why Jumia is not stopping PoD anytime soon.
You can download the full report here.