Going by a report analysed by Research and Markets in 2010, the grocery retail market in Nigeria is the largest and, until 2015, was the second fastest growing grocery retail market in Africa.
But despite its size, the Nigerian grocery retail market is among the most fragmented, and perhaps most undermined, in Sub-Saharan Africa.
Partly a reason for this has always been due to the fact that the large supermarket chains (which are undisputedly the 'big boys' of the industry) do not have enough stores across multiples states in Nigeria.
After the eCommerce boom, early eCommerce players -- such as Easyshop Easycook, Gloo.ng and Supermart.ng -- that saw a need to fill the deficiency gap left by the large supermarket chains ventured into grocery operations.
Mindless of the many eCommerce ups and downs in Nigeria, there was an underlying incentive for these local players that were nudging into online grocery operation.
Grocery products have daily demand. Also, the market constitutes the 180 million Nigerians, who stock their homes with food supplies and other staple products.
Recently, the online grocery retail space has become flooded, with most new and emerging players coming on board within the last two years. These six caught our attention.
Myfoodyshop
Residents of Port Harcourt might just want to take note of Myfoodyshop. Considering the state of traffic in the city, the startup's promised doorstep delivery is potentially a major stress reliever.
Myfoodyshop is focused majorly on local dishes and fruits, with a possibility of a discount for shoppers looking to buy items in bulk. Orders placed after 3 PM are delivered the next day.
Mart.NG
Mart.NG is offering personal and convenient online groceries, foods and drinks shopping experience in Abuja, Nigeria.
Its biggest value proposition will come from the 59 minutes delivery, free shipping on all orders over ₦39,000 and the 100% money back guarantee when delivery conditions are not met (though there are applicable terms and conditions).
The 59 minutes delivery is scheduled between 9:00 AM and 5:00 PM daily and is exclusive to some locations in Abuja.
Food Trolley
Majority of the products you would find on Food Trolley are fresh foods, chilled foods, cupboard foods and drinks. But these are enough grocery products for its Lagos-based customers. Food Trolley offers a three hours delivery on all orders on the site before 2 pm from Mondays through Saturdays.
While its website gives no specific details about delivery times, it does offer a return policy (conditions apply) that obligates replacement of items at no additional cost to the customer.
Organic Haive
Organic Haive offers shoppers a wide range of grocery products. In addition to that, it gives shoppers the option to pay on delivery.
Delivery time starts at about noon to around 7:00 PM, from Mondays to Saturdays. However, special arrangements can be made to process and deliver orders outside these stipulated time and days.
Organic Haive currently offers free delivery for pre-paid orders up to ₦10,000 and above within Lagos. A ₦900 shipping fee applies to orders below ₦10,000, while orders going outside Lagos attract ₦2,500.
Pocketfriendly
According to its website, Pocketfriendly offers free delivery (Lagos, Abuja and Rivers), free and easy returns and a wide range of convenient payment options which include debit cards, credit cards, ATM channel, bank payment, and cash payment on delivery. It also offers a selective range of wide products including food and drinks, clothing, to even home and office appliances.
Pocketfriendly appears quite flexible with its return policy, as the requirements for a valid order return are spelt out in its Terms and Conditions.
Applecart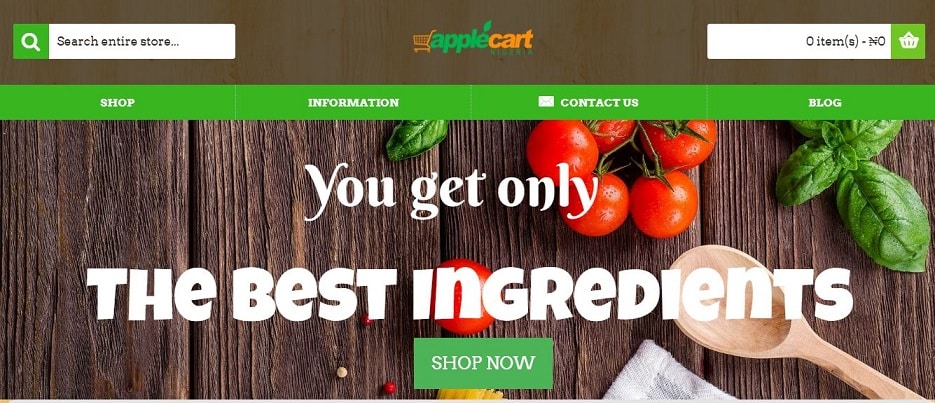 Applecart delivers handpicked, fresh fruits and cooking ingredients to the doorstep of customers. Applecart operates between the hours of 8 AM and 5 PM, Monday to Friday, while delivery starts at 1 PM daily.
If a delivery has to be rescheduled, the customer will have to give a notice five hours before the original delivery date. The grocery startup is based in Lagos.
Concluding thoughts
There is no doubt that in the coming days, the online grocery space will be welcoming more startups.
The biggest incentives for them are perhaps the consumer confidence and disposable income which, according to Trading Economics, has gained a boost lately.
With this advantage, consumers are increasingly altering their shopping behaviour across different categories and channels. The trends, for now, are more towards frequent shopping, with purchases focused on immediate consumption needs, concentrated in packaged staples and non-packaged (loose) food products.
For what it's worth, the online retail grocery space will be bigger in terms of value generation and active players will get more than they could possibly expect from it.
But in all this, they will still face intense competition from offline supermarkets and hypermarkets that are also stepping up to fulfil the needs of consumers.