Most criticisms and persecutions of the Nigeria Police Force (NPF) are hinged on a perceived all round crippling incompetency. Ironically, against its 'the police is your friend" slogan, the average Nigerian most likely does not see the police in any friendly light.
In the last World Internal Security and Police Index (WISPI) (pdf), the International Police Science Association (IPSA) ranked the Nigeria Police Force as the worst performing in the world.
On the other hand, this same force is reportedly always rated among the best in the world during United Nations (UN) peacekeeping missions.
Even though integrity and personal behaviour play a large role in most of these accusations, this disparity in performance ratings are indicative of larger structural issues.
Over the years, several reports have pointed to the fact that some police officers in Nigeria buy their own uniforms. In general, the force is largely under equipped and among other things, this has serious potential to hamper effective policing.
Last year, the Assistant Inspector General of Police in charge of Zone 11, comprising Osun, Oyo and Ondo states, echoed these exact sentiments in a report. He decried, among other things, a lack of modern gadgets.
During a visit to Nigeria, chairman and CEO of Web Assets Nigeria Limited, Kayode Aladesuyi asked a taxi driver to call the police to report an ongoing crime and the driver laughed at him sardonically.
After a second encounter of this kind, Kayode returned to the United States of America and HawkEye was born a few months later.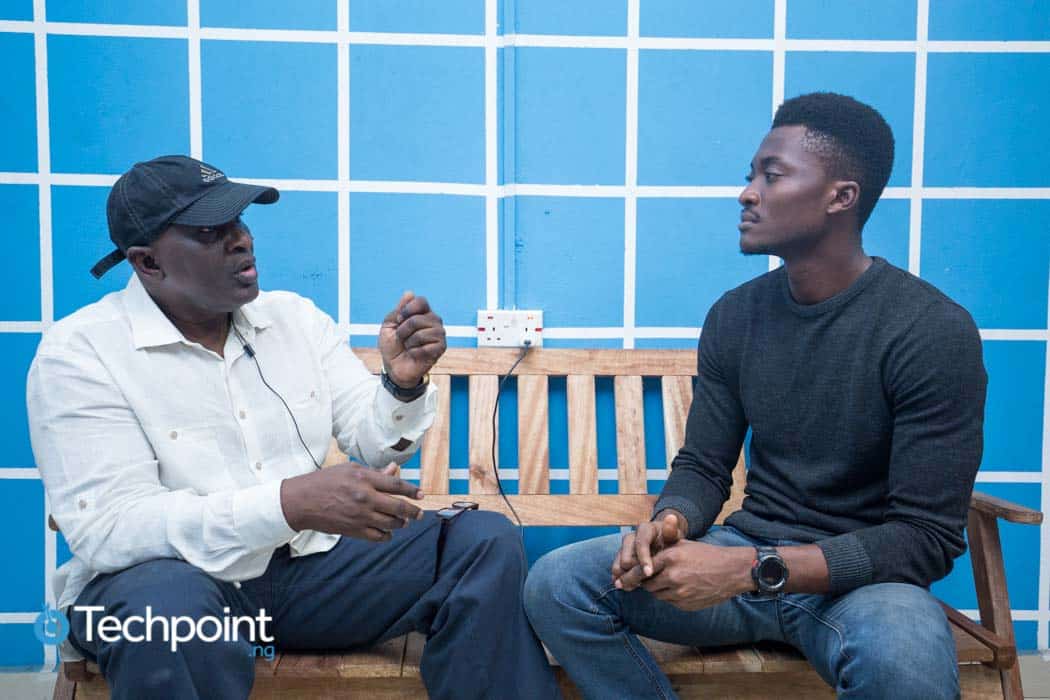 According to Kayode, a friend had originally conceived the idea that Nigerians should be able to report crimes using mobile devices, but it was only after the incidence with the cab driver that he saw that an actual problem existed.
What is HawkEye?
HawkEye is a crime reporting and management system. It is a comprehensive tool that helps the Nigeria Police Force analyze and manage crimes effectively while also vetting performance of the police force across the country in general.
Structurally, it is a 3 pronged system consisting of the HawkEye mobile application, a 10-inch iPolice mobile tablet and a physical command centre.
After downloading HawkEye from the Android and iOS app stores, users can report an ongoing crime by capturing live media -- video and or picture -- inputting details and sending it across anonymously at the touch of a button. Or place a call to the police at the click of a button.
This report is received at the command centre which then proceeds to dispatch the nearest and available police unit to the scene of the crime. The chosen unit receive this dispatch directive on their iPolice tablet and proceeds to the scene.
When a report is sent across, the command centre can choose to ignore it and the user gets a message that the police thinks the information is inaccurate or false.
The police verifies information received by assessing it intelligently for telltale signs of falsehood.
Even though reports are made anonymously, HawkEye still collects a reporter's IMEI number which is like their smartphone's unique signature. This enables them track criminals attempting to game the system by feeding it false information.
The iPolice tablet itself is a 10-inch tablet, running Android 6.0 Marshmallow with 1GB of RAM and 16GB internal expandable memory.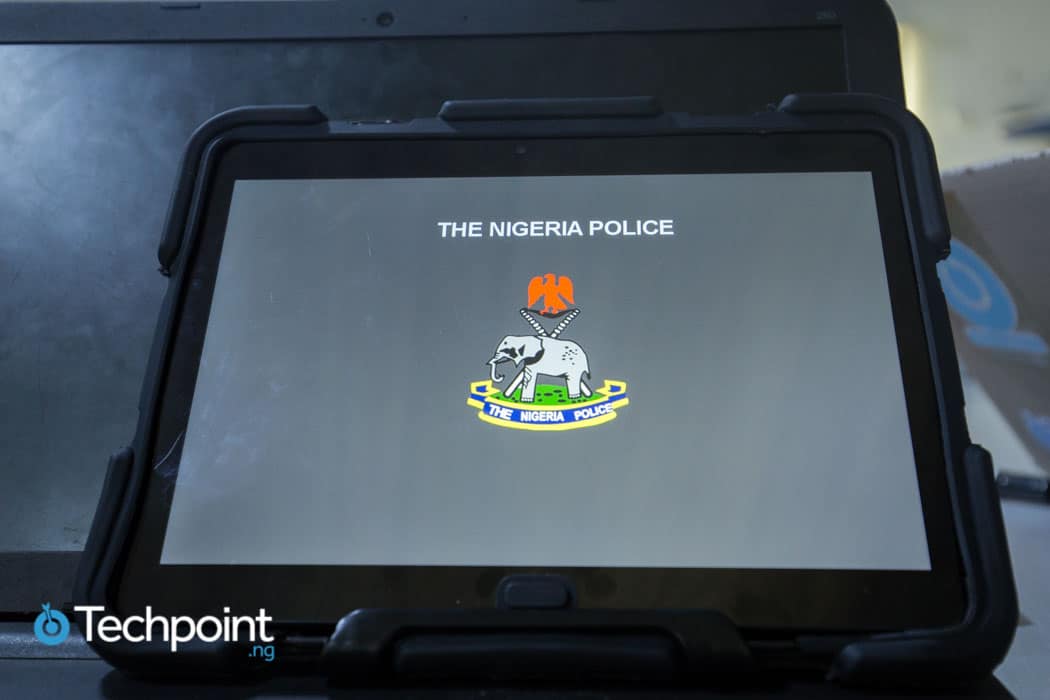 Unlike its foreign counterparts, the mobile nature of the Eye tablet does not require a state of the art patrol vehicle to function; it can be moved to another vehicle or unit.
For internet, the device is on a close network and the officers cannot access the general internet from it.
Genesis
When President Muhammadu Buhari-led government came into power, Web Assets Nigeria Limited initially developed HawkEye to sell to the Nigerian government as a National Emergency Response System.
Kayode said he met vice-president Yemi Osinbanjo who commended the system and said even though Nigeria needed it, there were no monies available.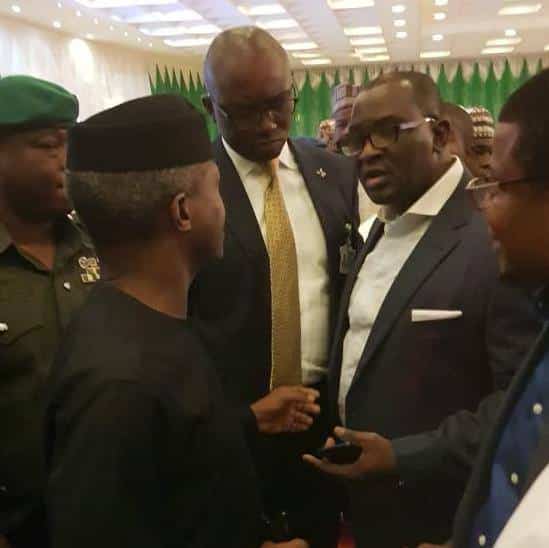 The vice president then advised him to consider other streams of income for HawkEye. After a period of contemplation and brainstorming, Web Assets settled on ads as a revenue source for the system.
This automatically structured HawkEye around a business model Kayode calls philantreneurship; a combination of philanthropy and entrepreneurship. In this model, there is a public service and profit motive rolled into one. So HawkEye and all its attending infrastructure and trainings are free to the Nigeria Police Force.
Challenges
Apart from the initial skepticism faced by any product when it is introduced into any market, HawkEye has not had much challenges. According to Kayode, one of the biggest challenges he  was advised to watch out for and expected surprisingly was non-existent.
When we started, a lot of people said with the kind of police force we have in Nigeria, acceptance, adoption and implementation were going to be major issues and I believed them. But surprisingly, the opposite has been the case.
"After my conversation with the VP[vice president] and the finally decided revenue model, I presented HawkEye to the Nigeria Police Force. They worked around the clock and we rounded off agreements in 4 days; that's how interested they were. They have been helpful and encouraging ever since." He continues.
In all, HawkEye seems to ignore the dismal internet penetration in Nigeria and the people that will need this important tool in the long run fall under the underconnected demographic. Kayode had a futuristically optimistic response to this.
"Excuses exist and will always be made. If Nigeria was still waiting to completely install telephone cables in homes before going wireless, we will never have gotten anywhere in mobile telephony. The longest journeys in life begin with the first step so we have to start somewhere."
HawkEye still attempts to address these connectivity issues. When there is a crime in progress and internet connectivity is low, HawkEye also lets users file their reports until the internet is back. Or they can choose to place a call.
A unified security database and intelligent policing
The lack of proper data collection, documentation and a unified database still remain a major problem in Nigeria. And according to Umar Mustapha, Managing Director of Web Assets Nigeria Limited, one reason for the proliferation of crime in the country is that a suspect can commit crime in one location and continue in another because there is no record.
For police criminal data collection on all levels, HawkEye plans to take full charge towards restructuring. At the street level, an officer can submit the headshot of a suspect together with a crime report so that a profile exists in the potentially unified database and can be consulted at any time.
Apart from the aforementioned facial intelligence system, business intelligence is another critical aspect of the crime management process.
With data, business intelligence allows the police determine the kinds of crimes prevalent in different parts of the country and based on their trainings, the kinds of officers to be deployed to those parts. It can also be used to compare one area command to another, one patrol vehicle to another and monitor general productivity.
As of press time, 250 units of the HawkEye system is deployed to the Lagos Police command and another 50 units to the FCT Police. Kayode Aladesuyi says as deployment is becoming more widespread, they expect small glitches and are prepared for them.
Police representatives from both Lagos and Abuja expressed optimism at HawkEye's prospects.
Assistant Commissioner of Police Ayo Omodehinde the immediate past Technical Officer of the Nigeria Police  and Divisional Police Officer Chris Amanyi at the Karu Police Station in the Abuja area both agree HawkEye is a good tool for effective policing.
According to DPO Amanyi,
"With HawkEye, we will no longer have to go into situations blind. If it requires arms, ambulance or the fire service, the possibility is now higher to know what we are getting into."
ACP Ayo confirmed the presence of a command and control centre at the force headquarters and fingered sensitization of the public as the next key step.
The HawkEye system is still largely in implementation stages and through its baby steps, it definitely will not be the magic wand that sanitizes the Nigeria Police Force and only time will tell its general effect.
But it definitely is a laudable initiative and a step in the right direction for internal security and effective policing in Nigeria.