Photo Credit: Gavin Whitner via Compfight cc
---
Before October 14, 2012, no one ever managed to jump 127,852 feet above the ground. When daredevil Felix Baumgartner approached Red bull to sponsor his daredevil mission, Red Bull threw in all their support. Red Bull has sponsored several extreme sports and record-breaking events but this one seemed out of the ordinary.
On October 14, 2012, Felix attempted what was then the highest skydive, in the process becoming the first human to break the sound barrier without any form of engine power. The event tagged, ''Mission to the End of the World'', was covered by Red Bull Media House and the live webcast was distributed through 280 digital partners, racking up 52 million views, and making the most-watched live-stream in history. Red Bull Media House went on to earn a sports Emmy for ''Outstanding New Approach for Sports Coverage''.
For companies like Red Bull, the media will continue to play a long-term strategy in its growth and evolution. It boasts of one of the most admirable media properties in the world with its own magazine, TV shows, movies, social media pages, books, radio, and blogs.
Red Bull is not alone in this, other companies are beginning to invest heavily in their media assets as a way to pursue growth. Arrow Electronics is one of them. Last year it went on a media buying spree, acquiring media properties in America, Europe, and Asia. These properties include EE Times, EDN, Embeddedcom, Techonline and UBM events. It also acquired United Technical Publishing; a division of Hearts Business Media, and ICC Media in Germany.
What is an electronics manufacturer doing with media websites? Simply put, Arrow Electronics isn't just content with social listening and public relations, it wants to own the channels of communications used by its biggest audience; Electronics engineers.
We trust the media, maybe not too much these days
Trust is the foundation of social relations and all human activities. Our relationships are built on the information we share with each other. Without trust, we can't be confident that the information we receive is credible hence breaking down our social activity and relationship. Over the years, humans have had to rely on town criers for news in their society, then mass media became the mainstay and now digital media is the single biggest source of news and information. In recent times we've seen falling level of trust in the media.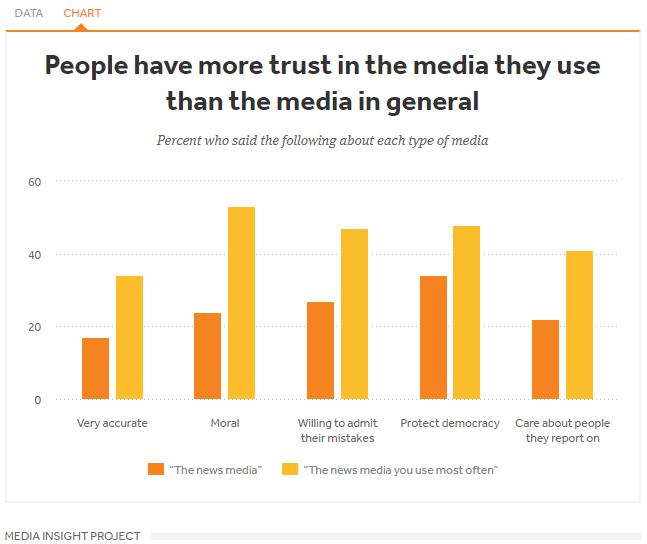 However, a survey carried out by the America Press Institute has revealed that people believe the media sources they rely on for the news as more accurate than other media in general. Simply put, if I read Sahara Reporters a lot, then I believe Sahara reporters to be true even when I think the media as a whole is untrustworthy.
The media houses are aware of this and that is why they will stop at nothing in building a hardcore audience who would not only sustain their readership but also their profitability and survival.
It is this currency (audience), companies like Arrow Electronics and Red Bull are buying to sustain awareness and growth. In Nigeria, GTBank seems to be far ahead of its competitors in its media strategy. It owns the very popular Ndani TV, which talks about African lifestyle, culture, and music.
No one can tell your story like you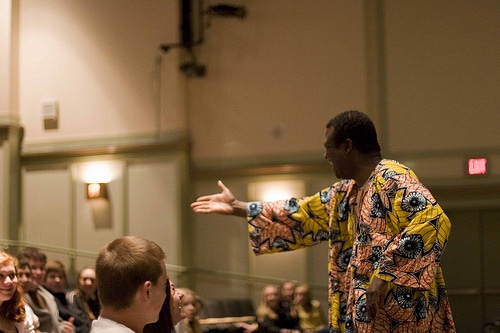 Over the years, companies have had to rely on earned media to tell their story. They waited anxiously for journalists to write about them. Most times, the stories were negative and damaging. In a bid to protect their image, they introduced public relations to the corporate world to win and influence the minds of users. However, this also had its own side effects. Users became skeptical of anything the media released from companies. They went as far as terming public relations officer as, ''highly paid errand boys''.
In 2001, in one of the worst PR ever produced by a corporate body, Philip Morris released a study in response to the Czech Health Ministry claim that smoking cost outweighed its fiscal benefits. Philips Morris concluded in its report that smoking actually benefited the government of Czech as it saved 943 million and 1.2 billion korunas in healthcare, pension and public housing cost due to the early death caused by smoking.
There is no doubt the corporate world has been failing at public relations and the rise of digital media has led to many unprofessional journalists who are too quick to write stories about companies without fact-checking. This has led to the spread of fake news and ultimately damaging many company's futures.
Recently BusinessDay Nigeria published a report about Japaul Oil's insolvency. Japual Oil was quick to react to the report, refuting the media house's claim of its insolvency. However, the damage had already been done. Japaul Oil shares crashed by over 50% making it the worst performer on the Nigeria Stock Exchange. This is why companies like Red Bull are spending millions of dollars on their own TV shows, magazine, movies, and blogs. No one can tell your story better than you!
It's our chance of survival
Take it or leave it, the media has become an inextricable part of our lives. From fashion, music, culture to new product development, the media will continue to play a huge influence on the trajectory of most businesses.
What people see, what they hear, can either make or mar a company. For the Nigeria textile industry, it marred it for life. At the height of 1980's, the Nigerian textile industry used to generate an average of $2 billion annually, making it the second highest employer of labour.
However, from the early 2000s, most of the textile mills began to disappear due to several economic factors such as poor electricity, obsolete equipment, the high cost of borrowing and porous border. However, while we cannot underestimate the impact of these factors on the collapse of the textile industry in Nigeria, we mustn't fail to see the role the media played in the death of the textile mills in Nigeria.
By the 1990s, cable television had begun to make inroads into Nigeria. ABG Group, founded by Alhaji Bawa Gaba started the first cable TV in Nigeria in 1991. Soon after, DStv entered Nigeria in 1993, followed by several cable operators.
These two companies, as well as other operators, introduced Nigerians to a foreign culture. This represented a great cultural shift for many Nigerians, especially the Nigerian youth who were the most impressionable. Nigeria youth began to adopt a foreign lifestyle which became visible in their craze for foreign attires. Slowly, the demand for traditional wears began to drop and this led to the birth of the Okrika (second-hand) business in Nigeria as many couldn't afford to buy new foreign attires.
There is no doubt that the growing influence of foreign content in Nigerian media contributed to the slow death of the textile industry in Nigeria.
While we may not all have the media budget of Red Bull or want to pursue Arrow Electronics aggressive media buying, a simple blog could be enough to spearhead our media strategy and set us on a path of sustainable awareness and growth. According to Red Bull Media Director, to create your media: Know your brand and stand by its ethos, be relevant and authentic, surprise and innovate, don't be a copycat, be consistent, and tell a real story.
About the Author
---

Seyi King is a product marketing specialist and founder of Onemediafarm.com, a strategic content marketing agency. He helps brands build awareness and growth online.