In the second quarter of 2017, Akwa Ibom State governor, Udom Gabriel Emmanuel, commissioned the AKEES pencil and toothpick factory. It was going to be the first of its kind in Nigeria.
---
Suggested read: Akwa Ibom starts pencil production 1 year ahead of national projection
---
In response to the news, Nigerians noted via various mediums that contrary to claims, the factory was indeed not the first in Nigeria. Others said the factory itself was propaganda and did not exist. What was true and what was not?
During the Techpoint Innovation Tour, the Techpoint team visited the sleepy town of Ekom Iman in Etinan Local Government Area of Akwa Ibom State where the factory was reportedly situated.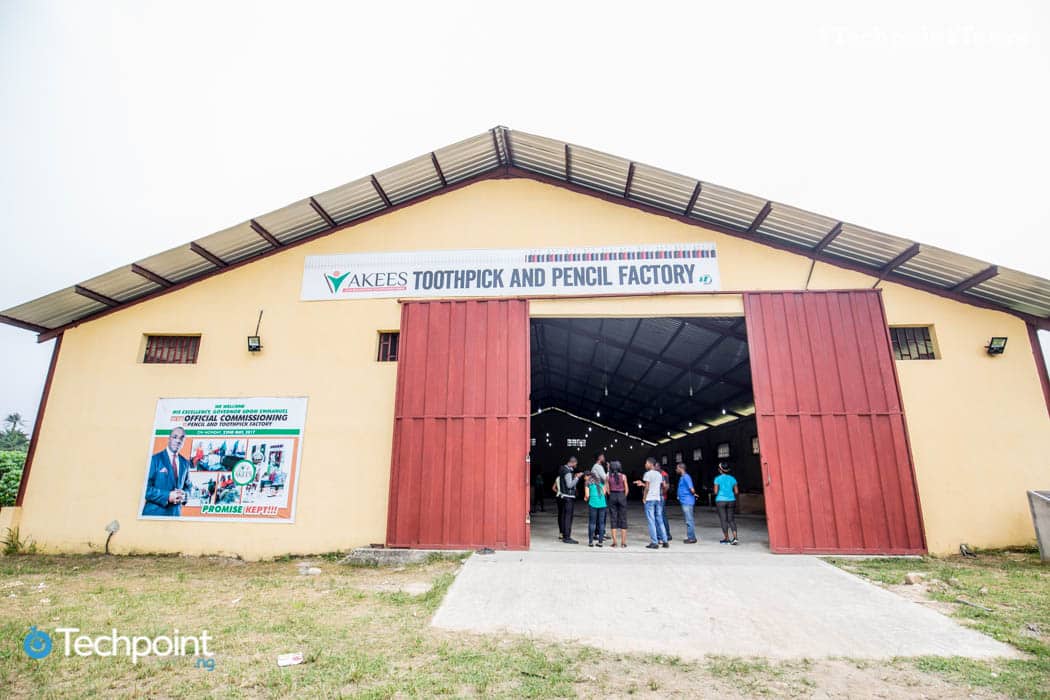 We saw the factory in its entirety and even got some pleasant shockers.
Located in a 1,000 sqm warehouse styled house, the factory truly produces pencils and toothpicks.
Speaking on the initial skepticism, General Manager of the facility, Engineer Bassey Friday Moses says he was disappointed that even people from Akwa Ibom State and environs joined doubting Thomases.
"At the time, they said the governor commissioned an empty hall and rented people for show. If anybody at any point felt this establishment was a scam, all they had to do was walk in and confirm for themselves instead of spreading rumours."
On a tour of the expansive facility, Bassey pointed out that unlike similar projects in specific locales, the AKEES Pencil and Toothpick Factory was a true Nigerian project because of its tribal diversity in hiring workforce. Of its 62-man workforce, every region in Nigeria is duly represented to a great extent.
Pencil factory
Pencils are usually made from cylindrical wood pieces carved from felled trees, but there is another method that is both cheaper and, most importantly, environmentally friendly.
The AKEES Pencil Factory uses old newspapers instead of wood to make pencils. This reduces deforestation, recycles old newspapers and cuts production costs by nearly half.
As beautiful a prospect as paper over wood is, how strong is a 'paper pencil'? Bassey says the durability question is a general concern.
"People think wood is harder and more durable than paper, but that is not the case. With the right production processes, they're are both on the same level in durability."
According to Bassey, national dailies are more suitable for production than local papers because of their quality and resultant strength.
Apart from newspapers, other materials needed in pencil production include; urea formaldehyde, processed graphite, pencil sleeve, eraser, and ferrule. The graphite comes in 2A, 2B and 2.5B(HB) grades. When these materials are set, it is production proper.
Even in its seeming simplicity, the pencil production process is one of the most interesting industrial processes you will ever see.
After the graphite is cut to size, it is manually placed in trimmed newspaper spreads pre-slathered with urea formaldehyde.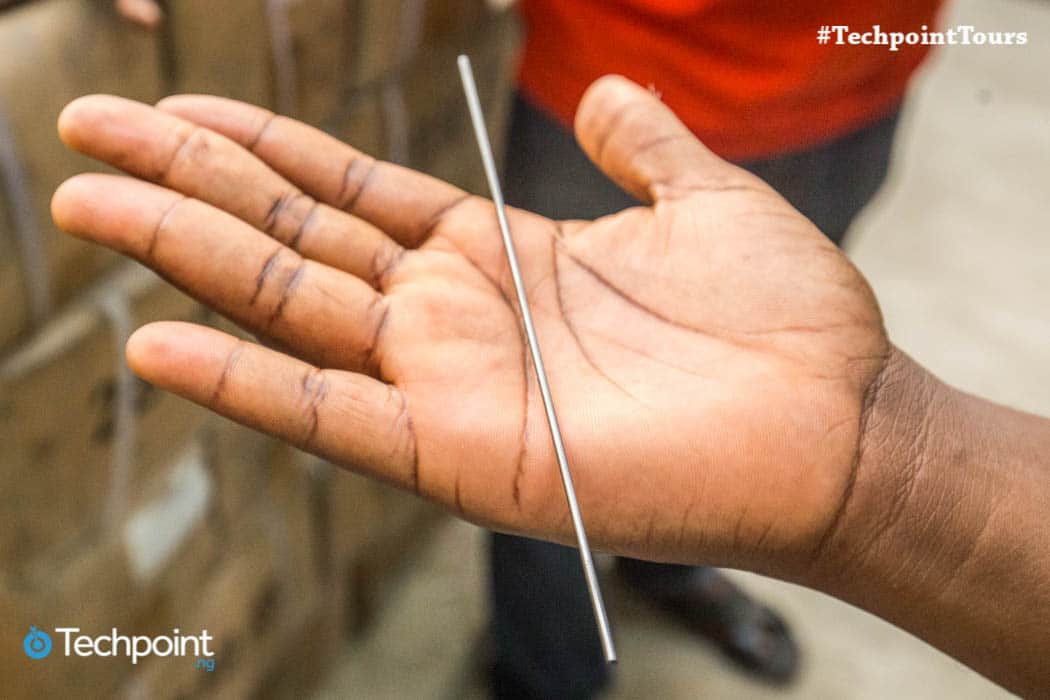 Urea is the glue that holds the newspaper and graphite together in the rolling machine where it is folded into a compacted wet cylindrical mass.
Still not looking anything like a pencil, these wet masses are sun dried for a minimum of 24 hours before a 40 - 45 minute bake in the dryer where an operator turns them over every few minutes for even dryness.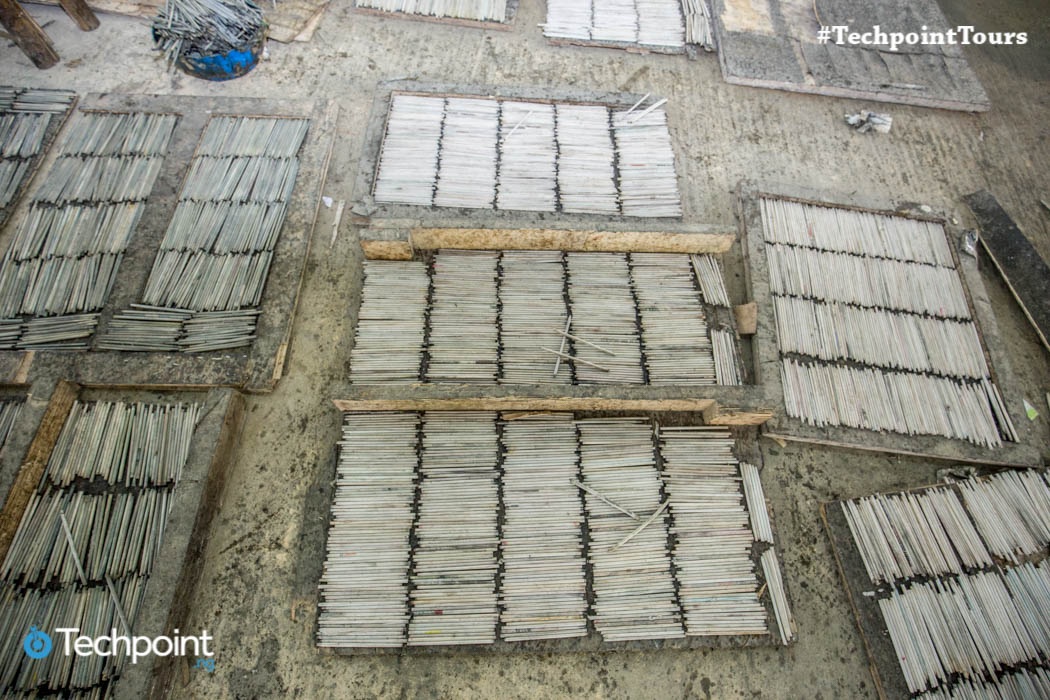 To confirm if they are properly dried, the pencils are sharpened. Wet ones do not sharpen well and are thrown out.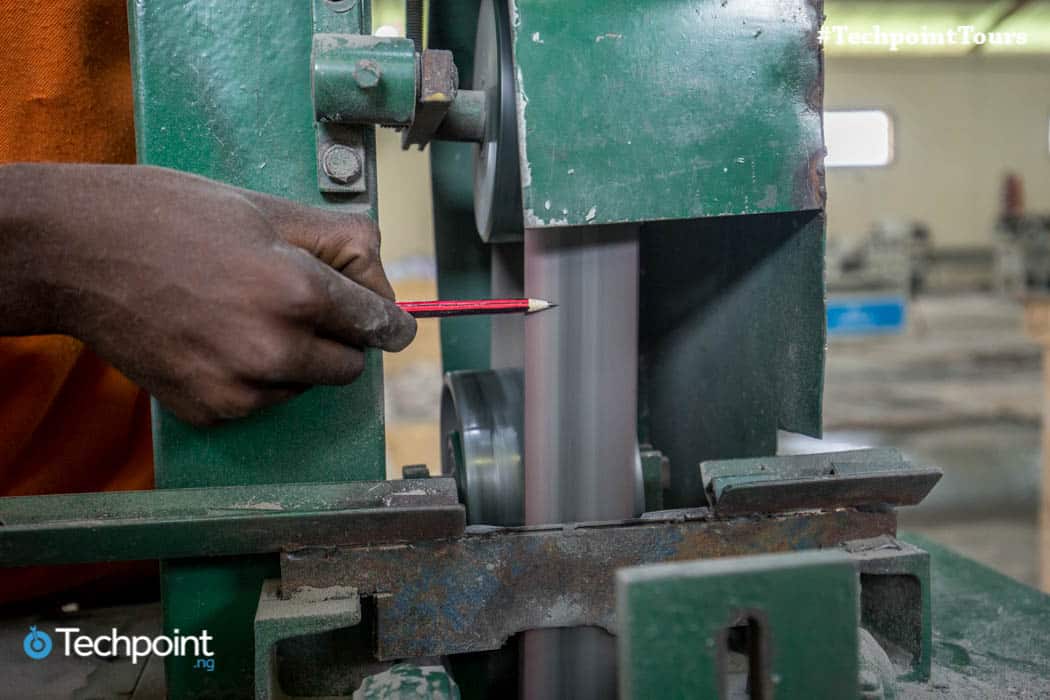 From the sharpener, it's a one way ticket to an abrading machine where they are smoothened and slowly begin to resemble actual pencils.
Like a fashion fitting session, the sleeve section is the most important step in the actual 'pencilfication' of these writing materials. Here, naked discoloured pencils finally get identities as they are clothed with coloured cylindrical nylon wraps called sleeves.
Loosely hanging on the pencil's frame at first, the sleeves are shrunk to fit by heat from a laminating machine.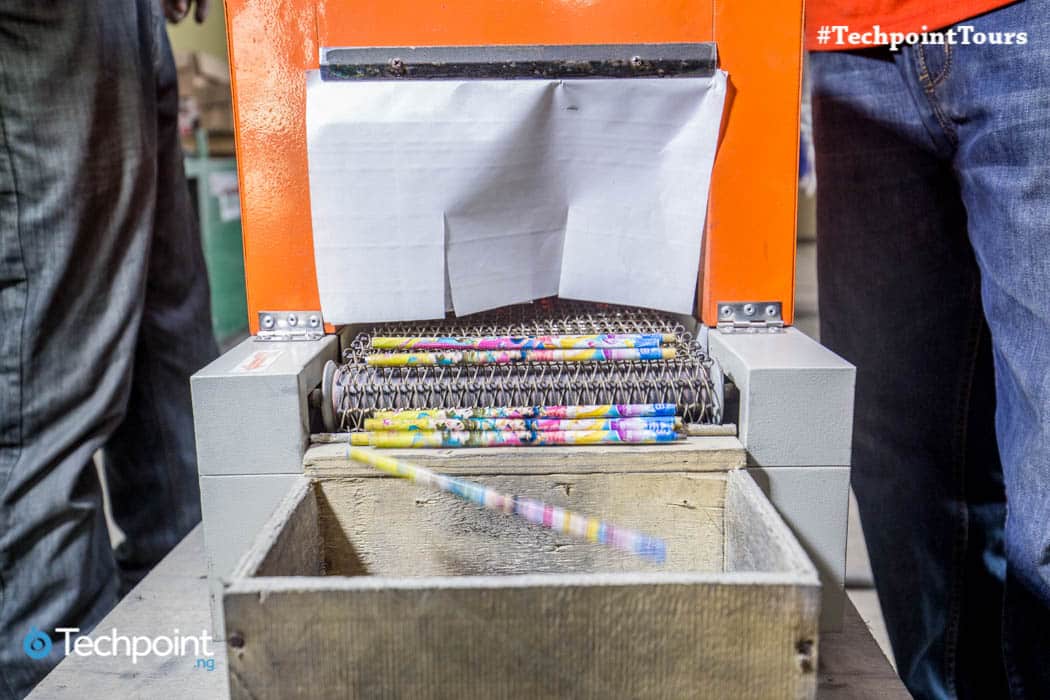 Finally, the pencil's feet is shod with an eraser after the ferrule -- a small ring under a pencil that holds the eraser in place -- is attached.
Running 8 hours a day, 3 major production machines combine to give a daily output of 30,000 - 60,000 pencils.  Bassey says the disparity between numbers is a direct result of the minimal capacity of the dryer.
The dryer we have now cannot take all the pencils that come off the rolling machine at once so sometimes we have to rollover drying to the next day. But we are planning on getting a bigger one very soon to increase daily production quota.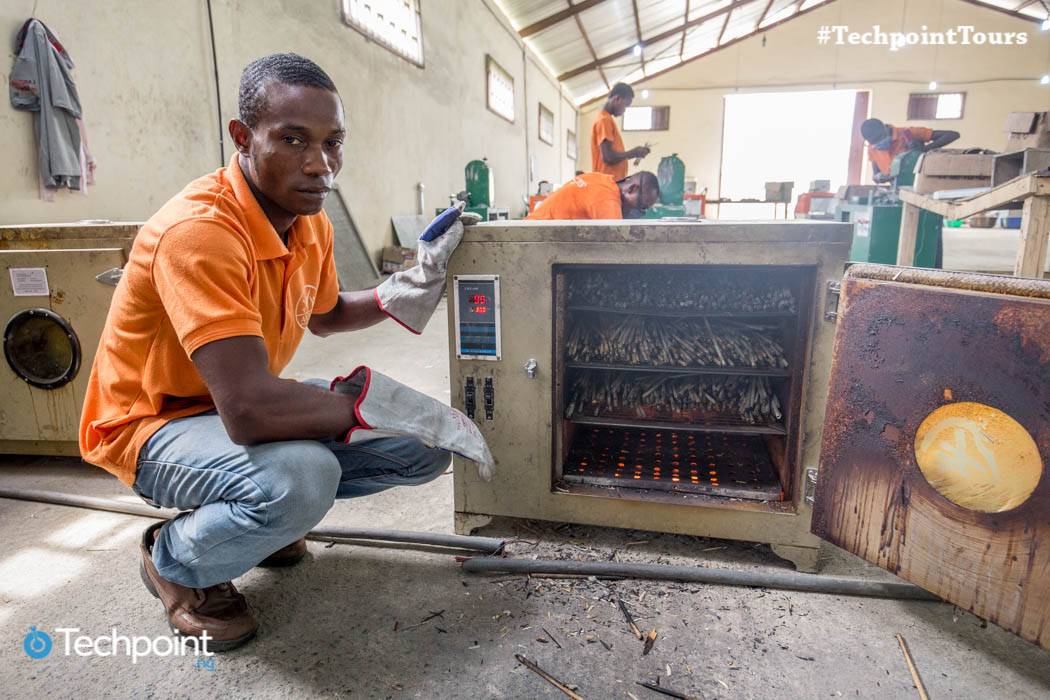 Toothpicks
With scary machines all spotting shiny spinning blades, the toothpick factory is in the same building on the left side divided from the pencil factory by an the aisle leading up from the factory main entrance.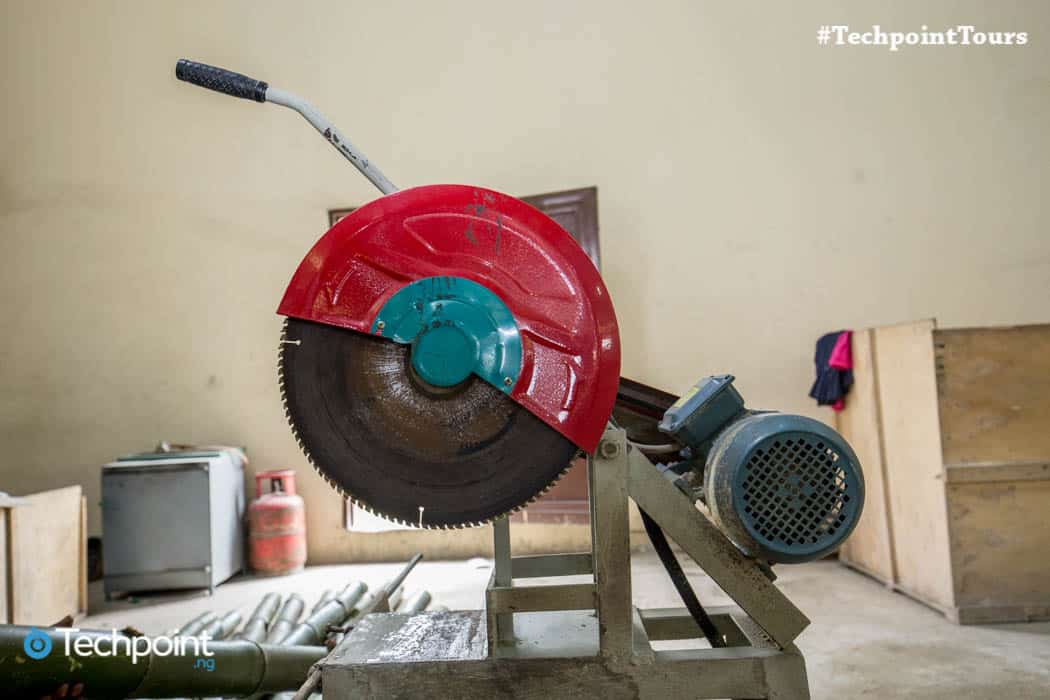 General overseer of the toothpick section, Mr. Christopher Shawa, couldn't wait to explain to us how his angle runs.
"Bamboo is the major and only raw material in the production of toothpick,"  Christopher explained.
"3 year-old bamboo is best fit, but a maximum of 5 years old is acceptable. Bamboo should be left to stand for 3 days after harvest before entering the factory." he continued.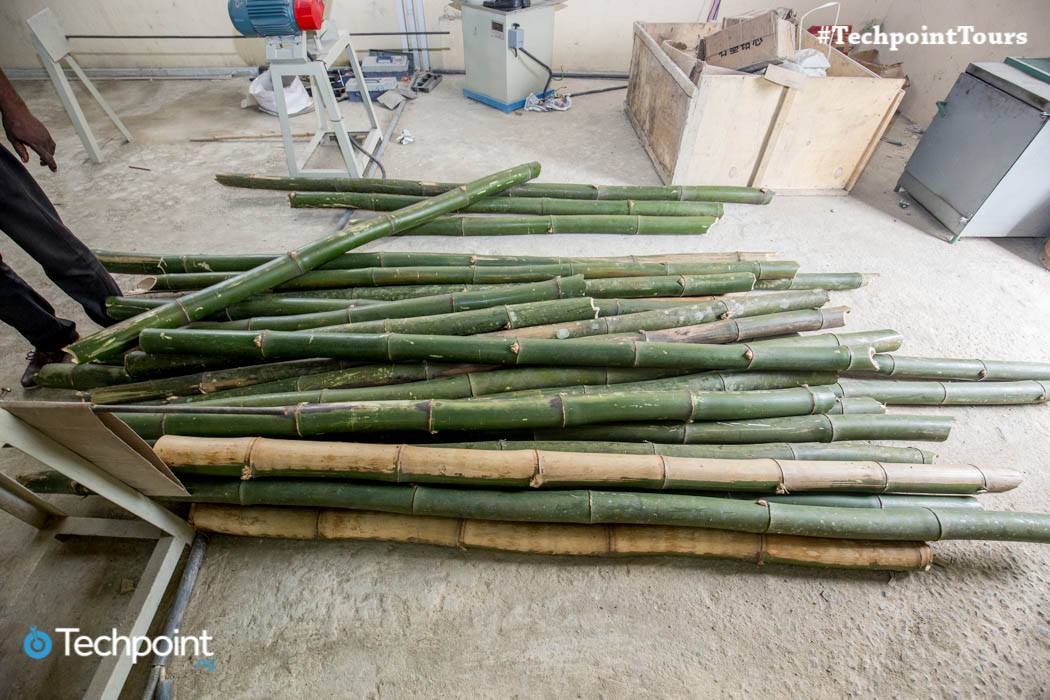 When it is eventually ready, the bamboo is sliced into lengths of 1.5 metres to make it fit the different cutting machines available.
A Splitting machine further splits the already cut bamboo into smaller cuts then another machine cuts them into regular toothpick sizes -- 6.5cm length and 2.5cm breadth.
All these plenty cutting machines all do the same thing, but come in different sizes and blades.
The Sharpening Machine gives rounded pointed edges after the Polishing Machine has smoothened the toothpicks.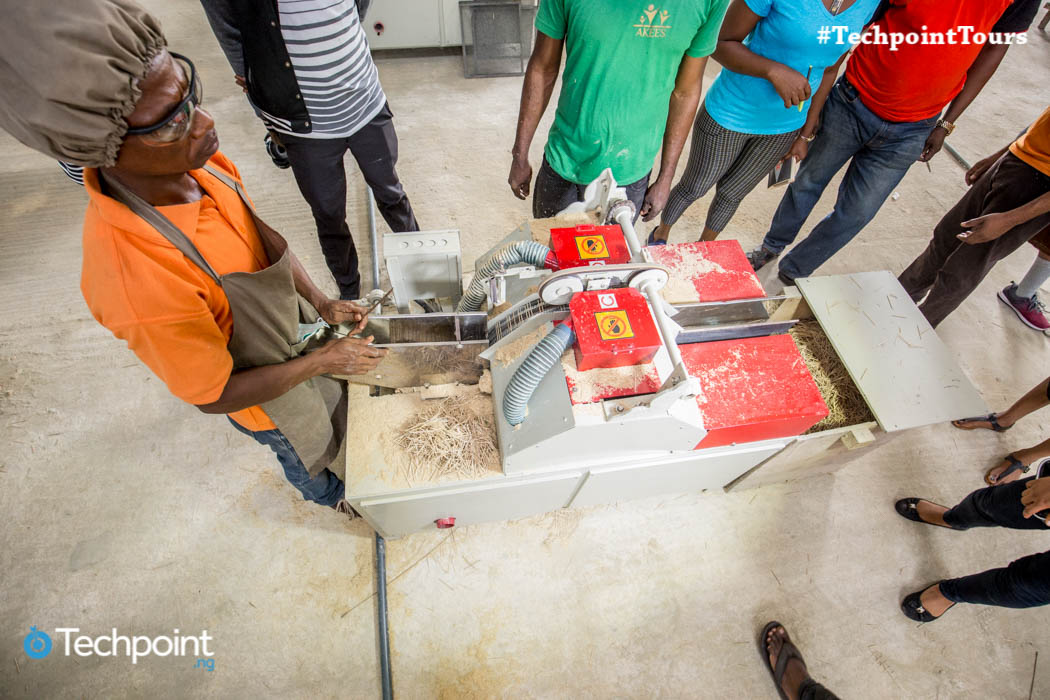 Next, they are bleached and sun dried for an hour before being baked in an oven and then polished again before finally heading to the packing section.
From the toothpick section, one final look at the end of the pencil factory line showed Hannah Montana, Ben 10, Spiderman and other cartoon characters singing, peeping and swinging from the sleeves of AKEES pencils.
While these are the usual designs for pencils, it is worrisome that AKEES pencils do not spot Nigerian and African art, designs and characters.
Bassey agrees this has always been a problem.
According to him, when AKEES started, the foreign designs made people think the pencils were imported. He had two explanations for this and the second is downright disappointing and shocking.
"It is a market penetration strategy. When entering a consumable market, first introduce something the consumers are already used to then slowly innovate with time. After familiarisation, subsequent production batches will hopefully come in traditional Akwa Ibom colours; orange and white. Some will spot cultural symbols like masquerades and landmarks. But even if and when we want to make this change, we will have to go to China because pencil sleeves are not produced anywhere in Africa."
What?
In January 2016, when the Minister of Science and Technology, Dr. Ogbonnaya Onu, gave a 2-year timeline for Nigeria to start producing pencils, we all laughed our heads off at "his incompetence".
But apparently, the minister was speaking from an informed perspective; Nigeria wasn't and still isn't fully prepared to produce pencils.
Apart from bamboo and newspapers, every other material and equipment inside the AKEES Pencil and Toothpick Factory is imported from China.
From raw materials -- urea formaldehyde, toothpick bleach, graphite, eraser, ferrule, sleeves -- to all production machines. Everything.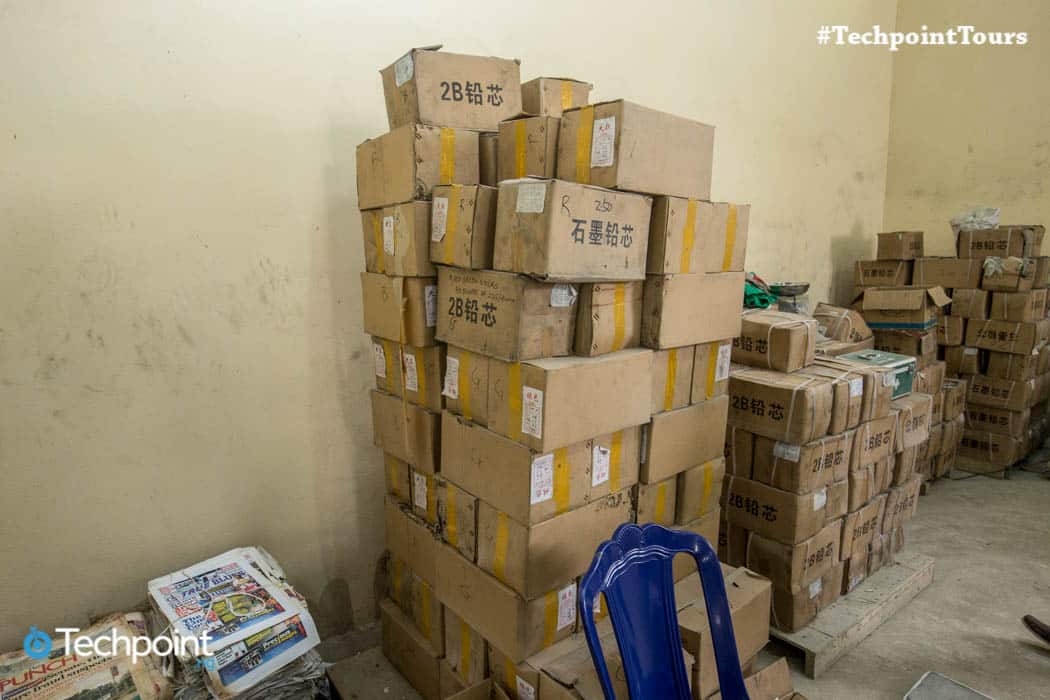 Considering the abundance of graphite in Nigeria, having to import graphite too is ridiculous. Ordinary pencil sleeves which are the simplest parts of the pencils are also imported from China. Bassey authoritatively stated that no country in Africa produced pencil sleeves.
"It is a shocking and sad fact. But we have searched extensively and confirmed it. Surprisingly, it is not a prohibitively expensive venture. It is an industry that can be established comfortably. It is in our plans to produce these sleeves in the nearest future here in Akwa Ibom State."
For urea formaldehyde Bassey said he believes the Indorama Eleme Petrochemicals company in Port Harcourt has the raw materials but not capacity.
All the machines in the factory can also be produced in Nigeria, but they're currently not. As expected, this unavailability of machines has taken a toll on productivity.
Good Business
Regardless of all the challenges, Bassey says the pencil and toothpick  production is a very profitable venture. He goes ahead to explain the dynamics.
I've been in manufacturing for over 18 years and I know you don't just set up and start making money immediately. There should be room to study your market and experiment to a certain extent. Time is also needed for market penetration and dominance. Once you can conquer all these, you break even. Power is still a major challenge we have. We run on generators 24 hours but we still make profit. Even if the margins won't be as big as when the generators are not in the equation.
The AKEES Pencil and Toothpick Factory by itself is making money. Monthly revenue is between ₦3-4million  and Bassey speaks of possibilities of this number shooting through the roof.
We recently started negotiations with the State Universal Education Board (SUBEB) to supply them pencils. With the free education policy in Akwa Ibom state, the about 1,160 primary schools in the state get free pencils and other educational materials. One carton of AKEES pencils at ₦14,000 to each of these schools monthly is ₦16.2 million monthly revenue. Two cartons will double that amount and so on.
Apart from the government, Bassey says AKEES has barely scratched the surface in terms of supply.
"Someone once asked why we are not in Lagos and other states, I said "let's capture our region first. For now we are focusing on the South-South and South East regions. Primarily, Cross Rivers, Port Harcourt and Bayelsa. At our present capacity, we will never meet demands for others. When we are able to scale the south-south region, we will then have the financial capacity and wherewithal to procure machines, foster automation and eventually service customers in other regions."
An uncharacteristically visionary government
According to the National Bureau of Statistics(NBS), unemployment has been on an annual rise in Nigeria since 2014.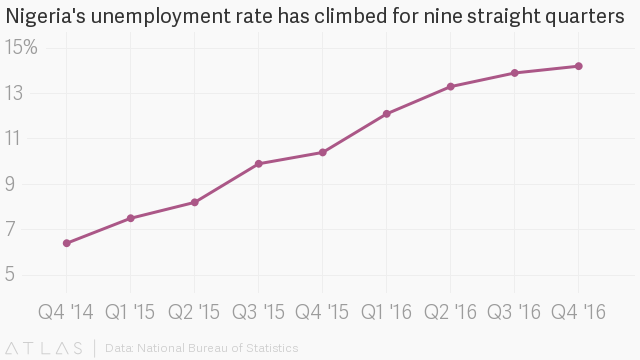 In a case like this, job creation through entrepreneurship is a feasible remedy, but setting up a business in Nigeria is hard. Nigeria recently moved 24 places to the 145th spot on the Ease of Doing Business Index for 2018.
As much an improvement as this leap is, it still isn't properly reflective of any real life situation. Power is still one of the biggest problems of setting up industries in Nigeria.
To combat unemployment and low industrialisation levels in the state, the Akwa Ibom State government set up the Akwa Ibom Enterprise and Employment Scheme (AKEES).
The AKEES Pencil and Toothpick Factory is a different kind of government project.
Politicians like to show shiny new projects, so most of them ignore or outrightly scrap projects started by their predecessors no matter how seemingly viable.
Governor Udom Emmanuel realised this was going to be a problem that will defeat the goal of industrialising and empowering the state so AKEES was formed.
According to Bassey, the companies begin as government establishments run by caretakers and private individuals. Over time, the operators and managers pay a premium to the government to cover the cost of setup. This payment continues until they own full controlling shares of the industries.
Bassey points to a PVC production company in the area around the pencil factory. He says the entire land area and surrounding has been earmarked by the government for these kinds of companies with dedicated power lines for uninterrupted electricity coming to the area.
Finally, Bassey confirmed AKEES is indeed the first operational pencil production factory in Nigeria.
"There are toothpick factories scattered all over Nigeria. For pencils, this is the first functional one that also makes toothpicks. I know one factory that was set up but never ran for a single day" he said.
With the right market strategy, research and development, companies like the AKEES pencil and toothpick factory scattered across Nigeria may just be the permanent solution to Nigeria's unemployment and economic woes.  Even though still nascent, the AKEES model can (and should) be replicated across Nigeria.