Chris Schultz is an angel investor,  co-founder and CEO of LaunchPad, a global community of entrepreneurs with physical collaborative workspaces in the US and a network of other partner hubs across the world.
He paid a visit to the Techpoint HQ and we had a quick insightful chat on everything from the tech ecosystem, startups in Nigeria, investor relations to suya and boiled plantain married to peppered spinach sauce.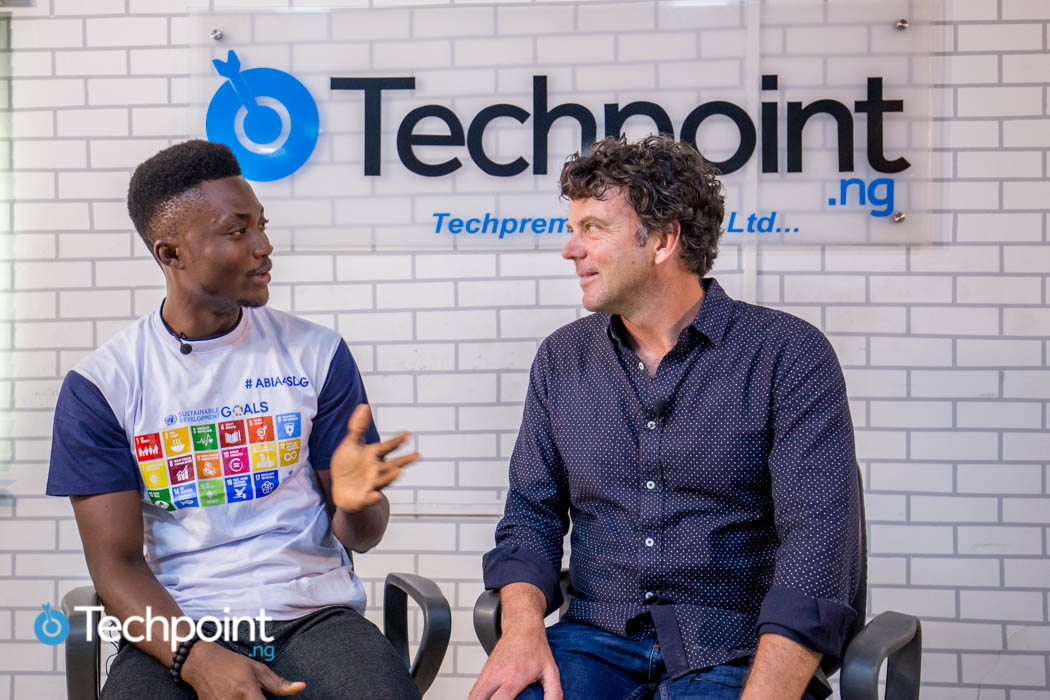 As an angel investor, Chris has invested in two Nigerian startups -- Flutterwave and WiFi.com.ng -- but he has an even deeper connection to Nigeria.
Chris was born in Zaria, a major city in Kaduna State but has not been there ever since. I told him the town is still beautiful.
"I will love to go back there. Maybe I'll go with you guys on the next Techpoint Tours to that area"
Sorry Chris, we've been to Kaduna once.
Nigerian startups and the tech ecosystem in general
As an angel investor, Chris has come into Nigeria for the last couple of years and, according to him, is impressed with the progress of Nigerian startups and the tech ecosystem in general.
There is a great level of talent, drive, curiosity and intellectual horsepower. I was actually blown away the first time I came [back] to Nigeria and it made me realize that information on how to build a startup has become globally disseminated thanks to the media and books
Chris thinks the problem with startups in Nigeria is no longer structural.
Most people now know to solve a problem and build a startup. The major challenge now becomes funding, access to network and a global awareness of happenings in the Nigerian tech ecosystem.
Silicon Valley vs Nigeria's tech ecosystem
There is a markedly fundamental difference between Nigerian startups and their Silicon Valley counterparts. Having lived in San Francisco for a few years, Chris offers an outsider's somewhat healthy perspective.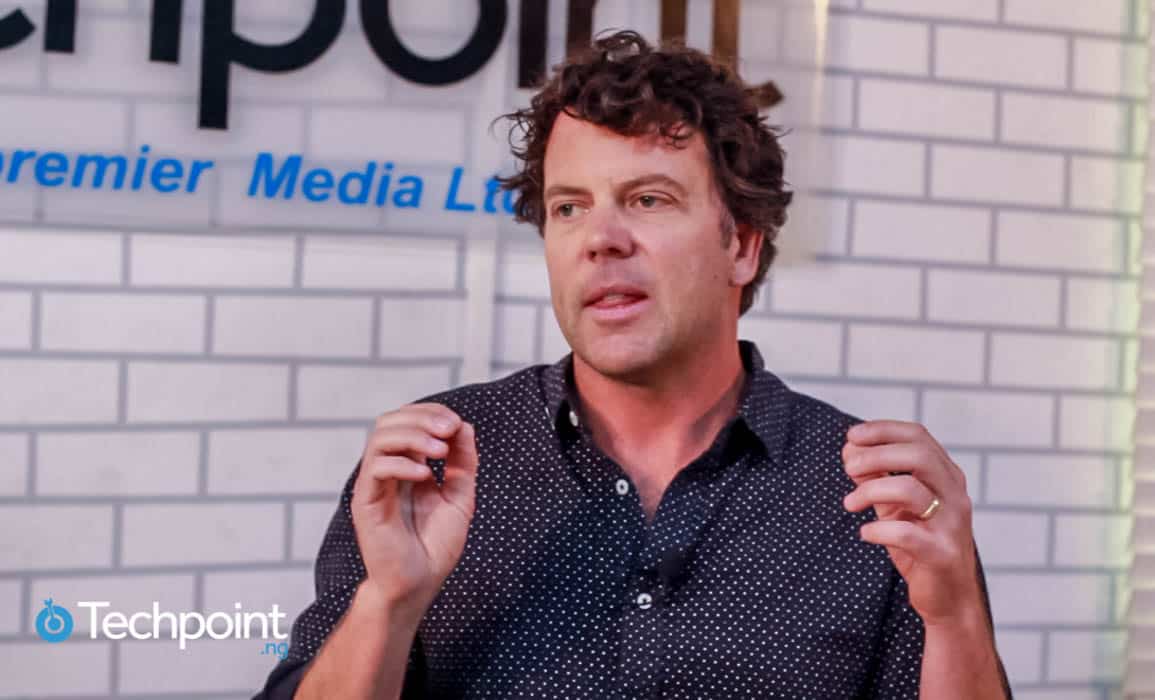 Entrepreneurs around the world are naturally trying to solve a problem. In Silicon Valley, these problems are convenience issues.  A tech guy wants to get his burritos delivered faster and he tries to solve that problem for everyone by building a platform for it.

Here in Nigeria, there are real fundamental problems like power and internet connectivity. Because of these things, startups can build really big businesses while solving basic existential problems
From clean energy, healthcare, and payments to connectivity, there are billion dollar companies waiting to happen in Nigeria.
Regardless of the fact that there are a lot of players in this space, Chris still cannot use his credit cards in Nigeria so he insists that payments is one very large industry that startups need to innovate around.
Apart from payments, he counts off on his fingers areas startups can innovate in.
Solar energy because power should be a basic human right for Nigerians, agritech -- especially the application of drones to the production of food. As the Nigerian population grows, access to affordable and reliable internet services should also be a fundamental human right. All these problems are opportunities for tech startups to solve and be great.
The truth about being a startup founder
Regardless of the rich entrepreneurial spirit and plenty opportunities that abound, Chris has only invested in two Nigerian startups. He says the secret is the founders themselves.
I know it is very cliche, but for me, drive and ambition in a founder are major criteria for investing in any startup.  A lot of investors factor likeability when dealing with founders, but I do not think this is very important. Most times these founders are annoyed because they are unable to communicate their visions of the future effectively with even you the investor. When they fail at this, they are frustrated and not very likeable, this does not take anything away from what they have to offer. That's one sign for me of a founder who will change the world.
When you do not like someone, it can be hard to judge them objectively but for Chris, trust borne from a long fruitious relationship is a major key.
The probability that an investor will invest in somebody just because you met them at a pitch session or a conference is very low. When a first meeting happens, an investor then follows up, observes development and commitment in the business. A driven founder says they will acquire 50,000 users by the next 6 months and they do, those are the kind of things that build trust.
Fintech vs banks
At the Interswitch Connect 2017, a debate arose on whether fintech startups will kill banks. What does Chris Schultz think about this?
Banks and fintech companies will ultimately synergize. In the nearest future, Flutterwave may become the biggest bank in Nigeria. It may acquire a bank or be acquired by one.
If Brett King, author and keynote speaker at the event, had not stated this first, it would have sounded like a bias considering Chris's stake in Flutterwave.
"By 2025, the biggest financial institution in the world won't be a bank" - @BrettKing #interswitchconnect

— Techpoint Africa (@Techpointdotng) September 14, 2017
"If there will be any winners, it is the sector that moves the fastest and adopts technology at a higher rate, Chris continues."
Investing in Nigeria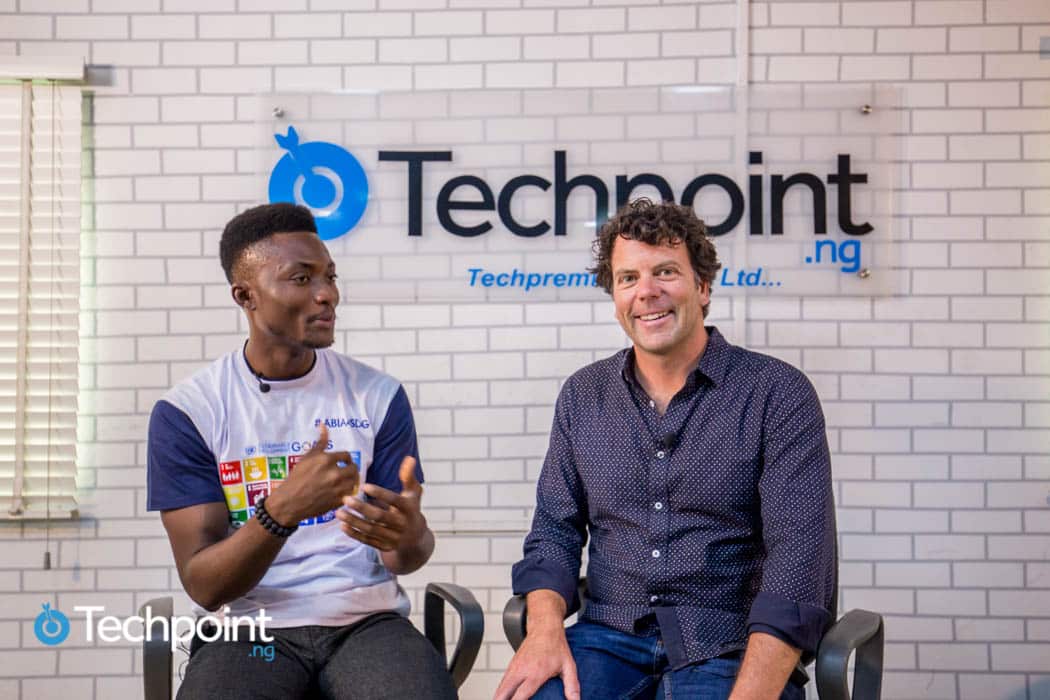 The biggest impediment to investment in Nigeria is a lack of understanding and appreciation of the ecosystem and the fact that Nigerian startups still register their businesses abroad sometimes to get investment is a prime indicator of this.
One time when I tried to syndicate two deals for Flutterwave and WiFi.com.ng with US investors, I had an hour long phone call with each of the investors and  45-50 minutes of that time was spent talking about and familiarizing them with Nigeria. We weren't talking about the company as I was trying to educate them that these companies are not Nigerian princes trying to email and ask you for money.
This is not a lack of information, but an unwillingness on their part to learn.
The  internet is available,Techpoint is telling stories, most are not just interested and that narrative should change. Some Silicon Valley firms have not invested in companies outside 25 miles of their headquarters
He says once foreign investors feel more security in investing in Nigerian companies, there won't be any need for all those. "But generally investors understand risk, I understand risk but as long as the market opportunity and potential outweighs the risk, there is tremendous investment opportunity. I don't think those things will hold back investors. As an investor, I want to be competitive. I am willing to go further and bet big on Nigeria."
How to pitch to investors
Chris Schultz receives five to ten pitch decks every week and of course he cannot accept or even attend to them all. How does he prune them?
He doesn't. Instead he has an interesting perspective to these things.
These days, everyone is drowning in a ton of emails so that automatically disqualifies it as the best way to reach out to an investor. A warm introduction from someone they know or have invested in is a great way to get in front of me or any other investor but entrepreneurs underestimate the power of Twitter.
Chris loves Nigerian Twitter. "Even as an investor, I have met a lot of people on there. On Twitter in general, I try to socialise, build relationships and meet new people. Most Silicon Valley investors almost let their guards down on Twitter. This does not in anyway translate to 'pitch over Twitter', just know people and build conversations"
Most startups think it's a good idea to send pitch decks to every investor's email they have, Chris says no.
Don't send your pitches to everyone in a 'spray and pray'.  Whether they say it or not, most investors have a sector focus. Look at their portfolios and see if they are interested in your space. Investors are strategic so they are much more likely to invest if they have prior knowledge of what you do. Reach out and say here is why I think you'll be a perfect investor, I know something about your background you are a really great fit for this. That's a great way to approach someone rather than just sending them a cold email.
A suya affair
Everybody coming into Nigeria has one opinion or the other about jollof rice, they think it's either amazing or not. Chris is not everybody.
"My best Nigerian dish is spicy spinach stew with the plantain.I also love Suya."