So, he sought my advice as a copywriter.
"Fouad", he said, "what can I do to effectively market this educational app I developed to as many as possible schools in a short while?"
Mind you, he's the founder of a successful tech startup and has years of experience working in the defunct Multi-links Telecommunication Limited.
I paused for a while, and then I replied: "Find an educational programme or event where school headmasters, headmistresses, principals, and proprietors are invited; meet the organisers and seek an opportunity to speak to the audience and present your app. Introduce it to them and carefully spell out the benefits".
That's it. He was glad and couldn't thank me more.
Since then, I've got myself thinking. If he was actually looking for that solution, who knows how many startups are also looking for a similar solution in other industries.
I decided to find a solution that works irrespective of the industry you want to market your product to.
Finding a programme solely for school principals, for example, may not be practical for a startup that develops an app for the food industry. It's rare to find an event in Nigeria created purposely for restaurant owners.
This is why I compiled these proven techniques to help you generate leads for effective marketing irrespective of the industry. These techniques have been successfully used by tech startups, eCommerce platforms and several popular blogs in the world.
Offer a free tool or free trial period
One of the easiest ways to generate leads is to offer a free tool. You can do this either by offering a version, free trial period, or both combined.
Moz uses this lead magnet perfectly. Their software helps you to analyse your website to determine its authority (how Google ranks it) and other websites linking to you. This is good for SEO (Search Engine Optimisation).
The result of the analysis shows you a limited number of websites linking to yours. You have to register to view the complete list. And as a registered user, you can upgrade to become a pro member in order to access more advanced features.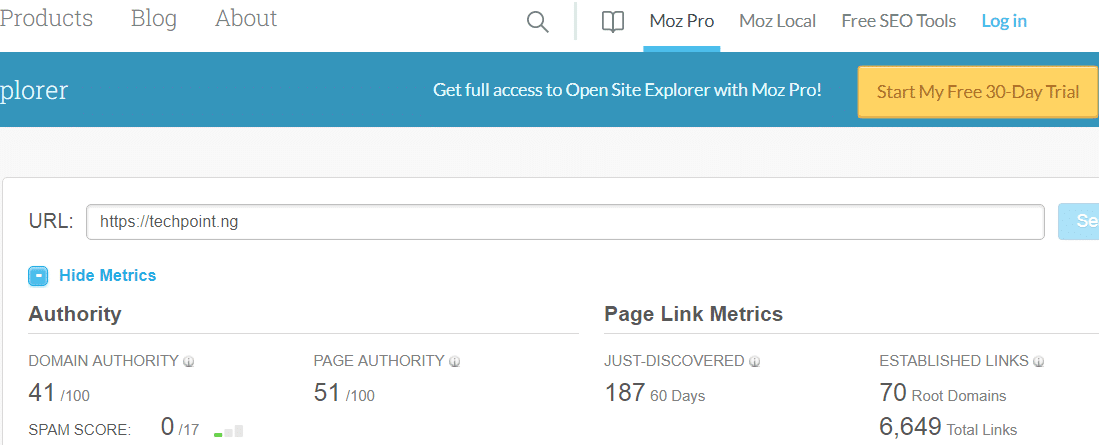 Bidsketch offers a free trial to use their software which allows their target audience to create professional proposals for their clients. The company collects email addresses in return for free access to the tool for 14 days, after which payment is then required.
Offer product demo
By offering a product demo, you allow your audience have your product in their hands. They experience the benefits of using your product. This is even more effective than just advertising.
This technique works well both online and offline. During my days in the engineering industry, my company used to offer a free demo to prospective clients. This resulted in successful deals with Nigerian Bottling Company (NBC), Dangote Sugar Refinery, BUA Sugar Limited, and several other industries.
Wishpond, an online platform for running marketing campaigns, employed this technique using the exit pop-up. This improved their free trial signups by 22% and upgrades by 57.6%.
The popup is used on their pricing page and appears when prospective customers are about to leave.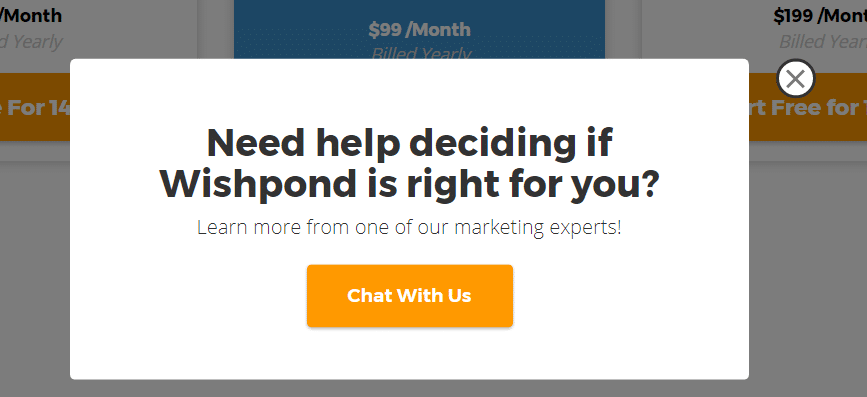 Visitors are redirected to a registration page when they click on the "Chat With Us" button. This is where you'll schedule a date to get a personalised demo tailored for your business by one of their experts. This way, they're able to generate leads in return for a free demo.
Leverage Facebook lead ads
Facebook understands that most users don't like to be sent off its platform. Advertisers are now given an option of collecting the contact details of their target audience right there on Facebook.
The process involves few taps by prospects, and their details will automatically be saved. This eliminates the need to send them to a landing page, which strategically reduces signup rate.
The information you can obtain, assuming the user provides it, includes:
Name
Email Address
Street Address
Phone Number
Company Name
Job Title
Zip
City
State
Country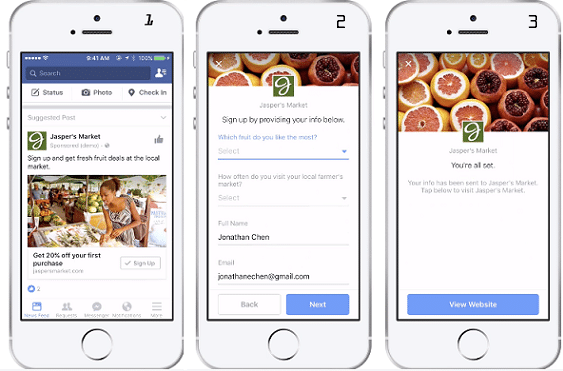 This is a fast way of generating leads. Once you set up your campaign, you're set to go. Carefully select your audience to make sure your ad is shown to the right people.
Caveat: Don't request too much information as that will reduce your signup rate.
Create a blog and write for your audience
This is a powerful marketing technique that is being sidelined by most startups in Nigeria. Software as a Service (SaaS) companies in developed countries are beginning to realise its importance and are investing huge amounts on blogs.
A practical example of a company that made a great success by leveraging the power of blogging is Shopify.
Shopify is a company that offers a software platform for eCommerce stores. It has a blog where it enlightens online store owners and teaches aspiring eCommerce marketers how to build and run a successful online store.
The company has taken advantage of SEO, through blogging, to present their platform to their blog readers. There is hardly any major eCommerce question you type on Google without finding their blog on the first page of results.
Wrap Up
I've shown you how you can move your business to the next level by generating leads for your marketing. These are just a few techniques out of the countless ideas out there. But they're sure to work if you use them properly.
No matter your industry, having the details of your clients and prospective clients is a great advantage. This way, you'll be able to enlighten them and legally promote your products through newsletters. No spamming. In fact, they'll appreciate it.
About the Author
---
Fouad is a freelance copywriter with local and international clients. He is also the founder of NairaTechnology, a consumer technology blog focused on providing useful tech information to Nigerians.