The banking industry is arguably one of the most competitive sectors in Nigeria. This is due to many reasons, the vast similarity of product offerings within the different banks, and more recently, the fast rise of FinTech. A recent study by Viacom Media Networks in collaboration with Scratch shows banking to have the most risk for disruption, even compared to agile industries like mobile and personal computing. One such disruption is the emergence of the blockchain.
With this kind of disruption in the financial sector, it certainly won't be long before many Nigerians will begin to feel like they can "pick and choose" what banking service they want. Many will argue that the time is already here with the advent of 'convenience' sellers like Piggybankng, Paylater and ALAT. The question one is forced to ask then is, in a time of increasing competition, how can banks have competitive advantage over the others?
The area of customer experience, as trivial as it sounds, is the battlefield. This is true for banking as it is for many other businesses, but especially for banking, since it is a customer-facing industry, both physically and digitally, and thrives on customer trust.
With the revelation by The Financial Brand that customer experience results in customer satisfaction and retention, there is certainly an opportunity to increase banks' customer experience initiatives.
In a recent study done for the 2017 Retail Banking Trends and Predictions report, improving customer experience (CX) is a top priority for banks around the world. It should be no different in Nigeria, because most Nigerian customers are just as knowledgeable and now are quickly making demands with high expectations from their financial institutions. There's no doubt that the increase in customer experience will inevitably yield customer satisfaction, something all banks aim for.
Here are some areas of opportunity I believe Nigerian banks can compete in, with regards to customer experience, if they're not already headed in that direction:
Millenials
The millennial population in Nigeria holds a lot of promise for the nation and for the banking industry. These 20-35 year olds are a considerable part of the population and a huge part of Nigeria's entrepreneurial scene. These future millionaires and billionaires have a different mind-set, convenience-seekers craving more freedom, and choices suited to their aspirations and lifestyles.
To grab the opportunity that lies within this group, banks need to be more than just transactional in their relationships, they need to go beyond the status quo, looking into the values, aspirations and lifestyles of this group, to better engage them during their interactions with the banks. Looking deeper into these factors will also yield more innovative products.
Research has shown this age group to seek deeper and more purposeful engagement with brands, this means banks will have to go beyond just being transactional to caring more about what makes them tick.
Developing simple practices and embedding them in day-to-day operations that go beyond common routine. Practices like offering financial advice and information on issues that are important to them, and cater to their upward growth, will go a long way, in showing them that these financial establishments truly care for their wellbeing.
Another way to engage this audience is through co-creating with them. OCBC Bank in Singapore, a leading, innovative bank known for successful products like OCBC OneTouchTM a product that simplifies customer requests, such as checking balances, card overview and latest transactions with a touch. This idea was brought on by the Bank's employees. The bank later on started The Open Vault, which is a co-creating space that brings together people from banking, tech and other areas to birth innovative solutions.
The Unbanked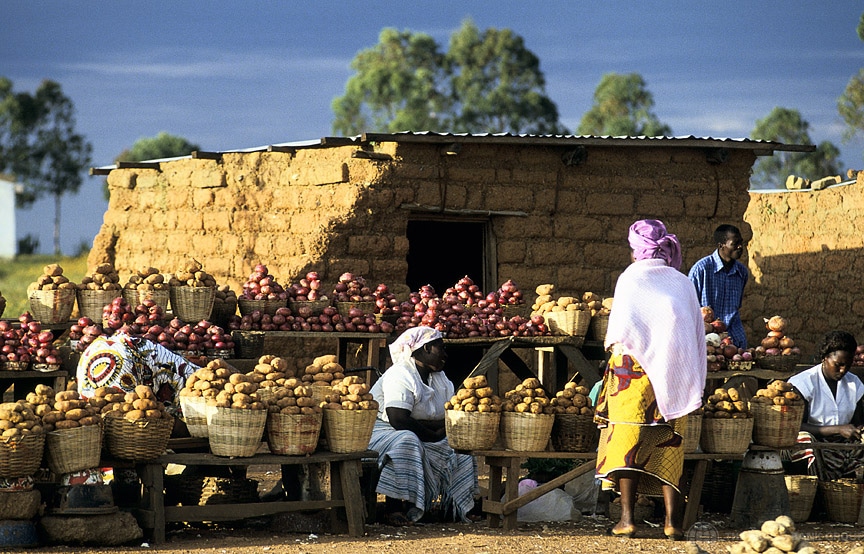 Nigeria's unbanked are another area of opportunity that banks can extend their customer experience initiatives to. As with any good customer experience exercise, the first step would be studying these people to find out latent areas in their day-to-day activities that banking services could enhance. This process inevitably will birth ideas on services that banks could create around the unbanked's common practices as well as the technologies they use. The key is to understand them so well, that providing solutions that cater to their pressing needs and circumstances should become as seamless as creating new products for the banked population.
A great example is Interbank Explora, a test banking hall launched by the one of Peru's largest banks called Interbank. The unbanked population of Peru was almost 80%, and so to tackle the problem, they partnered with design firm IDEO to launch the lab. This lab was built to be a 'test branch', a place where the bank could test new, innovative banking solutions, with customers in a laid-back environment.
This method of studying, testing and refining solutions based on customer behaviour proved successful to meeting customers' needs and improving their experiences with the bank. The results? Sales doubled, and customer satisfaction rates improved from 33% to 84%*.
Tech
Technology is unsurprisingly another area for creating competitive customer experiences within banking. Just like tech has infiltrated peoples' lives to with the Internet of Things (IoT), so there is the opportunity in banking, to look at how people live in Nigeria to find opportunities to permeate their daily living to add value.
A few years back, Bank of America introduced a programme. They had noticed that savings wasn't a customary practice for many people. So, in an effort to get people saving more, the 'Keep the Change' savings program was created. This allowed customers to save automatically. For example, if I spent $33.40 on a purchase, the bank would automatically save the 0.60 cents for me rounding up my purchase to 34 dollars. This was a hit with customers, I personally loved it during my time in the States.
Banks are already known to tailor their services to customer needs, this could be furthered by first understanding the customers on a deeper level, and then catering their processes to their' behaviours, needs and situations. With this, the devil is sometimes in the details, as in the example above.
I believe these areas have latent opportunities that banks can use to increase their competitive advantage on, in the area of customer experience. First is creating that opportunity for that kind of thinking to take place, either in house or with an external body. Whatever the case may be, when it comes to competing in customer experience in the banking industry, it's really anyone's game.
About the Author
---

Susan Onigbinde is founder of DODO Design Agency, an agency that helps companies stand out from the competition through design, branding, communication, and customer experience.