As experts, entrepreneurs and concerned citizens gathered to discuss the way forward for Nigeria at Techpoint Inspired 1.0, held on the 29th of May 2017, we were once again reminded of the need for quality education in Nigeria.
Clearly, the Nigerian education system is a far cry from where it should be. It is not hard to see that there is something fundamentally wrong with it. How else can you explain the mass failure in secondary school examinations like UME and WASSCE or the poor quality of graduates we continuously churn out?
Do you ever wonder why many people who learn Physical and Health Education from primary through secondary school, do not show the slightest inkling about keeping their environment clean? Or how students spend three years in Junior Secondary School, learning Business Studies and never pictured themselves starting a business in the future in all that time?
For a significant number of students, the classroom and the real world are separate entities; many students cannot translate knowledge gained from the class into useful solutions in their everyday lives.  Are students even given relevant education to help them thrive in today's world? Clearly, there is a hole that needs to be filled in the Nigerian education system
The government; the genesis of our woes
Speaking at Techpoint Inspired 1.0, Emeka Okoye, CEO of Cymantiks, said
"It is the duty of the government to define the aspiration of the nation and educational policies should focus on these aspirations, the Nigerian government is yet to do this".
Despite rapid economic and technological changes, Nigeria hasn't made any major changes to its failing educational policies. The 6-3-3-4 educational system which was introduced in 1985 was designed to help students without sound academic abilities, learn technical and vocational skills after three years in junior secondary. However, this education scheme was poorly implemented and we never realised its benefits.
A visiting professor of the Department of Political Science and Public Administration, Igbinedion University, Adeolu Akande, while delivering a public lecture on the" Role of  education in national development", maintained that the high rate of unemployment in the country can largely be attributed to the government's failure to integrate the technical and vocational components of the 6-3-3-4 education system .
In a bid to improve the country's education system, The Universal Basic Education (UBE) also known as the 9-3-4 education system was introduced in 1998 by the Minister of Education at the time, Dr. Oby Ezekwesili. However, other than creating more confusion the benefits of this new scheme is yet to be known.
Speaking about the new education scheme, Mr. Festus Ogunmola, a private school teacher  in northern Nigeria said;
"The curriculum thing is just a name, they still use the same books and materials. The government is not consistent in this policy change, and many schools cannot afford to keep on restructuring every time a new policy is in place."
The way forward
Education is the passport to the future, for tomorrow belongs to those who prepare for it today. --Malcolm X
One thing is clear, we cannot improve our education system by repeating the same unsuccessful actions of the past. We have seen some countries like Singapore and Finland completely revamp their education system with amazing results. While it is not a good idea to totally replicate another's country's education model here, there is still a lot to be learnt.
For a nation that preaches entrepreneurship, are we preparing our students for it? Just like Mrs. Cecilia Ibru said while speaking at Techpoint Inspired, "Every Nigerian is an entrepreneur".
Are we nurturing the entrepreneurial spirits of our young children, in their formative years? Even though the government claims to be committed to promoting entrepreneurship, our education policies do not reflect this. Government efforts are typically targeted at youths, however, entrepreneurship education is a lifelong learning process that should be imbibed in children even at the primary school level.
Students need to be armed with practical skills and knowledge such as technological skills, critical thinking skills, leadership skills, financial literacy e.t.c. that can that can help them survive in the real world and prepare them to face the challenges of the nation. Our current education system where students are like computers that "garbage in and garbage out " leaves little or no room for students to exercise their creative energy thereby greatly limiting their potential.
We need a total review and restructuring of our education curriculum and system. It is up to the government to make this bold move by carrying out thorough research and learning from nations that have achieved great feats in their education system before implementing relevant reforms.
Private sector involvement
It is the private sector that is going to move Nigeria to its rightful place in the economy of nations" -- Cecilia Ibru (Techpoint Inspired).
While speaking at the event, Mrs. Cecilia Ibru, the Co-founder of Michael and Cecilia Ibru University, encouraged the value creators in the private sector to work together to fix the country.
But government policies can limit private sector intervention in the education sector. Speaking at Techpoint Inspired, on the challenges he faced while he was setting up Fora and why he resists funding regulated education companies, Iyinoluwa Aboyeji, the co-founder of Fluterwave said: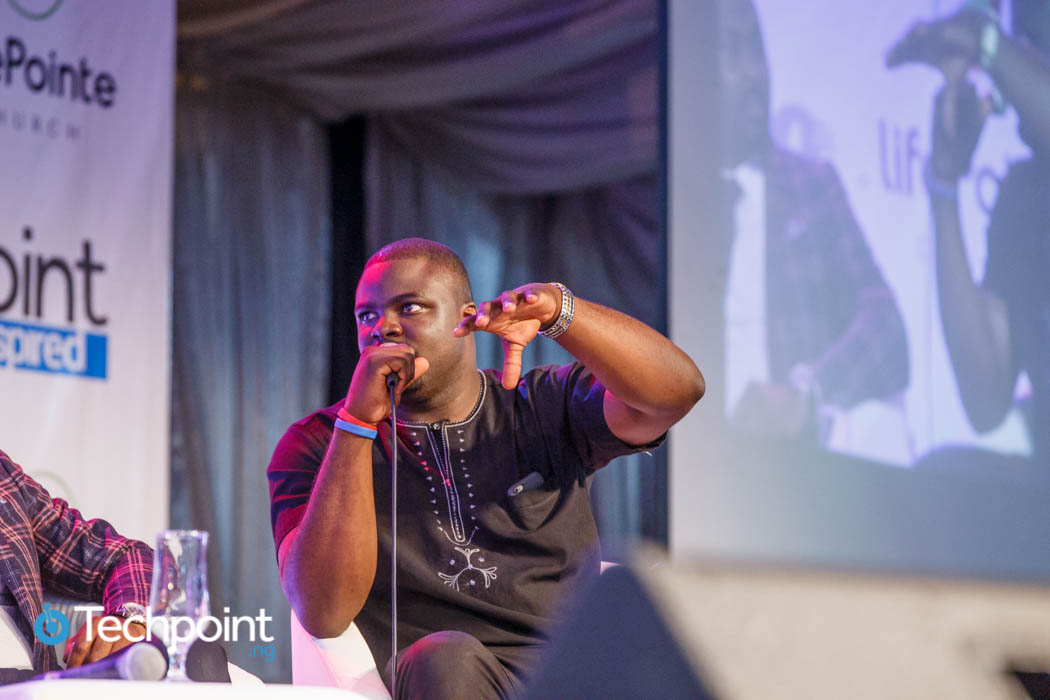 "I just think that the Nigerian education curriculum/ system is actually harmful  and if you avoided having to deal with any of the regulated bodies, you will make more impact on the child."
Iyinoluwa Aboyeji makes a very vital point. There are other ways for individuals in the private sector to improve education in the country whilst evading stifling government regulations; he did this with Andela. We have seen organisations like the Junior Achievement Nigeria  (JAN) play a role too. There is still room for mentorship and other innovative solutions that can improve our failing education system.
It is our collective duty as a nation to raise the next generation of sound leaders and provide the enabling environment to help them excel and just like Mrs. Cecilia Ibru rightly said, the private sector must also pressure the government to play their part.
---
Techpoint is conducting a survey of tech worker salary satisfaction in Nigeria. Please take just three minutes to fill this anonymous form. Thank you.