Due to circumstances beyond my control, I apologise for the late publication of our weekly events publication. This week, we have curated a list of tech events that you should consider attending. They all are happening from Monday, 30th May to Monday, 5th June, 2017.
re:learn Meetup (May)
The re:learn meetup is a monthly forum for individuals and organisations that are committed to improving access and quality of education in Nigeria.
This month's panel discussion will feature representatives from Mac-Arthur Foundation GSE Grantees such as TEP Centre, dRPC, British Council, Mercy Corps Foundation, PLAN International and South-Saharan Social Development Organization.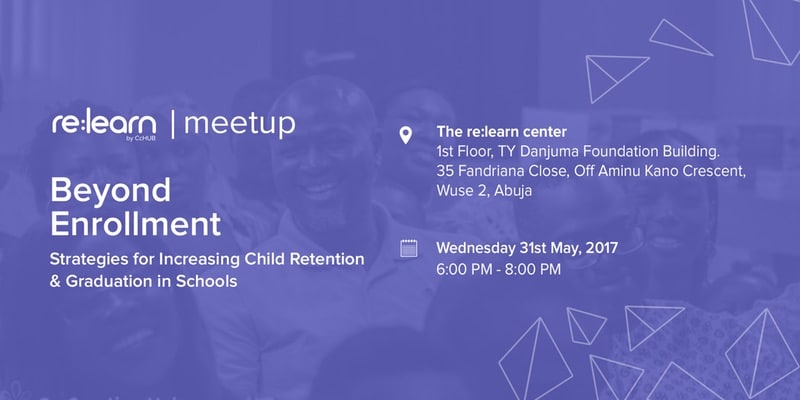 The goal is to showcase the efforts of these organizations in promoting access to safe and quality education for children in different regions of the country as well as brainstorm new strategies for increasing the retention and graduation of children in schools.
This event is open to CSOs, NGOs, International Organizations, Private and Public sector officials, Community, Religious and Traditional leaders as well as concerned citizens. If you will like to be a part of the panel discussion, please send a mail to gozie[at]relearn.ng.
To register for this event, click here.
Date: Wednesday, 31st May, 2017.
Time: 6PM.
Venue: re:learn, 1st Floor, TY Danjuma Foundation Building, 35 Fandriana Close, Off Dar Es Salaam Street, Off Aminu Kano Crescent, Wuse 2, Abuja.
#ForSmartBusiness - The SME Clinic
MainOne in partnership with CcHUB, Microsoft and Gigalayer is organizing an SME focused event to help small and medium enterprises.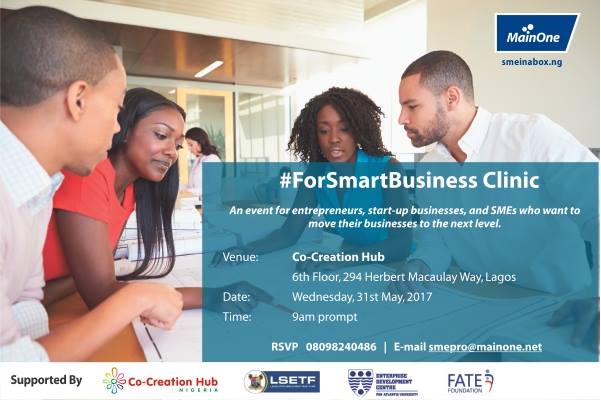 There will be a panel session on 'The Nigerian Economic Growth Plan – Developing a clear path for SMEs'. To reserve a spot, click here.
Date: Wednesday, 31st May, 2017.
Time: 10AM.
Venue: Co-Creation Hub, 6th floor - Co-Creation Hub, 294 Herbert Macaulay Way, Sabo, Yaba, Lagos, Nigeria.
BroadBand Summit 2017
Businessday Media Limited is hosting the 2017 BroadBand Summit scheduled to take place this week. The year's summit is themed: Broadband as an Enabler of Economic Growth will highlight the need to increase Broadband Access and penetration in Nigeria.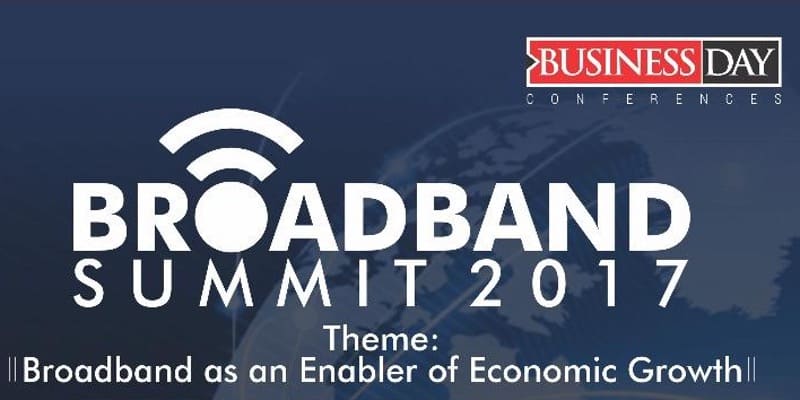 To register for this event, click here.
Date: Friday, 2nd June, 2017.
Time: 8AM.
Venue: The Whitebaker, 4 Onitolo (Lawrence Road), Ikoyi, Lagos, Nigeria.
. . . .
Editor's note: Are you organising a tech event? Tell us about it by filling this form.