The city of Ibadan would probably not pass as one's ideal choice to set up base for their internet business for its nascent tech culture. However, Oladipo Olayanju had other things in mind when laying out the plans for his startup, Afridext.
Afridext is an online marketplace where customers buy and sell high-quality graphic designs relevant to the African market at preferred prices.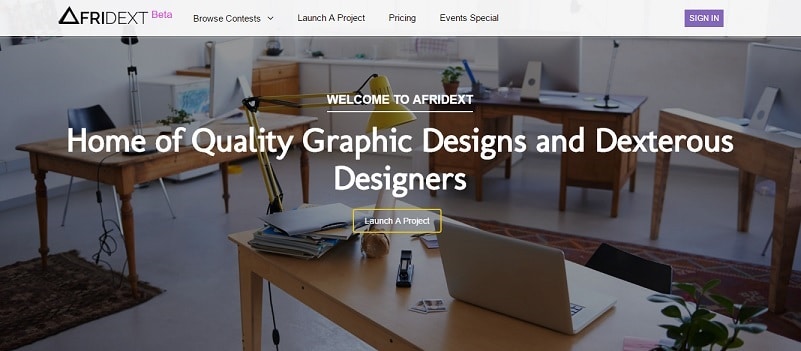 Knowing how difficult it would be to drive sales in this ancient city or even survive in a seemingly saturated market, Oladipo along with his associates -- Iyiola Peter and Damilola Oyebayo -- opted for a more conventional model.
By setting off a kind of contest among graphic designers to win customers over by building and showcasing their best work, Afridext looks to gamify the buying and selling of graphic designs.
Customers go on to the site by posting their requests as contests, designers start building and submitting designs to win the contest. In deciding the winner of the design contest, customers go ahead to rate, give feedback on each designs and eventually choose the design of their choice -- with the site making provision for up to three winning designs to be selected.
"The designer gets the prize money in exchange for presenting the customer a gorgeous design," Oladipo explains. "Afridext will disrupt, reshape and set the new standard of the graphic design industry in Nigeria and Africa as it eliminates all spatial and temporal barriers to the buying and selling of graphic designs."
Although the model is admirable, its impact is two-sided.
The good side is that it allows graphic designers on the platform to showcase their products on a global level, increase their portfolio and diversify their potential revenue streams. On the flip side, aside from building quality designs which could be time-consuming, it could also amount to a waste of effort for graphic designers whose works don't get selected. Even when the idea of a healthy competition is to spur the supposed graphic designers to improve on their craft, Afridext may just require additional incentive to scale.
Afridext formally launched on the 19th of September 2016.
Photo credit: Pixabay.com