It has been (jokingly) said that Nigerians go to tech events to do only three things: eat good food, get souvenirs and meet people while doing these. In the comments section of this post , someone added a fourth reason -- get free WiFi.
As a startup founder, you probably attend events for the third reason, which is networking in order to generate new leads for your business. Recently, I attended a tech conference; I am writing this because as a direct result of the event, I have built relationships with three potential million-dollar customers, strengthened relationship with key influencers who have access to segments of our business community and even scored media mention for my presentation in a national newspaper.
I write about how I prepared for the event and pulled these interesting results in five steps
STEP 1: I performed a self analysis audit
By fair standard, I know that I am a fine speaker, it all started when I was in Primary school.
At  Primary Six, I was cast as "EveryMan" in a drama which was part of our valedictory service. My performance was so superb that one of my primary school teachers still refers to me by that name. (Think of a "chieftaincy" title that stuck since I was aged 12 till now). That drama role was one of my first exposures to public speaking even though there had been many instances since then throughout my secondary and tertiary education as well as my adult life. For example, I participated in inter-school debates, youth activities and even became the President of my University departmental association.
Why did I tell you all this?
It's because we are all different individuals and your background will influence how you approach events like this. So…..
i. Have you done anything like this in your past that you can draw from?
ii. Is there any area you are visibly weak or unprofessional that requires special attention?
Your self audit will help you to come to terms with your strengths and weaknesses so that you can prepare yourself better. In my own case, even though I feel confident about my public speaking skills, when it comes to networking, I suck. Of course, there are resources online that can help you overcome any of the challenges you identified that you have to deal with.
STEP 2: I set goals for the event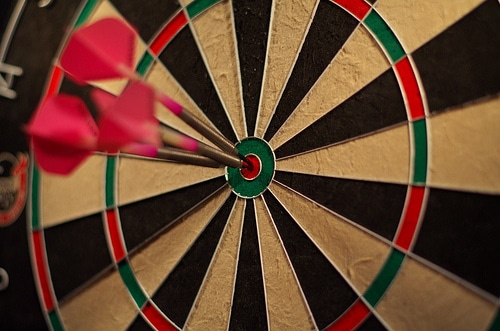 I set out with two goals for the event. It was almost like I how I would set metrics for a startup  (in that post, I mentioned avoiding vanity metrics). Funny enough, one of the vanity metrics of attending any conference is participating in ALL THE SESSIONS. That's why my goal no. 2 was important to me.
My Goal No.1
My first goal was to give lots of value to the audience with my presentation just like Ibukun Awosika or Leke Alder would do. On top of this, I have a brand I need to sell without sounding salesy.
My Goal No. 2
My second goal was to network a lot during the event with potential partners or customers and make friends (especially during speaking sessions, because the time allocated to networking is never enough)
I did both.
STEP 3: I prepared adequately for the event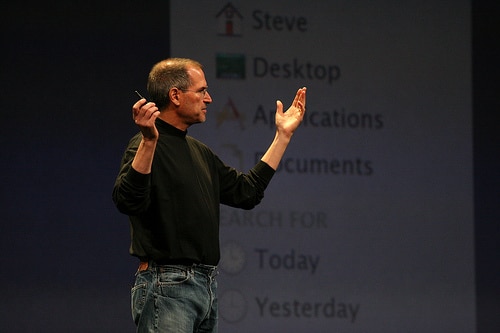 Benjamin Franklin said; "If you fail to plan, you are planning to fail!" Here is how I prepared for the event. You see, I was one of the speakers at the event;  I even had 20 minutes to speak on "Addressing social problems with technology". Fair enough, it's been a long time since I spoke at any event (apart from family-sized meetings).
Hence, my first step, after confirming my topic was to do some research on how visionary leaders delivered captivating speech. Steve Jobs is the legendary example here, so I watched this video that "tears down" his presentation format. One of my takeaways was never to bore my audience with text-filled slides like this one.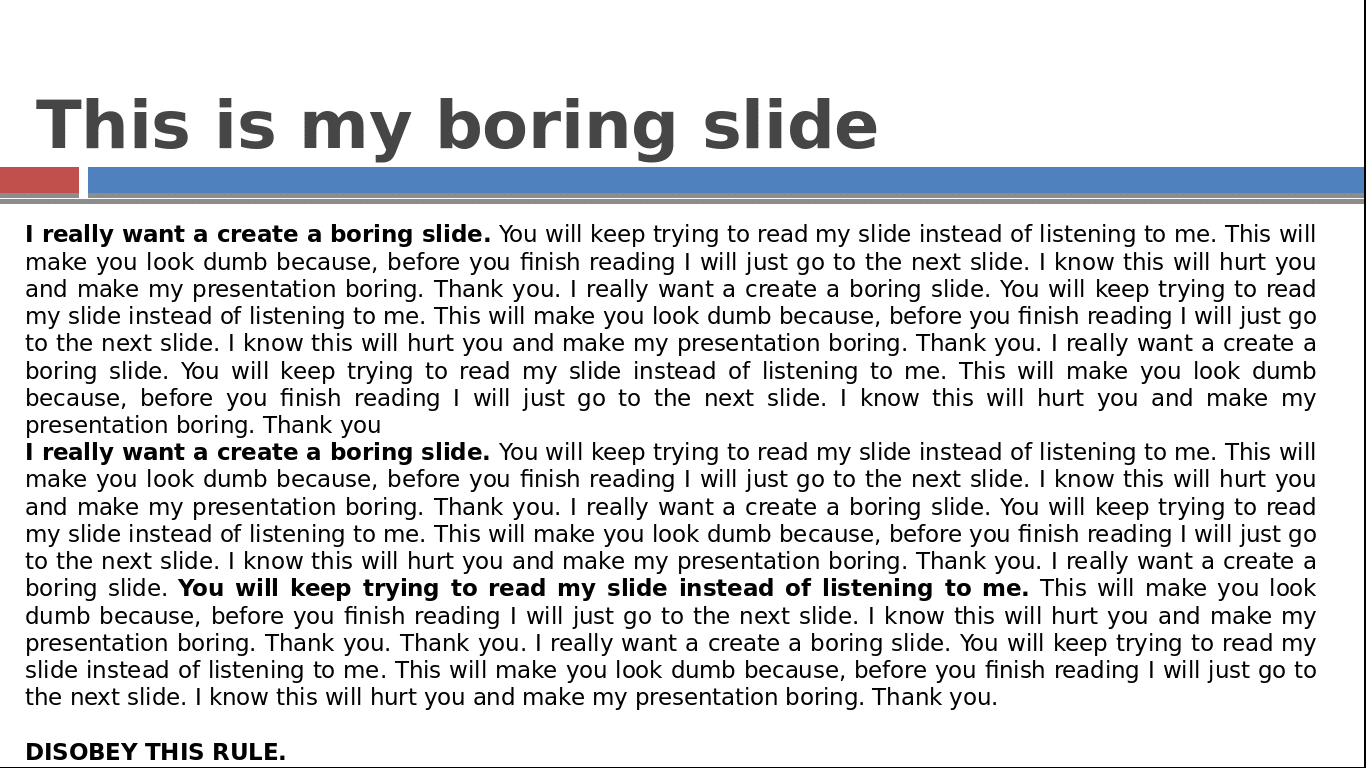 That is because, it will keep the audience focused on reading your slides and not listening to you. In contrast, when each of your slides is just a phrase or sentence, the audience will not get your FULL message just by reading the one-word slide, thereby, "forcing" them to listen to you.
Secondly, from a business perspective, the benefit of attending conferences is networking and following up on this relationship. For this part, I got my business cards ready and rehearsed some opening lines for conversation starters with the people I was expected to meet.
STEP 4: I was "deliberate" about the kind of the result I achieved
It ended up my speech was not as fantastic as planned. I was the last speaker to sign off the event and due to time constraints, my 20-minute speech was reduced to 5 minutes.
Despite this, I was able to improvise and spoke from my heart without the audience feeling like they missed anything. One of my slides eventually piqued the interest of a journalist who followed up via email that led to a "mini-interview" which headlined the business section of the newspaper.
I also helped my company to make 3 meaningful business leads that are potentially worth millions of dollars annually, if closed. Personally, I was able to establish relationships with influencers in my space too.
How some of those business relationships happened
Meeting one: At one of the break sessions, I spoke with a guy with dreadlocks. So, I "broke the ice" by telling him that my mum cut my dreadlocks when I was a baby (actually, according to family stories, it was my Dad that cut my dreadlocks when I was 4 years old, that's why till date my hair ruffles easily and my wife doesn't want me to pass this dread locks gene to any of my kids ).
That chat was the starting point of a potentially million-dollar business as I found out that he is a perfect customer-fit for our business. I met others too and kept changing the strategy in order to make the conversation meaningful to all my new contacts.
Lesson: If you find it difficult breaking the ice with a stranger, try this. It is also important that you allocate your time wisely during networking; here is a framework you can use.
Meeting two: One of the speakers (and potential partner) I met was responsible for this genius idea, so, I complemented the initiative and made sure I told him it was a GENIUS IDEA, several times. That got his attention which became a good talking point for us and later led to us discussing how we can help him as a local partner in one of his businesses.
Lesson: Complement people and talk about them first, not you. This is the easiest way to get their attention. In a case where you have identified that a key influencer will be attending an event with you ahead of time, it is a good idea to research their areas where they have excelled or have deep interest. This will be a good talking points with them.
Meeting three: I also "made passes" at most of the speakers and other conference attendees who fit into my circle because I need to build relationships before I need them, especially with influencers. I found out that you can even ask them for favour later using this template.
STEP 5: I had a plan to turn my contacts to great business relationship and networks
After exchanging cards, the next crucial step is to follow up.
Turning physical cards to phone contacts can be boring, however, you can use apps to automate that. All you need to do is to snap the cards with your phone camera and the app organizes it to your phone contacts. You can try any of these for Android and iOS.
After the event, you need to send follow up messages as soon as possible. For example, here is a follow up message I sent to an influencer after the event (hint: make the email informal and memorable)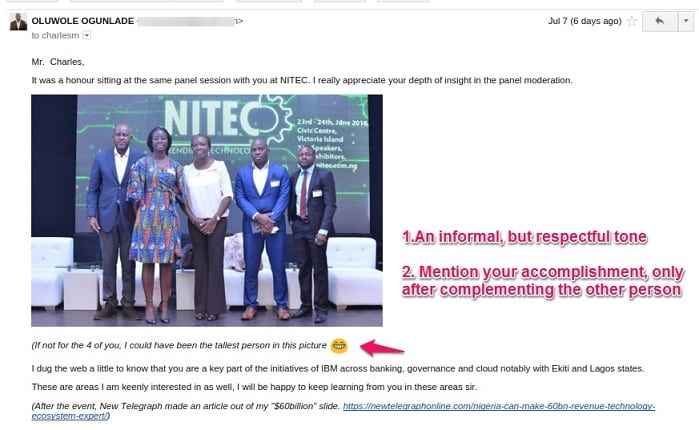 Advice for you
The art of turning contacts you met at events to meaningful relationships is a powerful asset you need in business and life. As at the time of writing this here is a summary of my results, so far:
My essays got co-published on another respected ICT platform with an audience of over 20,000 email readers.
I headlined a major local newspaper.
I have had a follow-up meeting on a potential million-dollar deal flow.
I started courting the biggest developer ecosystem in Nigeria and
I have reignited/started relationship with number of startups and influencers in Nigeria.
Before you go for your next event, try to know who you will meet at the event and do a little research about them so your discussion with them would be memorable. In case, you want them to easily establish relationship with you, you can start your preparation ahead of the event by "manipulating" them to be aware of you. It is not enough to attend an event, you need to make relationships happen and nurture them thereafter. Go and be lucky.
Finally, if you know someone who will find this idea super useful (a colleague, spouse or your friend) please share with them.
Also, let me know what you think about how attending tech events has helped your startup, in the comments.
Photo Credit: Stefan Muth via Compfight cc