Proper documentation is one key challenge with various public institutions. Interestingly, most public institutions still rely on paper documentation and don't have cloud-based backup that can be called upon irrespective of the location the request is made from. Over the years, we have observed data analytics companies like BudgIT and Orodata whom have tried to present data in easy to understand formats using infographics. But beyond that, data gathering in Nigeria isn't an easy task as most organisations either public or private don't have structured data that can be called upon at any time and analysed.
Last week, David Adeleke argued that Nigerian startups would die for lack of data. And he was justified; more and more of the world's data is moving onto the web and there's so much insight that can be gotten by analysing existing data.
---
Suggested Read: Nigerian startups will perish for lack of data
---
For instance, understanding how much power is consumed and the population of people in a particular region can help inform on the positioning of power distribution centres.
Barriers to accessing data in Nigeria
We can go on and on about the importance of revisiting data to help make decisions for both public and private institutions but then structured data is what can help make decision making process faster. But before we go on, let's talk about the barriers to accessing data in Nigeria.
Institutional barriers and lack of interoperability
There are various sectors with this barrier but for today lets consider the health sector. Interoperability is the ability of different information technology systems and software applications to communicate, exchange data, and use the information that has been exchanged. Analysing existing patient information in hospitals within a state can help inform how to distribute health resources to tackle diseases.
"Its a headache accessing data because of the medieval data infrastructures, bureaucracy, and fear of the unknown across public spaces." - Blaise Aboh, Founding Partner Orodata
If a particular local government is observed to have more malaria occurrences than other local governments, then the government needs to look into deploying more resources to that local government to help curb malaria. The ability of data to flow easily among health facilities, patients and other groups involved in healthcare is lacking. The current method of data collection and transmission limits real-time usage of patient's records. Situations were patients are transferred from a government health facility to another means the patient's file (in hard copy) has to be duplicated and sent also.
"Institutional barriers stem from fear of losing authority and being exposed or simply from an inherent fear of the unknown. In either case, eliminating this barrier, in healthcare as well as other sectors, often requires what we call cultural change in the public sector" - Blaise Aboh, Founding Partner Orodata
According to a research study titled, "The Nigerian health care system: Need for integrating adequate medical intelligence and surveillance systems", provision of timely information aimed at combating possible health menace among many other things is an important function of public health. The study which aimed at reviewing the state of the Nigerian health care system and to provide possible recommendations/solutions to the worsening state of health care in the country suggested the use of medical intelligence and surveillance (MIS). This category of intelligence results from collection, evaluation, analysis, and interpretation of foreign medical, bio-scientific, and environmental information that is of interest to strategic planning. MIS systems are suggested to be integrated into Nigerian health care system to serve the needs within the health care system.
Privacy
Most public institutions are in the business of data collection and storage. There's very little done with the data collected for public consumption and usage. One major tension around accessing data today is due to privacy. There are grave worries that data or information made available in the name of the public interest may be used for unauthorized commercial purposes; and that it could be inaccurate or contain information potentially harmful to citizens. Personally Identifiable (PII) data could be misused or inappropriately shared.
"The structure on ground in most public institutions is to collect data and keep and collect salary. They do not care what happens after that or what the data is meant to achieve. They do not know that the data is actually meant to be shared to the public for informed decision purposes." - Blaise Aboh, Founding Partner Orodata
I am not advocating opening confidential data to the public, but concerned when data meant for public use is termed as private. A school of thought believes that leveraging on open source technology can help evolve the Nigerian economy, providing solutions that are open source licensed, allowing everyone to be part of the development process. This can actually work when it comes to social challenges that require citizen participation but are Nigerian institutions either public or private ready to collaborate on a large to solve collective problems?
Structured data: The game changer for Nigerian businesses
Structured data refers to information with a high degree of organization, such that it is seamless and readily searchable by simple, straightforward search engine algorithms or other search operations. Recently, Dominos opened an outlet in Yaba, Lagos and that got me thinking about their decision to open a pizza outlet in a place that sits close to the centre of Yaba where you have a university, polytechnic and several businesses surrounding.
Domino's Pizza outlet cited right at d traffic light of a + junction in Yaba area of Lagos (st Agnes jxn) on H/M Way pic.twitter.com/tLz7AvCLEM

— Savvy Engineer of the FRN 🇳🇬💡🆒️👍 (@Atundelawal) April 24, 2016
Following location-informed decisions, some tech startups like Kaymu, Jovago, Hotels.ng, BudgIT and so on have their homes in Yaba due to easy access to talent from the two institutions mentioned earlier and the central positioning of Yaba that makes other parts of Lagos accessible. For cases of establishing a business within a particular location, companies gather data about the region they want to serve their products to and make informed decisions concerning how to establish their brand.
Businesses that run with business-to-consumer (B2C) model need data about consumers or potential consumers. One instance that comes to mind is the transportation challenges faced by a large majority of Lagosians. For those familiar with Alimosho Local Government area in Lagos, Nigeria, you will agree that it isn't only the largest local government area in Lagos but also home to a large workforce of people that work mostly on the Island area of Lagos. Businesses like Busrideng.com, Shuttlers.ng can leverage on that data to provide air conditioned buses to corporate workers in Alimosho area of Lagos. Now a concern comes to mind as regards bad roads, and that will result in making the fares expensive for commuters.
One major challenge that comes with residing in a city like Lagos is heavy traffic and while one will think it is something that cannot be avoided for Lagos commuters, I suggest you think again.
---
Suggested Read: 4 Nigerian-made apps to keep you company in Lagos traffic
---
With Google Maps I am able to see traffic data between my location and my destination (Ajah, Lagos) and yes this isn't my first time using the service to help choose my routes.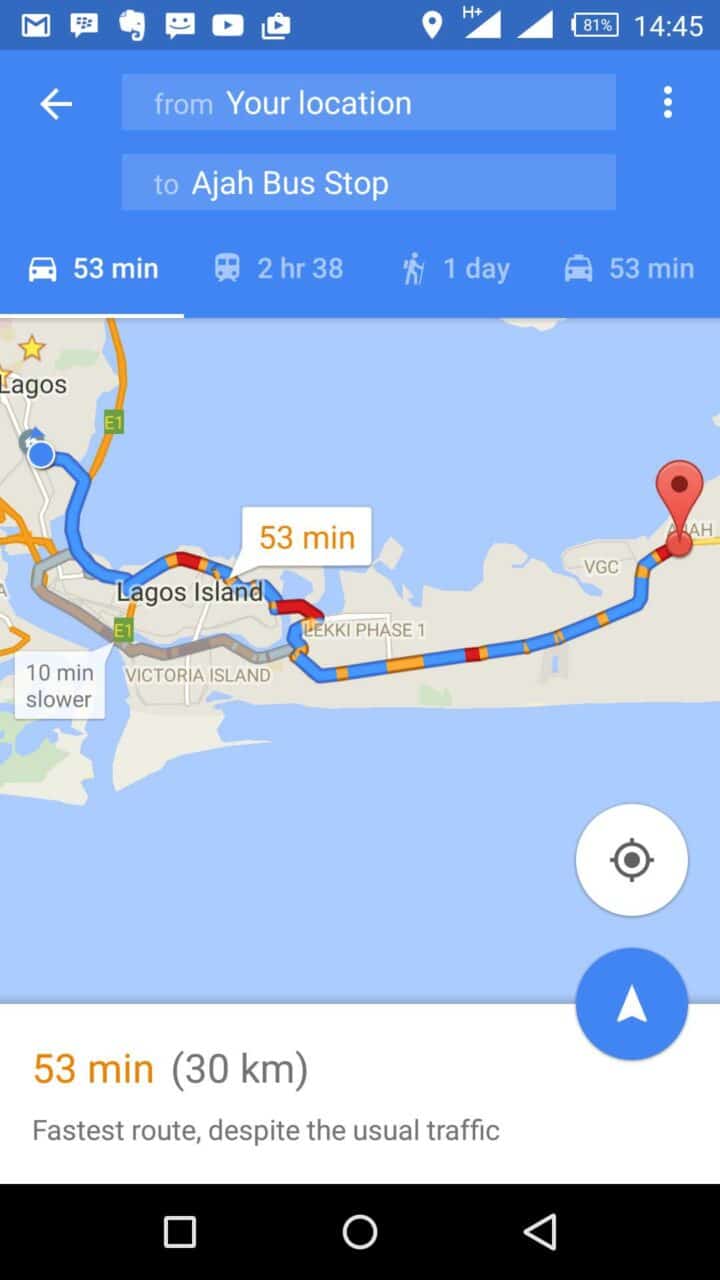 Google Maps is able to crowd-source GPS data from people's Android devices to tell if traffic is fast or slow moving. The red lines show where traffic is heavy along my route and I am able to make informed decision on the road.
Most businesses, if not all, require state level data about people who are potential consumers. Programs like the Lagos State Residents Registration have a database of over 3 million residents within Lagos. These data can be worked upon to help give businesses intelligent data that can help them serve residents of Lagos better. Similar steps can be taken by other states in Nigeria to acquire more data about Nigerians to help with allocation of resources on a Federal level. The importance of using information with a high degree of organization will definitely help resolve a lot of the challenges that businesses face today.
So as a business owner just imagine the value you will get by working on the data you obtain from clients and customers. Currently there are many opportunities that most Nigerian businesses are not generating value from by shoving data acquired into store rooms with cobwebs.