In an earlier article, I established that getting exposure on TV and Newspapers is important for your startup. There was so much of useful stuff worth checking out in the post, if you have not read it yet.
But there is a nagging question: How do you get in the media when you do not have any newsworthy story about your startup to tell?
And the list of question goes on. You see, some people have the wrong notion that media exposure (TV, radio, newspapers and online PR) are reserved for product launches, new feature releases or to announce obituary. The truth is that there are so many ideas you can use to get media coverage that is not even focused on your product.
You see, after the original post was published I got a LinkedIn message from a reader of the post asking for advice. I responded and even offered to help professionally.
The idea for this follow-up post is a response to that LinkedIn message and most importantly to share my views on how to find any reason to be on TV, newspaper or even TechCrunch.
So, here are 5 creative ideas you can use to talk about your company in the press anytime from now on any medium of your choice
PR Stunts
Expert PR agencies know how to arrange PR stunts. One of the highly successful ones is the stuffed bunny campaign.
The hotel planned a concept that a little girl forgot her bunny in the hotel. So they created daily Facebook updates around the "experiences" the bunny had in their facility until the owner came to pick it. Hilarious, right? It got them in the papers.
https://www.facebook.com/adaremanorhotel/posts/10153422724123790
Do you remember the recent news of the Nigerian guy that entered the Guinness Book of Records for head-balancing a ball on a 48km trip? The brand that made that possible, Bet9ja, used the PR stunt to put their brand in global attention.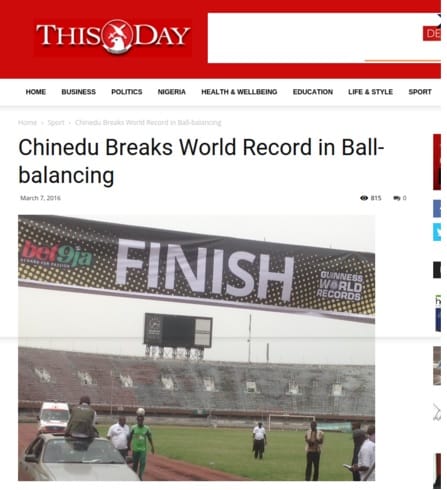 A good PR stunt gives people something to talk about that can be associated closely with your brand. You can guess that sport pundits would even gamble on the event.
PR stunts even worked to launch a hotel in style and Yudala's announcement of drone delivery service was a good stunt in an already crowded eCommerce space in Nigeria.
BONUS: You can check this website for several other PR examples .
Own the Second Paragraph
In 2014, Perez Hilton was in the news, but Wynn Resorts literally hijacked the news with a "second paragraph". PR experts estimated that the value of the media reach to Wynn Resorts was higher than their annual budget for PR in the preceding year.
In Nigeria, the Bride Price is an important part of the Marriage Rites. In some parts of Nigeria, the groom has to pay exorbitant "ransom" as the Bride Price before the family can "release" the bride in marriage. This is almost a stale news.
Yet, the Anakle team got a "second paragraph" on that tradition by releasing a Bride Price app that estimates how much will be demanded from a girl's suitor.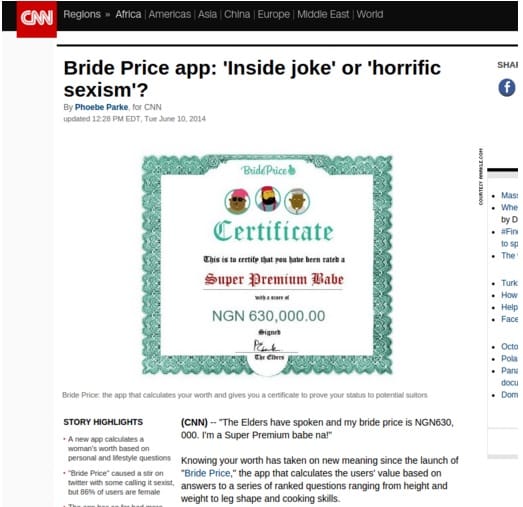 The app went viral and got them featured on several publications including a feature on CNN and Independent UK with notable celebrities like Funmi Iyanda "caught" in their PR stunts
Be resourceful
How can your app or website help a celebrity? Or do you have free advice for an important personality?
Marc Ecko explained how he got mentioned on prime-time show and got influential people tweeting him by choosing to help them first. His brand, Ecko Unlimited!, is now a thriving international Men's brand.
Joan Stewart's formular includes sharing how your business (app, website or products) can help celebrity solve their problems, creating a survey and publishing a commentary on issues of interest etc.
The "Will It Blend?" campaign run by BlenTech is an example of how you can turn your product functionality to a viral ongoing campaign that can be easily picked up by media.
Leverage others to be in the news
One way to leverage others is to sponsor or organize events for your target audience. This event is an example of a good one sponsored by two startups. In addition to meeting their target audience under one roof, the sponsors can leverage rule 10 (of this post) to enjoy massive media coverage.
Another one is to apply for recognition. Just because you're new to market, doesn't mean it's too early for recognition. In any industry there are numerous awards and accolades that can be applied for. Often there is no fee or a nominal charge for applying.
Don't limit yourself to company awards. Look for opportunities to celebrate your people through honors such as "30 Under 30" or "Women to Watch." Likewise, there are many prestigious accolades that look for "Best New Business Concept" or "Startups to Watch."
Media outlets also publish annual lists that can be found in previous issues or in online editorial calendars. Research and apply for them. If selected, these honors can be a valuable way to nab attention from investors, analysts and the public. (Source)
Idea Vaults
There are several ways to get the media to notice you. Here are vaults of resources, cheat sheets and ideas that might be useful to you.
A complete guide of how the CEO of Buffer, a social media automation tool, got in the news - OnStartups.
How a newspaper launched Tour De France to increase circulation and 49 other PR ideas - TaylorHerring.
100 best PR stunts of all time – BiteSizePR.
So there you are. But you know, ideas are cheap, execution is the key. Go and hack TV and newspaper with a record success.
Do you have other thoughts you can add? Please share in the comments.