What are the benefits when your startup is featured in local and (inter)national newspapers or you appear on TV? I wish you knew.
Talking about the benefits of this kind of coverage, Derek Halpern said:
The RIGHT coverage can flood your business with hundreds (and sometimes THOUSANDS) of new users, prospects, and customers.

The RIGHT coverage will make your phone blowup with calls (and text messages) from friends, family, and colleagues

The RIGHT coverage will give your business an INSTANT credibility boost (Ever wonder why people show the logos of places they've been featured?)
For startups this exposure gives the aura of authenticity and stamp of authority. Personally, I have seen first-hand the value it adds to startups, so believe it or not: TV or print newspaper is the hallmark of social proof for your startup.
Don't get me wrong, I still appreciate the traffic and visibility that blogs, podcasts and online adverts can instantly generate, but TV and Newspaper coverage definitely adds more authenticity to your story. And I don't mean paying for adverts on this medium; that will cost you a lot, just imagine how much you have to spend just to have a 30-second spot on Channels TV or CNN. A Super Bowl spot can be as high as $5million
Based on personal experience, I can guarantee that you will have better result when you are featured or you became part of the news rather than spending money on adverts. For example, rather than pay for a 30-second slot on Primetime programme, VoguePay co-founders sought to be featured as guests to discuss online payment security in an exclusive 15-minute interview show. That alone allowed them to reach an audience spread across UK and Nigeria via Cable, terrestrial TV and YouTube. I have also been privileged to facilitate frequent exposures in industry publications and traditional media -- at almost "free"-- where such exposure should have cost VoguePay a lot of money.
This is not just about VoguePay, quite a number of brands have leveraged the media extensively to add depth to their story and reach a wider "traditional" audience. One of them is iROKOtv, which has successfully reached global audience including BBC, CNN, Aljazeera and several international newspapers via featured stories, spotlights and interviews of the co-founders. Jason Njoku, who runs iROKOtv is open about the secret behind his PR success.
Bursting the 2 Myths of Traditional Media exposure
So, let's burst the myth about TV and newspapers.
Traditional Media is Dead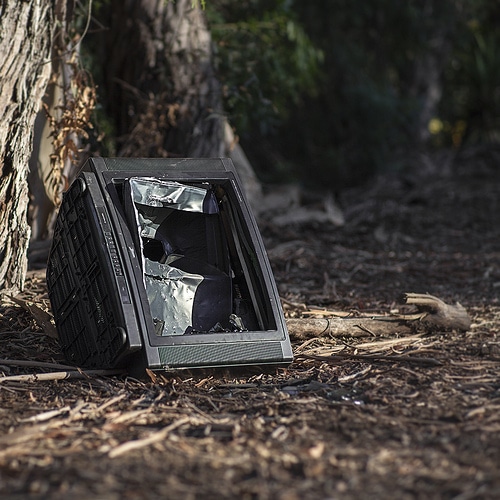 Everybody keeps saying that TV, Radio and Newspapers are dead (or they will die soon). Yes, they are partly right. However, they still have a powerful grip on their audience and you should not neglect their market share.
According to a 2014 research, the total viewership of DTH in Nigeria is in the region of 119 million. That is way more than the internet audience which is put at 97 million
Getting
in the
News
is hard
There is the myth that it is difficult to get coverage on TV or newspaper. On the other hand, producers/editors know that it is a tough job filling a 24-hour TV station with content or getting relevant stories for newspapers every day. So, these guys are dying for stories to tell. (Have you wondered why TV stations are now soliciting for user-generated stories nowadays, like CNN's iReport and Channels TV's iWitness ?)
At the same time, there are so many briefs that are rejected by journalists every day. This is because, before a journalist publishes a story or news, she needs to ask herself; "does this meet the need of my audience?"
That is why you need a media-centric mindset. For example, the team at Hotels.ng is proactive about their media exposure and defined their culture by asking, "what do we want to tell the press today?"
If you want to achieve this kind of exposure, there are incredible resources to help you prepare effectively for newspaper and TV coverage.
How to appear on TV and Newspaper cheaply
I should point out that this media strategy involves a budget and well laid out strategy. You can consider using this guideline to decide if you should outsource it or manage these activities in-house. Because I am a DIY person, I am not a fan of outsourcing such to a PR agency if you can afford to have someone in-house.
My goal is to expand on the do-it-yourself mindset and share examples of what I have done personally with VoguePay. The following steps will help you
Build relationship with people in the media
Quite a number of us don't watch TV or read newspapers anymore as they used to. Hence, the first step is to do your research. Ask around for programmes that your target audience will be interested in and columns that your audience read in newspapers. If you are a techie, TechTrends on ChannelsTV is a starting point.
However, you should aim to target shows on entrepreneurship, culture etc. (for example, Hotels.ng would make a good feature on a hospitality show) or any show that relates to your core audience.
The next step is to identify the producer/presenter behind the TV show. Also, flip through the pages of your favourite newspapers and check the columnists/editors that write about your industry. Build relationships with people. It is better to always approach someone rather than a blind request that might likely end up on the advert desk.
For example, you will find out that CFA is behind TechTrends. This also applies to print; flip through the pages to see the writers of your relevant columns on popular newspapers.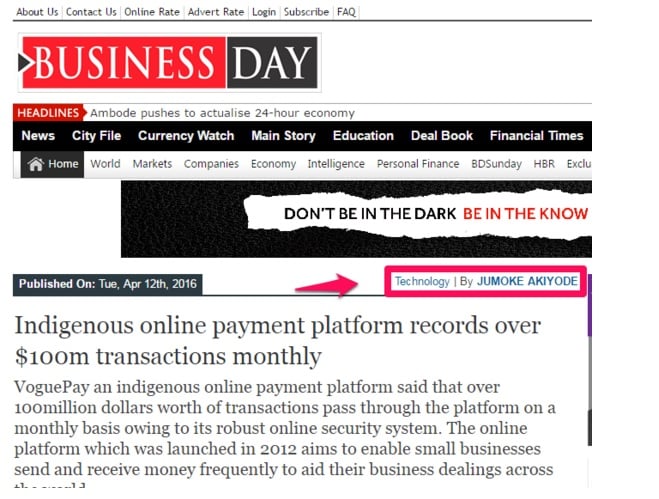 Not all newspaper houses include the names of writers to each post. Another opportunity (with the Nation Newspaper, for example) is that you can access their writers' page.
The next step is to see how to build a relationship with the person behind these programmes or columns. That is where Google search comes in. You can use Google to do a background research. If they are on LinkedIn, you can easily see how you connect with them professionally and even add them to your connections. Twitter and Facebook are other social networks you can use to connect with reporters. However, email and phone numbers still remain the easiest ways to contact people.
You can also use directories (like Sports Writer Associations of Nigeria, Civil Rights Writer Associations of Nigeria etc.) to find more details about a particular writer or groups of writers with interest in your topic.
Learn how to pitch your story
You must pitch your story with an angle to meet the writer's existing objectives and audience. You must know how to
adapt an angle
to make your story deserve media attention. Never pitch your story blandly.
A good idea is to relate it to trends, or recent happenings like the

#BuyNaijaToGrowTheNaira

hashtag trends.

Invest in media kits and additional resources that journalists can pull to enrich their stories.

(ex. Here is Tim Ferris of 4 Hour Work Week's

media kit

).

Make it so easy that all they need to do is just to copy and paste your press release draft for publication. In all the stuffs I have tried before (which included opEd in newspapers, featured stories, interviews and TVshows) in all cases (except on the TV show) I had pre-written the release and added useful materials that the reporter turned into the stories.

I did 97% of the work.
So how do you turn a self-serving selfish press release to a newsworthy story?
How to tell a newsworthy story
The mistake many startups do is making their media coverage to be just about them. "How they are the best…how the technology is patent-pending…. and their interesting Alexa stats". That is boring.
There are so many ideas you can use that is not even focused on your product (here is a list). A hilarious example is how a hotel got media attention by giving a stuff bunny the hotel stay of a lifetime.
Closer home; take for example when Hotels.ng featured on CNN, it was totally unrelated to what the company does. Yet it made a really great feature story on CNN.
Some good resources to get you started on a strategy like this include the drafting technique. Another interesting tip is from the CEO of Onboardly; a startup PR agency and especially this insightful post. Tim Ferris wrote two must-read articles on this here and here
The big difference between advertisement and media coverage is that you do not necessary sound salesy in your approach. Yet, you can drop hints about your products and services.
Let me share with you several opportunities for you to talk about your brand without sounding salesy.
How to use TV and Newspapers to talk about your products without sounding salesy
In-line branding: You can use this where you contribute your "expert opinion" on issues and you subtly make reference to your startup.
For example, while talking about online payment security issue it was easy to discuss how VoguePay worked with international partners and government agencies and "subtly" corroborated the point with how security control was responsible for VoguePay's 20% month-on-month growth as the largest online payment platform used by merchants in Nigeria.
Co-branding: There is a dearth of information in Nigeria. That is where publishing white papers and advocacy documents provide an opportunity for savvy startups. The people at BudgIT are champions at this with newsworthy initiatives. In 2015, Jobberman partnered with Nigeria Bureau of Statistics to publish the "Online recruitment services report" which was co-branded.
For this to be effective, you must cite valuable data that is of public interest
Sponsorship: Corporate social responsibility is another easy ticket to woo the media. Is your startup donating to a cause or doing a benevolent act that is newsworthy? Also, when you sponsor events that have other media partners, you can be sure you can leverage that to appear on TV or get an honourable mention in the newspaper.
News hijacking: News jacking is when you ride on a recent event to promote your startups. Here are five notable examples. Tim Ferris of Four Hour Work Week detailed how he was able to get on national TV for the first time by piggybacking on another author's book
Conclusion
It is little complex to calculate the direct ROI (Return on Investment) of TV and Newspaper exposure, but it will definitely consolidate your brand. Also, a well-executed TV or Newspaper feature can easily snowball to online exposure and sales for your brand too.
Is there anything important tip that can help startups leverage TV and newspaper effectively? You can share in the comment.
Photo Credit: Corey Holms via Compfight cc