There are over a hundred mobile payment solutions in Nigeria today and the Google Play Store is testament to this fact. No need for name calling, among these teeming apps, most of them do not work, and I wonder how they still stay operational.
I chanced upon the Wi-PAY mobile payment app and decided to give it a try. The main attraction is that the portal worked quite well and effectively at that. It's also quite convenient to use.  In a bid to share my experience from a user perspective, here is my review of the Wi-PAY app.
Registration
The user registration page was simple and catchy without appearing drab. The "CONTINUE WITHOUT LOGIN" option actually works by circumventing the normal registration page and redirecting you straight to the transaction page. The only difference between the two options is that registering gives you a transaction history and saves the stress of having to enter details every single time.
Transactions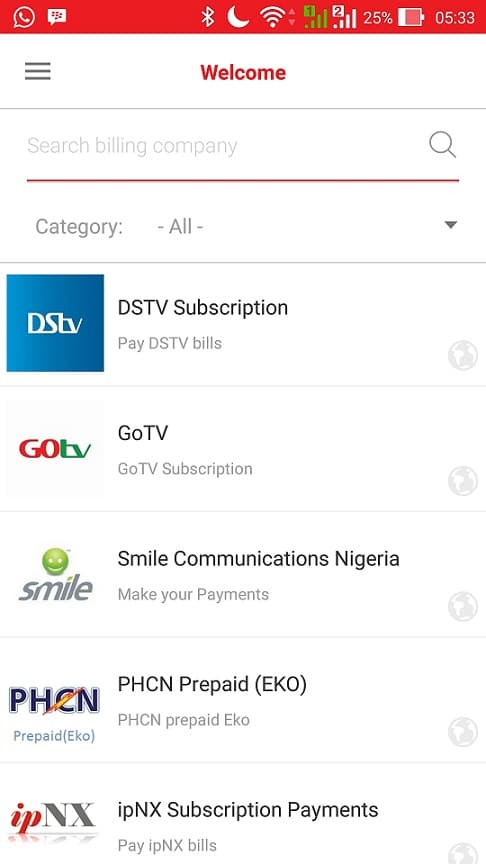 After registration, a welcome page was displayed and where the available accounts for transactions were displayed. Television subscriptions available are -- DSTV Subscriptions, GoTV, TrendTV, African Cable TV Subscription, Cable Africa Network TV, iROKOtv.
Internet subscriptions are not left out -- Smile Communications, Visafone Subscription, ipNX Subscription Payments, Swift 4G Subscription.
Electricity Bills --PHCN Prepaid, Enugu Electricity Company Prepaid and Post-paid payments.
Flight Bookings --AERO Book-On-Hold, Air Peace, Arik Book-On-Hold, Dana Book-On-Hold, RwandAir Book-On-Hold.
Toll payments and Residential utility bills --LCC toll payments, 1004 estates utility payments, UNIPORT Post-UME.
Telecommunications are also available on the platform- Glo Payments, Etisalat Subscriptions, MTN Subscriptions, Airtel Payments, Visafone Subscriptions, NairaBet Nigeria. Overall, there are more than 1800 billers on the platform with over 100 of them that are frequently in use already active.
My Account
This section contained my email address and phone number, account settings, about Wi-Pay, terms of use, version and logout options.
Verdict
I like the Wi-Pay app because unlike others I have seen, it contains billers that people actually use. DsTV and PHCN are already topping the list. From the aforementioned billers, you must have a need to pay for one service or another as a person or business through this mobile app or payment portal.
However some of the billers listed are not yet available, for example, the ability to purchase airtime. But I am told by the company executives that the air time top ups and money transfer functionality will go live by the end of February.  You can however pay for data bundles, roaming packages and voice and data packages.
In all, the most important thing is that the Wi-PAY app works, and being in its early development stages, I expect an update will fix any bugs in the app. The Wi-PAY app is available for download on the Google Play Store while the online portal can be accessed through iPhones and other smart phones and tablet PCs via paybills.wipay.com.ng.
Overall, the WiPay app is a working substitute to the teeming multitude of mobile payment solutions on App Stores. Considering the fact that it is an upward project in development, more fixes and better features are coming to the app that would enhance and make the user experience more seamless and friendly.