There are three apps that I use every day on my smartphone -- Opera Mini (it saves me a ton of data while browsing), WhatsApp (which is both for personal and "business" use) and then YouVersion.
YouVersion is a Bible app. There are lots of things I like about the app. While there are myriadsof Bible apps, YouVersion is definitely one of the most popular Bible apps ever. They just recently reached 200 million installs worldwide. That figure is a great achievement for any app if you ask me.
To celebrate this success, they released a special announcement on their website showing how their users have interacted with the app. While digging through the details, I "found" two interesting data points that established two beliefs about Nigerians that are as old as my great, great grandmother.
What are the Nigerian beliefs and what has all this got to do with the Bible app, YouVersion?
Most popular verse in Nigeria
According to their report, the Bible verse that is most popular in Nigeria is Jeremiah 29:11. Nigeria shares this same verse with Philippines and South Africa as their favourites.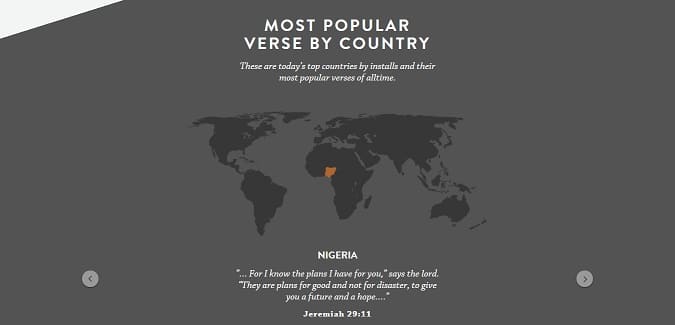 What is striking however is that the translation that Nigerians preferred is the King James Version, which is rendered as:
What this easily reminded me is that many Nigerians are expecting too much from God. Often laid back; they expect God to do everything for them. (Replace "God" with parents, uncle, government or others and see how it applies to someone you probably know).
Top connected International cities
Lagos, a city in Nigeria is the most connected city to London. Whatever this mean, it is arguable that it reflects our strong connections with London.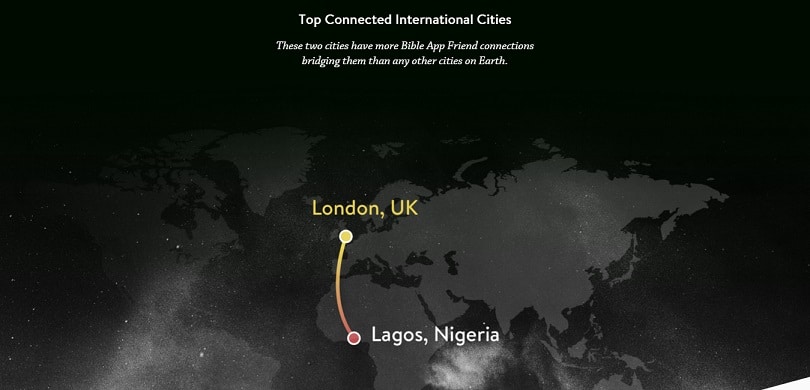 Without sounding too condescending, many Nigerian households have this belief that you need to go to London to "go and make it". The allure of changing Pounds to Naira, sending cars home from UK and speaking the Queen's English is tempting. Sometimes, a family or a whole community contributes resources to "sponsor" a lucky member to Yankee.
NOTE: While none of the conclusions were drawn by YouVersion (but me) it is obvious that it validates what most Nigerian express. I know this is open to debate.
However, there are more important reasons that this announcement interests me from a business point of view. I encourage you to read up the rest of the announcement to find out for yourself how YouVersion displayed a good understanding of their user base's interaction with the app and what major features have driven the growth of the app. Another background story that I recommend for your reading was published in 2013 when the app reached 100 million installs. A key part of that post is captured in the image below: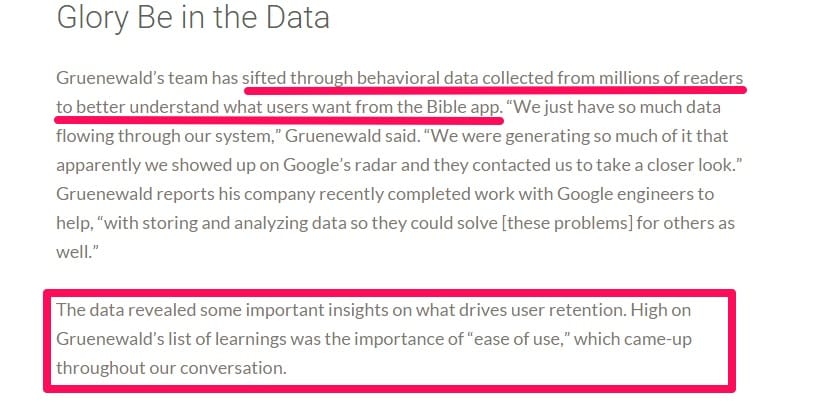 Gruenewald, the CEO of the bible app attributes much of the Bible app's success to a relentless focus on creating habitual Bible readers. This decision came from analyses of their data and below I want to draw on some lesson that can help you turn data to a growth engine for your startup.
LESSON 1: It is the business that knows the most about their customers and can serve them that will outperform the competition
YouVersion is not the only Bible app, but it is definitely the most used Bible app. In 2013, when the app reached its 100 millionth installs Nir Eyal, the NY best-selling author of Hooked; How to Build Habit-Forming Products published some interesting insights about YouVersion's approach to data gathering and how they developed reading plans that kept users (including me) engaged to the app. He also explained how habit-forming the app is based on his personal user experience with the app.
LESSON 2: You need to generate data points for your business
Data helps you to make informed business decision. It is good that you understand your users' behaviours. In the words of the founder of iROKOtv: "The vast majority of the insights and value in our platform is our institutional understanding of how to read and interpret our data".
LESSON 3: Understand what motivates your customers
A good example was the movie, Noah that drove 300% increase in usage on YouVersion upon its release. How do you understand what motivates your customer? ConversionXL, a leading blog focused on conversion optimization explained with insightful data a step by step guide to building customer journey maps that help you to understand what to do to get your customers to do what you want them to do on your website. Avinash Kaushik; Google's Digital Evangelist wrote a lengthy post on competitive intelligence where he delves into the ten best practices you will find useful.
LESSON 4: Get the best tools to collate and analyze data that helps you make informed decisions
There are several tools to consider for your app or startup. AppTamin curated a list of tools to get you started. These tools will enable you to "listen in" to your customers, provide in-depth analysis of your users' behavior, allow you to deliver the ultimate app experience, capture every user interaction, and grab all behavioral data from your app. You will love this example of how AirBnB, the global rental services has perfected the mechanism of using behavioural data to drive usage of the website.
LESSON 5: Turn data to growth
The true goal of analyzing data is to make informed decision that translates to growth. The outcome of your data will certainly help to position your unique value to your audience. Your unique value is what differentiates your business or services in the mind of your customer. This is a year that startups need to learn to turn data to insights and make decisions to grow their business. For example, PayPal and several successful startups had to change their messaging in order to drive their growth stages. You can use this guide to learn 9 unique ways to message your differentiation.
Photo Credit: IITA Image Library | cc