NOTE: This is not to make a case for iROKOtv fighting Netflix to a standstill. It is more about how you can position your startup for growth. I am so excited to share my secret resource for doing this with you.
---
This is going to be a critical year for many businesses, including startups – be it B2B, B2C, gaming SaaS, or whatever business model.
Why do I say so? It is because there is a high chance that many businesses will fail this year (more than ever), as a result of economic realities. Everyone is trying to reduce expense and is carrying a "mental checklist" of why they should NOT spend any money on your service this year. During surplus, most consumers are driven by impulse with little need for motivation or compelling reason. With scarce resource however, they demand a self- justification and emotional satisfaction.
The bad news is that businesses are NOT going to fail because they are not good enough, but hugely because they are not communicating their Unique Selling Proposition (USP) to the customers. Your USP is what is special about your services, usually an end-result that your customer desires to have.
In today's competitive marketplace, having a great product is not enough; you need to communicate it as the best solution to a problem your ideal customer is willing to pay money to solve. And I am so excited to share my secret resources, including the book I consult for doing this with you. Here is one of them
This is the year to differentiate
Differentiating means that you communicate the thing that's different about you; something your prospects want or care about that will make them buy from you. The starting point to differentiate your startup is to let your value proposition come first to show customers why they must spend money with you.  Your differentiator(s) will help people know why they should choose you.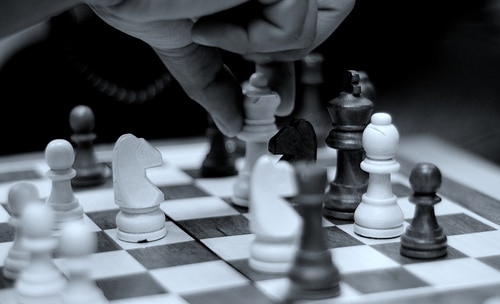 "You don't need to change your product; but you can change how you position it."
Take for an example: Which of the two businesses (who are selling the same product) gives a more compelling reason to this prospective customer to buy?
Business A: We Sell Weight-Loss Pills And Gym Membership. No Credit Today, Come Tomorrow.
Business B: Get Your Sexy Shape Back And Make Your Ex- Jealous. We Are Trusted by over 50,000 Women Like You.
5 questions to ask in order to arrive at your startup key differentiator
Who is my target market, audience or niche?

What do I offer them (in a nutshell)?

How is what I offer them different from what others offer them?

What would they say is the most important thing I help them do or outcome I help them reach?

How do I help them do that thing?
Remember the goal of differentiation is to help your prospects know why to choose you. The enemy of decision-making is too many options. So try to stick to no more than three differentiators grand total for your startup, okay?—unless you have reason to do otherwise.
Also, how you communicate your unique selling proposition matters. It must meet the following criteria:
SHOW: It must describe the benefits of using your solution, with images to support these benefits-focused messages
TELL: It must describe the ways people will arrive at said benefits, with references to specific things that differentiate you.
Now, let's zero in this conversation to iROKOtv
I chose iROKOtv because I got an email from their team late last year announcing the launch of their new website. This was a couple of weeks before the recent announcement that Netflix is coming to Nigeria.
How is iROKOtv getting ready for this fight?
First let's look at the current iROKOtv's website. Be the judge and see that it is NO strong differentiation or reason why you should download the app or engage with it (except for the hero shot).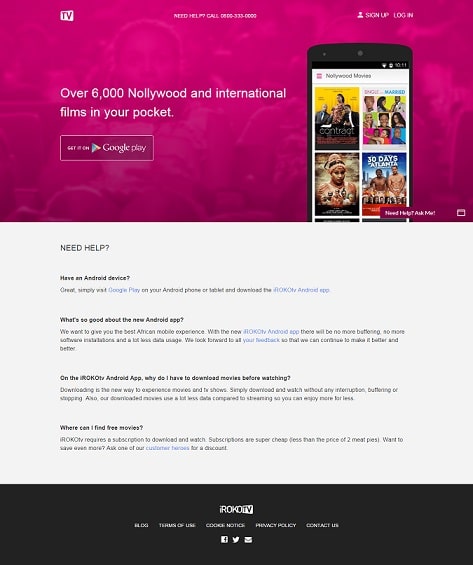 Now flip to their new website. (I will share snapshots later) to review how it is differentiating its offerings.
It seems iROKOtv is differentiating its service as:
"The biggest collection of Nollywood movies that is curated by analysts, who work together to use themes and genres to recommend the best movies to watch"
The above differentiation statement is the first step towards building a unique USP for your brand. I will show you how to craft a similar positioning statement for your startup.
Below are some ideas:
BENEFITS-FOCUSED:

The only way for _____ to _____, [plus benefit/outcome].

FEATURES-FOCUSED:

We're the ones that _____.

BENEFITS- OR FEATURES-FOCUSED:

The only way to _____.

GENERIC:

We do X, but the difference is _____.
You can use any of the formulas above to craft your USP. Your goal is that your website must communicate to the needs of your audience.
……….Back to iROKOtv
Let's go back to iROKOtv and see what is currently going into their messaging?
NICHE MARKET

– One of the major highlight for this new design is that iROKOtv aptly communicates it niche. "The best of Nollywood". While Netflix or ShowMax might fight on their own turf,

Jason's Launchpad is Nollywood content

.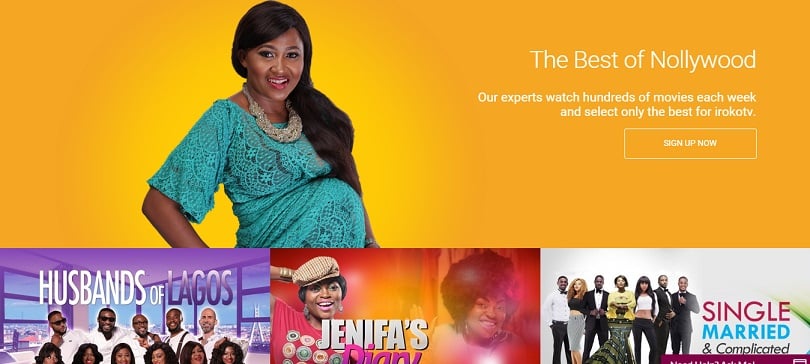 PEOPLE AND CATALOG

– With the new design, the main message is that their collections are

curated by people who know best movies to watch

. Users are rest assured that she can watch the best movies based on the editorial reviews and opinions of other users.
Another major highlight for this new design is that the selections are now in categories, based on genres and moods. This classification system makes it easy for the users to "jump into the sea" of their catalogue.
The only thing missing detail is that there is no reference to the size of their catalogue (which is over 6,000 films). This is because customer likes to know that they can be spoilt for choice.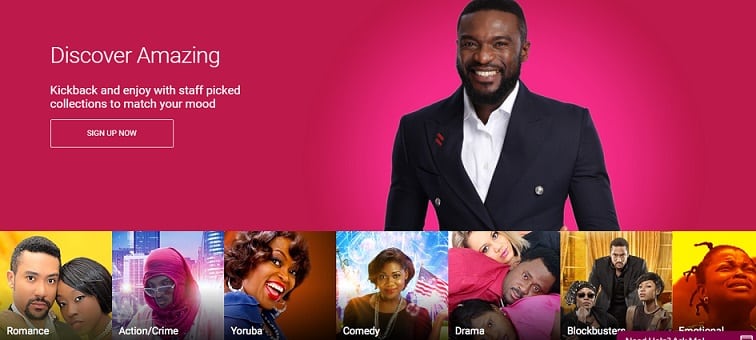 A side comment:  While I may not claim any credit since iROKOtv an intelligent executive in its team, it is noteworthy that I left a comment on Emmanuel Ogunsola's post that points in the direction of this theme-focus movie recommendation.

TECHNOLOGY: iROKOTV offers a technology that allows its users to download movies and watch later. This serves the market better than streaming services which is a challenge in Nigeria.
What is a hero shoot?
A hero shot is a visual representation of your offer that demonstrates how your product or service actually works so your prospects can picture themselves using it. The hero shot is generally a photo or a video and should clearly show benefits and context of use.
We can expect that when the site is fully launched, the hero shot will communicate iROKOtv's most valuable USP with a good call to action. A notable mention of a good hero shot is PrognoStore, cofounded by Ade Olabode and this hero shot from VoguePay is straight forward.
This post gives you 41 ideas on crafting the best hero shot for your website and provides link to other helpful resources.
What Next?
It is worth emphasizing that you need to differentiate by crafting a unique proposition for your business. You can't afford to be nonchalant about this, especially as consumers are becoming more sophisticated.
To help you get started on your journey to differentiate your startup, you can download a copy of the "Startup Guide To Differentiation". This is one of the most-prized books in my digital library. It is filled with ideas on how to distinguish your solution to make it more appealing to your audience (without making changes to the product itself), with over 10 examples specific to your own niche that you can learn from. This book is worth ($25) and is yours FREE as a Techpoint reader. Click here to download it.
So, how do you plan to differentiate your startup this year? You can share in the comment
Photo Credit: gabrielsaldana via Compfight cc